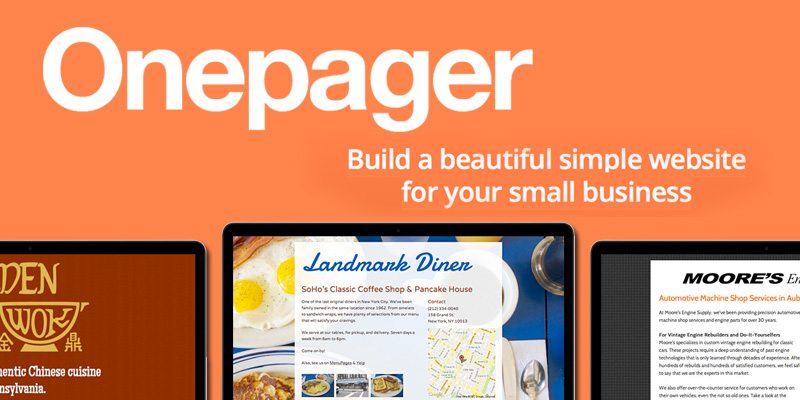 What is it?
OnePagerApp is a Website Builder.
Want to create a pro business website in less than 60 minutes? Click Here to get our FREE Website Builder guide and find out how.
How popular is it?
Over 10,000 users.
What it allows you to do?
Build a professional and uncluttered one-page site for your business without any knowledge of internet coding.
What it does not allow you to do?
Have multiple site pages, blog on-site, easily add third-party apps, have access to underlying code. Check out Weebly.
Who does it work well for?
Restaurants, Food Trucks, Product Launches, Business startup page, Someone who needs a simple portfolio page.
Who does it not work well for?
Accountants, Lawyers, Businesses who want to put a lot of content on their site. Check out Weebly.
Free Edition?
Yes
Pricing Compared to Competitors?
Average
Type of Solution:
Cloud, Mobile
Similar products?
US Based?
Yes, Headquarters & Customer Service
Customer Reviews?
Average (view reviews)
OnePager Pricing
One Pager pricing plans consist of both free and paid plan options. Their free option has only barebones features (no ecommerce, no forms, no analytics, no newsletters, etc), includes ads for other services, and does not allow for a custom domain address. Once you start paying for a plan, the main difference in price will be related to the number of websites you can build, the number of users you are allowed to have, and the number of newsletters you can send to your customers.
If you want your own custom domain, you can purchase one for the premium plans through Onepager for around $15/year, which is in addition to the standard OnePager pricing monthly plans. In general, the Plus level should be more than enough unless you are a website builder/designer.
Free – Basic one-page site, OnePager ads, no custom domain options
Starter – $10/month = Create 1 Site, No OnePager ads, unlimited bandwidth, custom domain options ($15/year to get one through OnePager), email capture, send 1 newsletter per month, form builder, ecommerce capability, basic CSS customization, email support
Plus – $20/month = Starter Plan + create 5 Sites, 20 newsletters per month
Premium – $39/month = Plus Plan + create 20 websites, 20 additional user options, 40 newsletters/month, Rebrand/Private Label option, Priority Support
Agency – $239/month = Premium Plan + create 150 websites, 150 additional user options, unlimited newsletters
Ease of use
OnePager's goal is to provide a super simple, uncluttered, and easy-to-use website option for small business owners. They have certainly succeeded. The builder is very easy-to-use. There is a bar at the bottom of the page where you can edit theme, font/background style, and layout. You can add various elements to your page, simply by dragging and dropping them where you want them. There is not nearly the customization options of other website builders, but the whole point is to be simple and communicate what is important, so that is not surprising.
After playing around with the builder for around 15 minutes, here is what I came up with. As you scroll down, there is more content.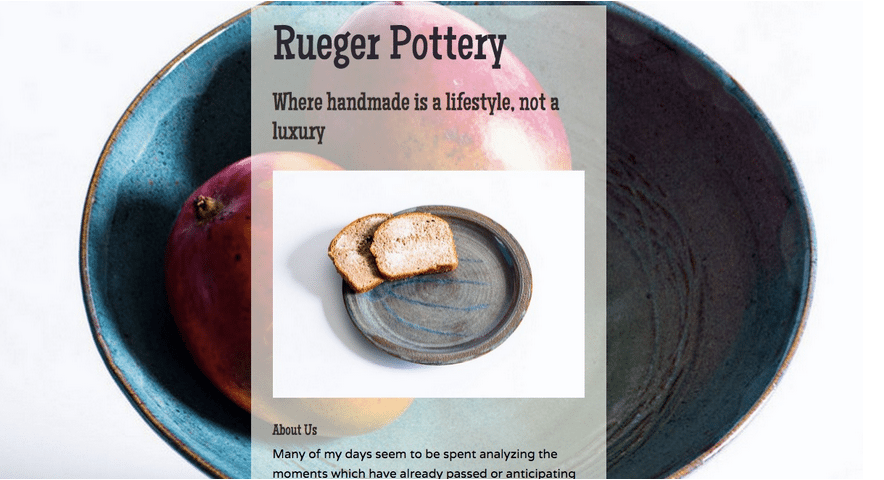 Primary features:
| Features Included | Features Not Included |
| --- | --- |
| Simple website builder/editor | Multiple site pages |
| 16 template options | Actual Online Storefront |
| Mobile-optimized | |
| SEO Friendly | |
| Custom Domain Name (additional charge and only for paid plans) | |
| Basic ecommerce capability | |
| Site analytics reporting | |
| Send Newsletters/capture subscriptions | |
| Export/Import Websites | |
Primary Integrations:
| Integrations | Non-Integrations |
| --- | --- |
| All Major Social Media | Any major ecommerce stores |
| Paypal | Accounting Softwares |
| Google Analytics | Helpdesk software |
| Gumroad (ecommerce) | |
| Moo.com | |
Detailed Overview
Onepager is not meant to be a high-powered small business website. Rather, it is meant to be a simple, easy-to-build, and fully functional page that can serve as an informational face for your business. I could see this being a great tool for pop-up restaurants, food trucks, or other businesses that often move around and just need a basic page (you can connect your Twitter feed so they can see up-to-date locations and information).
Onepager's strengths are its ease-of-use and simple design. You can have a website up and going in 10-15 minutes. It will look nice, have all of your important business information your customers need to know, and even allow you to collect emails, send out newsletters, and sell a product or two.
However, there are several negatives. First, the site is not very customizable. You can edit content, font, element placement, and your themes and columns. But, you are pretty limited by the way the themes are set up and cannot deviate much outside of the pre-set informational sections. Also, obviously, you are limited to one page. If you are looking for a content-heavy website option, Onepager will probably disappoint you.
Features:
1) Number and Quality of Free Themes/Themes in General
OnePager has around 16 different theme options. Of course, being formatted for a one-page site, they are formatted differently compared to other builders. Although the themes are basic, they are nicely laid out and look good with a little configuration.
Here are several examples.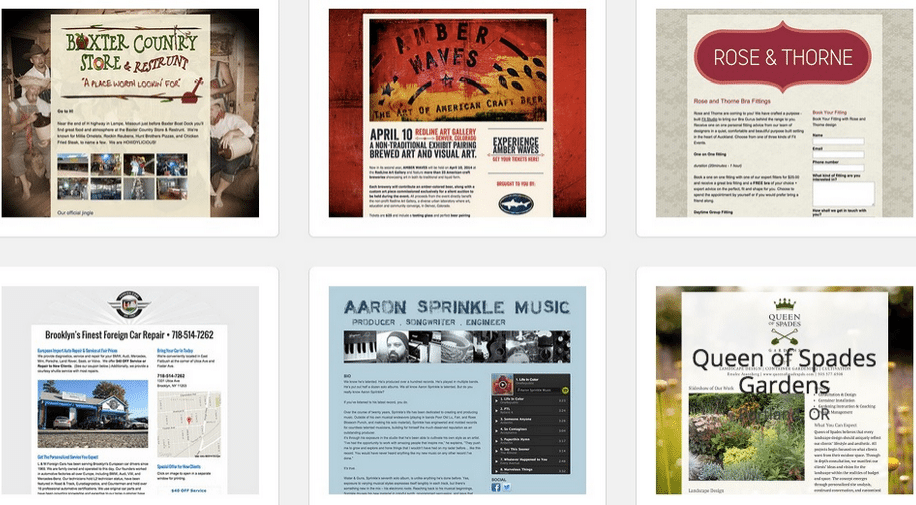 2) Customizability of themes/design (Drag and drop, html access)
When it comes to customizability, OnePager is pretty limited. You can edit content, font (color, size, style), background color, column type, and the order of your elements, but that is about the extent of available customization options. Customization is not really the point. The point is easy-to-access information.
3) Custom Domain Options/internal hosting
OnePager's free plan has no custom domain options. If you purchase a paid plan, you can either buy a domain using OnePager (around $15/year) or connect a domain you already own.
4) SEO Friendly
As far as SEO optimization goes, OnePager provides you with everything you need to rank in search engines. You can edit your page title, description, and meta tag. Also, OnePager has built in crawl capabilities for search engines.
5) Ecommerce/online option
You can conduct basic ecommerce sales through Paypal on your OnePager site. This is a pretty advanced option considering the basic level of the system. There are two main issues I had. One, item price is not actually displayed on the page. To see the price you have to click the buy-it-now button and go to Paypal. Two, there is no title heading that alerts the customer that they are now looking at products. I bypassed this problem by adding a "For Sale" textbox, as you can see in the picture below.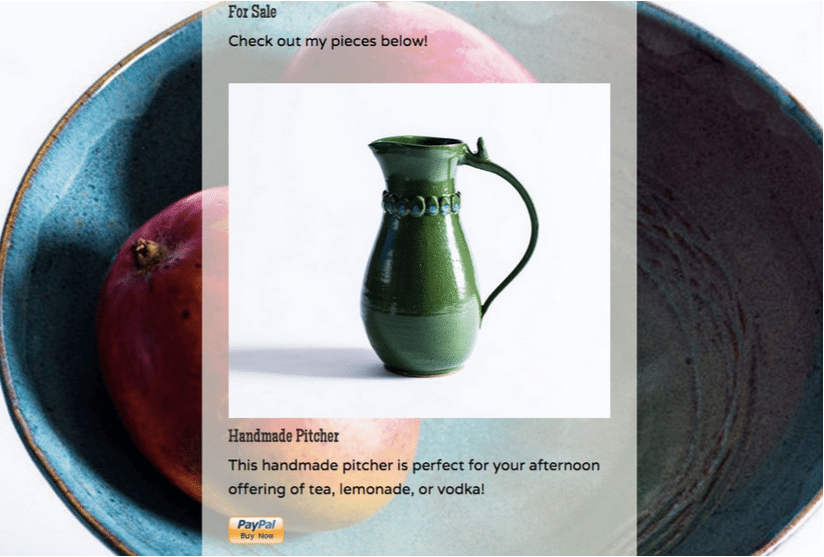 6) Mobile Friendly
Mobile-friendliness is one of the things that Onepager does really well. All of their themes are mobile-responsive, exactly the same on mobile devices as on browsers, and look good. I checked out my page on my phone and was impressed. The quality was excellent.
7) Reporting
With Onepager's free plan, you do not get any site analytics reporting capability. However, if you purchase a paid plan, your site statistics page is the first thing that pops up when you log-in to your site. There is also seamless integration with Google analytics, accessible through Onepager's settings page.
8) Email Capture/Newsletter Subscription
This is one of the real cool features about Onepager. It has a newsletter and email capture button built right in to its builder. Although simple, it looks fine and does the job. Onepager is one of the only builder's I have reviewed that includes newsletter capabilities within its package. There aren't any templates or anything, but it will send info. Or, you can export your contacts to another email marketing service like Mailchimp, our recommended provider.
Here is the email/newsletter capture form.

9) Business Email
There is no business email option directly included with OnePager's plans. However, if you purchase a custom domain through OnePager, they will set up a free email for you and help you integrate it with your existing email provider.
10 ) Appointment Booking
OnePager does not have any built-in appointment booking options that sync to a a business calendar. Although it is a little clunky, you can customize a form that will allow people to book appointments. The problem, is that the date and time will just be sent to your email, instead of being synced to your schedule or calendar.
Here's a basic form I created using OnePager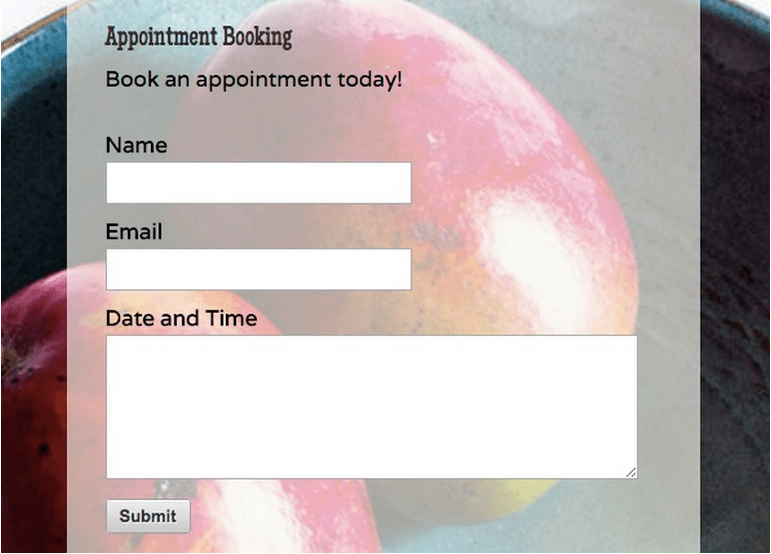 11 ) Marketing Tools
As mentioned earlier, OnePager has a built-in newsletter option with their paid plans, which is handy and allows you to reach out to your customers. Also, you can add social media buttons to your page, as well as an RSS feed from your blog.
12) Live chat
There are no live-chat options available with OnePager.
13) Invoicing
OnePager does not have any built-in invoicing options. However, they do integrate with Paypal, which lets you invoice customers.
14) Blogging
You cannot do any actual blogging on your Onepager site. However, if you like, you can connect to your blog site using an RSS feed that embeds into your page.
Integrations:
OnePager does not have the depth of integrations other website builders have, mostly because they are not designed to be an app-heavy website, which is their whole point. However, they do integrate with Paypal, all major social media sites, and Google Analytics, all of which are important.
When it comes to other third-party apps for accounting, helpdesk services, or CRM services, you do not have much integration, at least not easily.
Customer Service
24 hours?
Yes (email)
US Based or Not?
Yes
What's The Method of Delivery?
If you choose Onepager's free plan, you basically just have access to self-help forums. With Starter and Plus you get 24/7 email support, which gets back to you in one business day or quicker. With Premium and Agency plans, you get "priority support," which from what I can tell, just means you can use live chat and they will work harder to respond quicker.
There is not much out there regarding Onepager's customer support. So, the jury is still out concerning whether or not their customer support is helpful in real life.
Conclusion
If you are looking for a high-powered business website, than Onepager is probably not for you. It lacks the features and integrations necessary to make it a full-scale option. However, if you just want a simple and easy-to-build informational page, Onepager could be a great choice. You can have a good looking business page created in 10-15 minutes and even sell some products/services if you want to.
Want to create a pro business website in less than 60 minutes? Click Here to get our FREE Website Builder guide and find out how.