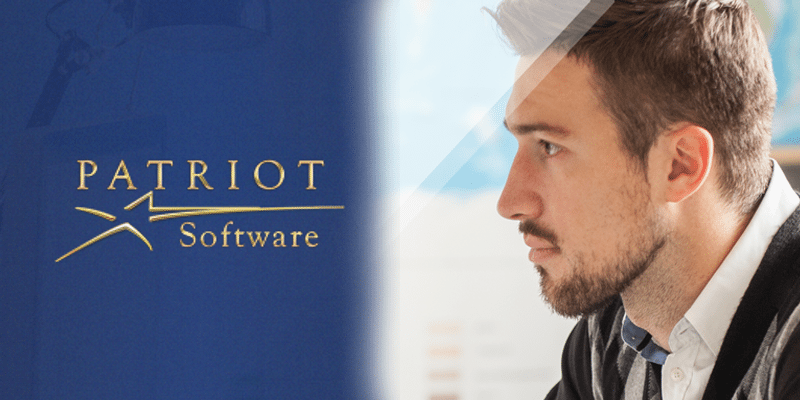 What is it?
Small business payroll software.
How Popular is it?
Patriot Software is a small company with under 50 employees.
Similar Products?
What does it do well?

Offers basic payroll at a very affordable price.
What does it not do well?
Add ons like Time & Attendance, Accounting and HR Software are primitive and clunky, but fortunately you can skip these.
Who does it work well for?
Businesses that need basic payroll without any advanced tools like attendance tracking or 3rd party integrations.
Who does it not work well for?
Those who want full service payroll (taxes & W2s done for you) or 3rd party integrations should check out Gusto (formerly ZenPayroll).
Accounting Integrations?

None, but there's native accounting tools.
Compliant in all 50 States?
Yes
Free Trial?
Yes, 30 days
Cost Compared to Competitors?
Low
Cloud or Hosted?
Cloud
US Based?

Yes
Pricing
Pricing varies depending on the features you want and the number of employees you need to pay. Basic Payroll starts at $10/month for 1 user and $2/month for each employee after that. Full Service Payroll, which includes payroll tax service, starts at $25/month for one user and $4/month for each additional employee.
Click Here to get our FREE Google advertising guide and discover the 6 steps you can use to show up #1 in Google search
Depending on which features you need, Patriot can be very affordable or very expensive software. For example, basic payroll for 5 employees without any add-ons would cost $18/month, which is almost half as much as Wave, the next cheapest program.
Full Service Payroll for 5 employees + Time & Attendance + 1099 support, however, would run you $57.50/month. At this point it would probably be wiser to use Gusto (formerly ZenPayroll), which is a cheaper ($45/month) and easier to use.
You can also pay contractors and file unlimited 1099s through the optional add-on for $7.50 a month. There's also optional time and attendance add-ons to manage schedules & vacation days, HR Software to manage HR documents and store employee data, and a simple cash-basis accounting software to keep track of money. See the table below for a rundown of these prices:
| Add Ons | Price for 1 User | Price for each additional employee (after 1) |
| --- | --- | --- |
| Time & Attendance | $5/month | $1/month |
| HR Tools | $4/month | $1/month |
| 1099 Tools | $7.50/month | no additional charge |
| Accounting Tools | $12.50/month | no additional charge |
Ease of use
Setup – Moderate. I found the setup process to be rather time consuming. There's a lot of steps you're required to take before running payroll for the first time, such as entering the pay history for each employee and finding your company's unemployment insurance tax rate. Adding employees to the system was fairly simple, but there's no option for employees to add personal information themselves, as they can do with Gusto (formerly ZenPayroll) or Wave.
The one benefit to setup is that you can get help over the phone or via live chat. If you're having a lot of trouble, you can even send Patriot your data and the support team will set up your payroll for free.
End User – Moderate. Tasks like adding employees and running payroll are simple, but navigating the system can be tricky. Each menu page is loaded with options and these pages don't always interact how you'd expect. For example, it took me a while to realize that employees are added under "Payroll" and not "Employee Portal." Also, checking off vacation days on "Payroll" won't subtract them from an employee's vacation allotment under "Time & Attendance."
Support – Easy. Patriot has top notch live chat and phone support available during regular business hours. There's also a searchable help center loaded with articles and videos. If there's one key strength of Patriot Payroll, it's the customer support.
Features

| Features it has | Features it does not have |
| --- | --- |
| Direct Deposit | *Send 1099 forms |
| Manage Benefits | *Manage Sick Days / Vacation Days |
| Submits payroll taxes | *Pay Contractors |
| Send W-2 forms | |
*Requires add on
Integrations
| Integrations it has | Integrations it does not have |
| --- | --- |
| | Accounting (Quickbooks, Xero) |
| | Time Tracking (Toggl, Harvest) |
| | Project Management (Basecamp, Asana) |
| | CRM (Zoho, Salesforce) |
| | Digital Signature (Right Signature) |
| | Zapier |
Detailed Overview:
How Payroll Works
Running payroll is pretty straightforward. Your employees will appear on a list with their default salary listed below. If they are hourly employees, you'll have to enter the number of hours worked. Patriot will not automatically calculate overtime, however you can enter overtime hours in a separate box.
You can also enter additional pay for both salary and hourly workers, including bonuses, commission, expense reimbursement and more.
Once payroll is approved, you can print checks directly from your browser. Patriot does not have native direct deposit tools, however you can still set up direct deposit through an integration with NatPay. This takes a little bit of time to set up (3 to 4 business days) and an additional 4 to 5 days to process payment each time you run payroll. It's free to use, although there are some fees if you want to use expedited timing. (Read more here)
Vacation/Sick Days
If you purchase the Time & Attendance add on ($5/month + $1/month per additional employee) you can use it to manage paid time off. I found these tools to be rather primitive, however.
You have to manually add and subtract vacation hours for each employee. There's no way to accrue vacation hours over time, like you can with Intuit or SurePayroll. Also, while there's an option to add vacation hours when you run payroll, this won't automatically subtract from an employee's balance. You have to go back to "Time & Attendance" and manually enter the time taken off. This gets confusing and could lead to errors if you or a manager forgets to subtract vacation hours.
Pay Schedules
Patriot Payroll has 7 different pay frequency options:
Weekly
Biweekly
Semi-Monthly
Monthly
Quarterly
Semi-Annually
Annually
You specify which pay schedule to use when adding an employee. So this means you could have each employee on a different pay schedule. Also, unlike other programs which set the pay period and pay date in stone, Patriot will ask you to specify these when you run payroll. This gives you a lot of flexibility, though it can also be somewhat tedious, since you have to enter it over and over again.
Payroll Taxes
Taxes are handled differently depending on your edition. With Basic Payroll, you can view a report of all your federal and state payroll tax liabilities (pictured below). You'll have to file and pay these manually, however. You can also generate and print W2s to file to the government and distribute to employees.
Federal and state unemployment taxes are also calculated, although you'll need to manually enter your state unemployment (SUTA) tax rate since this can change from year to year. (explained here)
With a Full Service account, this is all done for you. Payroll taxes are filed and paid and W2s will be filed and distributed at the end of the year.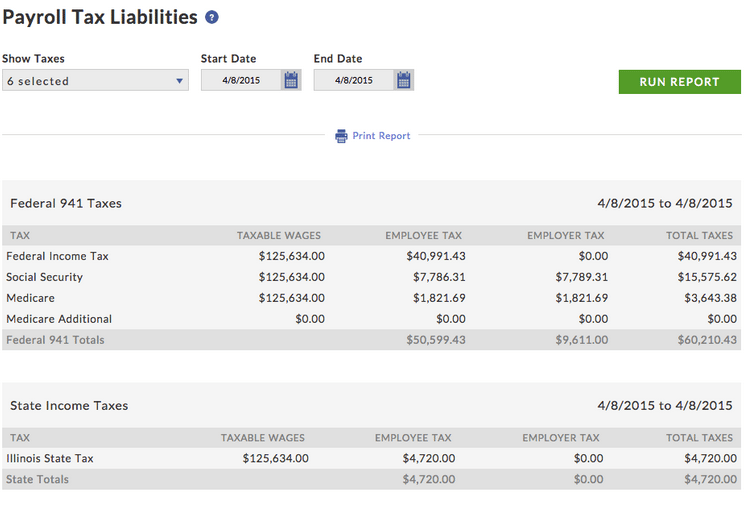 Paying Contractors (1099 Forms)
Paying contractors is very simple, although it requires the optional "1099" add on, which costs $7.50/month. Under the 1099 menu you can add all your vendors by entering their basic information. One nice thing about Patriot Software is that you can add an unlimited amount of vendors without the monthly price increasing.
Next click "Pay Bills" and enter which vendor you want to pay along with the dollar amount and a description (pictured below). Next you'll be able to print checks directly from Patriot. Unfortunately I did not find any way to set up direct deposit for vendors.
At the end of the year, you can create 1099 forms directly from Patriot. Just go to "Create 1099/1096 Forms" and click "Run." This will generate PDFs which you can use to print your 1096s to file taxes and 1099s to distribute to contractors.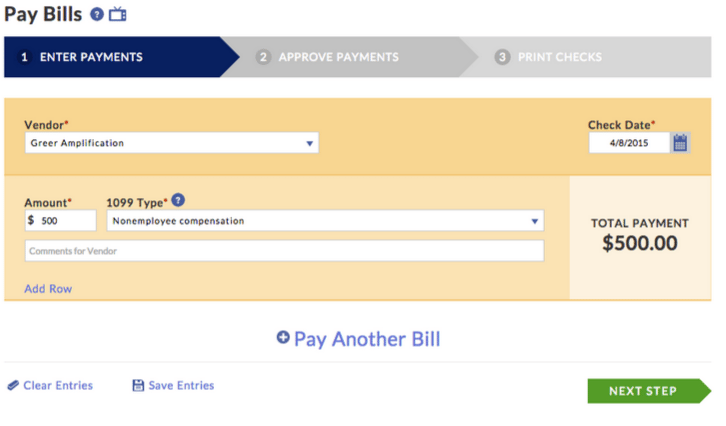 Benefits
You can add a number of different benefits, including health insurance (Sec 125, HSA, FSA),  retirement funds (401k, Roth, IRA and more) as well as post-tax benefits. After saving these under Payroll Settings, you can also set up employer contributions. Once all of these have been saved, you can add each employee individually and set the dollar amount for each deduction and contribution.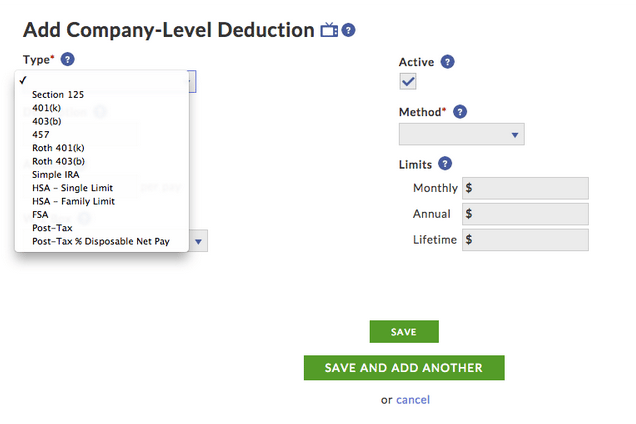 Integrations
Patriot does not support any 3rd party integrations at this time.
Reporting
There's several standard reports you can run on payroll and taxes, such as a summary of each employee's payroll, benefits and tax details, a breakdown of current pay rates/salaries and a chart of payroll tax liabilities. You can view these reports in-browser or download them as a pdf. Besides adjusting the time frame and a few other details, these reports are not customizable.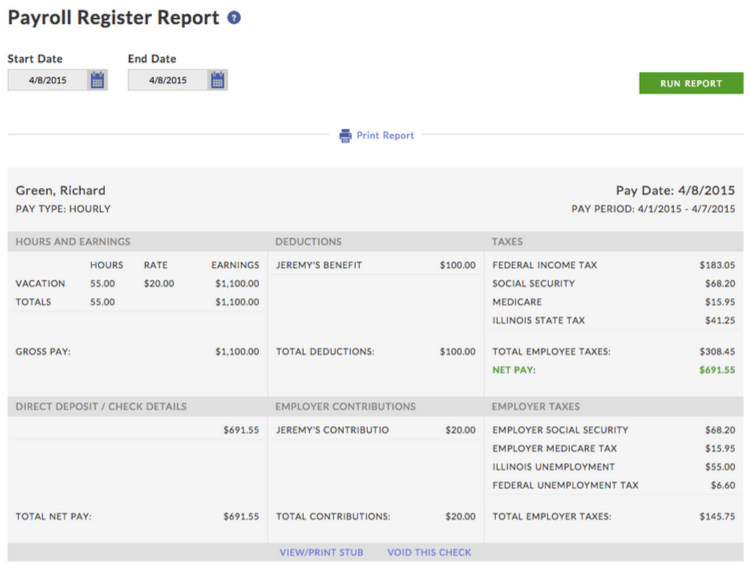 Other Features
Patriot also has accounting tools available as an add on ($12.50/month). You can set up a list of accounts and have them automatically debited each time you run payroll, pay a contractor or receive payment from a customer. You can then generate a handful of reports to get a snapshot of your financial situation.
Patriot Accounting uses the cash method. While you can track your payables, there's no way to enter receivables or send invoices. This makes the tools are fairly primitive – you can find stronger accrual-based accounting and invoicing from Wave for free.
Customer Service
24 hours?
No, 8am to 5pm EST Monday-Friday
US Based or Not?
Yes
Phone, Email, Live Chat, Self-Help Portal?
Patriot has top notch live chat and phone support available during regular business hours. Users spoke very highly of the support team and this was confirmed by my own experience.
There's also a searchable help center loaded with articles and videos. When you're using the software, there's an icon to watch a video under each menu and submenu. So if you get to a new task and are confused by what to do, you can very easily pop open a video to get started.
Click Here to get our FREE Google advertising guide and discover the 6 steps you can use to show up #1 in Google search
The Bottom Line
At $18/month for 5 employees, the Basic Payroll package is a great value. It's half as much as Wave Payroll, which is the next cheapest option. The payroll tools are strong, and although you don't get taxes and W2s filed for you, you can still view a report of taxes you owe and generate W2s with a single click. Also, add $7.50 and you can pay an unlimited number of contractors. Most providers will charge for each vendor, so this is a good deal.
If you need any additional tools, like the ability to track vacation days, integrate with accounting software or have taxes/W2s/1099s filed for you, I would recommend a different program. Patriot costs $57.50/month for Full Service Payroll + Time & Attendance + 1099 support. Gusto (formerly ZenPayroll), on the other hand, offers all the same features for only $45/month and is quite a bit easier to use.