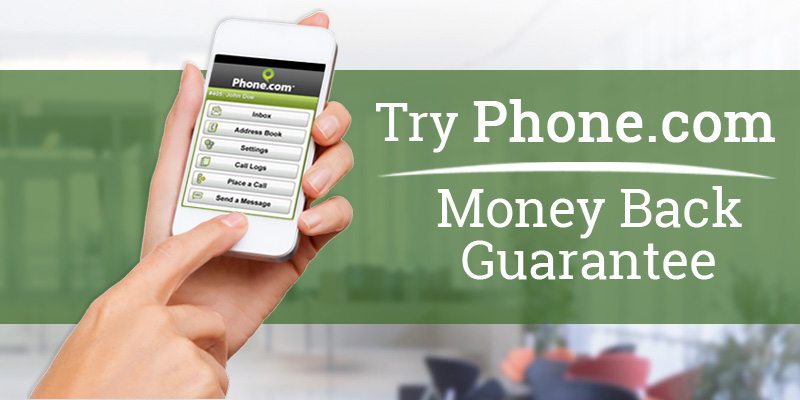 What is it?
A VoIP phone service for small and growing businesses.
How popular is it?
Phone.com is a small business with 50 to 100 employees.
What does it do well?
Phone.com gets you up and running quickly. It's easy to scale from a single phone line with basic functions to a more advanced system with multiple users. It's also great for international calling.
What does it not do well?
Customer support as not as strong as Nextiva's, and the user interface is not as easy as RingCentral's.
Who does it work well for?
Small businesses and self employed who want a service that can scale with them. You can start with a basic pay-per-minute plan that uses your mobile phone and move onto an unlimited plan with handset for a traditional office setup.
Who does it not work well for?
Larger businesses who want to integrate their VoIP with their CRM or other business software. Phone.com can link with some CRMs through Callinize (a 3rd party integration service) but this requires an extra charge.
Free calls to US and Canada?
Yes, if you sign up for an unlimited plan. Otherwise it's 3.9 cents per minute. There's also free calling to landlines in Canada, France, Germany, Israel, Italy, Netherlands, Puerto Rico and United Kingdom.
Pay-per-minute plan?
Yes, there's pay-per-minute and unlimited plans.
Can you use your current phone number(s)?
Yes
Does it support toll free?
Yes
Free Trial?
Cost Compared to Competitors?
Low
Similar products?
Cloud or Hosted?
Cloud
Does it require special phones?
Yes. You can use most internet enabled phones from brands such as Aastra, Cisco, Panasonic or Polycom. (Click here for a list of supported devices) You can also use a regular non-digital phone if you pair it with an ATA adapter (you can get 1 free when you sign up.)
Alternatively, you can use the iOS or Android mobile app, or Phone.com's desktop phone software and not deal with any hardware setup whatsoever. The mobile apps are free, but the  software costs an additional $5/month.
US Based?
Yes, Company & Customer Service
Phone.com Pricing
Phone.com pricing is flexible in that you can add features a la carte. They're also unique in that you can choose between unlimited monthly minutes for a flat rate or a pay-per-minute plan. Each plan includes 1 phone number with an unlimited number of extensions. Additional phone numbers are $5/month each.
$9.99 / month + 3.9 cents / minute. The cost per minute decreases on a sliding scale if you use more than 5,000 minutes/month.
$9.99 / month + $23.99 / user / month for unlimited minutes. The monthly fee decreases if you have more than 5 users and/or if you pay annually instead of monthly.
This pricing does not include taxes or surcharges, which are outlined in the table below:
1 User
(250 minutes):
$24.08 / month

1 User
(unlimited):
$43.62 / month

5 Users:
$158.53 / month
($31.70 / user)

25 Users:
$621.88 / month
($24.88 / user)

Base Price:

$9.99

$9.99

$9.99

$9.99

*Taxes and Surcharges

$4.34

$9.64

$28.59

$112.14

Minutes:

$9.75 (for 250 minutes)

$23.99 (for unlimited minutes)

$119.95 (for unlimited)

$499.75 (for unlimited)

Optional Add Ons:

Additional phone numbers - Add $4.99 / month each
Call Recording - Add $4.95 / month
Voicemail-to-text - Add $1.50 / user / month
Caller Analytics - Add $2 / month
*Note: The exact amount you pay in taxes and fees will vary depending on location. Some states, counties and cities will charge more than others. The prices in this example reflect the taxes in New York City.
International Calling
Phone.com is excellent for international calling. With an unlimited plan, you can make free outgoing calls to landlines in Canada, France, Germany, Israel, Italy, Netherlands, Puerto Rico and United Kingdom. If you don't have an unlimited plan, then it will cost the standard US rate. For other countries, the price-per-minute is fairly low compared to competition, ranging between 4 cents to about 30 cents.
You can look up rates for a particular country here. The only downside to Phone.com's international service is that there's a handful of countries you cannot make calls to, including Nigeria, Haiti and Maldives.
If you do a lot of business in a particular country, you can also purchase an international number for as little as $5/month. This is the lowest price of all the VoIP services we reviewed. (read more here)
Reliability
Phone.com scored average on reliability of service and quality of calls. Of the 45 customer reviews on www.voip-info.org/reviews/Phone.com+Reviews, 6 users reported technical issues: 2 noted service outages, 1 noted dropped calls, 2 noted equipment issues 1 had other technical issues.
Ease of use
Setup – Moderate. Some key benefits of Phone.com are that you can sign up online and don't need any equipment to get started. You don't get a personal account rep, however, like you do with Nextiva. Setting up your call menu and routing system is a little more difficult compared to Nextiva or Grasshopper, however. "Schedules," "Queues" and "Routing Presets" are all configured on different menus. This can be confusing when you're trying to use them together (such as, applying a schedule to a queue).
End User – Easy. Users should find Phone.com fairly easy to use. They can log in and go to "Extensions" to check their personal voicemail box, send a fax or edit personal user settings. Phone.com also has lots of in-call features, including call transferring, holds and call recording, that just require clicking a few buttons.
Support – Moderate. Phone.com has phone, email, live chat and SMS support. While users were generally content with support, some (including myself) had trouble getting answers to more technical questions or troubleshooting their system. There's also many online support resources, such as in-depth user guides, set-up guides and FAQs on various topics.
Features
| Features It Has | Features It Does Not Have |
| --- | --- |
| Receptionist (Auto Attendant) | Integrate w/ CRM |
| Call Queueing | Video Calls |
| Find Me / Follow Me | |
| Call Scheduling | |
| Conference Calls | |
| Online Fax | |
| Voicemail to Email | |
| Music on Hold | |
| Call Recording | |
| Voicemail Transcription | |
Detailed Overview:
Auto Attendant
You can set up a custom greeting when users call your Phone.com number. You can also set up a menu for callers to direct themselves to the department or employee they're trying to reach. This can all be done from your Phone.com user account.
To create a greeting, you can input text and have it read by an auto voice, upload an audio file or record a greeting from your phone. (explained here) Next you need to create a "menu" that enables callers to route their call by pressing a keypad button. For example, pressing 1 could forward them to the sales department and pressing 2 could be customer service, etc. Pressing a button could also send them to another menu, let the caller leave a voicemail, enter a call queue or search a dial-by-name directory.
Check out the Phone.com article on Menus.
Call Routing
When callers select a menu option, there's a few ways you can have the call routed to your employees. The simplest way is to have all phones in that department ring at once. If nobody answers after a certain amount of time, the caller can be prompted to leave a voicemail.
To set this up, click to edit a menu and add a new rule. Choose "Forward Call" and enter in all the phone numbers and extensions of employees in that department. You can choose to play music on hold and select between 10 different preset songs (or 12 premium songs).
You can also set up call queues, in which callers are placed in a waiting area until an employee is available.
To set up queueing, you choose a list of employees AND the order in which they receive a call. The call will always go to the first employee, then the second employee if they don't pick up in time, and so on. As of now, you can only place employees in the queue who have a unique 10-digit number. Queueing does NOT work with extensions. To give each employee a unique 10-digit number, you have to pay an additional $5 / line (or $4 if you have over ten numbers)
Check out the Phone.com article on Call Queueing.
Voicemail
Each extension includes its own voicemail box, which users can access online. From the extensions menu, you can click "Inbox" to view and play voicemail recordings.
You can set the service to send email notifications whenever you a receive a voicemail. An audio recording of the voicemail will be attached. You can also have the the message automatically transcribed to text and sent via email. This service costs an additional $1.50/month per extension. Alternatively, you can have the message transcribed by a Phone.com staff member at a cost of $0.25 per voicemail.
Check out the Phone.com guide on setting up your Voicemail.
Online Fax
Phone.com also lets you send and receive faxes. This feature is included with all plans, although you'll have to pay more if you're on a pay-per-minute plan. Each page is equal to 1 minute, whether you're sending or receiving a fax. If you're on an unlimited plan, then you can send/receive unlimited faxes.
To send faxes, go to the extensions page and click the extension you want to send the fax from. On the menu bar to the left, you'll see an option to "Send a Fax" (pictured below). You can type the message or upload a document file.
To receive faxes you must use a new phone number, different from your regular business phone number. You can use the same extensions with your fax number, however, and each extension can receive faxes individually. The fax will show up along with voicemail messages in their inbox. Like voicemails, you can have faxes automatically emailed as PDFs.
To learn more about our recommended online fax service, read our best online fax service buyer's guide.
Check out the Phone.com user guide (PDF) on Faxing.
Conference Calls
Call conferencing for up to 500 participants is included with any Phone.com plan. You get a single, permanent conference bridge number that users dial to enter the conference. Users then enter 6-digit conference ID number to join the call. You can only have 1 conference going on at a time.
There's a handful of conferencing tools. Using the keypad, participants have the ability to mute themselves or hear a count of the number of participants on the call. Moderators can mute all participants, lock the conference and change settings such as whether or not a sound plays when users enter the call.
Read more about conferencing here.
Call Forwarding
You can have calls forwarded to multiple numbers or extensions, including a cell phone or landline. You can set up call scheduling to forward calls at certain times or intervals. Under "Schedules" you can create custom daily or weekly schedules and even account for holidays and special circumstances. You can then apply a schedule to a call menu or queue.
Check out the Phone.com tutorial on Call Scheduling.
Call Recording
You can record incoming calls by pressing *7 on your phone. You can start this at any point in the conversation. After the call, the recording will be available under "call logs" on your online dashboard.
You can also pay an additional fee for premium call recording, which lets you record incoming, outgoing and number specific recording. You can also set up calls to be recorded automatically. Premium call recording costs $4.95/month for 300 minutes (and 3 cents/minute if you go over that) or $14.95/month for 1,000 minutes (with 2 cents/minute overage.)
Read more about call recording here.
Mobile App
There's a Phone.com iOS and Android mobile app that lets you manage your voicemail, fax and SMS inbox, view call logs, open your address book and more. You can make calls from your mobile device that will show your Phone.com number to the recipient.
Calls go out through either your VoIP network (data) or your cell network. To display your business number for outgoing calls, however, you have to be connected to the internet.
Read more about the Phone.com mobile app here.
Integrations
You can connect Phone.com with many different CRMs through Callinize, a 3rd party service. Salesforce, Insightly, REthink, Zoho, SugarCRM and several more CRMs are supported. The integration automatically logs all calls into your CRM, including the duration, who made the call, which leads/contacts are related and user-entered notes. When you get an incoming call, the system also scans your CRM automatically and shows you any relevant details.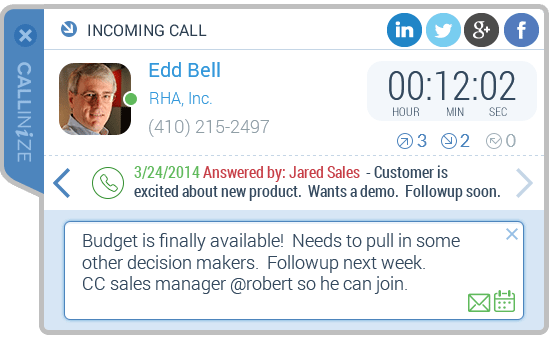 Because Callinize is a third party service, it costs a little extra to integrate your CRM with Phone.com. Pricing starts at $19/month.
Reporting
Caller analytics is available as a premium add on for $2/month. You get an account wide overview of your call data, including inbound and outbound calls, duration and time of call, what device the customer was calling from (landline, cell phone, cell provider) and whether they're a new or returning caller. Using Census data, Phone.com can give you demographic information about your callers – such as their age or income distribution. If publicly available, you can even connect your callers to their social media accounts, such as Facebook, Twitter and LinkedIn.
Read more about Phone.com caller analytics here.
Customer Service
24 hours?
No, Phone support is available from 5 AM to 10 PM Pacific.
US Based or Not?
Yes.
What's The Method of Delivery?
Phone.com has phone, email, live chat and SMS support. Based on customer reviews we found that users are generally content with their customer service, with many citing fast responses. Some users, however, had trouble getting answers to more technical questions or troubleshooting their system.
There's also many online support resources, such as in-depth user guides, set-up guides and FAQs on various topics.
The Bottom Line
Phone.com's flexible pricing makes it ideal for small businesses who are just starting out on VoIP. You can pay-per-minute with no additional setup or service fees and add advanced features like call recording a la carte.
If you're looking for a proper small business VoIP system you can check out our comparison of Phone.com and other top providers here.