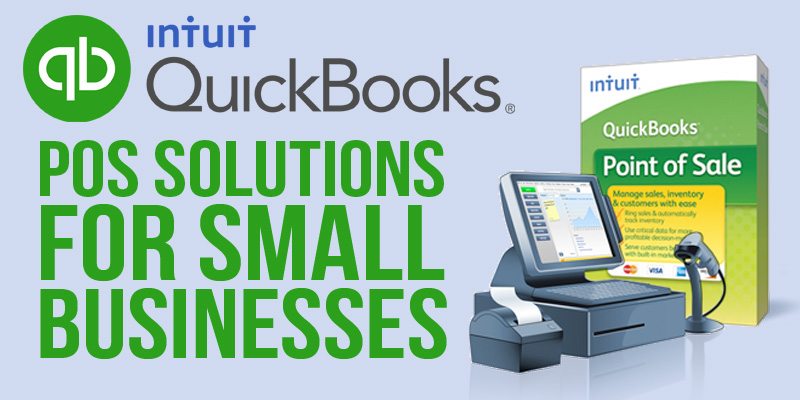 What is it?
QuickBooks Desktop 12.0 POS system (Pro)
Want to Reduce Retail Theft and Better Manage Your Inventory? Click Here to find out how.
Popularity?
Over 200,000 users
What it allows you to do?
Accept cash, check, credit card, and other payments, track and manage inventory, create/manage/track purchase orders, create customer profiles and track customer sales, and more
What it does not allow you to do?
Print kitchen receipts, split checks, manage/run devices simultaneously on one license (more on this below under pricing), account for waste/shrinkage, age verification (alcohol, cigarettes)
Who it works well for?
Retail stores, businesses that use Quickbooks accounting software, Businesses that want to use a Windows pc-based POS system
Who

it does not work well for?
Restaurants, cafes, grocery stores, gas stations, liquor stores, businesses that are not willing to spend thousands of dollars upfront on their POS system
Free Trial?
30 day free trial
Cost Compared to Competitors?
Expensive
Hardware Included?
None (although they do often run deals that include some free hardware). Can purchase for around $500 for very basic system (see pricing section below)
Type of Solution?
Desktop
Merchant Account Included?
Yes (see Credit Card Processing fees below)
O.S. Platform?
PC, Windows XP, Windows Vista, Windows 7, Windows 8, Windows server 12.
At least 2GB RAM and 1 GB of disk space for each workstation
See full hardware requirements here.
Similar Products?
AccuPOS
US Based?
Yes. Headquarters and Customer service center
User Reviews?
Average
How it Works
Quickbooks provides POS software that runs on compatible PC computers and connects compatible cash boxes, barcode scanners, receipt printers, and card readers into one payment system for your store, via direct cable or wirelessly. Using your main register computer, you can accept cash and checks, process credit cards, open the cash drawer, and print receipts.
Additionally, QuickBooks POS allows you to manage your inventory, create/manage/track purchase orders, set sales tax, and manage customer contact information and sales history.  It also has many more advanced features such as setting up customer loyalty programs and shipping and tracking packages.
Quickbooks POS Pricing
QuickBooks POS pricing can be pretty tricky, because they have lots of different add-ons and extra charges. What it comes down to, is that if they can find a way to charge you, they will. We break down all the major costs for you below. Any additional costs will be mentioned under their specific feature section.
One-Time Software License Fees
If you want to use QuickBooks' POS, you have to buy the software first, and it will cost you anywhere from $1,499.95 – $2,199.95. Also, it is important to note that this software license is per user/computer. In other words, if you have a computer for your register but also want a back-office computer for purchase ordering and management, you will have to buy two licenses, unless you never use them simultaneously and sign out of one computer before using the other. The same applies to registers. You will have to pay for a license fee for each register.
Here are the three plans.
1. $1,499.95/user – Basic
Intuit's basic plan includes all the main features you need to get up and running. You can process sales, view/generate in-depth reports, manage inventory, track general customer contact info and purchase history, etc. However, there are some key advanced features missing at this level. There is no employee time-tracking, meaning you cannot automatically run payroll via Quickbooks. Also, you cannot create purchase orders, set up a customer rewards program, create discounts across products/departments, or track work/sales orders.
2. $1,999.95/user – Pro
The pro includes all basic features, but also includes all the key features mentioned above which the basic does not.
3. $2,199.95/user – Multi-Store
The Multi-store plan is basically the Pro plan, but for multiple stores. This allows you to Quickbooks POS in up to 20 stores, and track sales, inventory, and reports from each.
See a full comparison of the features of the three plans here.
Update Fees
Any time Quickbooks POS software is updated, you have to pay a fee for your system to be updated, unless it is within 12 months of your purchase (then it's free). The costs of updating to Quickbooks POS 12.0 (latest) were as follows.
$599.95 – Basic Upgrade

$899.95 – Pro/Multi-Store Upgrade
Customer Support Fees
Quickbooks does not have free customer support (other than first 30 days), other than online self-help forums. For phone support, you will have to pay as follows:
$59/support call or . . .

$79/month or . . .

$589/year
Hardware Costs
From the research I have done on various forums and reviews, you pretty much need to buy hardware from Intuit if you truly want it to be compatible. Otherwise, it is not covered under QuickBooks customer support (if you choose to pay for it that is).
It will cost you around $600 for the register setup pictured below, which includes a receipt printer, credit card reader, cash drawer, and barcode scanner. It's only this price if you buy it when you purchase software, if you buy it at a later time, it's more.
You can also buy hardware piecemeal at QuickBooks' Hardware page.
What You will be paying per month
Below is the cost per month if you divide all the fees paid in the first year by 12 months(not including any update fees, hardware fees, or additional fees for scale use compatibility, gift card services, etc.)
$216 – Monthly Cost/register
Credit Card Processing
Quickbooks POS is both a POS software system and a merchant processor, Quickbooks Payments. Here are the associated fees for credit card processings:
$19.95/month – Account/Membership payment
1.75% + $.25/transaction – Swiped Credit Card rate
3.15% + $.25/transaction – Keyed-in card rate
To see some other popular credit card processing services and compare rates, check out our Credit Card Processing Fees article.
Ease of use
QuickBooks' installation and setup is definitely more in-depth/complicated than cloud-based POS services. However, once you get QuickBooks up and running, it does what it does well. Some QuickBook's tasks can be a little tricky to figure out, but their built-in tutorials are excellent and should resolve the majority of general issues you might encounter.
Software Download/Setup: Moderate
QuickBooks POS is not a cloud-based system, which means all the files have to be downloaded, managed, stored, and updated on your in-store computers. This can be done using a CD if you bought the product in-store/ordered the software package somewhere online. Or, you can download the software through QuickBooks online via a license portal once you have purchased a license.
You have to download everything onto your computer (following the tutorial), then reboot your system to complete the download. Although not a very difficult process, it is definitely more complicated than the typical Cloud-based POS download.
Store Setup: Easy
When it comes to store set up, things are pretty intuitive. Although it could be complex without help, Intuit has a helpful tutorial for nearly every major store-setup task, from adding inventory to making a sale.
Here is what your homepage will look like.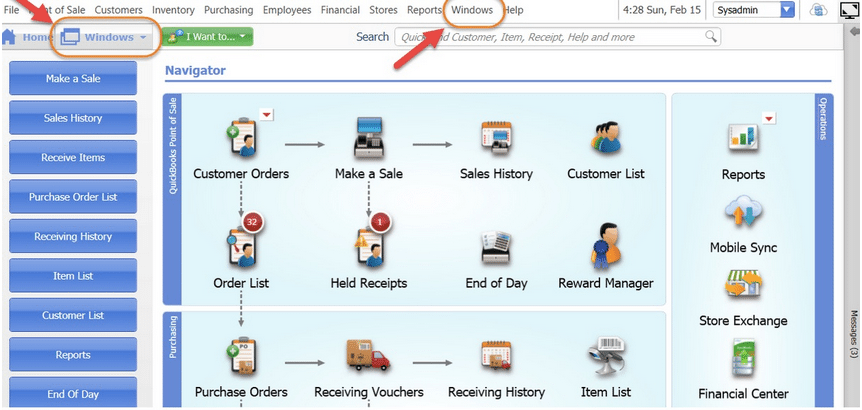 As you can see, all of the tabs are set up pretty intuitively, with options both on the left hand-side, up at the top, and in the middle of your screen, like the windows tab which is highlighted. This is the page where you will begin to do pretty much every task, including making a sale.
Register Use: Easy
Your Register screen is similar in format to your homepage, but has a different set of navigation buttons.
Here's an example with several products added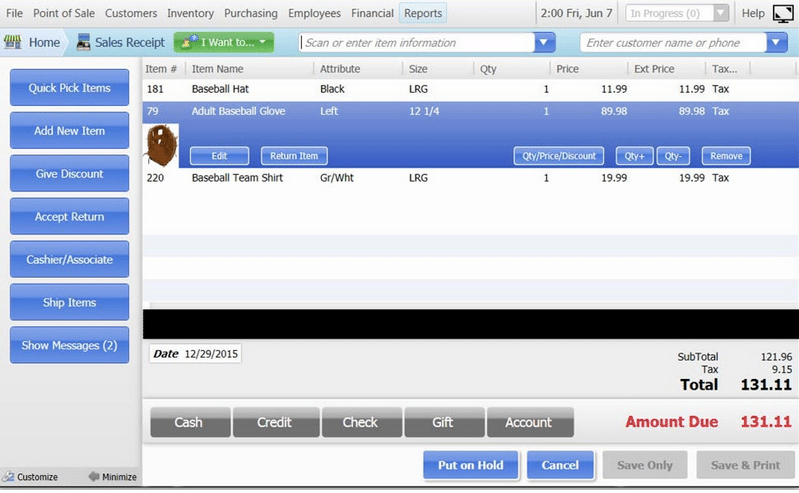 You can access popular items via your "quick pick" tab, add new items, give discounts, accept returns, etc all from the main register screen. You can put a check on hold and open it later (button at bottom center) or cancel a transaction as well. Editing item quantity or removing an item is super simple, just click the appropriate button after you have highlighted the item in questions.
There are two things I did not like. First, when you are ready to checkout, you hit the "Save only" or the "Save & Print" button. It seems much more confusing than just having a "checkout" button. Second, there is no feature for inputting start-of-day cash numbers for the cash drawer. If you want to compare cash counts, you have to run an end-of-day report at the beginning of the day as a reference for the true end-of-day report, which seems ironic, considering the high qualify functionality of other more complicated features.
Features
Features Included

Features Not Included

Accept Cash, Credit Cards, Checks, etc

Split Check

Many inventory management features (ie llow inventory/re-order stock alerts)

Accept Food Stamps/EBT

Purchase order creation/management/tracking (can even set automatic PO's)

Simultaneous user access (cannot be on program in back-office and front register without multiple licenses)

In-depth sales and inventory reporting

No opening balance cash drawer feature

Gift card/discount options

Account for waste/shrinkage

Manage customer information/sales history

Handle age-verification (alcohol, cigarettes)

Track employee hours and sales commissions

Ship and track packages

Customize receipts

Customer Rewards Program

See full list of features

here
Integrations
QuickBooks is primarily about QuickBooks, meaning that its integration strengths come in its seamless and automatic ability to export data from QuickBooks POS to your QuickBooks accounting software. Also, it processes payments through Quickbooks Payments without a hitch. However, if you want to integrate with other merchant services, you are out of luck. Also, if you want to connect with an ecommerce store, be prepared to shell out more money.
| Integrations | Non-Integrations |
| --- | --- |
| Seamless integration with QuickBooks accounting | Merchant service accounts other than QuickBooks' payments |
| Integration with a variety of ecommerce/online shopping carts, including Shopify and Woocommerce (additional charge: see ecommerce section below) | |
| QuickBooks Merchant Services | |
Detailed Overview:
There are two main things to say about QuickBooks. First, pricing is really a pain and things are kept in-house. Be prepared to get nickel and dimed for about everything possible, or not so nickel and dimed, as some add-on costs can run into the thousands of dollars. And the annoying thing, is that you have to pay the costs if you want the functionality. QuickBooks works well as long as you use their hardware and add-ons. If you try to branch out, you're bound to experience trouble.
Second, despite the pricing problems and lack of integration, QuickBooks POS really does what it does pretty well. It is set up intuitively, has extremely helpful tutorials for about every task, and has lots of features, especially tailored to retail stores.
Their inventory management tools are stellar, allowing you to track inventory quantities, set re-order points/low-inventory alerts, manage inventory from store-to-store (multi-store plan), calculate pricing based on markups and margins, and much more. You can also generate up to 50 different customizable reports, create/manage/track Purchase Orders, manage vendors, and track employee hours/commissions, not to mention a variety of other features.
In addition to all of their pricey add-ons/charges, QuickBooks POS also has several other negatives. It does not work well for grocery stores or restaurants, lacking the functionality to really compete in those industries (see restaurant and grocery sections below). The whole system is notoriously slow, although one of QuickBooks claims for version 12.0 is that they have increased speeds by up to 10 times. Lastly, and perhaps most importantly, if you move away from Quickbooks POS you are stuck with all the software,hardware, and the money you spent. You cannot get a refund and you may very well not to be able to use the hardware with any other POS system. Talk about a pain.
Features
1. Inventory Management
QuickBooks has great inventory management features. Inventory is automatically adjusted and tracked after every sale. You can set low-inventory alerts, reorder points, track layaways, view number of items available for any given date, and much more. If you have a multi-store plan, you can even manage/track inventory from store-to-store.
2. Employee Management
If you are wanting you manage your employees on QuickBooks POS, you can do that. With the built-in employee time tracking and commissions tracking features, you will always be on-top of your employee management needs. Of course, you can also set user access permissions for each employee.
3. Customer Relationship Management (CRM)
QuickBooks has some nice CRM features. You can create a variety of different contact lists, track each customer's sales history, assign specific discounts to individual accounts, launch email marketing campaigns, and even setup a customer rewards program (points automatically included as payment on POS screen).
4. Always-on mode (accept payments even when offline)
QuickBooks Desktop POS 12.0 does not have an always-on mode.
5. Barcode creation/scanning
QuickBooks POS has the ability to create and scan barcodes, as long as you have a compatible barcode scanner/label printer.
6. Label creation/printing
You can create and print custom labels through QuickBooks using a compatible label printer.
7. Gift Card/Discount Options
If you want to discounts, QuickBooks POS has you covered, with a variety of discount options, including the ability to assign certain discounts to specific customer accounts. QuickBooks also has the ability to accept gift cards. However, you have to sign up for gift-card service account, which will cost you a $50 one-time setup fee and then an ongoing fee of $24.95/month, not to mention the fees for each gift-card and the $.20 overage fee for every additional transaction should you happen to exceed your 100 transaction monthly limit.
Click here to learn more and see full fee structure.
8. Ecommerce/online storefront option
QuickBooks POS does have a variety of ecommerce options available to you, as long as you are willing to open your wallet. For a one-time fee of $1000-$2000 and an ongoing monthly fee of around $75 you can get an integration package that allows you to partner QuickBooks POS with popular online shopping carts/store like Woocommerce, Shopify, and others.
9. Mobile payment option
QuickBooks does allow you to accept mobile payments on your iPhone or Android device (windows and Blackberry phones are not supported). You can either use QuickBook's card swipe or take pictures of the card to be processed.
10. Purchase Order management
Quickbooks POS has some high-powered purchase order management features. You can create, track, and manage PO's, all from your QuickBooks program. You can also setup automatic PO generation. Low inventory numbers trigger the system, which then automatically generates a PO, emails it to the vendor, and then begins tracking the order.
11. Reporting
QuickBooks has some in-depth reporting capabilities. You can generate over 50 different kinds of reports, including common returns, best and worst sellers, department summaries, payment method summaries, item cost/quantity summaries, tax summaries, busiest times, and much more.
Reports are first presented in a cursory format and allow you the option to look more specifically at any set of numbers/figures.
12. Appointment Booking/Reservations
QuickBooks does not have any kind of appointment booking/reservation capabilities.
13. Payroll
If you are hoping to run payroll using QuickBooks POS, then you are in-luck, as long as you also have QuickBooks accounting. If you do, then you can have employee timesheets automatically imported into your QuickBooks accounting software and do payroll with little-to-no hassle.
14. Restaurant Tools
Quickbooks POS does have an open check feature, but that is about all the restaurant tools that it comes with. You cannot split checks, connect with a kitchen receipt printer, track tables, or accept reservations.
15. Grocery Store Tools
If you are planning to use Quickbooks POS for your grocery business, you might want to think again. The POS system can technically integrate with scales for weighing items, but it requires a $200 one-time add-on software service, plus ongoing $100/year subscription fee. Also, Quickbooks does not have the ability to accept food stamps, account for spoil, or calculate store shrink rate, like grocery specific POS systems can.
16. Retail Store Tools
QuickBooks POS is at its best when in a retail store environment. It has a wide-variety of inventory management tools, even allowing cross-checking/tracking of inventory between stores (multi-store plan). Also, the system is set up perfectly to accommodate a wide-variety of modifiers for individual products ("red", "small", etc)  even automatically assigning unique UPC's to each individual product within each category.
Customer Service
24 hours?
No (M-F 6am-8pm PST, Sa-Su 7am-4pm)
US Based or Not?
Sometimes (complaints from users that calls often redirected to Indian Call center)
Cost: $59/call or $79/month or $589/year
Phone, Email, Live Chat, Self-Help Portal?
If you do not sign up for a customer support plan, you basically just have access to QuickBooks' online self-help forum. If you sign up for a support plan at the prices mentioned above, you get phone support 7 days a week (hours above). There are a variety of user complaints related to customer support calls being routed to other countries, specifically India. But, QuickBooks does have a pretty good reputation for eventually solving disputes, so that is a positive.
Want to Reduce Retail Theft and Better Manage Your Inventory? Click Here to find out how.
Conclusion
If it is absolutely essential for you to have a POS system that seamless integrates with QuickBooks accounting, then QuickBooks POS might be for you. To be fair, it does execute very well as a program, and is pretty intuitive to use with lots of helpful tutorials. But, be prepared to pay an arm and a leg, not to mention the subjection to ongoing nickel and diming practices.