What is it?
Accounting and invoicing software for small and medium size businesses.
How popular is it?
About 900,000 businesses around the world use Quickbooks Online, as of March 2015.
What does it do well?
Quickbooks Online is a powerful, yet user-friendly accounting system with an exceptional invoicing/payment processing, reporting and mobile apps.
What does it not do well?
It lacks some advanced features like auto expense categorization rules or multi-currency support.
Who does it work well for?
It's a safe choice for small business owners who work with accountants.
Who does it not work well for?
Businesses who will not be using an accountant and just need basic revenue and expense tracking. (check out Wave)
Cash or accrual based accounting?
Both
Does it save Audit Trails (log of user activity)?
Yes
Free Trial?
Yes
Cost Compared to Competitors?
Mid-Range
Cloud or Hosted?
Cloud (hosted package also available)
Similar products?
US Based?
Yes
User Reviews?
Average (see reviews)
Quickbooks Pricing
Quickbooks Online has 3 plans that vary in their set of features and the number of users you can have:
The Simple Start Edition ($13/month) gives you all the key accounting features except the ability to save bills, set up recurring invoices or control user access privileges. You're also limited to 1 user and have more basic reports.
The Essentials Edition ($27/month) increases that to 3 users and adds billing, recurring invoices and access privileges. You also get 40+ built-in reports, as opposed to only 20+ with the basic edition.
The Plus Edition ($40/month) can be used by up to 5 users and adds inventory management, time tracking, budgeting and more. You also get 65+ built-in business reports.
Check out the Quickbooks website for a comparison of the 3 plans. There's also a "Self-Employed" edition ($8) that has basic transaction management along with some special tools for tracking deductions. There's no invoicing/billing, however, or any of the more advanced features.
Ease of use
Setup –  Easy. Quickbooks Online has a good setup process that caters to all types of learners. The first time you log in you'll be asked to enter a lot of information about your business, although you can skip this and enter it later. Once you reach the homepage, you'll have the option to watch a few short video guides. But you can also jump right to the program if you prefer to dive in.

User Interface – Moderate. Quickbooks Online has one of the best user interfaces of all the accounting software we looked at. Little things like the "create" button at the top (pictured below) or the universal search bar make it easy to navigate. Linking bank accounts is also easy – you just need to enter your account ID and password (when supported).
Overall, it has the most polished and graphical interface. Given the sheer number of options, however, Quickbooks is more suited for somebody with accounting or finance experience.

Support – Moderate. While Quickbooks has a ton of support resources, the quality can vary. There's phone, live chat and email support available during regular business hours, but users have had mixed experiences, with some noting long wait times. There's a searchable support center with user guides and community Q&As. Because of the variety of user-submitted questions, however, it can be difficult to find the exact answer you're looking for.
Features
| Features Included | Features Not Included |
| --- | --- |
| 5 Types of Accounts | *Time Tracking |
| Auto-import Bank Transactions | *Inventory Management |
| Invoicing | **Payroll |
| Payment Processing | Categorization/Automation Rules |
| | Multi-Currency |
*Available in the "Plus" Edition.
**Available as an add-on.
Integrations
Integrations it has


Integrations it does not have


Project Management
(Basecamp)

Cloud Storage
(Google Drive, Dropbox, Box)

Time Tracking
(Harvest)

Digital Signature
(Right Signature)

CRM
(Zoho, Salesforce)

eCommerce
(Shopify, BigCommerce)

Payment Processing
(Stripe, Square)

POS
(Shopify, Vend)

Payroll
(ZenPayroll)

HelpDesk
(HelpDesk)

Mailchimp

Zaperier
Check out the full list of integrations here.
Detailed Overview:
Accounts:
Quickbooks Online supports the five main types of accounts (assets, liabilities, equity, revenue and expenses). You can view and edit these under "Chart of Accounts," although I actually found this menu a bit confusing compared to Xero or Wave since you couldn't filter by account type (i.e. assets, liabilities, etc.) One unique feature about Quickbooks is that you can create sub-accounts within parent accounts.
Journal entries, like Xero, are formatted like a spreadsheet, so it's easy to manage a large number of line items. You can add notes or even attach documents to journal entries, but you cannot save an entry as a draft.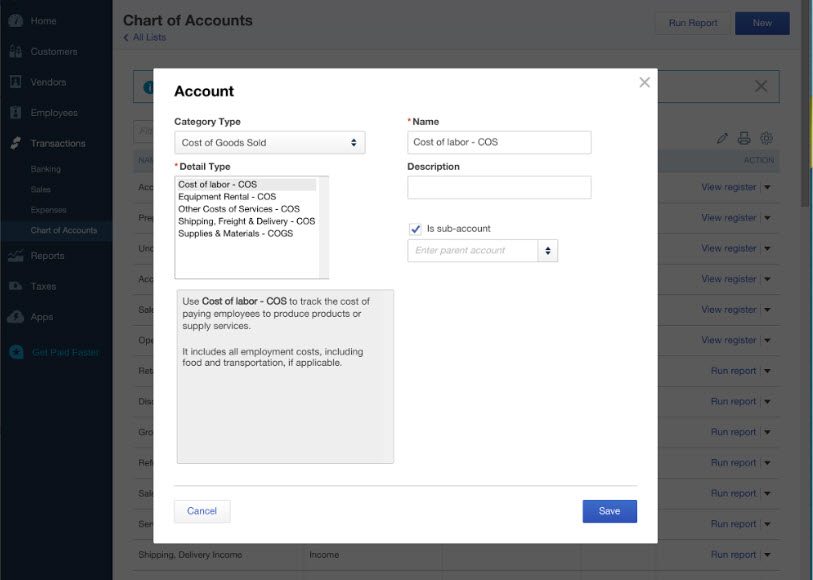 Bank Reconciliation
The "Banking" page displays the balances of all your bank accounts, credit cards and PayPal account. It also shows your balances in Quickbooks and notifies you of any pending transactions you need to "reconcile," or add to your books.
Quickbooks lets you connect accounts from all major financial institutions, including Bank of America, Citibank, JP Morgan/Chase and Wells Fargo, and automatically imports your transactions at least once per day. One nice thing about Quickbooks is how you can customize the list of transactions: You can change the data columns as well as the size and number of transactions listed.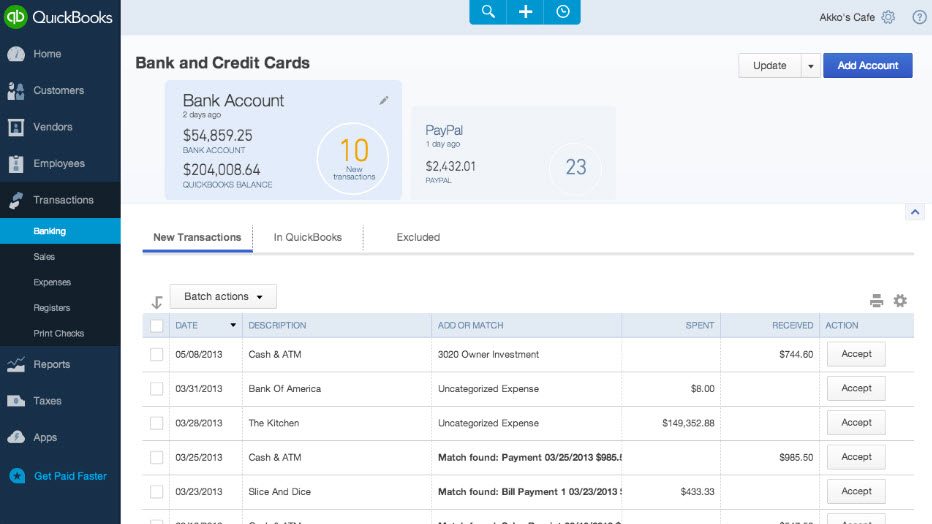 To "approve" imported bank transactions you need to match them with existing transactions you entered manually, or copy them to create new ones. Quickbooks does a good job of finding matches based on the dollar amount and description. For new entries, Quickbooks will suggest an account category based on the description and vendor/recipient listed on the transaction. You cannot set auto-categorization rules, however, like you can with Xero.
Invoicing/Billing
You can create invoices and email them directly to clients with a link to send payment. Invoices are pretty standard. You can quick-add line items by typing in the description, or pull up saved products or services.
Quickbooks handles sales tax in an odd way. If you don't have any tax rates saved on the separate "Taxes" menu, you won't get the option to add taxes to your invoices. Also, even if you have rates saved, you can only apply a single tax rate at the end of the invoice. Xero, on the other hand, gives you much more flexibility by letting you add multiple taxes to each item separately.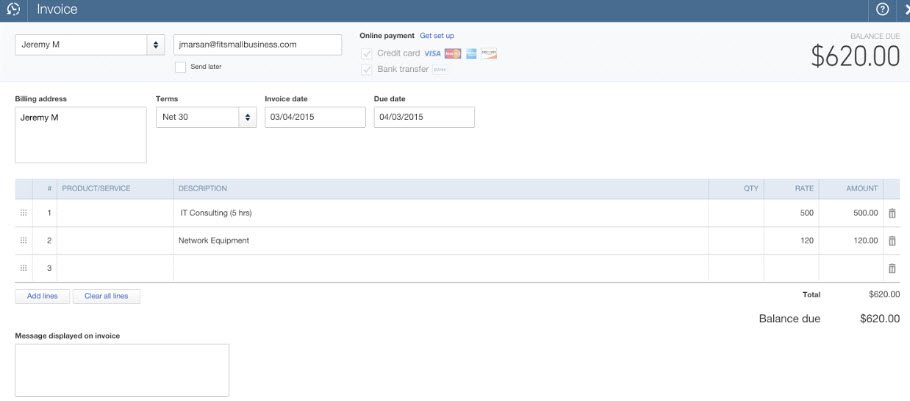 Some of the additional features you get are the ability to make invoices recur and send estimates to clients. You can also save your bills, which is a menu similar to invoices, although you can't apply taxes.
Although Quickbooks Online has been criticized for a lack of invoice formatting options, this has steadily improved. You can now choose between 5 templates and adjust the font, logo placement, text placement and more. You can even add up to 3 custom fields to your invoices.

Payment Processing
Quickbooks is the only program to offer their own payment processing, Quickbook Payments. The cost for credit cards is 2.4% of the transaction value + 25 cents. This is a little cheaper than competitors like Wave, who charge 30 cents AND 2.9% of the transaction value. Also, by handling payment processing in-house, Quickbooks has another advantage in that payments and fees are automatically added to your books.
Customers
Quickbooks keeps a contact book of your customers and vendors. Clients you send invoices to are automatically added to the list. You can also import contacts from your CRM or from a spreadsheet file. Clicking each customer brings up a profile where you can view their contact details and a list of all past and ongoing transactions.
Multicurrency
The US version of Quickbooks online does not support multicurrency, although there are many localized international versions and a global edition that do. Just note, if you go with a non-US edition, you won't be able to payroll in the US nor will you get US-specific tax features.
Integrations
Quickbooks has a huge number of 3rd party integrations, including CRM, project management, POS, payroll, eCommerce software and more. This is thanks, in part, to the Quickbooks API which lets developers build custom links between Quickbooks and other programs.
Check out the full list of integrations here.
Reporting
Quickbooks has the best reporting engine of any system we reviewed. There are over 40 standard reports (or 65 with the Plus edition), including balance sheet, profit and loss, company snapshot, a payroll summary and more. What's more is how you can customize reports (pictured below) by adding new data columns and adjusting the format. This gives you many more reporting options with Quickbooks than you get with the other programs.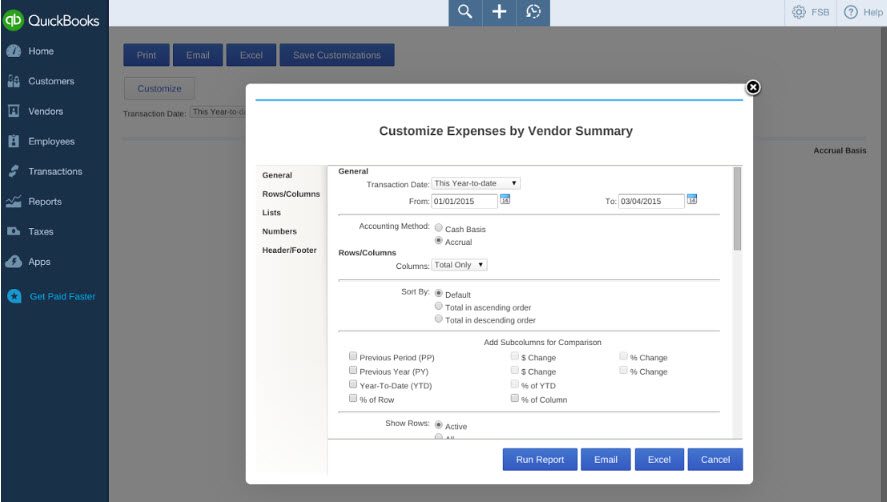 Mobile App
Quickbooks Online has a feature-rich mobile apps for iOS and Android. You can view accounts, add transactions, send invoices and even process payments on the spot. You cannot create new accounts or generate more than a few basic reports. However, if you need to access these features, you can use the regular login on a mobile browser.
Read more about the Quickbooks Android and iOS mobile apps.
Other Features
Payroll is available as an add on. It's $20/month +$2/employee if you just want the ability to send paychecks. If you want to handle payroll taxes as well, the cost is $31.20/month +$2/employee. Unlike Xero, you can use Quickbooks payroll in all 50 states. (Read more here)
Quickbooks Online Plus ($40/mont) includes inventory management and time tracking. You can keep track of your inventory as you make sales and use this to calculate the Cost of Goods Sold.
Time tracking enables employees to automatically log the number of hours they worked on timesheets. This can later be applied to invoices, with a breakdown of how hours were spent. Employees can log into your system with "time tracking" privileges only, then run a clock to track time spent on projects enter hours manually.
Read more about Quickbooks inventory management and time tracking.
Customer Service
24 hours?
No, phone and chat support are available 6am to 6pm PST, Monday to Friday. Phone support is also available Saturday from 6am to 3pm.
US Based or Not?
Yes
Self Help, Phone, Email, Live Chat?
Quickbooks offers phone, email and live chat support during regular business hours, although users are first routed to the support center and asked to search for an answer before given the option to contact the support team. The support center searches both official how-to guides and user-submitted questions. This means there's a ton of resources to search through, although the quality or help varies. If you do need to contact the support line, users have noted long wait times.
Quickbooks also has a database of accounting professionals certified to use Quickbooks Online. In the US, they have by far the largest number of certified experts compared to all the other programs we reviewed. This is especially important if you live in a smaller city or rural area. You're much more likely to find a Quickbooks expert nearby than somebody who is trained with Wave or Xero.
The Bottom Line
Quickbooks is the dependable giant in the accounting world. It's desktop version has been around since 1994 and, though a little late to the scene, it's made a steady transition to the cloud with Quickbooks Online. Compared to Xero, Quickbooks dominates the US market. So if you expect to need any help from accountants, Quickbooks is the safer choice.
Otherwise, to decide between Quickbooks and Xero, you have to look at pricing and features. Quickbooks is cheaper if you don't need payroll and have under 4 users. Otherwise, if you do need payroll or have more than 4 users, Xero is the cheaper option. The standard edition ($40/month) supports unlimited users and payroll for 5 employees. Note, however, Xero's payroll only supports a handful of US states, as of March 2015.
As for features, Quickbooks boasts customizable reports, native payment processing and, with a "Plus" account ($30/month), inventory management and time tracking. What Xero offers that you won't find on Quickbooks is multicurrency support and more robust automation/categorization options.