Trying to sell homes on Zillow without customer reviews is like trying to fish without bait. These days, consumers have an expectation for honest, insightful and frequent customer reviews. If they don't find any real estate agent reviews on your profile, they'll move on to the next.
Once reserved for the restaurant industry, real estate reviews are also becoming important on Yelp and other "general" business directories such as Google+. In this guide, we'll give you the ultimate rundown on real estate agent reviews, including where to build them, how to ask for them (with examples) and three shortcuts you can use to build online reviews fast.
Before we dive into the details on this topic, we suggest you check out Zillow Premier Agent, our #1 recommendation for generating qualified real estate leads. Click here to learn more.
Where Should I Build Online Real Estate Agent Reviews?
In this day and age you want to focus on both real estate-specific platforms, such as Zillow or Trulia as well as traditional business directories.  Here are the 5 most important:
Traditional Directories:

Yelp, Google+

Real Estate-specific Sites:

Zillow, Trulia, Realtor.com
As for deciding which review site to direct a client to, the rule is simple. If they found you on a property search website like Zillow, ask them to write a review there. For one, you know they have an account that is actively used and secondly, you can send them a request directly through Zillow.
If the client is not on Zillow, Trulia or Realtor.com, then you should direct them to Yelp or Google+. Yelp is only a good idea if the client is already a Yelp reviewer. Yelp's review algorithms work in such a way that first-time reviews are hidden until the user becomes more active. If the client is not a Yelp users, send them to Google+ instead.
To learn more about setting up these pages, check our Business Guide to Google+ and our Business Guide to Yelp.
How Do I Ask for Reviews?
One of the biggest stumbling blocks for realtors is figuring out how to pop the question – Can you write me an online review? Figuring out how to make this request, whether online or in person, requires a careful balancing act: You want to be personable and convincing without sounding desperate or manipulative.
One tip is to mention reviews early on in the searching process. When you first meet up and explain all the steps you'll be going through, tell them the final step is to write a review of the experience. If you mention reviews for the first time at closing, it won't sound like nearly as big of a deal to the client. It also helps to bring up reviews now and then as reinforcement. If a client gives you a compliment, return it with the joke "save it for the Zillow review."
As for sending the review request itself, here are some tips on what you should put in that email:
Emphasize the importance

of real estate agent reviews for your business. If the client read your reviews before working with you, remind them: "

You mentioned that you read my customer testimonials before choosing to work with me, so you understand how important these are for consumers to find the right agent!"

Remind them of any key moments

: "

I'm happy I was able to solve XX before we proceeded with the contract."

"Guide" the review

with specific considerations.

"Consumers find it especially important for realtors to have expertise about local neighborhoods. Please do mention if you found my personal knowledge to be helpful!"
For more examples, check out Agent Scripts: Asking Clients for Reviews from Zillow.
Three Tips to Maximize your Online Reviews
So you get the gist of it: Building online reviews takes time, diligence and careful email-writing skills. You may be wondering, however, are there any shortcuts I can take to start getting more reviews immediately?
Fortunately, we heard 3 more tips from realtors and real estate experts that can give you a nice jump start:
#1 Offer a Reward
Let's face it – writing a review is a hassle. It's the reason most of us don't leave online reviews, even when we're really happy with the product or service. Offering a small reward to clients, like a Starbucks or Amazon gift card, is an easy way to repay them for their time. Amazon gift cards are especially convenient, since you can choose any amount you want and deliver via email.
Now you may be thinking, isn't it wrong to compensate somebody for a review? It's actually perfectly legal & ethical provided you follow on eof two conditions:
Offer the reward whether or not they fill out the review.

This way it's not compensation, it's just a gift. Consider sending an Amazon gift card with a message

"As you know reviews are a very important part of our business… To thank you in advance, here's a small token of appreciation"

Make sure they disclose it.

If you only send rewards to clients who leave reviews you are technically compensating them to write that review. This is still legal as long as the client discloses their compensation. Just a simple phrase is enough – "

Company X provided me a $10 Amazon gift card in return for my time to write this honest review."
Of course, disclosing payment can make a review sound fishy to readers. For that reason we recommend the 1st route over the 2nd route. If you offer the reward whether or not they fill out the review, they're not required to disclose the gift. For more about the legality of online reviews, check out the Federal Trade Commission's (FTC's) Endorsement Guides.
#2 Didn't Close a Deal? Still ask!
You don't need to sell a home in order to ask for a real estate agent review. Any interaction you've had with a client can qualify you for a review, even if they go on to work with somebody else.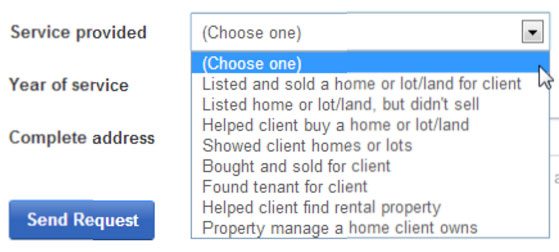 In fact, Zillow lists 8 different scenarios on their "Review Request" menu (pictured above), including "Showed client homes or lots," "Helped client buy a home or lot/land" or "Helped client find rental property," etc.
Now, you may be wondering, why would a client leave me a good review if they choose not to work with me? Well, there's loads of reasons why they may have left. For example, say the client couldn't get pre-approval on a loan and thus decided they'd be better off in a rental property. In this scenario, they wouldn't have any particular reason to write a negative review. In fact, they might be more willing to leave a positive review than an actual customer, since it's a way of compensating you for your time.
#3 Make Review Requests Part of Your Sales Process
This one may sound like common sense, but it's surprising how many realtors finish a transaction and simply forget to ask for a review. Perhaps it's the relief of a successful deal, or the impending demand of other clients, but all-too-often, realtors move before the vital step of sending a review request.
One solution is add customer reviews as the final step of your sales process. As California-based realtor David Feldberg explained to me, you should keep your transaction open in whatever software you use until you've reached out and directed the client to Yelp, Google+ or Zillow. For David, this is a folder in his inbox. For those who use a CRM, you may add "send review request" as the final step in your project or opportunity, thus keeping your transaction "open" until you can check that off.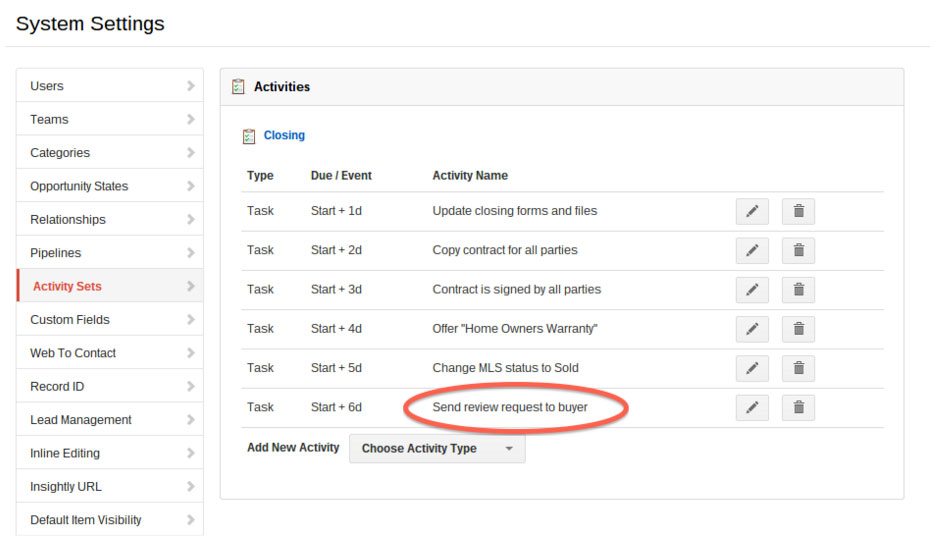 To learn how to setup opportunity pipelines in Insightly, our recommended CRM for realtors, click here.
A Quick Note on Reputation Management Software For Realtors
You may have also heard about software that can boost your number of reviews. Known as reputation management software, these services can sometimes also hide negative reviews and bad press for your company. Some examples include Reputation.com and FATbit.
After taking a close look at how these services work, I do not think they have much value for realtors. The primary way they build reviews is by sending automated emails to customers. This can work well for businesses like restaurants or retailers that have hundreds of customers a week, but it's not particularly great for realtors that have only a handful of clients. You're much better asking in person or sending a personalized message.
We asked 50 experts for their best real estate marketing idea. Click here to see what they told us!
The Bottom Line on Real Estate Agent Reviews
Real estate reviews can feel like a chicken & the egg problem: You need reviews in order to attract business, yet you need satisfied clients in order to get reviews. For this reason, many new realtors can find themselves in "review limbo," where both their business and their reputation is at a standstill.
The best solution in this situation is to get creative, a little aggressive, and make a push. Make review requests part of your regular routine, and start mentioning them on outings with clients. Also reach out to your past clients  – including those who didn't close a deal with you. A little courtesy can go a long way!