The median real estate agent salary is $33,900, but this doesn't account for variables like experience and part-time vs. full-time status. In this guide, we'll show you how much money a real estate agent can expect to make a year. This includes your net pay after costs like marketing, technology and automobile expenses.
Ready to become a realtor? All states require you to take real estate licensing classes. We recommend Kaplan, which offers top-notch real estate licensing programs online. Click here to visit Kaplan, or read more in our 6-Step Guide to Becoming a Real Estate Agent.
How Much Do Real Estate Agents Make?
The first thing to note is that most real estate agents technically do not earn a salary. They earn a commission on homes they sell, rather than fixed annual compensation (or salary). For the sake of simplicity, however, we'll use both terms interchangeably.
Real estate agents made a gross median income of $33,900 in 2014, according to the National Association of Realtors (NAR). The median take home pay after taxes and expenses was $22,000.
Now, if you're planning on becoming a full-time real estate agent, don't fret right away. The median income is dragged down by causal agents who sell part-time. If you're a full-time real estate agent with 3+ years experience, you'll likely make a lot more than the median. As we'll explain more below, salaries vary widely depending on experience, weekly hours worked and other factors.
The study exclusively surveyed NAR members. Because about half of real estate agents in the US are members, this is fairly representative of the whole.
What Are Real Estate Expenses?
Real estate agents spent a median $5,000 in 2014 on various expenses related to their business. This includes marketing, training, technology, automobile expenses and more. New or lower-earning agents, however, can expect to pay a bit less than the median:
| Expense | Median Cost (2014) |
| --- | --- |
| Administrative Expenses (office supplies, equipment, phone bill) | $620 |
| Marketing and Promotion (online ads, print ads, email marketing) | $1160 |
| Professional Development (real estate coaching, seminars, continuing education, etc.) | $620 |
| Technology (website, CRM) | $630 |
| Vehicle Expenses | $500 |
| Total: | $3,530 |
When you add up all of these expenses, the total is $3,530 – lower than the median of $5,000. That's because some agents pay additional expenses like office rent and lead referral fees. While this drives up the median overall, the majority of agents do not pay for these expenses.
We recommend new agents spend the bulk of their budget on marketing. Investing in growing your customer-base early on can pay off tremendously down the line. As we'll explain more further on, top-earning agents receive a lot of business through referrals and repeat customers, which can take years to build up.
For ideas on how to start marketing your real estate business, check out our guide 50 Real Estate Marketing Ideas The Pros Use.
What Factors Affect a Real Estate Agent Salary?
Two of the biggest factors that affect how much real estate agents make are their experience and number of hours worked per week. Here's what the same NAR report showed: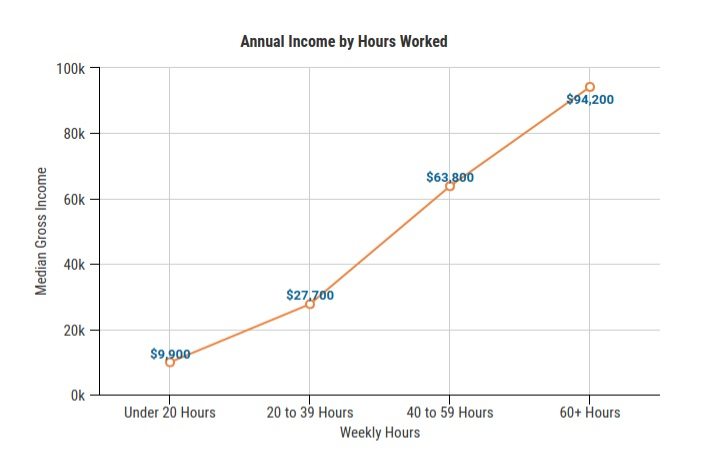 First off, it's important to note that many agents work in real estate part-time. They may moonlight another job, take time off to raise kids, or just cut back near retirement-age. Whatever the reason, this drives down the median income for real estate agents, compared to those who work full time.
Agents who work more than 40 hours per week make a median gross income of $63,800 or higher. Those who work more than 60 hours per week make a median gross income of $94,200.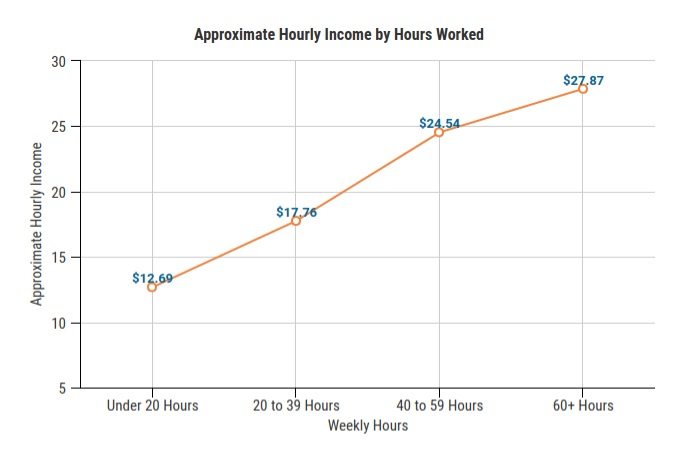 Interesting to note is that you not only make more the longer you work, but you also make more per hour. Agents who spend 60 Hours + working make an approximate hourly wage of $27.87 (based on 65 hours/week). Those who work fewer than 20 hours make just $12.69/hour (based on 15 hours/week).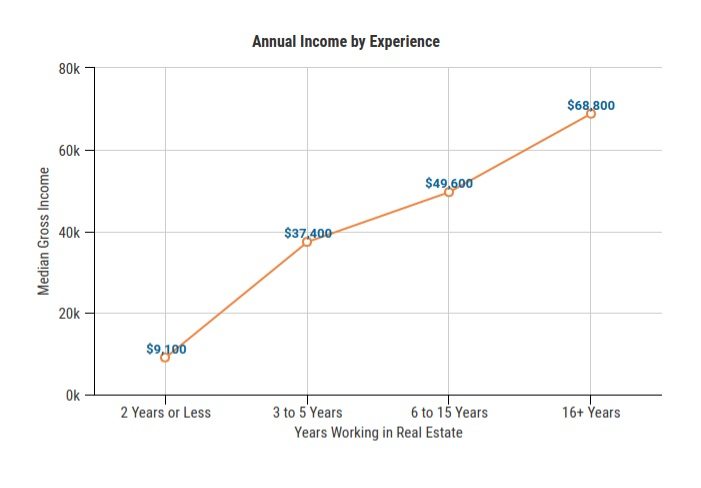 Another major variable in real estate agent salary is how many years an agent has been working in real estate. New agents make significantly less – a median gross income of $9,100. This includes both part-time and full-time real estate agents.
After 3 to 5 years, agents tend to earn a more proper median income of $37,400. This nearly doubles after 16 years to $68,800.
Other Factors
Education and number of referrals/repeat clients also influence how much realtors earn. The association isn't necessarily as strong or telling, but it nonetheless contributes to the picture.
For this data, we compare low-earning realtors (those who earn $10,000 or less) to top earning realtors (those who earn $150,00 or higher.)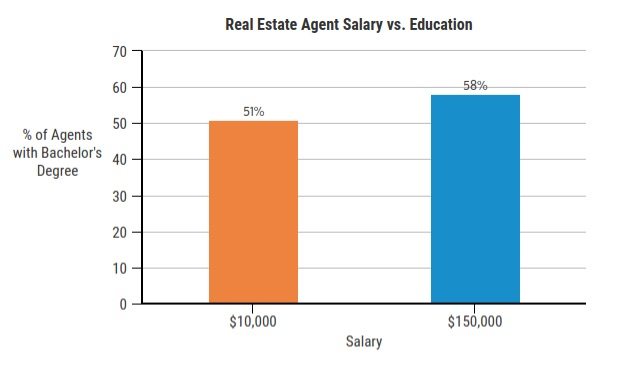 As you might expect, top-earning agents are slightly more likely to hold a bachelor's degree.
Next we look at how top earning agents find business vs. how low earning agents find business: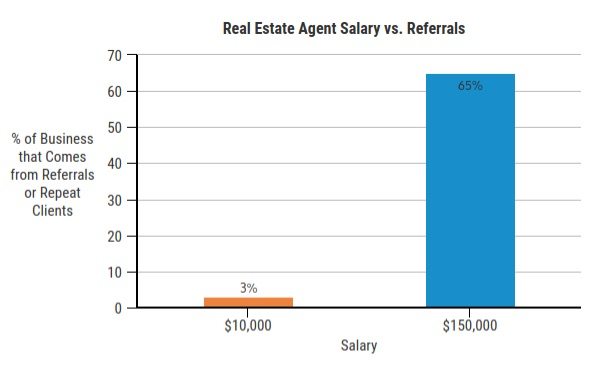 This is another result you'd probably expect: Top earning agents tend to have more experience, and thus generate more business from referrals and repeat clients. What's startling, however, is the width of this gap. Low earning agents receive a mere 3% of their business through referrals. For top earning agents, it makes up the bulk of their work.
This goes to show the importance of building momentum. Having a network of clients from whom you've earned trust greatly increases your number of sales. At the same time, this shows the challenge new agents face. Until your network is wide enough, you'll have to work extra hard to generate leads.
How Can New Agents Boost Their Income?
As we explained above, new agents face a certain "chicken and egg" problem: Without a network of past clients to give you referrals, it's tough to make new sales. Without new sales, however, it's impossible to build a network.
How can new agents solve this? While there isn't any one-size-fits-all solution, we generally recommend new agents use online marketing to find new leads. Then, utilize a CRM and email marketing software to maintain a longterm relationship and generate referrals.
Advertising on Zillow is one of the most effective ways to generate new sales. However, as a new agent, you will need some positive reviews built up first. If you're interested in learning more about Zillow and other online marketing tools, check out some of our additional guides:
The Bottom Line: How Much Do Real Estate Agents Make?
Experienced and hardworking real estate agents can earn a very sizable income. Agents who have been in the industry for 16 years or more earned a median gross income of $68,800. Those who pull in 60 hours a week or more earned $94,200, regardless of experience.
For new or part-time real estate agents, the portrait is a bit less glamorous. But dedication and commitment does appear to payoff in the long run.
For more articles on real estate marketing and training, check out the Real Estate Section here on Fit Small Business.