Creating a unique brand is an essential part of marketing an independent real estate business. Strong real estate branding, including your name, logo and slogan, can leave a powerful impression on customers. 
In this guide, we give you step-by-step instructions on how to develop the perfect brand, including:
For inspiration, we'll give you many examples from many successful real estate companies along the way. In particular, agencies Phillia & Claire and Klara Madlin will share their branding stories, start to finish.
Before we dive into the details on this topic, we suggest you check out Zillow Premier Agent, our #1 recommendation for generating qualified real estate leads. Click here to learn more.
Step 1. Define Your Specialty
The first step to branding your real estate business is to think about what makes your agency unique. To start things off, ask yourself these questions:
What do you offer clients that other agents don't?

Why would a client choose your business over the competition?

Who is your ideal client?
It's important to be specific. While being a "jack of all trades" might be good for business, it's not good for branding. Narrowing down your specialty, on the other hand, helps you stand out against the competition. It enables potential customers to pick you out from the crowd.
Speaking with real estate agents, we heard many different stories on how agencies developed their brand. What was immediately striking is the huge range of routes agents took: Some more literal and business-focused, others more abstract and personal.
Below are 5 common ways agents discovered their brand. Be prepared to jot down some ideas of your own as you read along. Also, remember that real estate branding isn't just about your business. It's always about YOU as an individual – what makes you unique, and what makes customers drawn to working with you.
#1 Local Knowledge
Nobody dislikes an agent that's knowledgeable about neighborhoods and local geography. While all realtors should present themselves as local experts, some can take this even further and make it part of their brand image:
We spoke with a few agents who work in trendy urban neighborhoods. One common quality of their clients, they told us, is that they value high quality dining. By branding themselves as experts on local restaurants, they show value to their potential clients and establish trust. Their branding as foodies also helps them attract commercial real estate clients who are looking for the hot spots to open up. (See MoJo Real Estate for an example.)
Other agents take the family approach: Brand yourself as an expert on local schools, day care centers, parks, after-school programs, etc. This will make your real estate business the obvious choice for new and expecting parents. Other examples of specialized local knowledge can include recreation/hiking, shopping and community/cultural events.
#2 Life Stage
In addition to local knowledge, clients want to work with agents who will understand their priorities: Recent grads, newlyweds, parents, empty-nesters, and retirees all have different needs when it comes to their living situations. As such, they'll be drawn to agents who share/understand their life stage.
Branding yourself as the best realtor for empty-nesters looking to slim down, or young couples looking for urban condos can be easy way to stand out. On the flipside, it does limit you to a certain market. Some agents, however, get around this by teaming up with others in different age groups. This helps you cover a wider market, while still being authentic with your branding.
#3 Home/Location Specialty
Do you specialize in selling modernist condos, or perhaps rehabbed victorian homes? Do you sell high-end luxury homes, or do you aim for the middle-market? Do you focus on a single geographic area, or are you located all over the city/region?
Your specialty as a real estate agent is a major part of what makes your business unique. Thus, it can also be a great branding opportunity. To give you a few examples: The brokerage Stuart St James wanted to emphasize their commitment to downtown Boston, so they choose to name themselves after two popular downtown streets. Lake Gaston Homes in scenic North Carolina uses geography and recreation imagery to makes a simple and effective statement about their specialty of lake houses.
#4 Hobbies
Fashion, music, sports, pets, technology, cooking, cars, antiques, books. What do these have to do with real estate? On the surface, not all that much. But digging deeper,  these seemingly-unrelated topics can actually make a profound branding statement.
Every potential client has their own set of interests. Consciously or not, they'll be drawn to agents who appear similarly-minded. Mentioning hobbies on your Facebook page or website bio can be a subtle statement that cements trust in a client's mind and convinces them to give you a call.
Some agencies have found success taking this further, by naming themselves after their interests, or working it into their logos. Examples include The Geeky Girls (technology) and Phillia and Claire (fashion, holistic wellness). If it makes you stand out and encapsulates your real estate vision… well… the sky's the limit.
#5 Lifestyle / Culture
In a similar vein, branding your real estate business around a lifestyle/culture can establish trust with your clients. One example is AgentHero: As a community of veterans and military spouses in the real estate industry, their message rings strongly with their client base. Other examples include agents who establish themselves around a religious group, or agents who emphasize their commitment to the LGBT community.
Step 2. Translate it to Company Name, Logo & Slogan
Let's take a quick pause and remember everything that comprises your brand: It's not just your name and logo, but also your your website bio, Facebook page, yard signs and more. Basically, everything you could use to promote yourself and your business is part of your brand.
While this can sound pretty daunting, you don't have to come up with these all right away. For now, we can really just focus on three: your company name, your logo and your slogan. Once you have these down, the rest should come naturally.
For more inspiration on these topics, check out these other Fit Small Business guides:
Trying Out Ideas
Now that you have some ideas down, it's time to put a few concepts into action. The easiest way to test out an idea is to put it on paper: Write out your company name, draw a logo and below it, write a slogan. Once a design sitting in front of you, you should have a gut feeling whether or not this brand image is right for you.
BE WILLING TO TRY OUT EXTREMES. One agency we spoke with experimented with many different concepts – from a youthful image with hearts and Xs and Os to a black and white skyline of New York City. By flirting with each idea, they were able to decide what they liked and what they didn't like about it. Then, they would head back to the drawing board with a clearer idea of what to try next.
Hiring a Graphic Designer
At this point many businesses will seek the help of a graphic designer or branding agency. For professional design work, we recommend using 99designs, a a web-based graphic design service. When you submit a proposal, 30+ designers will send you their ideas. You pick your favorite and then work with the designer to refine the logo. Pricing starts at $299 for logos, and you only pay for the 1 logo you wind up selecting.
We've personally had a lot of success using 99designs at Fit Small Business. We used them to design our logo, as well as our website. Also, if you want to read more about logo design options for small businesses, check out our Logo Design Buyer's Guide.
Revising
Many real estate agents will go through several rounds of edits before they find the right name, logo and slogan. The process can take several months. When asked if it was worth this much time and effort, agencies like Phillia and Claire and Klara Madlin were quick to answer "absolutely." Branding is one of the most important decisions you can make. If you're not completely happy with a design, it's vital to keep going.
Step 3: Apply It To All Your Marketing Materials
Once you've found that perfect real estate branding concept, it's time to apply it all of your marketing materials. This includes both web-based mediums, such as, your website, Zillow profile, Facebook page, etc. as well as print mediums, like your yard signs, business cards, flyers, and more.
For more ideas and inspiration on how to apply your brand, check out some more Fit Small Business articles below. Each of these focuses on a specific branding topic, with examples and tips from real estate marketing pros:
If you need additional help designing your website or print ads, you can always return to 99designs with another campaign. Or, try contacting the designer who worked on your logo and see if they're up for another project.
Real Estate Branding Examples
To help us understand how real estate companies develop their brand, we spoke with two successful agencies, Phillia and Claire and Klara Madlin, who recently re-designed their brands. What makes them good examples is that they emphasize both their unique approaches to real estate, as well as their unique personality traits.
Below we share their stories:
Slogan: "Real Estate Alchemy"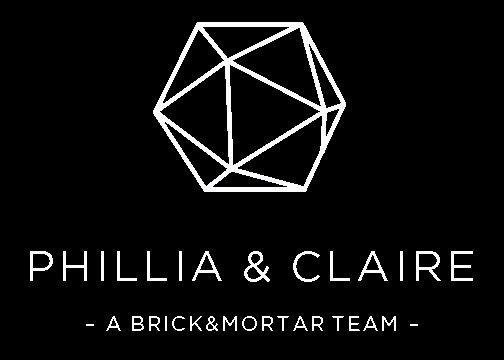 Specialty: Luxury Rentals & Sales
How they found their brand: "Our brand image is sophisticated, cool, unique, friendly and warm. Claire and I have a fashion background together, when we launched and managed our independent boutique fashion lines [From A to Z] years back… Our name is obvious — putting together two beautiful names and our logo is a sacred geometry figure that is called an Icosahedron. We just really liked the look and feel of this, and we both are really into science + art + spirituality and the logo also represents feminine creative power as well." Phillia Kim Downs
Slogan: "Real Estate for Real People"

Specialty: Middle-market homes
How they found their brand: "In meeting with a branding company Decker Design, we discussed what makes us different from some of the other agencies in New York. We decided that what we do is service people with a personal touch and much hand holding. Our customers in general are not billionaires but normal everyday New Yorkers. The slogan "Real Estate for Real People" seemed perfect for us. We also redesigned our website and featured the color red [which stands out / leaves a strong impression] in all our brochures, ad campaigns, and business cards."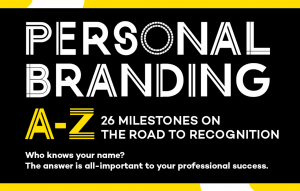 Want to learn more about building your personal brand? Check out Placester's amazing
infographic on personal branding here. 
it has 26 succinct, actionable tips to jumpstart any branding project.
The Bottom Line
Real estate branding requires patience. If there's one universal piece of advice we heard, it's that you should never settle on a brand you aren't behind 100%. By persevering, you'll find the perfect real estate brand that draws in customers and establishes trust. At least one agency told us that since their re-design, they've had more leads than they can handle.