Displaying real estate signs is a cost-effective method for the realtor to build a reputation. Signs are typically branded with the name and/or logo of the property's listing agent. This helps real estate brokers to build trust with their target audience, boost brand awareness, and increase the chances of doing future business with people who have seen their signs.
Before we dive into the details on this topic, we suggest you check out Zillow Premier Agent, our #1 recommendation for generating qualified real estate leads. Click here to learn more.
The 5 Types of Real Estate Signs
There are five types of real estate signs commonly used to advertise property: stake, post, frame, feather flag, and vinyl decals.  Most of these fall in the category of ground-mounted signs – the ones you see along the side of the road used to entice those who pass by either on foot on by vehicle. I surveyed the websites of a handful of sign companies to get an idea of the selection available and the costs of each type of sign. Let's discuss the differences between them.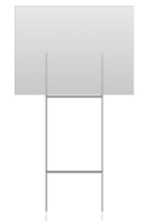 H-frame Stake – H-frame stakes are metal sign holders used most commonly to hold light-weight, corrugated plastic signs. An H-frame stake is generally the least expensive type of post for ground-mounted real estate signs. You can grab a 9-gauge wire stake whose dimensions are 24 inches tall by 10 inches wide for less than $2 a piece.
See Real Estate H-frame Sign Templates
SignsOnTheCheap.com offers a single H-frame wire stake at $1.69, with a box of 50 stakes costing $0.84 per stake. FastRealEstateSigns.com sells the same size 9-gauge wire stake for $2.49 each.
The T-bar metal stake is a weightier iron stake, shaped like a T with hole at the top to hold aluminum signs. FastRealEstateSigns.com sells these stakes for $7.95 to $10.95 each, depending on the quantity you order.
Get 15% off your real estate sign order from eSigns
–
Click Here
Frame – Metal frames are heavier than wire stakes. Most wire stakes weigh less than a pound. Metal frames made of iron and steel, on the other hand, range in weight from 5 to 15 pounds. The frames hold aluminum signs that either hang from the frame or slide directly into the frame. You can choose between angle frames and rounded frames.
The pricing for metal frames starts around $15. At the low end, SignsOnTheCheap.com sells its 24" x 18" (which stands between 30" and 40" high) dual rider metal frame for $14.87 each. RealtySignExpress.com sells a heavier version of that frame for $27.99 each with the price dropping down to $21.99 for an order of 50 or more frames.
Posts – For most of us, when we think of real estate signs, the first one that comes to mind is the colonial post. That's the white, inverted L-shaped sign we typically see the larger franchises use to advertise properties. Once upon a time, the colonial post was a wood post painted white. Today, the updated version is a more durable aluminum stake covered in black or white powder. Used to hang aluminum signs, the colonial post stands 66" tall, weighs in between 5 and 15 pounds and accommodates an aluminum sign between 24 and 30 inches wide.

There is usually a space atop the sign for slide-in or bolt-in riders like the one seen in this picture. You can order a lightweight 6.5-lb aluminum post that holds a 24-inch sign for $34.95 from RealtySignExpress.com. The price goes down to $29.88 apiece with an order of four or more.  FastRealEstateSigns.com sells a 13-lb post that holds a 30-inch sign for $74.99 each. The price goes down to $66.99 with orders of 50 or more posts.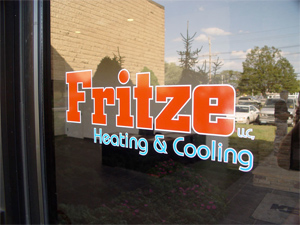 Vinyl decals – Vinyl lettering and washable paint show up in the windows of storefronts to advertise the availability of commercial real estate. Decals are a cost effective option for properties that cannot accommodate a ground-mounted sign like those in a mall, strip plaza or other retail location where foot traffic prevents the use of sidewalk or yard signs.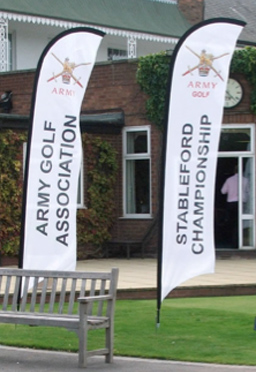 Feather flags – Most commonly seen to advertise apartments and new constructions, feather flags are colorful polyester flags stretched over a curved pole. Together with the pole, feather flags weigh about 5lbs and display short messages written vertically down the flag. An 8-foot stock real estate flags equipped with a swivel base so the flag turns when the wind blows range in price from $50 to $75 each.
Now let's talk signs.
Corrugated plastic and aluminum signs vary in price depending on several variables:
The quantity ordered
The size of the sign
The number of colors used for printing
Whether the sign is single- or double-sided
The signs come in a relatively wide range of sizes. FastRealEstateSigns.com offers nine different sizes. The two measurements with the asterisks beside them are standard sizes for the real estate industry.
| | | |
| --- | --- | --- |
| 9" x 12" | 6" x 18" | 6" x 24" |
| 6" x 30" | 12" x 18" | 24" x 18" |
| 18" x 24" | 18" x 30" | 24" x 24" |
The pricing structure for the signs varies from company to company. For instance, SignsOnTheCheap.com sells one 18" x 24" aluminum sign 1-color, single-sided for $30 with a price increase of $5 for additional colors. A corrugated plastic sign in the same size sells for $9.99 whether single color or full color. The price goes up by $3 each for double-sided signs.
FastRealEstateSigns.com offers a corrugated plastic sign with the same specs for $24.12. There is no difference in price based on the number of colors, only whether the sign is single or double-sided. But if you were to order a minimum quantity of 50 signs, however, the price range would be between $6.33 and $10 per sign.
The aluminum version of this sign comes in just shy of $40 each but an order of 50 aluminum signs brings the price down to just $13.14 each.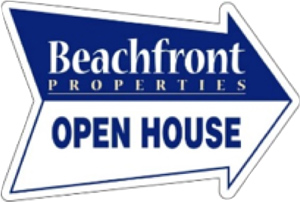 The most popular shapes for corrugated plastic signs are rectangular (landscape orientation) and square. It is easier for people to read a sign left to right than it is from top to bottom, particularly when they are in a moving vehicle.
However, some suppliers do sell real estate signs in custom shapes the arrow (also known as a directional signs) and house-shaped. There isn't much of a price difference between the traditional rectangular signs and the custom-shaped signs.
Steel and aluminum riders are the small signs that used in conjunction with an aluminum sign to offer a bit more information, usually information about the agent or the property itself. A stock 9" x 12" rider costs $10 – $15 for one, but the price can get below $5 each for an order of 50 or more riders. Customized riders can include the name, phone number and picture of a real estate agent and generally cost about $15 each with a bottom price of $6 to $7.
Where to Buy Them
Three classes of sellers put properties on the market: independent property owners, independent realtors, and franchise realtors. This generally determines the type and supplier of the sign purchased.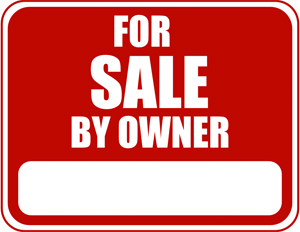 Independent property owners can have multiple properties to sell at any given time, but I would venture to say most independents who are listing their own properties for sale have fewer than half a dozen to list at any given time. For them, generic For Sale by Owner (FSBO) signs are available at the local home improvement store, discount store and sometimes the dollar store for fewer than $20.
For instance, Walmart.com features a 10" x 24" red and white FSBO sign (with metal stakes) by Hy-ko for $9.00 while Lowes.com sells an 18" x 24" red and white FSBO sign by Hillman for $15.98. At the low end, Lowes.com has a 6" x 24" double-sided red and white FSBO sign by Hillman for just $2.98.
A property owner who has a property or two on the market can save time and money by grabbing a couple of these durable plastic signs.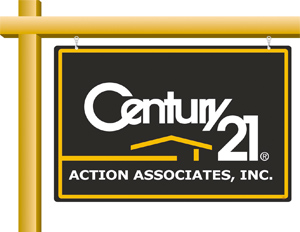 Independent Realtors, on the other hand, are far more likely to have a dozen or more properties listed and will need a custom sign for each property. For the sake of brand-building, it is better to order custom real estate signs from a signage company.
Now, before you move your business to the Internet, let me tell you that you can probably find a local sign company that serves realtors right in your area. In this economy, it's always a good idea to invest in local businesses. This may also prove more cost effective by helping you save money on shipping costs.
As an independent realtor, the branding of your sign is important in establishing your market presence. Signage companies use the Pantone color system to provide color matching services for its customers. Even if you are uploading an image to print on your signs, provide the corresponding Pantone number to make it easy for the printer to ensure your marketing materials are printed accurately.
Franchise realtors may have it easiest. With the exception of SignsOnTheCheap.com, all of the web-based sign suppliers I saw had a separate section on their sites for franchises. They already had the heavy lifting done. The logos, templates and color matching has already been done for you. There was even a "Century 21 yellow" post available for hanging signs. That's good news. Franchise realtors do not have to build their signs from scratch. This can also be good news for agents who work with larger franchises like Keller Williams that allow individual agents to market their services with custom signage that is used in conjunction with franchise signs to advertise available properties.
What Goes on a Real Estate Sign
In general, every real estate sign should contain the message, a contact number and the name of the listing company. The most popular messages for real estate signs include:
| | | |
| --- | --- | --- |
| For sale by owner | For sale | For rent |
| Open house | For lease | Land for sale |
| Build to suit | Foreclosure | Just reduced |
Riders are often added to the top and/or bottom of a sign to include additional information like the agent's name and phone number, and sometimes a picture of the agent. Some real estate signs included QR codes that interested buyers can scan into their smartphones to instantly access additional information about the property including demographics of the neighborhood, pictures of the property and even virtual tours.
Larger signs sometimes include photos or key information about the home's best features along the side of the sign. This may be the number of bedrooms, square footage, recent renovations, a pool or other value-added features. Realtors should choose one or two things to mention, but you do better to focus on not overcrowding the sign rather than adding too much information that causes passersby to skip reading the sign altogether.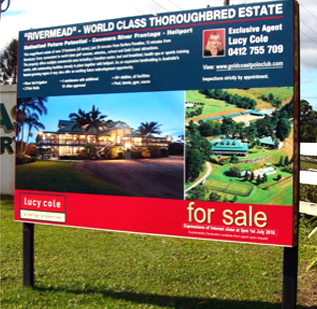 One last thing. There are a few other types of real estate signs that I didn't mention but that may be a consideration for your real estate business. Those are A-frame signs (lightweight and generally have to be brought inside daily), pennant flags (usually used in conjunction with another type of sign), car magnets and banners (typically used by apartment communities).
We asked 50 experts for their best real estate marketing idea. Click here to see what they told us!