I have a proposition for you. I'll bet you your next commission check that I can summarize the corporate strategy of a $500 billion company in two words. Ready? Think Different.
If you're like most people, chances are you immediately thought of Apple when you read those two words. Not only that, you probably felt something about Apple as well. How'd they do that? More importantly, how can YOU do that with your real estate slogan? Simple. Read this article.
Be sure to show off your new real estate slogan on a mug, T-shirt, or tote bag with custom printing from Zazzle. Click here to check it out.
Top 25 Real Estate Slogan Examples
1. "Ask Elliman"
Douglas Elliman (2014 Sales Volume: $18 billion)
In my opinion, Ask Elliman is the best slogan in the real estate industry today. In fact, I think it might be one of the best slogans in any industry. It's that good.
Here's why. With two short words Douglas Elliman managed to distill what separates great brokerages from mediocre brokerages: Great brokerages focus on helping their clients, mediocre brokerages focus on selling to them. Communicating that distinction with just two words is quite an accomplishment.
Created as part of their 2012 rebranding initiative, 'Ask Elliman" is everything a great slogan should be. It's short, it's memorable, and it makes you feel something about the brand. Perfect.
Douglas Elliman owns askelliman.com. Why? A good slogan can be even more memorable than a company's name. Once you have your slogan, go ahead and claim your domain. For just $2.95/month, you can register your domain name and set up a website with Bluehost in under an hour. Check below to see if your domain is still available.
---
Put your new slogan on a business card! Get 500 high quality business cards for only $35 from ProspectsPLUS!® You can use their pre-made templates or upload your own design. Click here to get started.
---
The Four Rules of Great Real Estate Slogans
After reading our top 25 list, you're probably inspired to put pen to paper and get started on your own real estate slogan. Before you do, you should familiarize yourself with the four rules that every great real estate slogan follows:
1. Great Slogans Are Short  
While we're sure you have a lot to offer your potential clients, you still need to keep your slogan short. Ideally, your slogan should be no more than two or three words.

If you can come up with a two or three word slogan that works for your real estate business, great. But as a general rule of thumb, the fewer words you have to work with the harder it is to communicate. If you're having a hard time staying at three or under, try sticking to six or under.
2. Great Slogans Make People Feel Something  
Let's face it, buying a home is an emotional decision first and a practical decision second. According to psychologists, this is true for almost everything we buy.

It makes sense then that in the world of real estate marketing, the same rule applies. You sell on emotion and only justify the sale with facts.  You slogan should reflect this. Try to make an emotional connection with your audience. You won't regret it.
3. Great Slogans are Memorable  
What makes people remember some phrases (e.g. Think Different. Diamonds are Forever. I'm Lovin It.) and forget others? If I could answer this, I'd be at the UN accepting my Nobel prize instead of writing this article, but scientists do know some reasons why.

Turns out one of the strongest ties to memory is emotion. This is why rule number 2 is crucial to your success. If you only write down one thing from this article, it should be that your slogan needs to appeal to emotion.
4. WIIFM?
This stands for What's In it For Me? Put simply, this means that you should focus on answering this one question for your potential customers before even thinking about anything else. What's the one thing you can do for your clients better than anyone else? What's in it for them? Put this in your slogan, and you'll have a winning formula.
Bonus Tip: The Best Slogans Are Shareable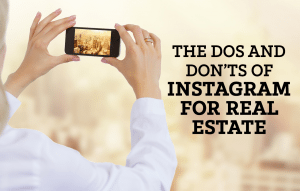 Want a great way to test your new slogan to see if it follows our rules? Try using it as a hashtag on social media sites like Facebook or Instagram. If you're unsure how to use Instagram to market your business, check out Placester's excellent step-by-step guide The Do's and Don'ts of Instagram for Real Estate here.
---
The Bottom Line on Real Estate Slogans
Great real estate slogans are short, memorable, appeal to emotion, and sum up what you can can do better than anyone else. Writing a great slogan isn't easy, but we're sure with a little work and some inspiration from the examples above, you can come up with something that will serve you well for years to come.
Want more great free articles for Realtors? Visit our full real estate section now.