What is it?
A feature-rich VoIP phone system for medium-sized businesses.
How popular is it?
RingCentral has over 300,000 customers.
What does it do well?
RingCentral has a killer user interface with lots of advanced call routing features. It also integrates with many other programs (Gmail, Outlook, Salesforce, Zoho, Zendesk, and Desk.com, to name a few) so you can make calls without leaving the program.
What does it not do well?
Pricing is high, especially for single users and small teams. (RingCentral does, however, have a less expensive pay-per-minute plan)
Who does it work well for?
Larger businesses who want to integrate with their CRM or Help Desk software, or take advantage of many advanced call routing features.
Who does it not work well for?
Small businesses that don't need complex call routing, a mobile app, or CRM integrations. The pricing is very high for single-user accounts, in particular, and only larger businesses (20+ users) get access to US-based support.
Free calls to US and Canada?
Yes
Pay-per-minute plan?
Yes. RingCentral Professional is the pay-per-minute plan. This review is focused on RingCentral Office, however, a plan with unlimited minutes.
Can you use your current phone number(s)?
Yes
Does it support toll free?
Yes
Free Trial?
Yes
Cost Compared to Competitors?
High
Similar products?
Cloud or Hosted?
Cloud
Does it require special phones?
Yes. You can use most internet enabled phones from brands such as Cisco, Yealink or Polycom. (Click here for a list of supported devices) You can also use a normal non-digital phone if you pair it with an ATA adapter.
There's also a free RingCentral desktop softphone which you can install free on a Mac or PC. Or, you could use your mobile phone (iOS or Android) as an equipment-free option.
US

Based?
Yes, Company & Customer Service
Reliability
Along with Jive, RingCentral has the most reliable service of any provider we reviewed. Of the 50 most recent user reviews on VoIP Info, 4 users noted technical issues: 2 users noted dropped calls, 1 noted outages and 1 noted other technical issues.
RingCentral Pricing
RingCentral Office has 3 packages – the pricing of which varies depending on how many users you have and whether you pay month-to-month or for a year of service.
The prices shown below reflect the 2-19 user range paid month-to-month. Each include a local number, toll free number and dedicated fax number. Additional phone numbers are $5/month each. Also note: Annual pricing is $10 less per user.
The Standard Edition ($34.99/user/month) includes almost all features and unlimited calling. However, you only get 1,000 minutes/user on your toll free numbers. Some missing features are automatic call recording, call monitoring and integration with Salesforce, Zendesk or Desk.com.
The Premium Edition ($44.99/user/month) boosts the number of toll free minutes to 2,500/user and adds automatic call recording, inbound caller ID, integrations, and HD video conferencing for up to 25 participants.
The Enterprise Edition ($59.99/user/month) boosts the number of toll free minutes to 10,000/user, adds voicemail-to-text transcription and raises the HD video conferencing limit to 50 participants.
For the sake of our review, we focused on the Premium Edition, which is the most popular option. Also note, the pricing above does not include taxes or surcharges, which is outlined in the table below:
1 User:
$72.10 / month

5 Users:
$298.63 / month
($59.73 / user)

25 Users:
$1396.15 / month
($55.85 / user)

Base Price:

$54.99

$224.95

$1049.75

*Taxes & Surcharges

$17.11

$73.68

$346.40

Minutes:

Unlimited Calling
(1,000 toll free minutes)

Unlimited Calling
(2,500 toll free minutes)

Unlimited Calling
(10,00 toll free minutes)

Optional Add Ons:

Additional phone numbers - Add $5 / month each
Upgrade to RingCentral Enterprise premium video conferencing and 10,000 toll free minutes / user - add $15 / user
*Note: The exact amount you pay in taxes and fees will vary depending on location. Some states, counties and cities will charge more than others. The prices in this example reflect the taxes in New York City.
For more on pricing, check the RingCentral pricing page.
International Calling
You can make international calls for an additional charge per minute. Rates are on the lower end compared to other providers, ranging between 4 cents to about 80 cents per minute, depending on the country. You can look up RingCentral international rates by country here.
If you make a lot of calls to a particular country, you can purchase an international number through RingCentral. The benefit is you get to pay a flat rate for service instead of hefty per-minute prices. (Read more here)
Ease of use
Setup – Easy. Accounts with 2 or more users get a free implementations advisor that help with setup. I also found the RingCentral to have one of the easier-to-use admin portals. Setting up the auto-receptionist, extensions and call routing rules is done step by step from a relatively simple menu.
End User – Easy. RingCentral should be fairly easy the end user. Each user can log in to view their voicemail, call log and change their personal settings. I found the menu (pictured below) to be very straightforward.
Support – Moderate. While the support line is 24/7, US-based Support is available for accounts with 20+ users only. There is a helpful searchable resource center, however, with articles, video guides and FAQs.
Features
| Features It Has | Features It Does Not Have |
| --- | --- |
| Receptionist (Auto Attendant) | *Voicemail Transcription |
| Call Queueing | |
| Find Me / Follow Me | |
| Call Scheduling | |
| Conference Calls | |
| Online Fax | |
| Voicemail to Email | |
| Music on Hold | |
| Video Calls | |
| Call Recording | |
| Integrate w/ CRM | |
*Available for "Enterprise" accounts ($60/user/month)
Detailed Overview:
Auto Attendant
You can log into the RingCentral user portal to set up your call menu. You can record a custom greeting over the phone, use your computer microphone or upload an .mp3 or .wav file. Under the same menu, you can turn on a dial-by-name directory and settings such as whether to disconnect a caller if they don't hit any buttons or connect them to an operator.
RingCentral will also ask you to input your company hours. This enables you to record a different greeting and set different rules for after-hour calls.
Call Routing
Next, you can set up you call routing options under "Groups." Each group is typically a department (i.e. sales, customer service) with an extension callers can dial to reach an employee. For each group, you can add a group of employees and set rules on how calls are routed. You choose between ringing all phones at once (simultaneous), ringing numbers in a fixed order (queueing) or regularly changing the order of phones to evenly distribute calls among employees (rotating).
You can also set music on hold by uploading a file or choosing between 13 presets.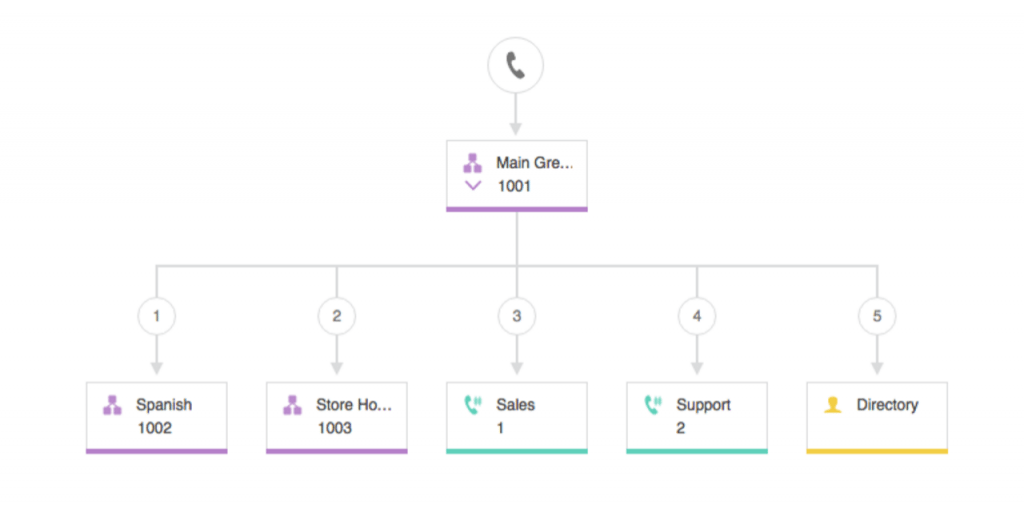 To setup the phone tree menu itself, RingCentral has a unique drag-and-drop flowchart tool (pictured above). You can define how your auto attendant is laid out – including which greeting is played first, and which buttons lead to which extensions.
Voicemail
Each department and extension has their own voicemail inbox which users can login to check and play messages. From the same menu, users can change their personal voicemail greeting and specify which hours calls should go directly to voicemail.
By default, RingCentral will send email notifications every time you receive a voicemail. You can also receive an SMS message or turn off notifications altogether from your personal user settings menu.
RingCentral recently added voicemail-to-text transcription for Enterprise ($60/month) users. A program "reads" your message and translates it to text. According to RingCentral, it is not intended to be a perfectly accurate transcription of the voicemail, but rather give you the gist of the message. Text transcriptions can be delivered to your mobile app or email.
You can read more about Ring Central's Voicemail features here.
Online Fax
RingCentral includes unlimited faxing to the US and Canada. Every RingCentral number can be used for both phone calls and fax. You can receive faxes online, sent directly to your online inbox where you can store up to 200 fax messages.
You can send faxes via email, from your online account, or from your RingCentral desktop softphone. To send faxes via email, you can attach the document to an email and send it to an address with the 10-digit number followed by @rcfax.com (i.e. 3125558392@rcfax.com).
To learn more about RingCentral Fax and why they are our recommended online fax service, read our best online fax service buyer's guide.
Conference Calls
RingCentral includes call conferencing for up to 1,000 participants. You get a single conference bridge number, which users can dial to join the call. Hosts can also quick send invites to participants via email or text. Hosts also get some conference tools, including the ability to mute participants, get a caller count, record conferences and more. You can only have 1 conference going on at a time.
Check out the RingCentral data sheet (PDF) on call conferencing.
Call Forwarding
RingCentral has a lot of call forwarding options. Each user can set up their own call forwarding rules from their personal settings menu. (pictured below) Users can forward calls to different numbers (i.e. Home Phone, Office Phone, Work Phone) depending on caller ID information, the time of day, the date and more. They can choose to have all their phones ring at once or sequentially. If you choose sequential forwarding, you can set how long each number will ring for.
Call Recording
Administrators can activate automatic call recording for inbound calls to a department or individual user. RingCentral can save as many as 100,000 recordings per account, with recordings being available for download and playback for 90 days online. You can also download recordings, however, or forward them as email attachments.
Check out the RingCentral data sheet (PDF) on call recording.
Mobile App
RingCentral has a very strong mobile app for Android and iOS. You can place calls using your business number from your cell phone. If you have a strong enough wifi signal, the call will go out over the VoIP network. This gives you additional call tools – with a single click you can begin recording the conversation, put the caller on hold or transfer the call. If the signal is getting weak, you can transfer the call to your cell network without the caller being interrupted.
If you don't have a strong wifi signal or are connected to 3G / 4G instead, you can still place calls using your business number. The call, however, will go out over your mobile network instead of VoIP. This means the call will count as cell minutes. Also, you do not get the same tools (record call, transfer call, hold caller, etc.) that you get with a VoIP call.
Check out this data sheet (PDF) on the RingCentral mobile app.
Integrations
RingCentral integrates with Box, Google, Outlook, Office 365, Salesforce, Zoho, Zendesk and Desk.com. The Google/Outlook integrations enable you to make and receive calls or texts from your inbox. Likewise, the Salesforce, Zoho, Zendesk and Desk.com integrations let you make or receive calls directly from the program. You can read more about these integrations on the RingCentral Integrations page.
You can also integrate RingCentral with other programs using 3rd party services like Callinize or Zapier. With Callinize, for example, you can link RingCentral with Insightly, Zoho, REthink, SugarCRM and more. This allows you to automatically create contacts, leads or tasks after a call. There is an additional cost, however, starting at $19/month.
Reporting
RingCentral has many reporting options. From the admin panel, you can view a general summary of inbound and outbound calls, a report on queue activity and volume, a report on activity by user (such as call volume, calls per hour, calls per day and average call time) and a report that breaks down call activity by purchased phone number. This gives it the best reporting options of any small business VoIP we've come across.
RingCentral also offers call monitoring to Office & Enterprise accounts. This allows supervisors to listen in on calls, "whisper" to staff members, and even join in to speak with callers.
Customer Service
24 hours?
Yes.
US Based or Not?
US support available for 20+ user accounts only.
Support Options
RingCentral has a searchable support center with user guides, FAQs and videos. There's also 24/7 phone support. Users are generally very content with RingCentral's customer service, although only accounts with 20 or more users can be connected with the US support team.
The Bottom Line
RingCentral Office gives you a robust yet easy-to-use VoIP system that integrates with popular business software (Salesforce, Zoho, Zendesk, Desk.com) and has a killer mobile app. The downside is the cost, which is about $10 – $15 more than competitors Nextiva or Phone.com. Also, US based support is available only to accounts with over 20 users. And while every account with over 2 users get a free implementation advisor, this is non-US based unless you have over 10 users.
If you're looking for a proper small business VoIP system you can check out our comparison of Ring Central and other top providers here.