RingCentral and 8×8 are not only two of the top VoIP providers for small businesses, but they are two of the best for 3rd party integrations. You can use RingCentral or 8×8 to make calls within Outlook, Gmail, Salesforce, ZenDesk and other programs. In this guide, we'll pit RingCentral vs 8×8 and explain the pros and cons of each before getting into a  detailed comparison of their price, features, ease of use and customer support.
Not satisfied with the quality of your current VoIP provider? We recommend you check out Vonage, a top provider for business VoIP. Click here for a free quote.
RingCentral vs 8×8 Comparison Table
Price (for 5 users per month*)

$298

$163

Features

Auto Attendant
Call Queuing
Online Fax
Music on Hold
Conference Calls

Auto Attendant
Call Queuing (add $10/month)
Online Fax (upgrade to Office Pro, $5/user/month)
Music on Hold
Conference Calls

Integrations

Salesforce
Outlook
Gmail
ZenDesk
Desk.com

Salesforce
Zoho
SugarCRM
NetSuite
Outlook
ZenDesk

Ease of Use

Easy

Moderate

Customer Support

Good

Good
*Price data for most popular version on a month-to-month contract, including taxes & fees
When to Use RingCentral
RingCentral is the premier business VoIP provider. Although you'll find many of the same features from other providers, including 8×8, RingCentral goes above and beyond with many features. Their mobile app, for example, has tons of advanced tools and you can generate all sorts of reports beyond just call logs. Likewise, RingCentral's user interface is one of the best. You'd be hard pressed to find one that's more intuitive and easy to use.
The key downside to RingCentral, however, is the price. You can find a much more affordable solution from 8×8, as well as other competitors like Vonage and Phone.com.
When to Use 8×8
8×8 is a good solution for the price-minded. For almost half the cost of RingCentral, you get many of the same features, including integrations with Outlook, ZenDesk and several popular CRMs. 8×8 just doesn't have has many frills. The interface is not as polished and you don't get as many options for call reports, for example. Also, for tools like call recording, internet fax and call queueing, you have to pay for upgrades, so the price difference may not be as extreme.
RingCentral vs 8×8: Price
One of the biggest differences between RingCentral and 8×8 is the price. Paid month-to-month, 5 users on RingCentral's "premium edition," which is the most popular, comes out to $298/month after taxes and fees. 8×8, on the other hand, costs almost half of that at $163/month.
In both cases you get unlimited minutes and all the basic VoIP features like auto attendant, voicemail-to-email, conference calling and music on hold. With 8×8, however, if you want call recording or online fax, you have to upgrade to Virtual Office "Pro" account, which costs an additional $5/user. You also have to pay an additional $10/month for call queueing, which is an advanced way of ringing phones in your office.
With all the upgrades in place, 8×8 would cost a little over $200/month for 5 users. Not quite as cheap, but still only 2/3rds the price of RingCentral.
RingCentral vs 8×8: Features

Both RingCentral and 8×8 have all the main business VoIP features, including:
Auto Attendant that greets callers and directs them to the right department/employee
Dial By Name Directory for callers to search for an extension
Call Queuing and other dial patterns
Find Me/Follow Me, i.e. f you want your phone to ring your office phone first, then cell phone, then home phone, etc.
Voicemail-to-email, voicemail messages automatically forwarded to your email inbox
Mobile App that lets you make outgoing calls using your business number
Conference Calls
Music On Hold
Internet Fax
Another feature both specialize in is 3rd party integrations. Both can integrate with Salesforce and ZenDesk, for example, so you can make or receive calls using a widget straight from the program. The widget will even scan Salesforce or Zendesk for client information as you make/receive a call. Besides those two, RingCentral integrates with Outlook, Gmail and Desk.com. 8×8 integrates with Outlook, Zoho, SugarCRM, Netsuite, Sage ACT and eAgent.
Overall, you'll find almost all the same features in both programs, although RingCentral usually gets a little more advanced. While 8×8 lets you generate reports on call logs, RingCentral covers a much wider range of topics, including call activity by user or by phone number. Also, while both have a mobile app that lets you make outgoing calls using your business number, RingCentral gives you more tools, like the ability to transfer a call from WiFi or 4G to your cell network mid-conversation.
RingCentral vs 8×8: Ease of Use
Comparing the setup process and online interfaces of the two services, I found RingCentral to be easier to use. 8×8 is not too difficult, but the setup process is longer and the interface is a little harder to work with (pictured below).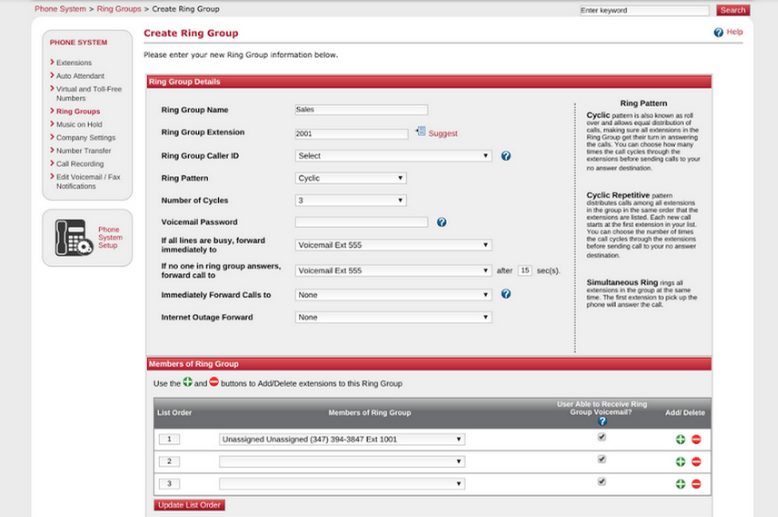 When I first signed up with 8×8, I had to wait several hours before my account was ready. It also took a 15 minute call with support to get the mobile app up and running. This is far from the worst experience a customer could have, but considering most VoIP providers have instant setup (including RingCentral) this was a little frustrating.
I also found 8×8 the interface to be a little harder to work with compared to RingCentral. Between the admin portal and the "Virtual Office Online," which is the individual login to check voicemail, setup call forwarding, change user settings, etc., I found the huge range of options to be cumbersome.
RingCentral, on the other hand, has a condensed and easy-to-follow user portal. The graphical menu makes it easier to navigate and do things like set up the auto attendant (pictured below). I also really liked how you could watch "how to" videos straight from the interface, so you don't have to sift through support articles as you're setting everything up.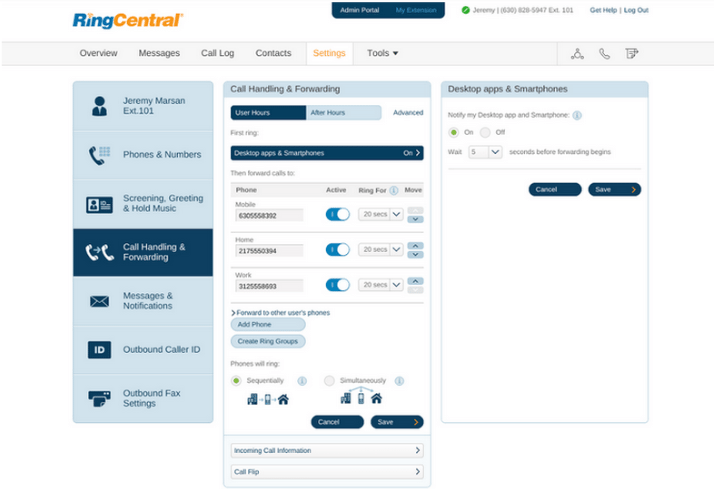 RingCentral vs 8×8: Customer Support
Both 8×8 and RingCentral have mixed reviews of their customer support. For 8×8, most users were content with their support, although a few noted negative experiences like long wait times to solve technical issues. My own experience was positive: I was connected with a rep very quickly and worked with them for about 15 minutes to troubleshoot the mobile app. The 8×8 support line is available from 8am to 9pm EST on weekdays and 8am to 5pm on Saturday.
With RingCentral, the issues is that larger clients are given more preferential treatment. US-based support is only available to bigger clients (those with more than 20 users) and while all accounts with over 3 users get a dedicated rep to help with setup, this only US-based if you have more than 10 users. With 8×8, on the other hand, all support is US-based. The RingCentral support line is available 24/7.
The Bottom Line
If you're just looking for a basic VoIP system that can integrate with Salesforce or another system, 8×8 will do the job. It costs a fraction of the price, and you get all the key business VoIP features including auto attendant, call transfers, voicemail-to-email, conference calling and music on hold.
On the other hand, if you want to get setup a little faster, use more intuitive software and take advantage of some advanced tools like call reports, then RingCentral will serve you better. It will cost you twice as much, however.