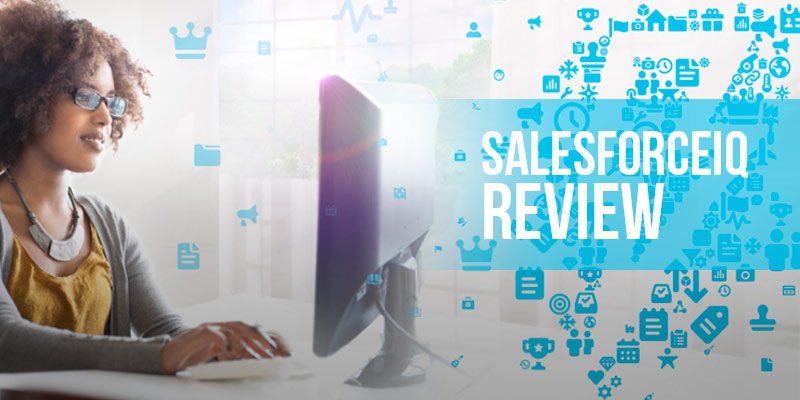 What is SalesforceIQ?
A small business CRM (formerly called RelateIQ)
Want to manage 1000's of leads, save time, and get organized? Click Here to get our FREE CRM guide and find out how.
How popular is it?
Having just been re-released by Salesforce, there is not any user data available yet. However, the SalesforceIQ team is a large division with 51-200 employees listed on LinkedIn.
What does it do well?
It's one of the best tools I've seen for tracking email correspondence. SalesforceIQ integrates seamlessly with Gmail.
What does it not do well?
The CRM is pretty basic with minimal automation, no calendar and no document management.
Who does it work well for?
SalesforceIQ is perfect for a small team (3 to 5 employees) that require a lot of email correspondence with their clients.
Who does it not work well for?
Larger teams will probably want more advanced features, like lead assignment rules, workflow automation and document management. Also, teams who do not use Gmail / Google Apps will not find SalesforceIQ as useful.
Free Edition?
No, free 14 day trial
Price Compared to Competitors?
Mid-level
Type of Solution:
Cloud & Mobile
Similar products?
Contactually, Insightly
US Based?
Yes, Company & Customer Service
Customer Reviews?
 Click a Button For More Info
SalesforceIQ Pricing
SalesforceIQ has 3 packages. The "starter" edition limits you to only 5 users and is missing some features. For example, you can't use the Gmail widget that lets you update CRM records from your inbox. Here's how all 3 compare:
Starter
$25/user/month

Growth
$65/user/month

Business
$125/user/month

Up to
5 users

No reports or
integrations

No limit on
users at this
price point

Adds Gmail
widget, reports
& integrations

No limit
on users at
this price point

Adds Growth
features + advanced
reporting, sales
forecasting and
API access
Ease of use
Setup – Easy.
SalesforceIQ can import contacts directly from your Gmail, Microsoft Exchange or Office365 account. To do this, just log in with your email account (or see here). SalesforceIQ will begin importing your contacts in the background as it guides you through the program.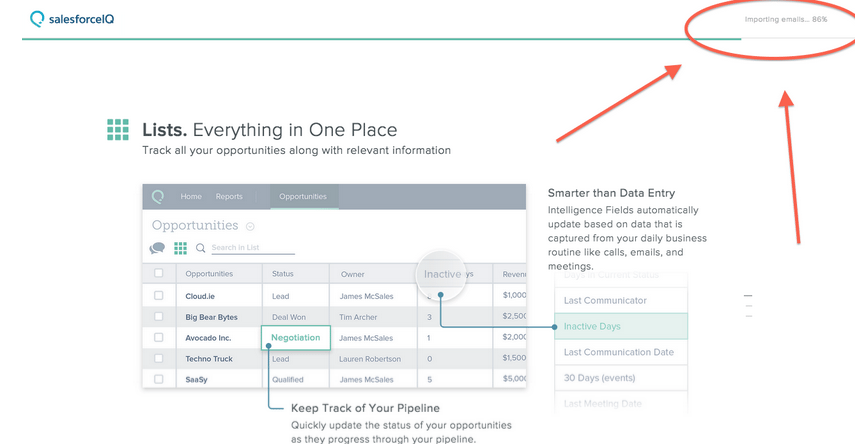 The other way to import contacts is to upload a .VCF file. If you have another Gmail account you want to grab contacts from, you can import it as a VCF file. You can do the same with your LinkedIn contacts. (see more here)
Administration – Easy.
Unlike the main Salesforce product, I found SalesforceIQ's administrative panel to be very intuitive. To add users, for example, you just need to enter their email addresses and send an invite. Setting up "teams" and controlling access privileges is also very straightforward.
End User – Moderate.
The SalesforceIQ interface is very simple and easy to navigate. The default layout has just a few menus ("Home," "Reports," "Opportunities" and a panel for "Contacts" on the far right side) and each of them load quickly.
Help – Moderate.
SalesforceIQ has a searchable help center with a good range of articles and training videos to get started. Unlike the main Salesforce help center which can be cluttered and difficult to navigate, I did not have any trouble finding answers to my questions. SalesforceIQ also has email support, but no phone support that I could find.
Primary features:
Features It Has

Features It Does Not Have

Contact Management
Sales Pipeline
Task Management
Basic Reporting
Lead Management

Workflow Automation
Advanced Reporting*
Document Library
Invoicing
Accounting
Social Media Monitoring
Help Desk
Territory Management
Project Management
Calendar
Web Form Integration**
*Available with a "Business" level account
**Available through an integration with Wufoo
Primary Integrations:
Integrations Supported

Integrations Not Supported

Social Media (LinkedIn)
Google Apps
Mailchimp
Zapier

Freshbooks
Shopify
Phone/VoIP
Dropbox
Evernote*
Quickbooks Online
*Integration supported through Zapier, a third party app that lets you automate workflow between Insightly and other applications.
Check out the full list of integrations here.
Detailed Overview
SalesforceIQ is for small teams that spend a lot of time emailing clients. It's major strength is the "stream" page found on each opportunity. The "stream" automatically logs all emails relating to an opportunity, as well as internal notes and comments. This way, you and your team are always on the same page. If somebody has a one-on-one conversation with the client, everyone stays in the loop.
The downside to SalesforceIQ is the high price tag. Although there's a basic edition for $25/month, it's missing a lot of important features. You don't get the Gmail widget, which let's you save records or view CRM data from your inbox, nor do you get to view reports or integrate other software. To get these tools you'll need to spend at least $65/month, which is a lot to pay for a basic CRM.
Features:
Contact Management
SalesforceIQ automatically imports contacts from your Google or Office365 email account. It can recognize both individual contacts as well as organizations, which are the companies they represent. Contacts and organizations are saved on two separate menus.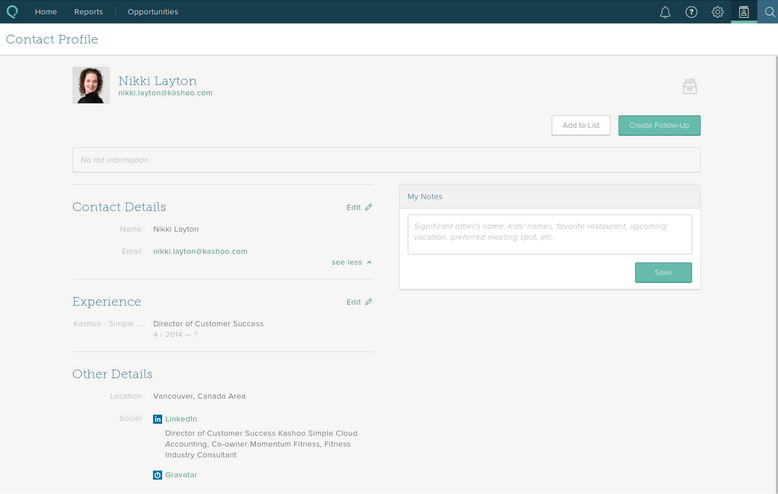 Clicking on a contact brings up a profile (pictured above). What I like about these pages is that they can hold a lot of information without being cumbersome or difficult to read. Each profile contains all relevant information you have saved (including name, address & contact information) as well as their work history, social media profiles, conversation history and any notes you have saved.
The "Create Follow-Up" shortcut lets you quickly save a reminder to reach out to the contact in 1 day, 2 days, 1 week, 2 weeks or a custom date.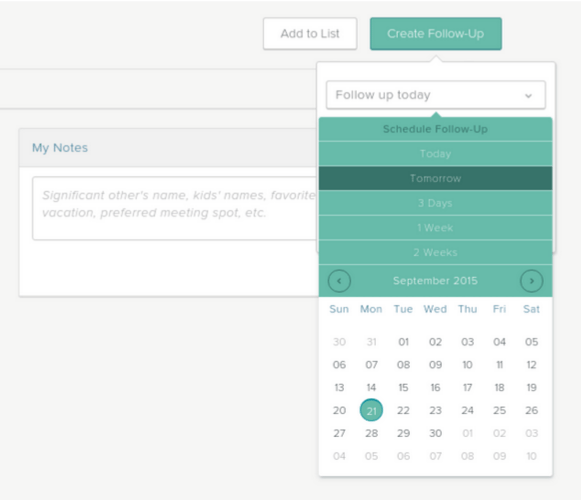 The one downside to SalesforceIQ's contact management is that it can be a little sloppy when importing contacts. Organizations are not always recognized, and some of the business names can be mistakened as individuals. Another potential issue is that all of your contacts get copied over – even if they're long dormant. For these reasons, you'll probably have to spend some time editing your contact book before it's polished and good to go.
Sales Pipeline
SalesforceIQ takes a very unique approach to tracking sales. For one, all of your potential sales – whether they are leads or qualified opportunities – are managed from the same menu ("Opportunities"). There you can view all of your potentials on a list and quickly edit to change the sales stage or value.
This may sound like it can get messy, but fortunately you can save separate "lists," which are collections of leads or opportunities. You can also filter to view just sales in a particular stage, or those owned by a particular user, etc.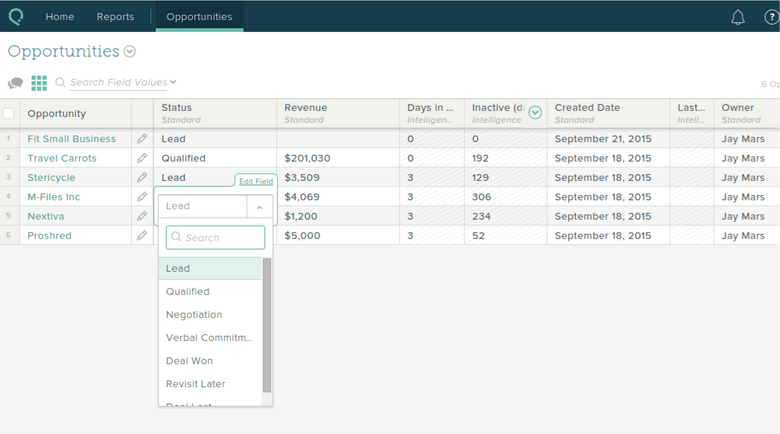 Clicking on an opportunity brings up a profile called the "Stream." Similar to a Facebook profile page, it hosts all of the conversations you and your team have had with the client – as well as notes and tasks – on a single timeline. You can add comments to discuss the deal privately with your team, or respond to the client directly from the "stream" page.
Emails are gathered automatically from your inbox (within a few minutes of sending), so you and your team can always have the most up-to-date information. You don't have to worry about 2 team members responding to the same message. Another unique feature of the "stream" is that it can even tell you when clients have viewed your emails.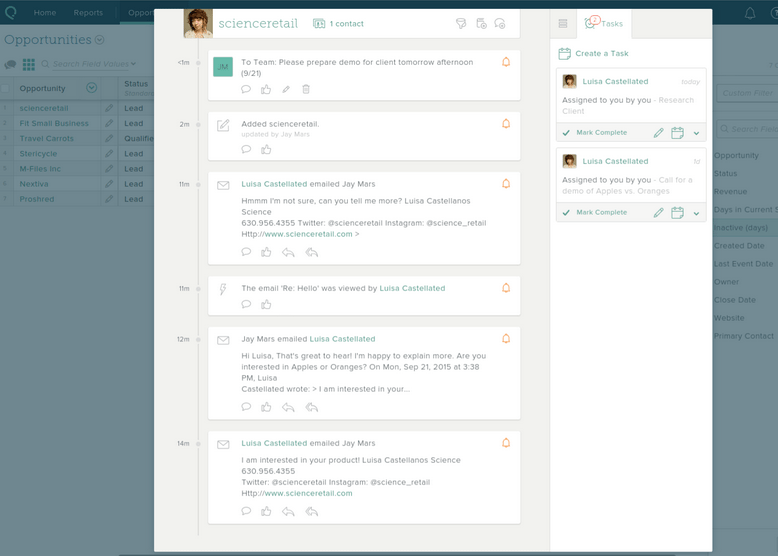 Task Management
Tasks can be assigned directly from a "stream" page (see the right side), from a contact page or from your home page. Tasks are synonymous with "follow ups" and they're all displayed on your homepage at the order in which they're "due."
You can assign tasks to yourself or to another user. You can link it to a contact & opportunity, add a description and specify a "due" date. As far as I could tell, tasks cannot be automated with workflow rules.
Reporting
SalesforceIQ has 13 standard reports, including a funnel analysis, sales leaderboard, win rate by salesperson and more. Reports are interactive: You can adjust the time period and select various data sources (such as which user or client you want to graph). You can save any report as a .CSV. (see more here)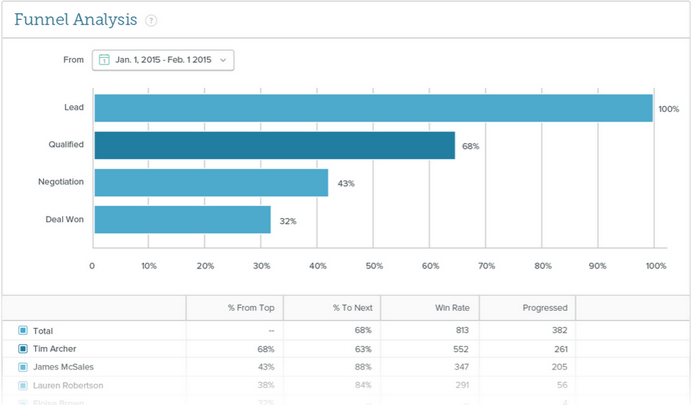 Email Marketing
SalesforceIQ does not have any mass emailing tools, nor is there any marketing automation. You can send individual messages, but you cannot message an entire list of leads.
Like Salesforce's main product, SalesforceIQ can integrate with Pardot – their separate marketing automation program. (see more here)
Territory Management
There's no territory management feature.
Document Library
Document management is a bit primitive with SalesforceIQ. As of this writing, there's no way to attach files to a contact or opportunity page, which would be useful for team members to share documents internally, like a price quote or product list.
On the other hand, when you send an email to a client through SalesforceIQ, you are able to attach documents. Also, with the mobile app, there's a tab called "Files" that collects attachments from your inbox, as well as files from your Google Drive, Dropbox or box accounts.
Project Management
There's no project management features.
Automation
Automation in SalesforceIQs is based around its ability to save emails and contacts directly from your inbox. It doesn't have any workflow rules that I could find. For example, you cannot automatically assign tasks when a new sales stage is reached, nor can you auto-assign leads.
One of the more powerful features of SalesforceIQ is intended to be their follow up reminders. As Salesforce explains in their press release, "Suggested Tasks recommend specific actions to sales reps to help ensure they never drop the ball, such as getting back to a prospect who has an unanswered question."
Since I only tried the CRM for a few days, I did not receive any suggested tasks (presumably the system has to "learn" your sales habits before it can make suggestions). But this ability to suggest follow up emails and tasks based on past behavior is potentially a very powerful tool.
Calendar
There's no SalesforceIQ calendar that I could find. Your upcoming tasks are displayed chronologically, however, on your "Home" page as a list.
Invoicing / Accounting
There's no invoicing or accounting tools.
Desktop/Server Based/Offline Access
SalesforceIQ is cloud hosted, so you don't need to install any software on your computer. You can access SalesforceIQ through your web browser or a mobile device. It does not support offline access, however, so you have to be connected to the internet in order to use it.
Mobile
SalesforceIQ has a mobile app for iOS and Android. It has all the main features of the desktop app, including contacts, opportunities (with the "stream") and tasks. It also has a few additional features: with a Gmail integration, you can check your inbox directly from the app. Plus there's a "Files" tab, which pulls together all attachments from your emails, as well as documents from your Google Drive, Dropbox or box account.
The only thing you can't do is generate reports. Also, the app does not work offline.
Integrations:
SalesforceIQ supports direct integrations with 3 marketing programs: Mailchimp, HubSpot and Pardot. There's over 300 more integrations available through Zapier, a 3rd party integration service, including Wufoo (for webforms), ZenDesk, Evernote and more. (see more about integrations here)
SalesforceIQ has some light integration with social media. LinkedIn contacts can be imported to SalesforceIQ, although you have to first export them as a VCF file. The CRM can also find LinkedIn pages for your contacts automatically and use that to share their work experience in your contact book.
Email integration is very robust. For Google users, SalesforceIQ provides a widget (pictured below) that gives you a lot of CRM tools directly in Gmail. You can create tasks and opportunities, view contact details and more.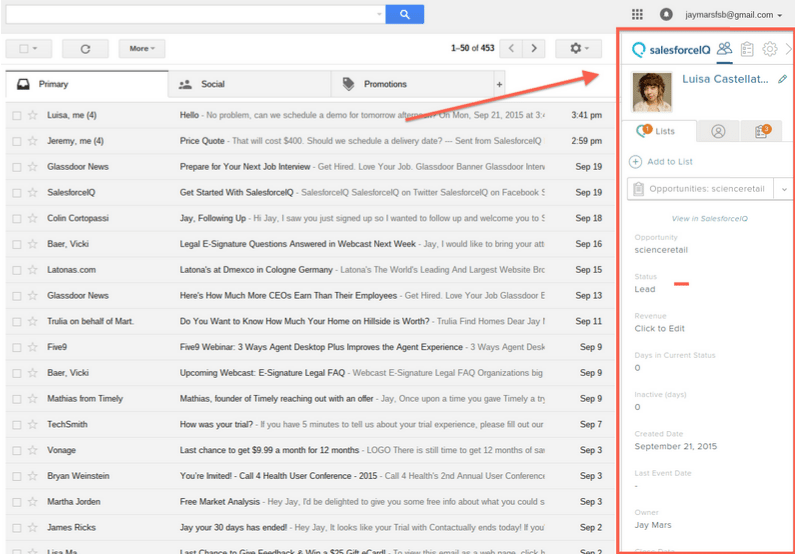 Customer Service
24 hours?
N/A
US Based or Not?
Yes
Phone, Live Chat or Email?
SalesforceIQ has email support available to all users. There's no phone or live chat support that I could find. SalesforceIQ also has a very helpful support center with articles, FAQs and training videos. There's a fairly limited number of articles, but this makes it easy to find exactly what you need.
The Bottom Line
What's exciting about SalesforceIQ is how closely it resembles project management. "Opportunity" pages are all about collaboration, showing you a team-wide stream of conversations, notes and discussions related to the client. While this isn't a new idea, the fact that SalesforceIQ can grab this information automatically (by integrating with your inbox) is a new approach that makes things far easier.
The downside to SalesforceIQ is its lack of advanced features for the price. For one, there's a few basic tools that are missing, like calendars and the ability to attach files to a "stream." There's also some advanced features that I feel a pricetag of $65/user/month should include, such as territory management, marketing campaigns, social media monitoring, task calendars, etc. – none of which SalesforceIQ offers.
Want to manage 1000's of leads, save time, and get organized? Click Here to get our FREE CRM guide and find out how.