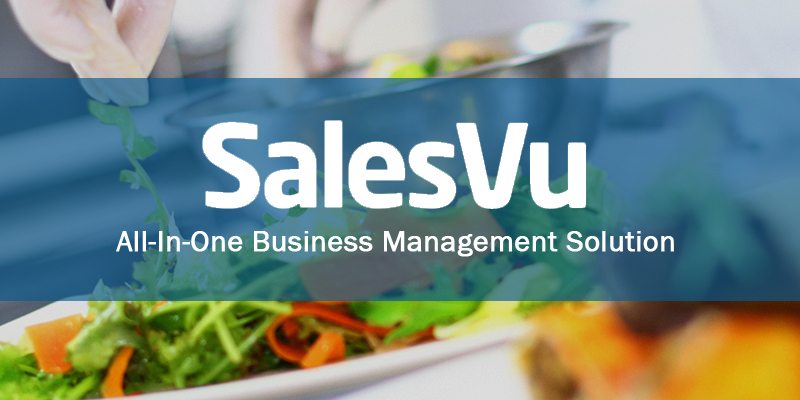 What is it?
POS system and Small Business Management Software
Want to Reduce Retail Theft and Better Manage Your Inventory? Click Here to find out how.
How Popular is it?
Over 10,000 users
What it allows you to do:
Download a free POS base platform and then pay for whatever additional features you need a-la-cart (you can also buy industry-specific bundles at discounted pricing)
What it does not allow you to do:
Depends on what bundle/add-ons you buy (see how it works section below).
Who it works well for:
Retail, service, beauty and wellness, winery, and health club businesses with 3 or more registers that want a system with packages specifically designed for them.  Businesses that want a free base system and the ability to add features al la cart.
Who it does not work well for:
Businesses with less than 3 registers, mobile businesses that only need basic payment processing/inventory management tools (ie food trucks, vendors)
Free Edition/Trial:

Free Version and 14-day free trial of Premium bundles/add-ons
Cost Compared to Competitors:
Average
Hardware Included:
Credit Card reader
Type of Solution:
Cloud
Merchant Account Included:
No, although direct integration/partnership with Mercury and Century payments (see credit card processing fee section below)
O.S. Platform:

Apple and Android Tablets/phones (see compatible device list here)
Similar products:
Erply, Revel
US Based?
Yes. Headquarters and customer support center in Austin, TX
User Reviews:
Good
SalesVu Pricing
SalesVu's base POS software is free, and you can use it for free for as long as you like. Of course, the free software is pretty basic, mostly just providing a way to to add products and accept a variety of payments (cash,card, etc). However, one of the distinctive things about SalesVu, is they provide each additional feature a-la-carte, meaning you can buy each separately. They range from $10-$50/add-on. SalesVu also offers discounted basic and industry specific bundles, to keep prices lower for businesses buying multiple add-ons.
As mentioned above, all bundles include unlimited device use and number of users as long as it is at the same location. Although $150/month may seem more expensive then some $50/device/month services, if you are going to need 3 devices or more, you will actually end up saving money with SalesVu, due to its unlimited devices feature.
For full breakdown of features and costs, check out SalesVu's pricing page
Free Features  – These features are included in free software download (see detailed feature section below for more info). SalesVu's free POS is most comparable to a PayPal Here or Square Register, except with better discounting and reporting options.
Add/manage products
Process transactions and accept a variety of payment types
Reporting
Discounts/Coupon creation and management
Bundles – SalesVu has bundles available, which include industry specific groups of the add-ons listed below, costing from $79-$150/location/month (average savings of $60-$90/month/location vs buying a la carte).
Bundle options: Basic, retail, restaurant, beauty and wellness, professional services, wineries
The basic bundle includes employee scheduling, inventory/supply chain management, and accounting/bookkeeping add-ons. All premium bundles include basic bundle features, CRM, Marketing automation, and one additional industry-specific add-on (ie table managements/reservations for restaurants).
For more on pricing and which add-ons are included in which bundles: see SalesVu's pricing page.
Add-ons
Employee scheduling and human capital management = $50/month – Time clock, shift management, employee time-off and shift change requests, and more.
Inventory and Supply chain management = $50/month – Create/manage purchase orders, manage vendors, track inventory, multi-store inventory transfer, and more
Accounting and Bookkeeping = $20/month – Basic Bookkeeping and direct import/integration with QuickBooks through a single click of a button
Customer Relationship Management (CRM) = $20/month – Track customer history, manage customer contact info/groups, interaction history/comments from previous conversations, filter by purchase, date, info, etc.
Marketing Automation = $50/month – Email marketing, Facebook coupons/marketing, track ROI, automatically email customers based on recency of purchase, kind of purchase, etc.
Ecommerce and Online Ordering = $20/month – Free webhosting and fully functional webstore, seamlessly integrated with in-store POS, can also embed webstore on your own site/connect a custom domain.
Table Management and Reservations = $50/month – Accept and manage phone/online reservations, set up table layout and manage tables, assign server sections, ticket printing to kitchen/bar, table/seat info, and more
Appointment Scheduling = $50/month – Configure salon layout, Customers can schedule online/over the phone, sends automatic reminders to customers, and more
Quote and Invoice Management = $20/month – Email invoices, clients can pay online right from email, track outstanding invoices, run detailed analysis, and more
Recurring/Subscription Billing = $50/month – Automatically manage recurring payments by customer/customer group, configure subscriptions and membership payments, and more
Hardware costs
SalesVu does not sell hardware directly, but all compatible devices can be found listed on their hardware page. Expect to spend around $550 or so for a cash drawer, receipt printer, and iPad stand, as pictured below. It will cost another $250 or so for a compatible barcode scanner.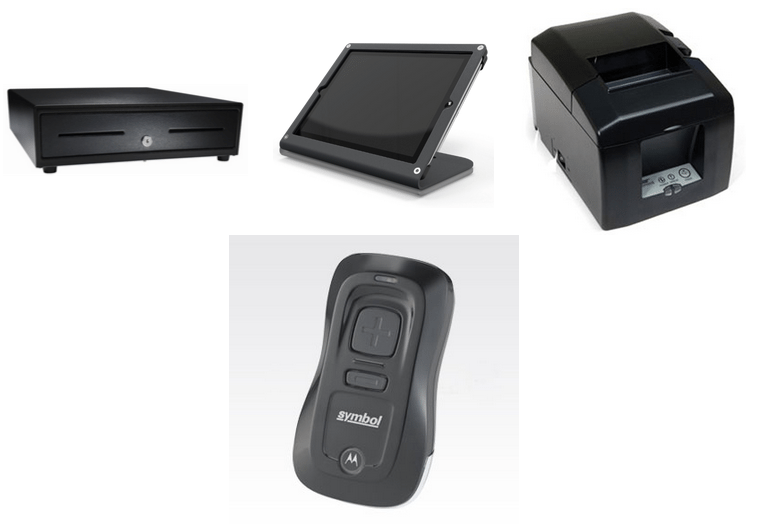 Credit Card Processing Fees
SalesVu has relationships with Mercury Payments and Century payments, and directly integrates with these processors. You can also use other processors, but you have to process the transactions externally on a separate reader/device, which is a pain. Several things to consider, if you are a restaurant, go with Mercury, because Century does not allow/accept tips. Also, if you do less than $10,000 in sales/month, go with mercury. Century charges a $275 fee for every month with less than $10,000 in sales. Honestly, I would just go with Mercury regardless, due to their better reputation and higher user ratings.
Although not advertised, Mercury also offers interchange plus pricing, which is generally cheaper than traditional tiered pricing models. Be sure to ask about it and see if you can negotiate a better deal. To learn more about credit card processing fees and pricing models, check out our credit card processing article.
Mercury Payments (Businesses with less than $10,000/month in credit sales)
Mercury payments has a transaction rate + a fixed fee that they charge for every credit card payment through SalesVu. The rate stays the same, but the fixed fee changes based on whether your store averages over or under $25 per transaction.
Under $25: 2.6% + $.25 per transaction
$25 or Over: 2.6% + $.10 per transaction
The first credit card reader is free, additional readers cost $69.99 each. There are several other fees to be aware of. If you process less than $560 in credit cards per month, you are charged a flat fee of $15. As long as you give a 30-day notice, there is no cancellation fee. As mentioned earlier, be sure to ask about interchange plus pricing. You might be able to negotiate even lower rates.
Century Payments (Businesses with $10,000/month or more in credit sales)
Century payments has a flat rate of 2.75% for all swiped and manually entered transactions. Your first card-reader is free, and each additional reader costs $139 each. For every month your credit card sales are below $10,000, you will be charged a $275 fee. You are also charge a $495 cancellation fee.
Ease of use
Overall, SalesVu is pretty easy and intuitive to use. Some of the more advanced features such as online appointment booking, cost of goods sold calculations, etc, can be a bit tricky to figure out at first, but once you figure it out you have it. We'll discuss each aspect of the POS system below.
Software Download/Setup: Easy
Software download and setup was a piece of cake for me, using the iPad app. I just searched SalesVu on Apple Store, downloaded it, and I was good to go. You then just get on SalesVu.com, sign in with the username and password you configured when you downloaded the app, and start setting up your store.
You can also go to SalesVu.com and click on the download/free trial button there and you will be routed to the correct place to download the software.
Store Setup: Moderate
All in all, setting up your store is really pretty simple. I just classified it as "moderate" because some of the more advanced features can take a little bit of time to set up/understand. When you sign in, you will see this home screen.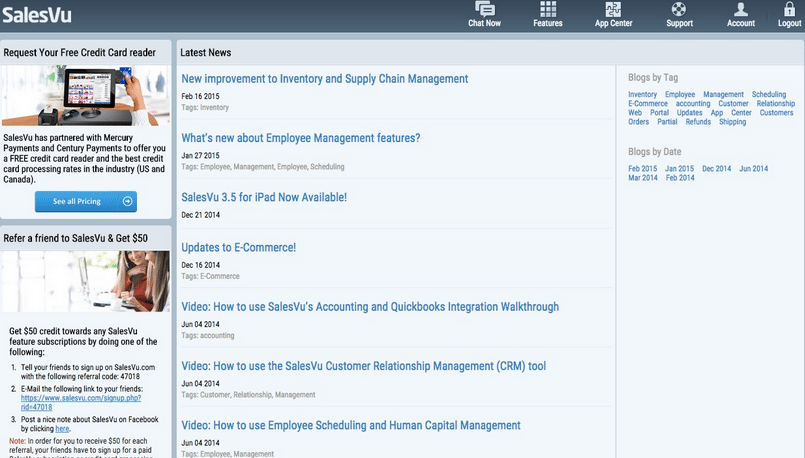 You then click on the "features" tab to see your different add-ons/options (products and services, inventory, employees, etc). This is where you are going to be clicking to conduct the majority of your activities. You can also see the "App Center" tab, which lets you add any additional features you would like.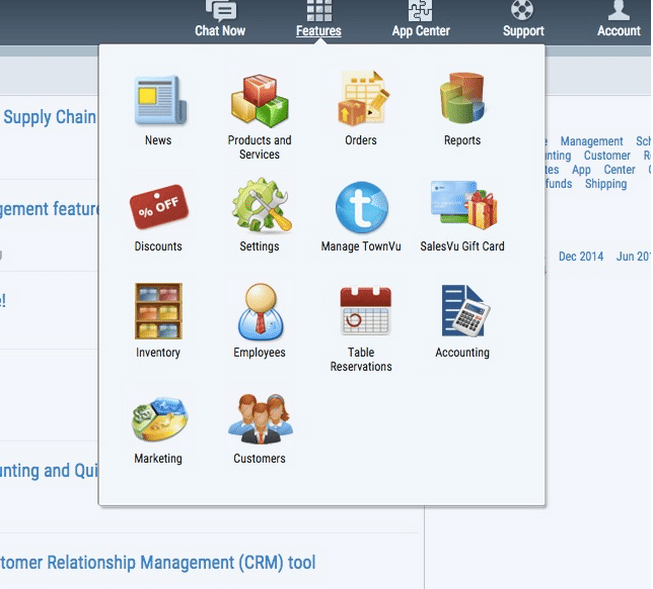 All of the interfaces are laid out pretty nice. Here is an example of the "add product" page. The screen is uncluttered, easy to navigate, and simple to configure. At the bottom of the page you also have the option for toggling the "track item in inventory" to on/off, if you have the inventory management add/on.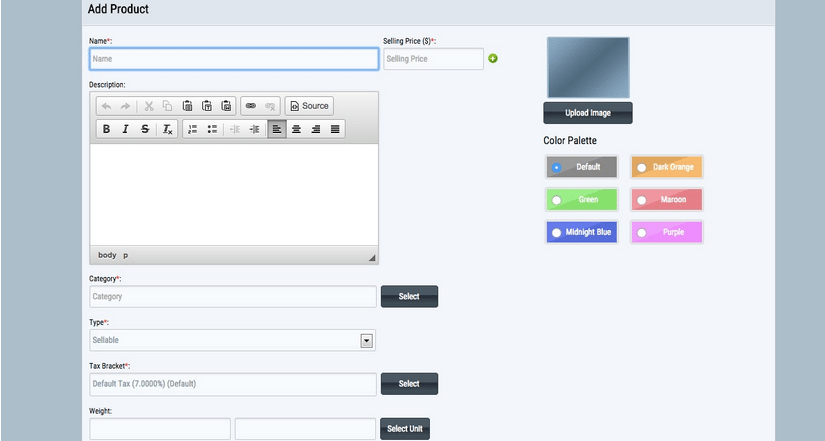 Register Use: Easy
Using the register is easy. I actually really like the way it is laid out. Here is the main register screen with the product buttons I created.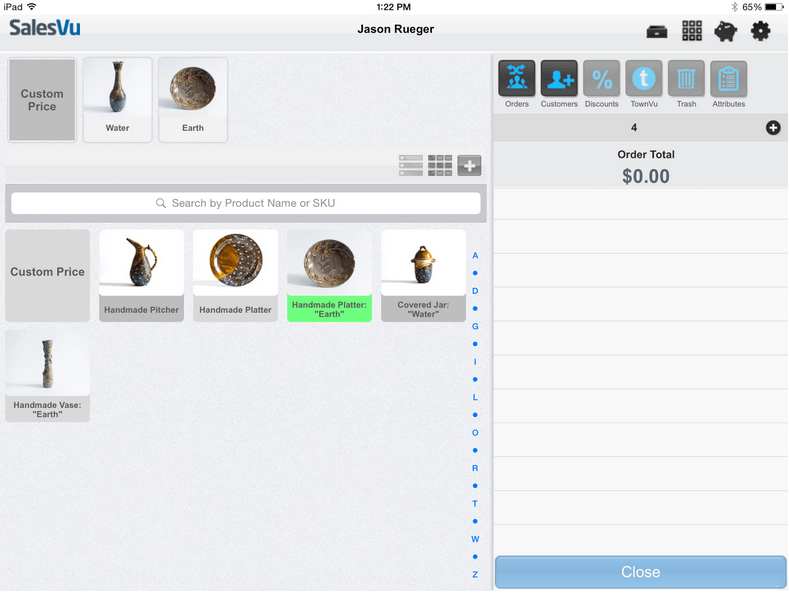 There are several things I really like. For one, not only are products listed on the middle/bottom left, but so are categories on the top left, which makes finding specific products much easier once you get hundreds of products in your system. Second, the product search bar is right where you can see it, in the middle of the screen between categories and items. You can even click the letters arranged vertically down the side to find items that start with that letter. Everything is just so simple and obvious. Once you add products, the big button that says "Pay" at the bottom is clearly what you are supposed to hit to cash people out. Your main buttons are at the top clearly seen, orders, customers, discounts, trash, etc.
You and your employees should have no trouble using SalesVu's POS register.
Primary Features (some are a la carte)

Features It Has

Features It Does Not Have

Process transactions and
accept a variety of payments

Accepting credit card payments while offline
(always-on mode)

Split/Open check options

Discounts/Cuopons

Gift Cards

Inventory Management

Purchase order
creation/management

Table
management/reservations
(restaurants)

Employee
Management Tools

Create customer contact lists,
groups, and track
purchase history (CRM)

Automated Marketing
(coupons, emails)

Accounting
and Bookeeping

Ecommerce/online store
and online ordering
Primary Integrations
Because SalesVu has a lot of functionality via its own add-ons/bundles, its integrations are not very extensive. It does have one-click integration/importing with QuickBooks, which is very important. It also integrates seamlessly with Mercury Payments and Century Payments for credit card processing.
However, if you are looking for more integrations, then you may want to look elsewhere.
| Integrations | Non-Integrations |
| --- | --- |
| Quickbooks | Mailchimp |
| Mercury Payments | Any other ecommerce sites |
| Century Payments | |
| | |
Detailed Overview:
The best way to think about SalesVu, is to view it as a kind of a middle ground POS system. It has much more functionality and potential then say a Paypal Here or Square Register, even a little bit more than like a ShopKeep. But, it is not quite to the level of a full-blown Enterprise Management Platform POS like Erply. At $150 for SalesVu's top-end bundles, the price falls in-between the lower and higher end systems as well.
The thing I like most about SalesVu, is that you can tell someone put a lot of thought into it. Everything is set up so intuitively, from the way user/employee permissions are configured to the way the register screen is set up. Employees can even sign-on and request time-off and exchange shifts right within the SalesVu back office online, a feature I have not seen with any other POS system in this price range, or even in higher price ranges for that matter.  Their customer service is great also. When I had a problem with the appointment booking add-on, a representative responded immediately on chat and had me fixed up in around 10 minutes.
But, there are some negatives. First, if you do not use Mercury or Century payments, you have to process credit cards externally, which is just hassle (although you can track them through SalesVu's POS). Second, there are some feature limitations. The restaurant bundle is especially limited, not allowing you to split checks by seat, set server areas, or change status of tables as actions are taken (food ordered, food delivered, check delivered, etc).
All in all, you should just test-run the POS for yourself, considering they offer a free 14-day trial period. You can even set up a demo, where a SalesVu rep will walk you through all the different features personally and help you determine whether they are a good fit for your business.
Features
You can apply tax separately for each item, but all rates need to be saved beforehand under "Settings" > "Taxes." Unfortunately you can only apply one tax rate per item, so you don't get too much flexibility in this area.
1 – Inventory Management

SalesVu has some great inventory management features. With its free version, you can do all basic inventory tasks. You can add/manage products, including categories (ie t-shirts, pants, entrees) and modifiers (color, size, etc). Also allows you to set individual taxes on items if need be, create custom UPC's and SKU's, and add product type (sellable or non-sellable/ingredient). Another handy feature, is that SalesVu can do payment calculation/processing via decimal quantities, for businesses that sell by hours, weight, or volume.
With the inventory and supply chain management add-on, you can also manage cost of goods, set low-inventory/re-order alerts, and automatically create/manage purchase orders, scan-in inventory, or bulk import inventory as well. The only thing I would add here, is that the cogs and profit reports are pretty basic. If you want really in-depth inventory reporting, you might be frustrated by SalesVu.
2 – Employee Management

All of the POS systems I have tried have employee management features/user
permissions of some kind. However, SalesVu's Employee Scheduling and Human Capital management add-on is by far the best. For starters, there are the basics like employee time-tracking and export (for payroll), which is nice. But the scheduling feature is great. It is super simple to set up weekly schedules. Once completed, you can copy and paste a link to google calendar and your employees will be automatically emailed/texted with their shift times for the week. You can also set it up to send them reminders before shifts. And that's just the beginning. Employees can also log-on to SalesVu online and request time-off and exchange shifts with other employees, all right within SalesVu.
In addition, SalesVu's user permissions system is super intuitive. You click on an employee, and there is a simple on/off toggle list of permissions, including permissions for opening a cash drawer without sale, which is an important one to prevent theft/shrink.
The way user permissions work in the register is great also. Many other systems I have tested require you to log-off as a cashier, log-in as a manager, and then log back off as a manager and back in as a cashier to perform a manager function. Talk about a pain. With SalesVu, a permission box pops up, and a manager simply has to put in their PIN to perform the task. After the task is complete, the system automatically resets to the user permissions of the original employee. Simple and painless.
3 – Customer Relationship Management (CRM)

SalesVu has some solid CRM features. You can input customer contact info, create customer lists, track interaction with customer via comments section, track sales' history, and even break down customers and form special groups based on a variety of factors (ie customer who have not bought a product in the last 6 months) to help focus marketing campaigns and customer retention.
4 – Always-on mode (accept payments even when offline)
SalesVu allows you to accept cash and check payments while offline. But, you will need an internet connection to process credit card transactions.
5 – Barcode creation/scanning

SalesVu support barcode creation/scanning with compatible barcode scanners. You can also scan items to be checked-out and scan-in items to your inventory.
6 – Label creation/printing

If you are wanting create and print custom labels, SalesVu has you covered. You can create and print custom labels using compatible printers.
7 – Gift Card/Discount Options

SalesVu also has a pretty sophisticated discount/coupon engine that comes with its free POS. You can set as many discounts as you like, discount by percent or fixed sum, discount by product/category, and even set the quantity of how many items can be discounted per customer. Also, you can set recurring time-based discounts, which is a feature I specifically liked, because  I could see it being great for restaurants. Instead of having to add a discount to every appetizer/drink during happy hour, you can set it up so that specific items/categories are automatically discounted, which is a big time-saver.
8 – Ecommerce/online storefront option

SalesVu actually has an integrated ecommerce/online storefront option as one of their
add-ons (included in retail bundle). They provide free hosting and a custom domain name (although it is a sub-domain of their overall site).Basically, this gives you a somewhat customizable online store that seamlessly syncs with in-store sales/inventory. If something sells online, it is calculated into the in-store inventory numbers and the customer is automatically added to your customer contact list.
The site is not on-par with other ecommerce option such as Shopify, Weebly, or SquareSpace. It does not have high-powered features such as integrated shipping options/calculators, advanced reporting, or abandoned cart savers. But, the site does not look bad and it will let you sell products online with little-to-no extra hassle.
Here's an example of a SalesVu ecommerce site: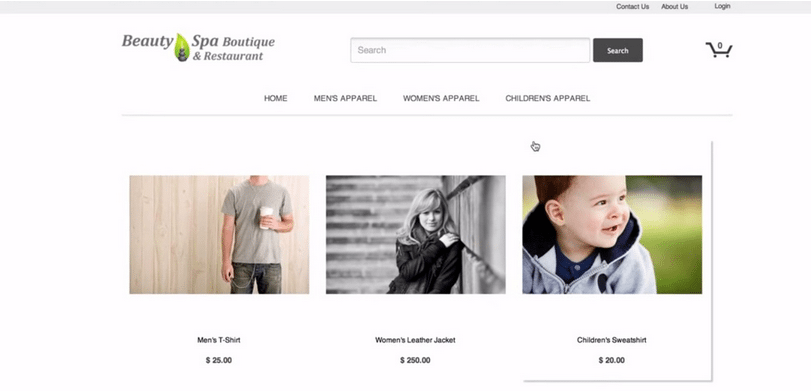 9 – Mobile payment option

With SalesVu, you have the option to have your customer pay on your mobile phone. This allows you to take your credit card reader and accept payments on the go or at individual tables.
10 – Purchase Order management

If you want to create and manage purchase orders through your POS, SalesVu can do that via its Inventory and Supply management add-on. You can email multiple vendors     at the same time, reconcile inventory counts once purchase orders are received, and even set it up so that purchase orders are automatically sent out once stock gets low.
The only feature missing, is purchase order tracking, which some POS systems like Erply have.
11 – Reporting

SalesVu reporting allows you to view/generate a variety of reports. You can look at sales reports, by hour, day, month, or any specified time period, as well as by register, location, and any combination of all of the above. You have the same level of functionality and customization to create reports related to average ticket sales, discounts, cash drawer, close outs, and tax reports.
12 – Appointment Booking/Reservations

Sale's Vu's appointment booking/reservation feature, which is basically the same thing as its table management/reservations feature, is pretty well set up, especially for beauty/salon applications. You can set up a page on your SalesVu ecommerce website, or copy code and embed it onto your current site that will allow you to take reservations/appointments there. Once an appointment is made, it is added to your appointment calendar. When the customer comes in, you can pull up their reservation on the POS system and assign them a table/salon chair. Just be sure to set your time zone under location management in your general settings. I forgot to, and all of my sample appointments were 3 hours off. But, after a quick and helpful chat session, Philippe set me straight and I was good to go.
13 – Payroll

You cannot actually run payroll/print checks through SalesVu. However, with SalesVu's time-clock feature and its one-click import/integration with Quickbooks, you can import employee hours and run  payroll easily and quickly through your QuickBooks account.
14 – Restaurant Tools

SalesVu is not a bad restaurant POS option. It does the basics, such as allowing tips, split checks, and open checks. It also has a table management/reservations add-on, which allows you to set a table layout and print checks to kitchen/bar printers by table/seat. The tables turn red when they have an open order and keep a running clock of how long the customer has been there. There is also a cross-sync feature that lets customer book appointments online and have those appointments populated on your POS so that they can be booked.
Although there are some nice restaurant features, there are also limitations. You can split checks, but only be adding in amounts for each check or splitting equally. You cannot split the check by seat number, which is annoying. Also, you can assign seat numbers on the order/ticket, but you cannot actually see those seat numbers on the ticket without hitting the edit button, which is really a hassle. All in all, although the restaurant features show some promise, it would probably be better to go with a restaurant dedicated POS, like our recommended provider, which has a whole different level of restaurant features and functionality.
15 – Grocery Store Tools

SalesVu is not necessarily set up to be a grocery store POS. There is no scale integration, which is important. Also, to calculate shrink/loss, you have to use a workaround by creating a 100% "waste" discount, ringing up products, using the discount, and then running a discount report, which is a lot of effort.
Considering that SalesVu has already thought through the industries it targets and has not included a grocery bundle, it is pretty safe to say they have not been focusing on providing a good POS for that industry.
16 – Retail Store Tools

SalesVu is a great option for retail businesses. You can scan-in inventory, bulk-import, run cost of goods sold/profit percentage reports, transfer inventory in-between locations (if you have multiple stores), add any number of product modifiers (blue, small, etc), and more.
Also, the employee management features will make scheduling a breeze. Add shifts for the workweek and have them automatically sent to your employees. You can even have shift reminder emails sent as an employee's shift approaches. All of these tools and more, makes SalesVu a pretty good retail store POS option.
Customer Service
24 hours?
No ( 3am – 10pm CST/ 7 days a week)
US Based or Not?
Yes
Phone, Email, Live Chat, Self-Help Portal?
SalesVu has phone support available from 8am-10pm CST every day of the week. They also have email support from 3am-10pm CST every day. I talked with a SalesVu's COO, Jarod Striling, who explained that they are rolling out 24/7 chat and phone support in the near future. SalesVu's customer service has been very well-reviewed by users and my own experience was positive as well. When I had an issue, I was chatted with Philippe and had it resolved within minutes.
The Bottom Line
All in all, SalesVu has a lot going for it as a POS. Although there are certainly some limitations, specifically with its restaurant bundle, SalesVu is a pretty good POS system. The free version is comparable to a Square Register/Paypal Here, with a few upgrades such as time-based discounts and more in-depth reporting. The paid bundles are full-fledged POS solutions. As with any POS system that offers a free trial, check it out before you commit and see what you think.
Want to Reduce Retail Theft and Better Manage Your Inventory? Click Here to find out how.