One of the great things about online advertising is you can track exactly what you're getting for the money, be it clicks, leads or sales. Unfortunately, a lot of business still takes place over the phone – about 92%, according to Salesforce – and this has traditionally been a very difficult medium to track.
Enter call tracking software: These programs will automatically track where calls come from on your website, AND will give you tracking numbers to place in your print ads. This allows you to optimize your marketing budget by tracking how many leads (and how much revenue) each channel is driving.
Before we dive into the details on this topic, we also suggest you check out Nextiva, our recommendation for the best small business phone service provider. Visit Nextiva to learn more.
This guide will show you how to set up call tracking for using CallRail, our recommended call tracking system. We'll also show you how to track conversion rates and revenue by combining CallRail with your CRM.
Chiming in along the way will be marketing expert Dallas McLaughlin, who uses call tracking for his clients at The James Agency.
What is Call Tracking Software?
Call tracking software allows you to monitor how callers are finding your business. There's 2 ways that call tracking works:
By adding a piece of code to your website, call tracking software can tell you how callers found your website.

By giving you dedicated numbers to use on other websites, or offline on things like direct mail and newspaper ads.
All numbers route back to the same business line, so you don't have to worry about keeping multiple phones. By "remembering" which number customers dialed, however, call tracking software reports how many leads came from each channel. You can view this on a report, get an email alert each time a call comes in, or you can even get this data in real time: Before a call is connected, a "whisper message" can tell your employees where the lead is coming from.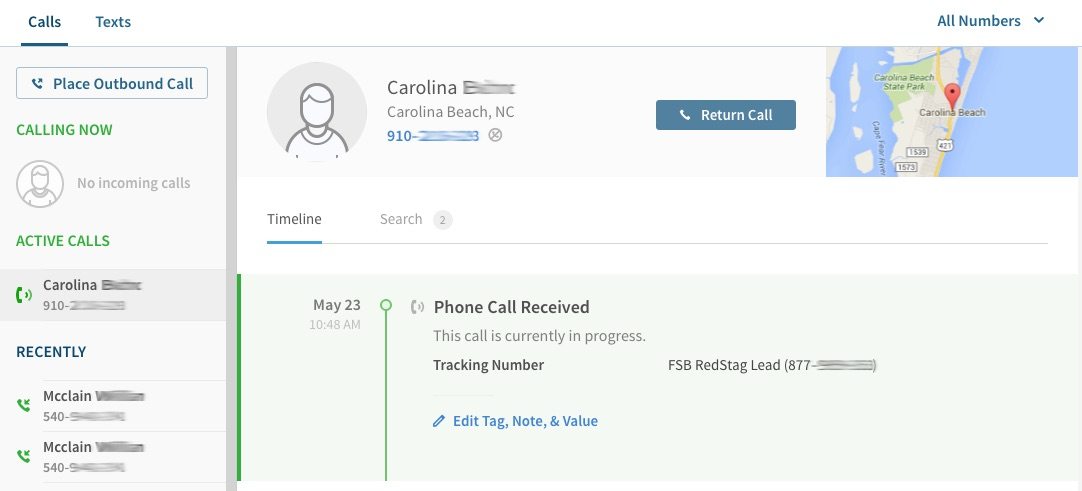 How Does Call Tracking Software Help My Business?
Call tracking software can tell you which lead sources are performing better than others. It can answer questions like – Do we get a better ROI from billboard advertising, Google Advertising or from our coupons in Angie's List? According to Dallas, his clients rely on call tracking reports to set their annual marketing budgets.
Much of this power comes when you combine your call tracking software with your CRM. This allows you to track not only how many leads are coming from each channel, but how many are converting and how much they are spending. We'll get more into this at the end of the article.
Traditional vs. Dynamic Call Tracking
In it's simplest form, call tracking software gives you unique phone numbers to place in your ads. This is helpful if you plan to advertise on a billboard or in a newspaper. Let's say instead, however, you want to advertise your business online. How can you track callers if the ad leads back to your website?

The solution is called dynamic number insertion. Depending on where the lead came from, you can automatically display a different phone number on your website (i.e. one for Facebook ads, one for Google ads, one for Bing ads, etc.) This is possible by installing a piece of code on your website, which should be provided by your call tracking software.
How to Set Up Call Tracking Using CallRail
For the rest of this guide, we'll show you how to set up call tracking for your business using CallRail.
While there's a lot of different call tracking providers, many are aimed at the enterprise level. What we like about CallRail is that they offer small business-friendly pricing, and avoid extraneous features (like call quality management) that can jack up the price. If you want to read more about the different call tracking providers out there, check out our comparison of CallRail, CallTrackingMetrics and Convirza.
Step 1: Choose Which Channels You Want to Track
Before diving into the software, the first step is to think about which lead sources you want to track. Dallas recommends measuring all of your advertising channels that last at least a few months:
"We typically stick to long term placements which we can measure month over month and compare to other marketing channels. This gives us a better idea of which placements would benefit from more budget and which placements we can effectively cut.
We won't usually track one time events such as handing out fliers at a baseball game, or having a booth at a career fair since this doesn't give us a very clear picture of how to optimize the marketing spend in the future."
Call Tracking and Local SEO
An important note for businesses who rely on local search results to drive businesses: Changing your business phone numbers on local directories (including Yelp, Google+, Facebook, Better Business Bureau, etc.) can hurt your search rankings.
Bryan Clayton of GreenPal told us how he added different phone numbers to each directory listing. His intention was to track how many leads were coming from Yelp vs. Google vs. Facebook, etc.
As a result, however, Google interpreted GreenPal as being 20 different businesses, rather than one business with 20 different phone numbers. Their ranking was pushed to pages 5 and 6, which had a crippling effect on their business.
What's the moral of the story? If you rely on local SEO to attract new customers, make sure you use the same phone number across all directories. While this means you cannot track calls from directories like Yelp, or Google+, you can still track calls that come from your website. Dynamic number insertion should not hurt your local SEO score.
Step 2: Pick Your Phone Numbers
Now we'll actually head into CallRail and start setting up an account. In addition to call tracking, CallRail will provide you with phone numbers AND give you call routing tools (like the ability to send calls to your cell phone after hours). Click here to follow along.
Once you're in the program, click "Settings" then "Add Phone Number." CallRail uses a simple wizard to guide you through the setup process. The first question is whether you'll be using the number for online or offline advertising.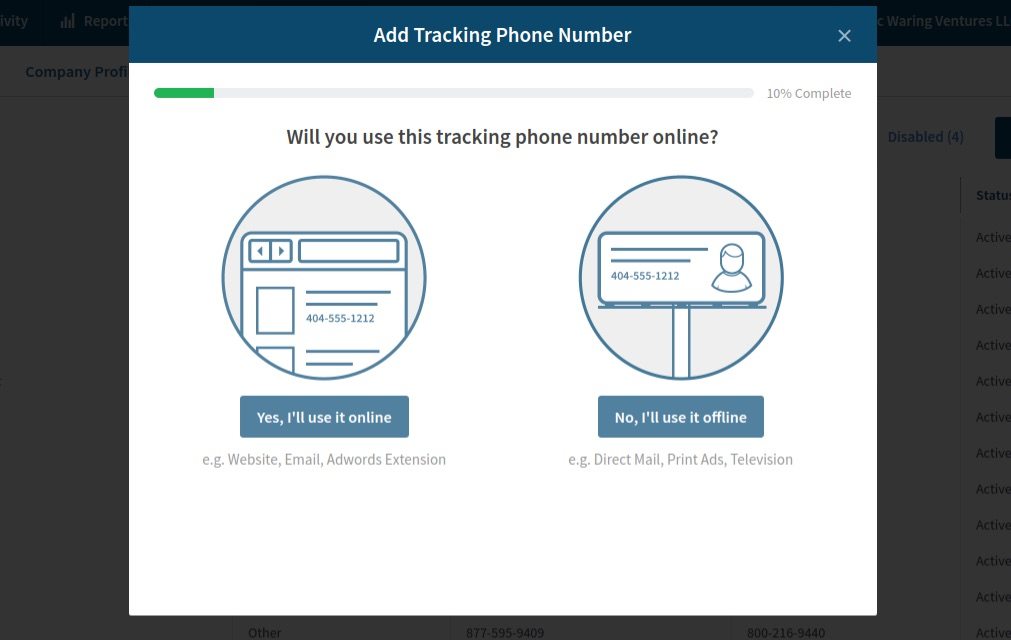 Offline Tracking
For offline advertising, the process is very simple. First you'll give your source a name (i.e. "75th St. Billboard," or "Sunday Tribune Ad.") Be as specific as possible. This is how the name will appear in reports, so you don't want to be too vague and mix it up with another channel.
In the following step, you'll choose a local or toll free number to appear on the ad. Then, you'll have the option to set up a whisper message. This is a brief message that is played to your employees before the call is connected (the caller doesn't hear it). Whisper messages are not required, but are helpful if your employees need to know the source of the caller.
For example, one of Dallas' clients, a pizza shop, uses whisper messages every time a call comes from a hotel ad. This way, employees know to ask for a room number, rather than an address.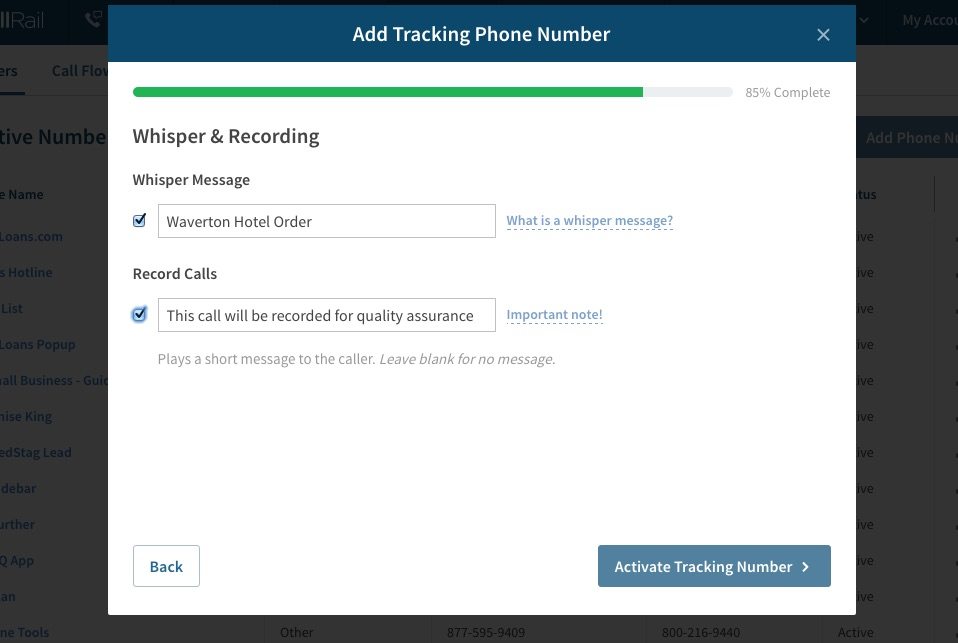 After you enter your whisper message, your final option is to set up call recording. CallRail can record conversations at no additional cost. If you want to enable call recording, just check the box and type your notification message – i.e "this call will be recorded for quality assurance." Call recording regulations vary by state, so make sure your notification is in compliance with local laws.
Online Tracking
Online phone tracking is a little more complicated. If you're tracking a phone number on somebody else's website, the process is the same as offline tracking. You'll name the source, choose a number, set up whisper messages/call recording, and then be ready to go.
Tracking Callers from Your Website
If you're tracking a number on your website, there's a few additional steps involved. For one, you'll have to install a snippet of code in the header of your website. This code is what changes the phone number based on where the visitor came from. Note: To search engines, only your main business phone number should be visible, so this should not affect local SEO.
Secondly, you'll have to decide whether you want to track each visitor or track a campaign. Here's what this means:
Track Each Visitor

means you'll be able to track

exactly which website

each visitor came from. You can even tell which keywords a visitor typed in Google/Bing if they click on an ad to your business.





As a trade-off for more specific data, however, you'll need a lot of phone numbers. Tracking each visitor requires a rotating

number pool

in which each unique visitor gets their own phone number. In other words, a website that gets up to 20 unique visitors at one time will need at least 20 phone numbers.
Track a Campaign

tracks visitors more broadly. You assign 1 number to each channel you want to track (for example, 1 number to Google ads, 1 number to organic Google referrals, 1 number to Facebook, etc.)





While this can give you a lot of rich data, the downside is you need to define each source beforehand. Say a blogger writes a review of your business and you get an influx of traffic – none of these new leads will show up under the name of the blog. Unless, of course, you go back into the system and add the blog as a traffic source.
As a rule of thumb, tracking each visitor will give you more specific data, but will also require more phone numbers (which usually means higher costs).
Step 3: Set Up Call Routing
In addition to call tracking, CallRail gives you a lot of tools for routing calls. For example, you can record a greeting to play as soon as a caller gets connected "Hi, welcome to Acme Enterprises." From there you have a variety of additional options:
Interactive menu

– Create a menu for customers to connect their call:

"Press 1 for sales, press 2 for support"

Round Robin

– Forward the call to the next available salesperson, or support agent

Call Scheduling

– Route after-hours calls to your cell phone, or another number

Voicemail

– Allow callers to leave voicemail, and listen to messages from your online dashboard
You can also use these tools in combination. For example, you can start with an interactive menu "press 1 for sales, press 2 for support" then, depending on which button a caller presses, you can forward the call "round robin-style" to your sales team, or your support team. If nobody is available to take the call, THEN you can forward it to your cell phone, or route it to voicemail.
To set this up, click "Call Flows" on the top menu bar, then "Create Call Flow." From there, you'll be able to create a sophisticated call flow using drag and drop tools.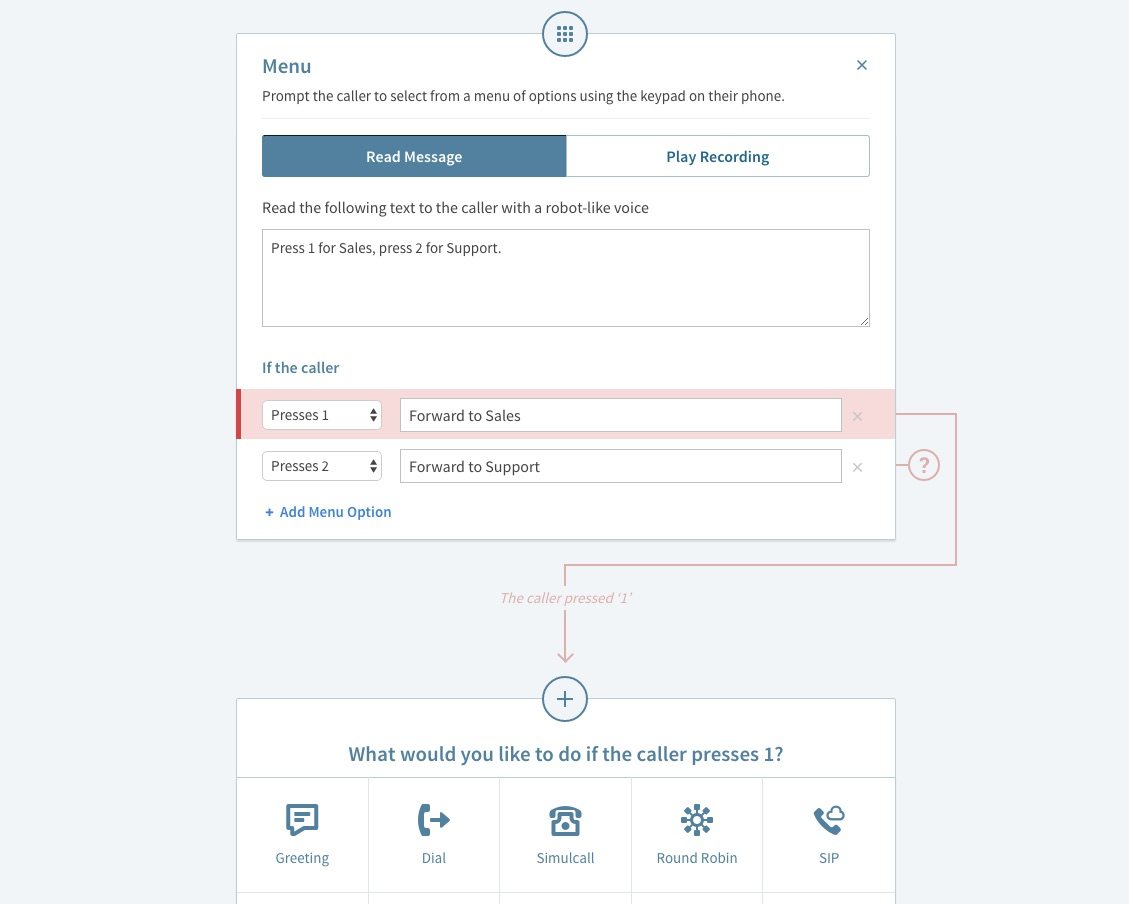 Step 4: View Your Call Reports
Once you've begun tracking calls for a few weeks, it's time to reap the benefits. From the CallRail dashboard, you can view a list or chart of your latest calls. You can also export this data as a CSV spreadsheet (or printable PDF) if you want to analyze it further in Excel.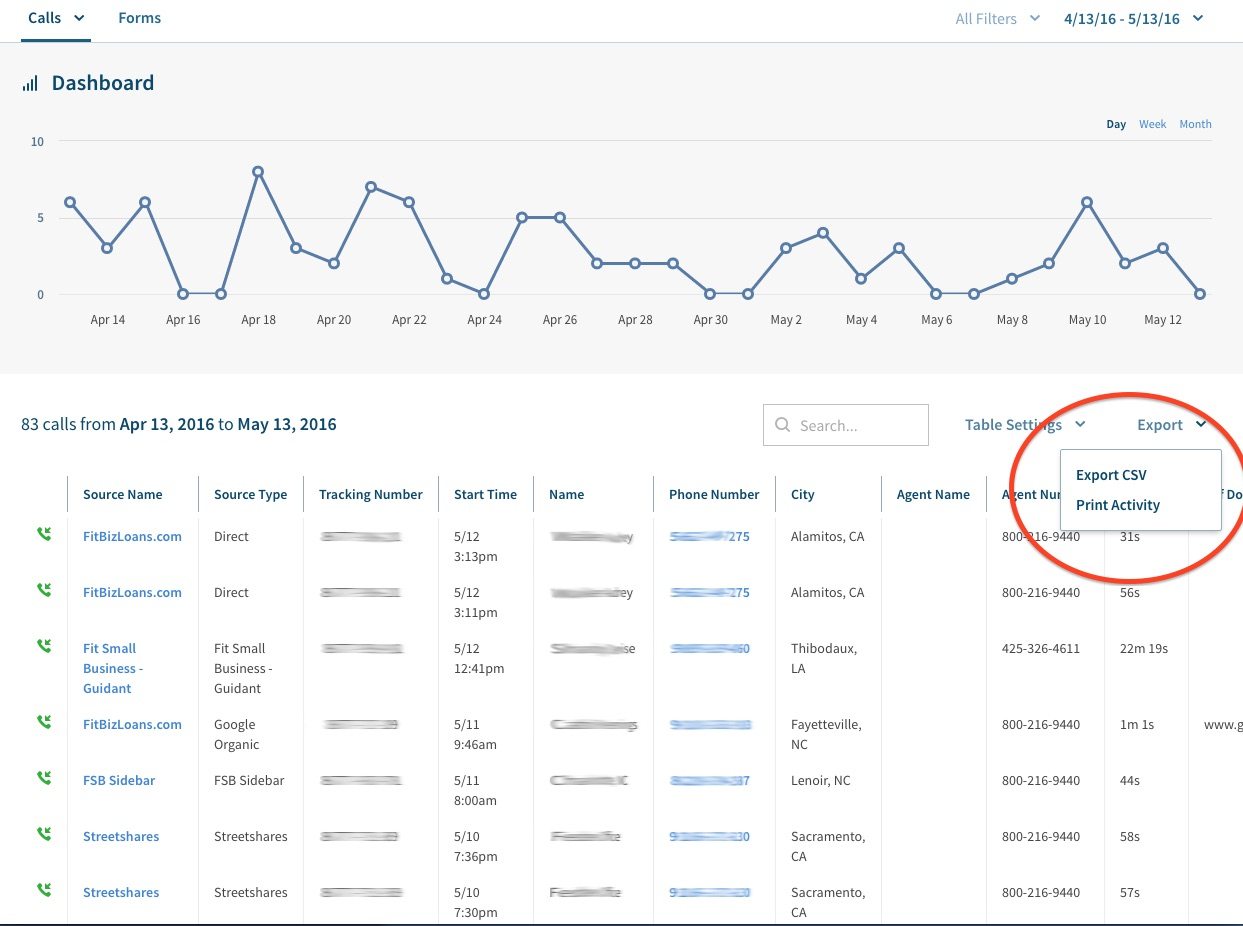 All businesses will see the source of the call, the caller name/location, start time and duration. If you use a number pool on your website, you can also see the referring domain and (for Google/Bing ads) the keyword they typed.
CallRail also allows you to set up email alerts, which can be sent to different people whenever calls come in from specific sources. You can even have a recording of the conversation sent as soon as the call is finished. Read more about email notifications here on CallRail's website.
How to Use Call Tracking Software with a CRM
As we explained earlier, call tracking becomes very powerful when combined with a CRM. This allows businesses to not only report how many calls are coming from each source, but also how much revenue.

To explain how this works, we'll show you how CallRail can be used alongside Insightly, our recommended small business CRM. Click here to visit Insightly and follow along.
First off, a simple approach is to enter the lead source when you save a lead in Insightly. To do this, you can create a custom field called "Source." Then, create a dropdown menu with all your different advertising channels (i.e. "billboard," "google ad," "organic," etc.)
For specific instructions on how to create custom fields in Insightly, check out our guide How To Set Up Insightly – A Step-By-Step Guide.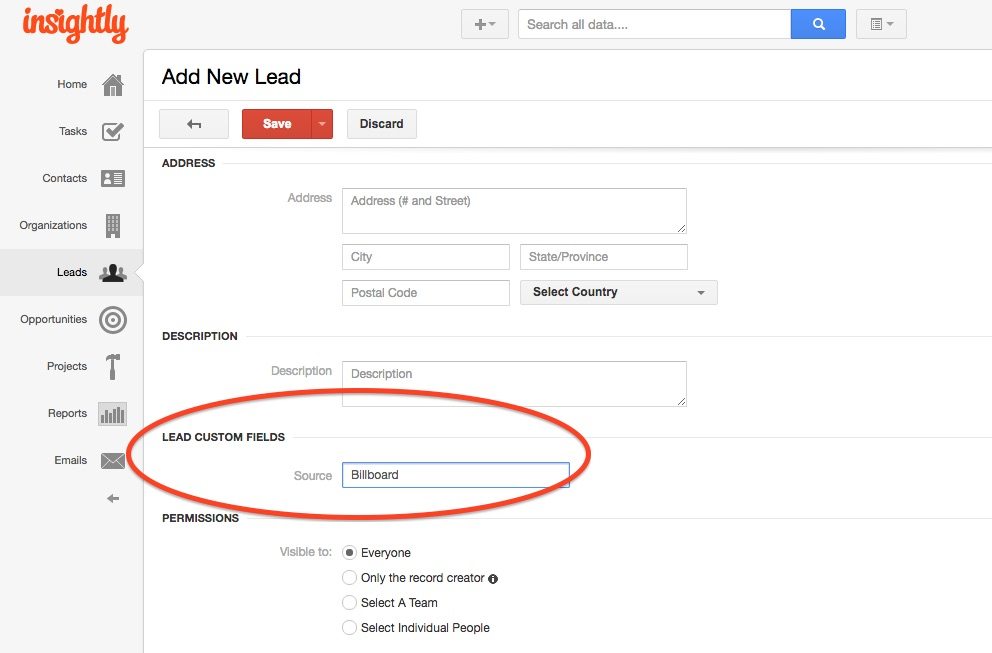 As the lead continues down the pipeline, make sure you continue tracking the source. When you "convert" it to a contact and opportunity, for example, you'll have to manually copy the source in a new data field.
Once you've gotten in the habit of tracking the lead source in your opportunities, you'll be able to run reports that show how much revenue each source is driving. Using Insightly's custom reporting tool, you can compare "Lead Source" against "Opportunity Value" and other metrics.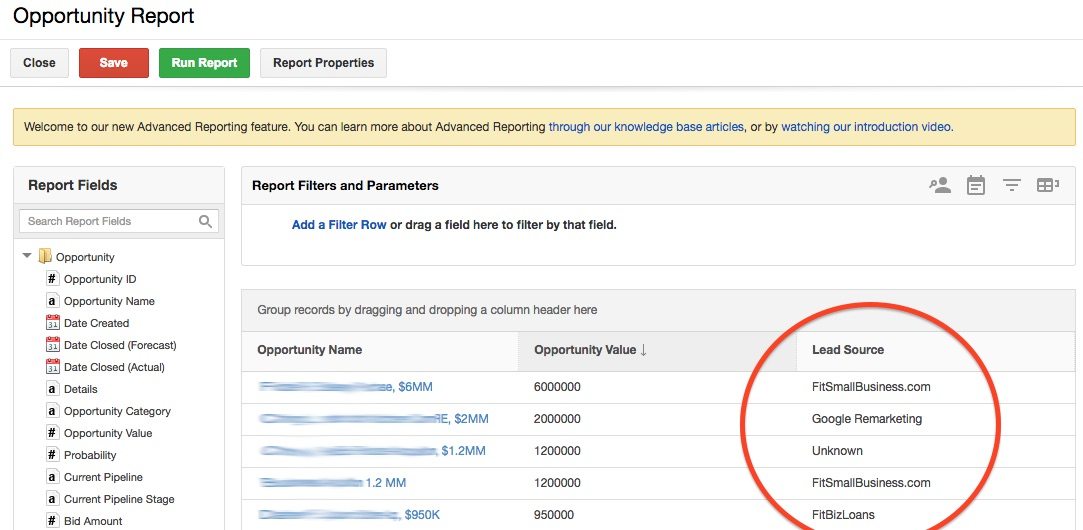 Another option is to actually integrate CallRail and Insightly using the program Zapier. Linking the two programs allows salespeople to automatically create a new lead or opportunity after a phone call is completed.
The Bottom Line
For businesses that rely on inbound phone leads, call tracking software is a no-brainer. Being able to measure how many leads are coming from each channel (and how much revenue each is driving) is essential to setting your marketing budget.
To get started with call tracking and take your phone sales to the next level, visit CallRail and set up call analytics for your business.