Thank you RingCentral for sponsoring this post. While this was a sponsored opportunity from RingCentral through CJ Affiliate's VIP Content Service, all content and opinions expressed here are those of Jeremy Marsan and Fit Small Business.
A phone tree gives your business three powerful features:
A call menu (

press 1 for sales, press 2 for customer service

)

A dial-by-name directory, for callers to connect directly with employees

The ability to route calls based on rules you define
In this guide, we'll show you how to setup a phone tree using RingCentral, one of the top VoIP providers for small businesses.
Why Use a Phone Tree
Regardless of the size of your business, there's a few key benefits to using phone trees:
1. You always have "somebody" answering the phone
You don't have to worry about losing hot leads while your receptionist is on break.  According to Forbes, 80% of callers sent to businesses' voicemail do not leave a message.
Even if you're closed up for the night, you can have calls routed to your cell phone. As long as somebody is available, you can use sophisticated call routing tools to get your clients connected.
2. You allow people to connect themselves to the right department.
Manually connecting callers to the right person or department is time consuming. It's also expensive if you consider the cost of hiring a full-time receptionist. Sure, the auto-attendant isn't quite as nice as having a live operator to answer the call. But, if professionally recorded, it can help you sound more reputable.

On that note…
3. It looks (or sounds) professional
Having a phone tree can give off the impression of a much larger business. Sure, the customer service department might just be you and the part-time intern. But to a caller, "press 1 for customer service"  sounds like an an army of agents working on their behalf.
You can read more about setting up a phone tree with RingCentral's guide to multi-level IVR.
Keep It Short and to the Point
So it's clear that there's a lot of benefits to using a phone tree. If you're going to set one up, however, it's important to do it right.
75% of customers believe it takes too long to reach a live person, according to Harris Interactive. The root cause of which is complicated phone trees. We've all had the experience of pressing button after button, yet still waiting to connect with whoever we need. Next to long hold times, it's probably one of the most frustrating experiences we can have as a customer on the phone.
So what can a business do to solve this?
Stick to a single "layer" of menus

. Whenever possible, make it so callers only have to press a single button to get connected. Below, we'll show you how to setup a simple menu that works even if you're a larger business.

Setup a dial-by-name directory.

This allows callers to find the specific employee they need to reach by typing their name through the keypad.
How to Draw a Phone Tree
Before you go setup your phone tree in RingCentral, it can be helpful to draw out a flowchart like this one: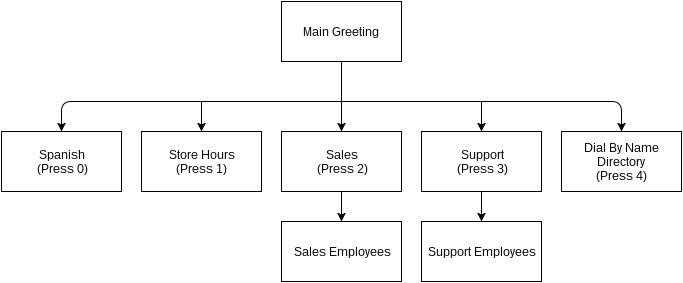 In this example, the caller would first hear a greeting (Hi, welcome to Acme Enterprises). Then they'll be given the option to press 0 and hear the menu in Spanish, or otherwise continue in English. The recorded voice will explain each menu option, and the caller can press a key at any time to "skip" to that menu.
Here's the types of things you can include in your phone tree through RingCentral:
Recorded messages

, such as store hours or directions.

Call Groups

, such as your sales team or support team. As we'll explain more below, you can setup different dial patterns (like ringing everybody's phone at once, or ringing them one-by-one.)

Dial-By-Name Directory

. Callers type an employee's first or last name on their keypad to connect with them directly.

Submenus

. When a caller presses 2 for sales, they can reach another menu with additional options. Like,

"press 1 to schedule an appointment, press 2 to request a callback"

etc. You generally want to avoid submenus, since it takes longer to reach a live agent.
Assign Employees to Call Groups
At the very bottom of the flowchart, you may also want to write employee names – who will be included in each call group? This will help you later when you have to specifically assign them in RingCentral.
One important point to remember is that a single employee can be in multiple call groups. A manager, for example, can take both sales and customer service calls. You can also set it up so that they only take calls when nobody else is available.
Dial By Name Directory
A dial-by-name directory should be one of the final options on your main menu. This allows callers to type an employee's first or last name using their phone keypad. The system will scan your database for the employee, then read any matches. When the caller confirms the choice, they get forwarded directly to that employee.
A dial-by-name can save both you and callers a lot of time. Allowing callers to connect themselves directly means less work on your end transferring calls. Say a sales call gets disconnected – the caller can immediately ring back on the right extension.
It's also helpful for businesses with dedicated account reps. Employees can connect with their assigned rep, even if they forget the direct line.
How to Setup a Phone Tree in RingCentral
To set up a phone tree in RingCentral, you'll start by logging into your online account. At the top, change your screen from "My Extension" to "Admin Portal."

Next, select "Tools" and hover down to "IVR."
Click "Launch Visual Editor." This is a tool that allows you to create your phone tree using an intuitive drag and drop flowchart.
You'll start by adding your main greeting. Then, use the plus sign to add each submenu option. To play a recording, select "New Menu." To add a call group, select "Extension," and to add a dial-by-name directory, select "Directory."

Here's how our earlier example would look in RingCentral: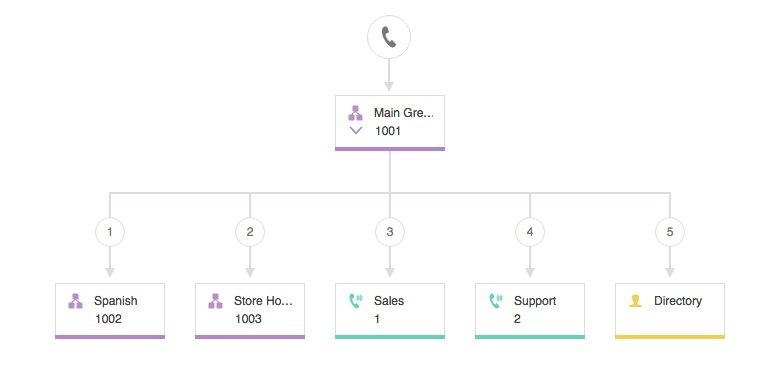 Don't worry about adding voice recordings or extensions just yet. To add these, you'll have to go back to the admin menu. For now, we just want to get the structure of the phone tree right. Once you have it down, click "save" in the top left corner and return to the main menu.
Also Note: In order for our menu to repeat in Spanish, we would have to re-create the menu options again below the "Spanish" box. In other words, you'll have to make a submenu that repeats the same main options in Spanish.
How To Setup Call Groups with RingCentral
Your call groups are the specific employees whose phones will ring when a caller selects "sales," "support" or any other option. To set these up, you'll have to head back to the main admin menu. Click "Groups," then "Add Group."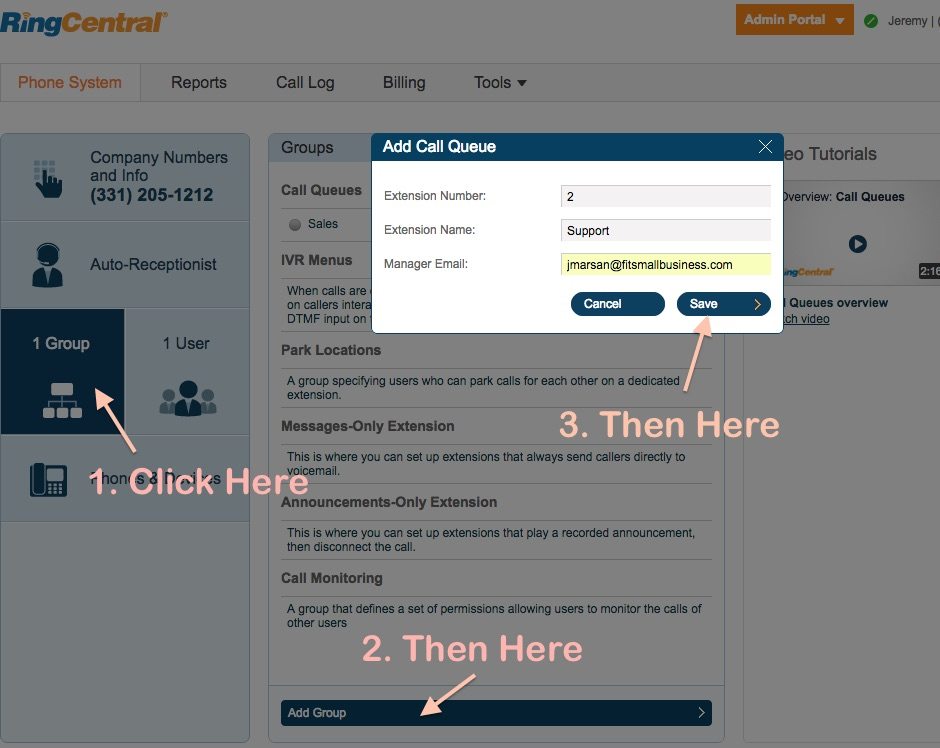 From there you'll add employees and save the call group. Afterwards, you can select the call group on the center of the screen, then use the right-hand menu to edit controls, like call handling.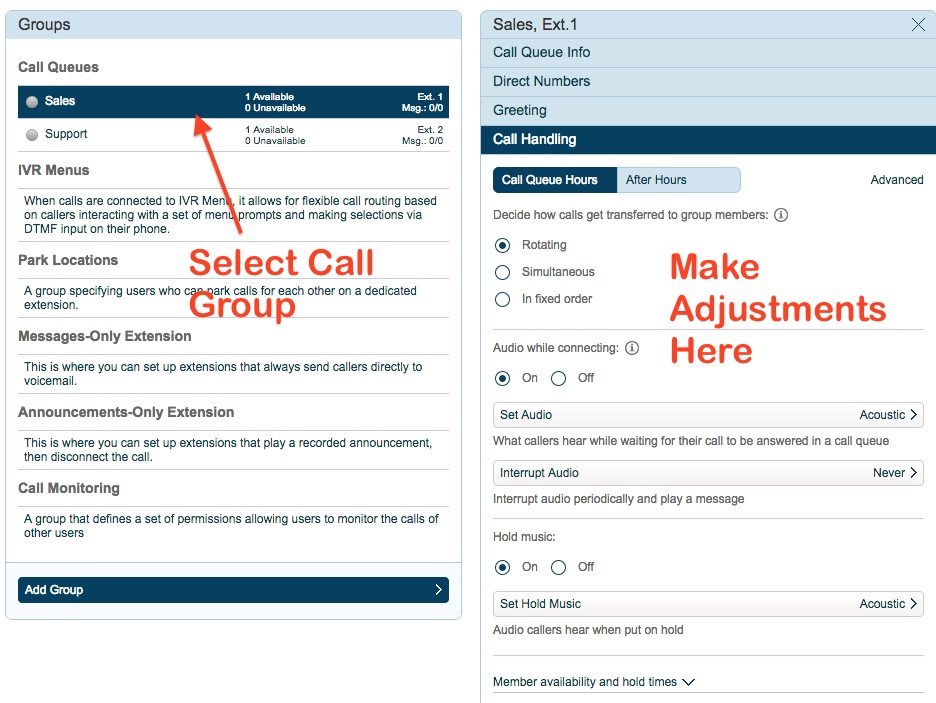 RingCentral gives you 3 different options for call routing: You can ring everybody's phone at once ("Simultaneous"), ring employees in a fixed order, or distribute calls evenly by selecting "Rotating."
From the same menu, you can select other options, like the type of hold music you want to play, or any pre-recorded messages, like "we appreciate your patience, please stay on the line."
Adding Voice Recordings
The next step is to upload your main phone greeting. This is the message that greets callers and reads them to main menu "Hi, welcome to Acme Enterprises. To listen in Spanish press 0. For store hours press 1" etc.
If you have this recorded already, you can upload an MP3 or WAV file from your computer. Otherwise, RingCentral allows you to record the menu yourself. You can do this by calling in from your phone, or by recording from your computer microphone.
To do this, head back to "Tools" on the top menu. Select "IVR" then click "Prompts" on the left-hand menu bar.
If you don't want to record a greeting yourself, RingCentral actually offers professionally recorded greetings.
Finishing Up the Phone Tree
Once your call groups are setup and your voice recordings are saved, you can head back to the IVR editor and finish your phone tree.
Underneath your main greeting, select the three dots to the bottom-right. This will open the "settings" menu where you can select your voice prompt. Here you can see there's an additional option to add text, which will automatically be read aloud by the computer. Use this as a temporary option if you want to test your phone tree first.
The Bottom Line
Keep your phone tree simple and your customers will be happy. With the exception of offering languages besides English, there's few scenarios where you need submenus. Even a business with 100s of employees should be able to get by with just a few button choices.
Remember, the nitty-gritty work is in your call groups: You can setup call scheduling and call queues to route differently based on who's available in the office, or what time of day it is. RingCentral offers a robust set of features for the small business owner – click here to learn more about why small businesses choose RingCentral.