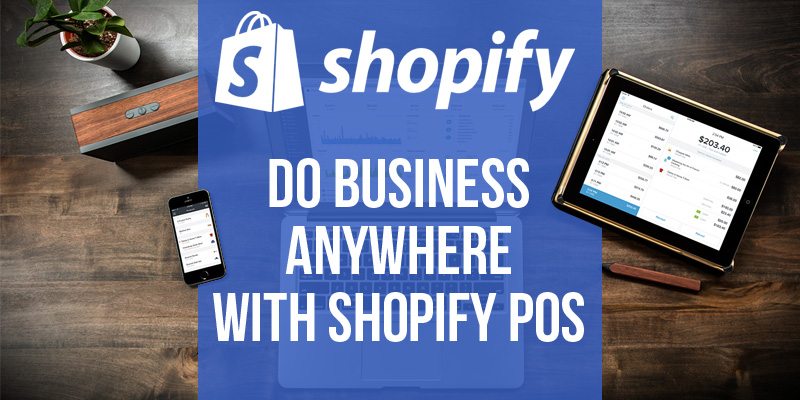 What is it?
Shopify POS system
Want to Reduce Retail Theft and Better Manage Your Inventory? Click Here to find out how.
Popularity?
6,000+ users
What it allows you to do?
Use one POS system for online, offline, and mobile payments. Also, accept payments of all kinds (Cash, credit card, gift card, store credit), manage your inventory, seamlessly sync with a Shopify Ecommerce store, run basic reports, and more
What it does not allow you to do?
Accept tips, scan in inventory, accept food stamps/EBT, integrate with kitchen printers, keep an open tab, create purchase orders, table layouts, book reservations/appointments, run payroll
Who it works well for?
Small to Medium-sized retail stores, specifically retail stores who also want to have an online store/ecommerce site and manage inventory using one centralized system
Who

it does not work well for?
Restaurants, Cafes, bars, businesses that have a lot inventory and need in-depth/multi-store inventory management/business features for their POS
Free Trial?
14 day free trial
Cost Compared to Competitors?
Average
Hardware Included?
Free Credit card reader
Type of Solution?
Cloud
Merchant Account Included?
Yes (can also use your own, (see credit card processing fees section below)
O.S. Platform?
Apple iPad (2, 3, 4 and Air)
Similar Products?
US Based?
No. Headquarters and customer support in Canada
User Reviews?
Good
How it Works
Shopify's biggest strength, is its direct integration with its online webstore. This allows you to seamlessly sell things in-store, and on the web, which could be a big advantage for businesses that are looking to increase their web presence or already have a Shopify store. You can add inventory, and then specify whether to show it in your POS, online, or both. You can also add it to one channel and hide it in the other. Either way, whenever a sale is made, regardless of whether it is in-store, online, or mobile, Shopify updates your back-office inventory to reflect the change, meaning you can manage multiple venues all from one interface. It also manages/adds customer information from both online and in-store sales to build out your contact list quicker and more efficiently.
Shopify's in-store POS software runs on compatible iPads, and connects to receipt printers, cash drawers, credit-card swipers, and barcode scanners to function as a complete Point-of-sale solution. You can accept various payment methods (cash,credit,gift card), do basic inventory management, and run a variety of reports as well. Just so you are aware, Shopify POS is really a retail store focused system. It does not have even basic features for other kinds of businesses (ie. tipping for restaurants/cafes, scale integration for grocery stores) If you want to learn how to sell on Facebook using Shopify click here.
Pricing
Shopify has three pricing levels. As the price goes up, your credit card processing fee goes goes down (see credit card processing fees section below) and you have access to more advanced reporting. For most businesses, the $99/month plan is a good middle ground, giving you most of the advanced features as well as discounted credit card processing rates.
1. $49/month – Basic
2.7% per transaction credit card processing fee
Shopify POS Basic gives you all the standard features included with Shopify plans. This includes, unlimited products,registers, and users, which is one of Shopify POS's distinctives. Most POS providers charge extra for unlimited products and each additional register and user/set of users.
Every plan also includes Shopify's highly rated 24/7 customer support, another big plus. Lastly, there is inventory tracking, features for creating contact lists/managing customers, and basic reporting.
2. $99/month – Professional
2.4% per transaction credit card processing fee
Shopify Professional gives you all the features of the basic plan, plus the ability to sell/accept gift cards, and more advanced professional reporting.
3. $199/month – Unlimited
2.15% per transaction credit card processing fee
With Shopify unlimited, you have all the professional plan features but also have the ability to build advanced and custom reports.
For $20 extra per month, you can add a fully functioning Shopify ecommerce site to any of your POS system plans. It is important to keep in mind that each plan correlates with a similar level of online plan. It is only $20/month to include an online store, regardless of your plan. But, the features included with your online plan are much more advanced (ie abandoned cart saver, real-time shipping calculator) at the $199/month level than the $49/month level.
If you are hoping to make online sales a significant part of your business, you probably want to opt for at least a professional plan, if not an unlimited. You'll get lower credit-card processing rates on all sales channels, more POS reporting, and the webstore features you need to really start boosting sales.
Hardware Costs
As far as hardware costs are concerned, expect to pay around $650 or so for a kit (pictured below), which includes an iPad stand, retail credit card reader, cash drawer, and wireless receipt printer.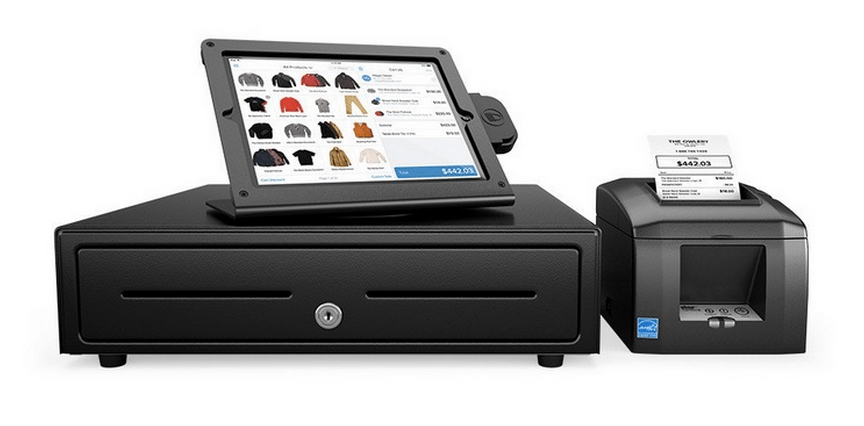 If you want to add a barcode scanner, you are looking at another $200-$400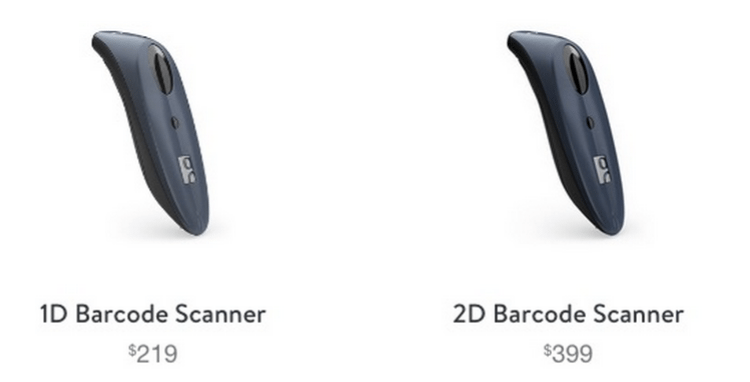 Credit Card Processing Fees
Shopify has its own merchant account that it provides to its POS users via Stripe payments. Looking at the plans above, it seems that little features are added considering the big difference in price. Well, part of that is because processing fees go down quite a bit from plan to plan, which can really make a difference if you process quite a few higher-priced transactions (reference rates above in Pricing section)
You can also integrate seamlessly with a variety of other payment providers, including Paypal, Authorize.net, Braintree, Worldpay and many more. See the full list here.
To learn more about credit card processing fees and to see other merchant account providers' processing fees so you can compare them to Shopify's, check out our credit card processing fees article.
Ease of use
Another one of Shopify's positives, is that it is extremely easy-to-use, probably one of the easiest POS systems I have tried. To be fair to other systems however, part of that ease-of-use comes with a much less sophisticated set of features. We'll break down each step of the process below.
Software Download/Setup: Easy
Downloading Shopify's POS software onto your iPad is super easy. You simply search "Shopify POS" in the app store, click install, and you are good to go. Once you start your free trial, Shopify sends you an email with a link to your online back-office page and login info where you can configure inventory, users, employees, and more.
Store Setup: Easy
You set up your store on your back-office page, which you can access on any computer/device with an internet browser. Here is an example of what your back-office homepage will look like.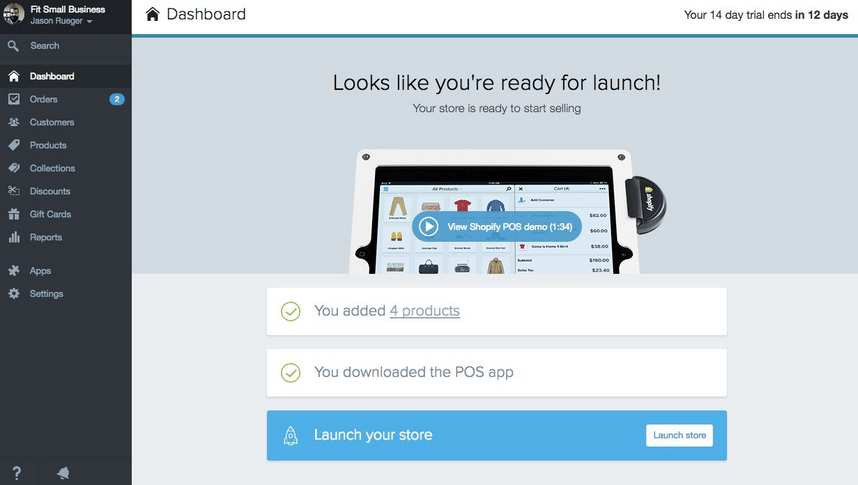 As you can see, this is where you do all your store setup. By clicking on the tabs on the left side of the page, you can check out your recent orders, review and add/subtract customers, add/edit products, set up collections, configure store discounts, view/generate reports, and more. The settings tab is important, that is where you configure your payment processors, edit/setup store tax rates, and change shipping info/rates. In short, the back-office is super-intuitive and easy to navigate. It only took me about 10 minutes to set up shop and add 4 products.
Register Use: Easy
Shopify's register is also very easy to use. Your cashiers/sales associates should have no trouble figuring things out, requiring no more than 15 minutes or so of training. When an employee clicks on the Shopify POS app on the register iPad, this is the screen they will see.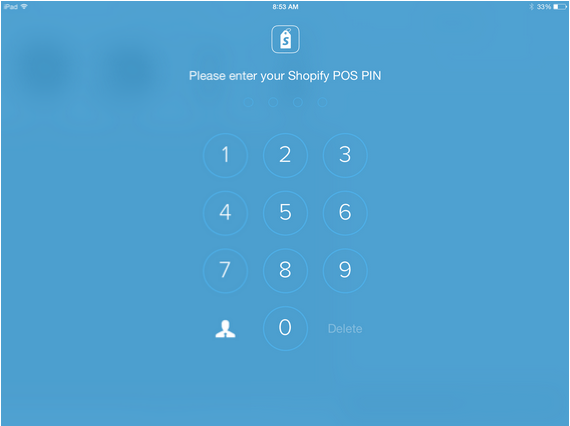 They simply put their 4 number PIN in, which a manager/owner configured for them in the back-office, and they are ready to start checking customers out. After logging in, the main register screen will pop-up.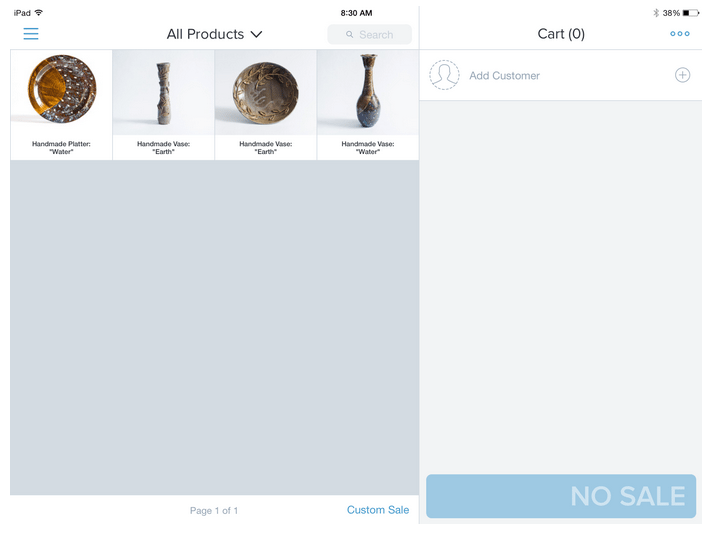 Whichever products you configured to be on the "quick pick" screen on the left, will be there with either text or pictures, depending on how you setup your products in the back-office. To add a product to the cart, you simply touch the product and it is added and tax automatically calculated.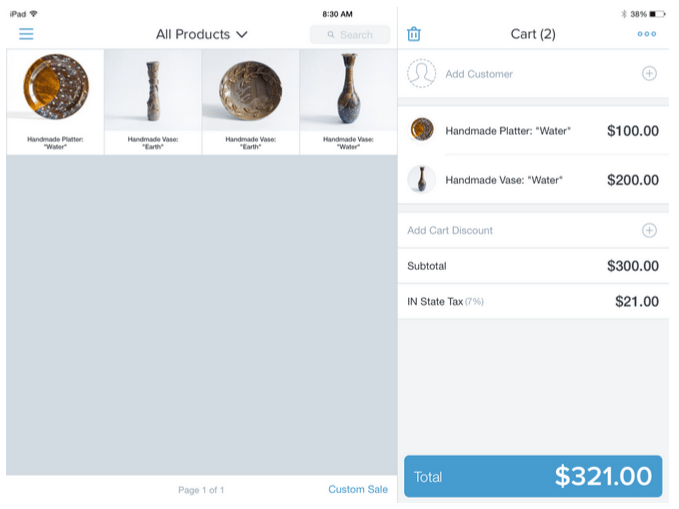 You can add a custom discount by pushing the "Add cart discount" button right above the Subtotal row. You can also add customer information at the top of the screen, which is really handy. To add a custom sale total, simply click on the "custom sale" button to the left of the total row at the bottom of the page.
When you are ready to checkout, touch the "Total" button at the bottom of the page and then select the payment method that the customer wants to use. Once the sale is processed, you will have the option to either print a receipt (via physical receipt printer) or send the customer an email receipt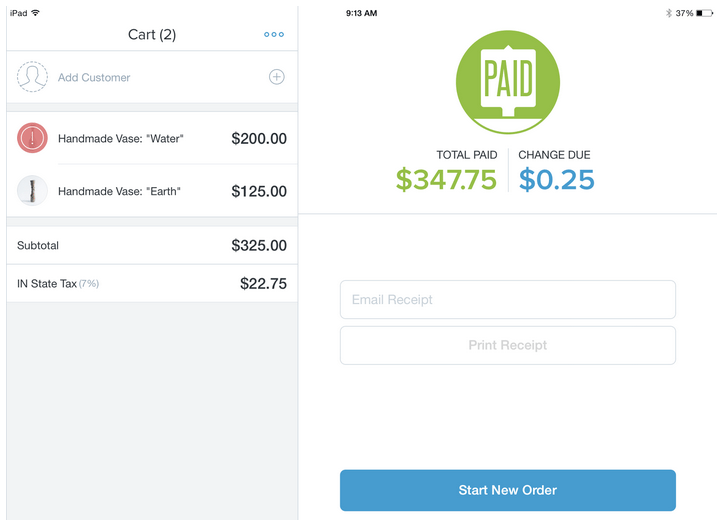 The system is a breeze and will have you accepting payments in no-time. The only thing I did not like, is that Shopify POS still allows you to add and check out products that are actually out-of-stock, which could be a pain. However, there is a red exclimation point that is displayed instead of the item picture, as illustrated in the above picture by "Handmade Vase: "Water"". So, that is something your employees will need to watch out for. But, other than that, the system is a simple and well-functioning POS option.
Features
| Features Included | Features Not Included |
| --- | --- |
| Accept a variety of payment methods (Cash, credit, gift card, store credit) | Accept Tips |
| Basic inventory management/tracking | Scan-in inventory |
| Advanced reporting options | Low-Stock alerts |
| High-Powered Ecommerce/online store ($20 extra/month) | Kitchen Printer functionality |
| Automatic Sales tax configuration | Purchase order creation/tracking |
| Discount Options | Appointment/reservation booking |
| Accept cash/checks offline | Table layout/management |
| Barcode creation/printing | Calculate waste/shrinkage |
| | Age Verification |
Integrations
Shopify has quite a few integrations. Of course, the biggest, is the seamless integration between Shopify POS and Shopify online, which allows you to manage both in-store and online sales in one seamlessly connected and centralized system.
But, Shopify also has lots of other integrations, again thanks to their ecommerce platform. You can integrate with a variety of payment processors/merchant account providers, do your email marketing with Mailchimp, do in-depth inventory management with Stitchlabs, Out of Stock, or Back in Stock, and even manage your shipping label creation/purchasing through ShipStation, ordor, or shippo.
Of course, integration with Quickbooks is a must, and Shopify has that covered, as well as providing integrations with Xero and several other accounting options. If you are looking for depth of integration, Shopify pretty much has you covered.
| Integrations | Non-Integrations |
| --- | --- |
| Shopify | Kitchen receipt printers |
| | |
| Mailchimp | |
| QuickBooks | |
| Xero | |
| Stitchlabs, Out of Stock, Back in Stock (high-powered inventory management) | |
| ShipStation, ordoro, shippo (shipping fulfillment) | |
| | |
Detailed Overview:
What it really comes down to, is that Shopify is probably the easiest and best option for small business retailers who are looking for a simple POS system that will also integrate seamlessly with a high-powered ecommerce site, Shopify online. Both online and in-store inventory are managed in the same place, making sure that inventory counts and availability are in-sync regardless of where you make sales. The same is true for managing customers and contacts, all your information and contact lists are managed from your Shopify back-office, regardless of whether they were captured online or in-store. Not to mention the fact that Shopify is no slouch of an ecommerce platform, consistently rated among the highest in its field and receiving our recommendation for best dedicated ecommerce platform.
But Shopify POS does not come without its downsides. First, the features it provides are relatively basic, when compared to POS systems like ShopKeep, Erply, or QuickBooks. You cannot scan-in inventory or create/manage purchase orders, there is no ingredient level inventory tracking or tipping feature of any kind, and you cannot input wholesale cost and calculate margin/markup. It has more tools than PayPal Here or Square Register, but cannot compete with dedicated POS system providers.
Second, if you are not in the retail business, you probably need to look elsewhere. Shopify POS does not have the features to serve restaurants, cafes, grocery stores, or other small business owners (see restaurant and grocery sections below).
All in all, Shopify is basic, easy-to-use, and does what it does well. But, what it does is fairly limited and may be too simple for many business owners, especially those with large inventories.
Features
1. Inventory Management
Although Shopify's inventory management features are pretty basic compared to other dedicated POS systems (no ingredient level tracking or low-inventory alerts), it does track inventory, has a variety of product variation options, and allows you to assign products to different vendors. Also, you have the option of using an add-on like Stitchlabs that provides you with high-powered inventory management options, if you are willing to pay an additional charge.
2. Employee Management
Shopify POS is pretty limited when it comes to employee management. You can assign user ids and limit roles and user permissions, which is nice. But, you cannot track employee time, set up shifts, or import hours worked into a payroll system like QuickBooks.
3. Customer Relationship Management (CRM)
Shopify has decent CRM tools. You can capture/input customer information, track sales history, and create contact lists and groups. If you are paired with Shopify's online ecommerce site and have the professional or unlimited plan, you can even follow up with emails (discounts, coupons) to customers who put an item in their cart and then left the site without paying (known as abandoned cart recovery).
4. Always-on mode (accept payments even when offline)
Shopify kind of has an always-on mode. You can accept cash and checks offline, but you cannot accept credit cards unless you have an internet connection. Shopify has chosen not to store credit card information on their POS system for security reasons.
5. Barcode creation/scanning
You can create and print barcodes using a compatible DYMO printer. You can also scan barcodes into the system using a barcode scanner, but only to add items to a customer's order at the register. At this point, you cannot scan items to add them to your store inventory, although supposedly that functionality is in the works and may be released sometime in the future.
6. Label creation/printing
You can create and print labels using a DYMO label printer.
7. Gift Card/Discount Options
Shopify does have gift card features, but only on the professional and unlimited plans. If you are on one of the higher end plans, you can sell online gift cards, paper gift cards that you just print out in-store, or traditional plastic gift-cards in-store. To redeem the gift-card, you can type in it's code, scan it with a barcode scanner (2D), or use your iPad's camera to scan it in.
8. Ecommerce/online storefront option
Of course, this is where Shopify really shines. It has its own dedicated ecommerce platform. It is a good one too. We recommend it as our dedicated ecommerce provider of choice and it is consistently rated as one of the best in the industry by a variety of review sites.
Why? It allows unlimited products at every level, provides stellar 24/7 support, and has all the eccomerce tools you could ever need, especially with its Professional and premium plans. To see a full list of Shopify features and to compare it to other dedicated ecommerce sites, check out our ecommerce buyer's guide.
9. Mobile payment option
You can accept Shopify payments on your mobile device using the Shopify credit-card reader.
10. Purchase Order management
Shopify does not support any kind of purchase order management/creation, although you can integrate with a service like StitchLabs, which supports PO creation, management, and tracking.
11. Reporting
Shopify has a variety of reporting options. You can break down sales number by item, product category, employee productivity, payment method, and more. You can also see how much tax money has been collected. With Shopify's unlimited plan, you can even build custom reports for your business, although still not quite on the level as high-powered reporting POS solutions like Erply or QuickBooks POS.
12. Appointment Booking/Reservations
Shopify POS does not have any appointment booking/reservation services for their POS system
13. Payroll
You cannot run payroll or track your employee's time using Shopify POS.
14. Restaurant Tools
If you are thinking about running your restaurant using Shopify POS, you might want to think again. Shopify POS is really meant to be a retail pos system. It does not allow really allow you to split checks or have open tabs/checks. There is no kind of reservation feature for sit-down restaurants, and the fact that the system does not integrate with kitchen receipt printers or have a tip feature pretty much seals Shopify POS' non-functionality for restaurants of all kinds.
15. Grocery Store Tools
Running a grocery store on Shopify POS would be doable, but not ideal. You can have unlimited inventory, which is nice. However, there are lots of things you cannot do, such as accept food stamps/EBT, integrate with a scale, or calculate for shrink/waste. These limitations really inhibit the likelihood of Shopify POS being the right solution for average grocery store.
16. Retail Store Tools
The retail store is Shopify's bread-and-butter. You can have unlimited products, sync with your online Shopify store, and checkout items using a barcode scanner. You can also print labels/barcodes with a Dymo label printer. However, if you have multiple stores or need in-depth inventory management/purchase ordering features, you'll need to integrate with something like StitchLabs, or use another POS system all together. Another limitation, is that you can't actually scan products into your inventory using a barcode scanner, just into the register. Shopify is working to address some of these issues, but there is no telling exactly when updates will actually become available.
Customer Service
24 hours?
Yes
US Based or Not?
No (Canada). Although they do provide regional numbers for support calls, to help keep phone costs down.
Phone, Email, Live Chat, Self-Help Portal?
Shopify has self-help forums, as well as 24/7 live chat, email, and phone support for its customers. In general, Shopify's customer service is very highly rated and has a lot of satisfied clients.
Want to Reduce Retail Theft and Better Manage Your Inventory? Click Here to find out how.
Conclusion
Shopify has a lot of potential and they are consistently updating the POS to try to make things better. If you are a retail store that just needs a basic POS but also wants a significant online sales presence, then Shopify could be perfect for you. However, if you need in-depth POS features such as Purchase Order creation/management, wholesale cost/markup, or multi-store inventory management, then it is probably better for you to find a different POS.