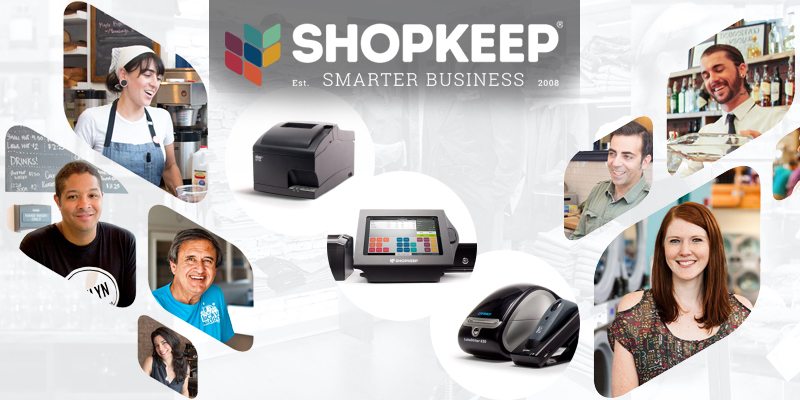 What is it?
A Point of Sale System (POS)
Want to Reduce Retail Theft and Better Manage Your Inventory? Click Here to find out how.
How popular is it?
Over 10,000 stores use ShopKeep POS.
What does it allows you to do?
Record sales, calculate bills including tax and tips, accept cash, check, and credit card payments (merchant account needed), and manage inventory.
What it does not allow you to do?
Set multiple sales tax rates, sync with ecommerce store, accept some alternate forms of payment , account for waste/shrinkage (ie food stamps).
Who does it work well for?
Brick and Mortar stores with less than 10,000 products, small restaurants & cafes, gift shops, consignment stores, wine shops.
Who does it not work well for?
Online businesses, businesses with multiple locations, stores with over 10,000 products, stores which need multiple sales tax rates (tobacco, jewelry).
Free Edition/Trial?
Cost Compared to Competitors?
Cheap.
Hardware Included:
None. Can purchase separately for around $560 per basic register setup, see pricing section below for details.
Type of Solution:
Cloud
Merchant Account Included:
No. Lots of outside integrations with payment gateways. See integration section below.
O.S. Platform:
Apple iOS 7 or above (Tablet Only)
Similar products?
Imonggo
US Based?
Yes. Headquarters and customer service located in NYC
Customer Reviews?
Very Good (See reviews)
How It Works
ShopKeep is software that runs on an iPad and connects a credit card reader, cash drawer, and receipt printer and allows them to work together seamlessly. Shopkeep also stores a lot of data that you would not get from a traditional cash register, like detailed reports on what has sold, how much inventory you have, and which cashiers record the most sales.
You will need additional hardware, such as a cash drawer, credit card swiper, barcode scanner, and receipt printer. But, all of the hardware runs off of the Shopkeep system and can be controlled from the iPad.
Unlike more basic systems like Paypal Here and Square, ShopKeep also has features that let you track inventory, manage employees, and capture customer information.
Shopkeep Pricing
One of Shopkeep's differentiators, is that their pricing is straightforward. You pay $69/register/month, and that's it. That includes software, updates, and ongoing 24/7 customer help and support.
There are however 2 additional costs you have to factor in. The first is hardware costs and the second is credit card processing fees.
Hardware Costs
You can get  a basic hardware package for $859, which includes an IPAD Stand/enclosure, a receipt printer, and a cash drawer. This does not include an iPad, which runs anywhere from $300 – $600, depending on the model, whether or not it has cellular capability, and how much storage space it has.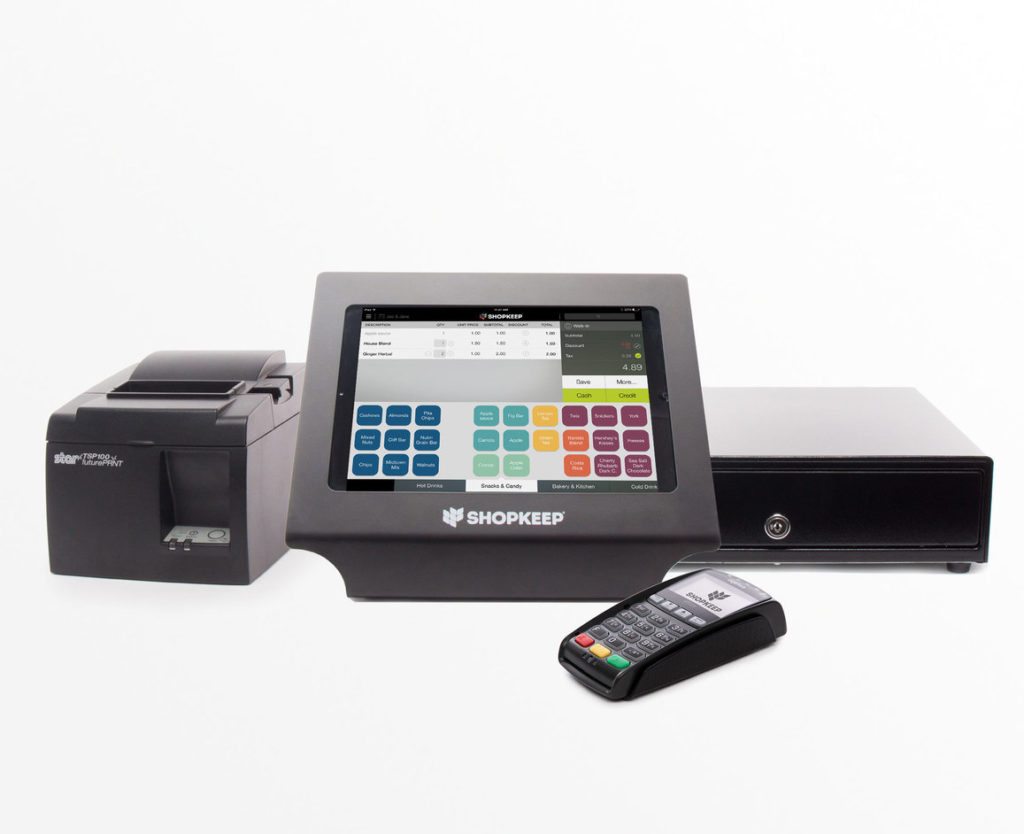 You can also buy piecemeal and get some of the cheaper options, which will cost you around $640 for a basic stand, credit card reader, receipt printer, and cash drawer.
A barcode scanner will start at $359.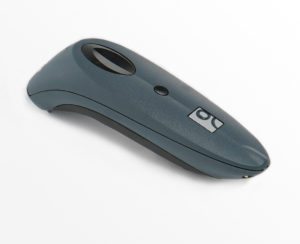 To check out more hardware prices, you can go to Shopkeep's hardware page.
Credit Card Processing Fees
You are going to need a merchant account in order to process credit cards with your POS System.  Shopkeep does not come with a merchant account so you are free to use whomever you want.  If you use our recommended provider (Payline) you can expect to pay around 1.67% + $.25 per transaction on average.
In general, the higher the number and dollar amount of transactions you process each month, the cheaper it is going to be to use a service like Shopkeep that charges a monthly fee and let's you choose a low cost merchant service provider like Payline.  If you only process a few dozen transactions a month, then it's likely going to be cheaper to avoid the $49 a month shopkeep fee and pay the higher credit card processing fees of Paypal Here or Square.
Learn more about credit card processing fees here.
Some providers like Paypal Here and Square come with a merchant services account that you are required to use.  They offer their POS system for free, and make their money by charging higher credit card processing fees.  With Paypal you do not pay a monthly fee however you pay 2.7% for processing credit cards.
When using Shopkeep you will need to sign up for a merchant account to process credit cards on the Shopkeep system.  This is in contrast to providers like Paypal and Square where merchant account services are included.
Ease of use
Ease-of-use is another one of Shopkeep's distinctives. There are several different areas of Shopkeep to discuss: software download/setup, store setup, and register use.
Software Download/Setup: Easy
Shopkeep software is a piece of cake to download. You simply go the Apple App Store, search Shopkeep, and then download the software. The whole process only took me around 5-10 minutes. Once you sign-up for a free trial, Shopkeep sends you an email with a link to your BackOffice, the part of Shopkeep's software where you add/subtract inventory, setup payment options, and more. You can access this with any web browser.
Store Setup: Easy
You do all your store set up through the ShopKeep BackOffice, which can be accessed on any computer that has an internet connection.
Here is what my trial Rueger Pottery BackOffice page looks like.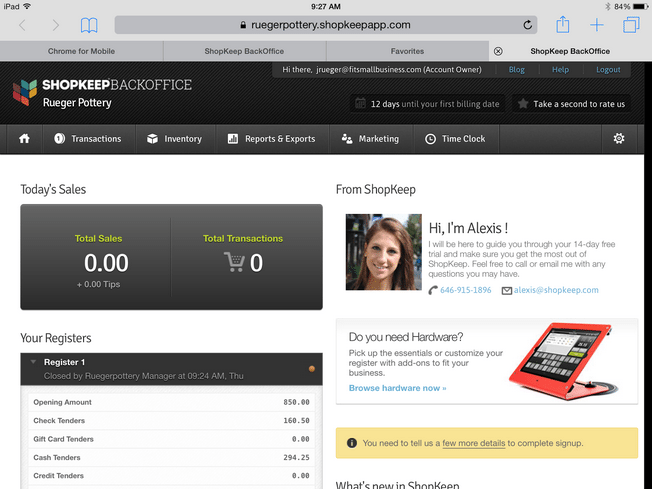 Your main tabs are at the top, Transactions, Inventory, Reports & Exports, Marketing, and Time Clock. A snapshot at your register sales/statistics is in the bottom left of the screen.
This is where you add products, set employee shifts, check reports, and set up payment options. Shopkeep has tutorials for each process. Suffice it to say, it is easy to configure. I had a basic store setup in under 30 minutes (only several products).
Register Use: Easy
The register screen is what is actually going to be accessed by your employees. I created an employee profile under my wife's name and assigned her a PIN. When I was getting ready to clock-in to the register this is the screen that came up, which is also what your employees will see when they start their shift.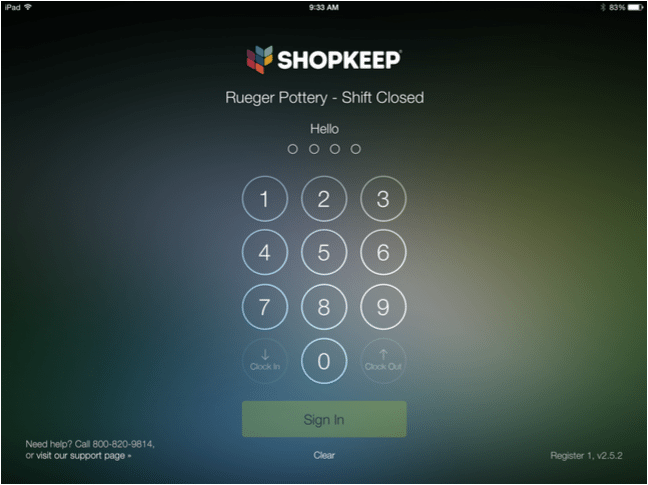 The employee puts in their 4-digit pin and hits the clock-in button. If they are a sales associate, then they put in their PIN again and hit sign-in to access the register screen. If not, then they just start working, and then come back and sign out when their shift is over.
Once signed in, they will be at their main register screen, which looks like this.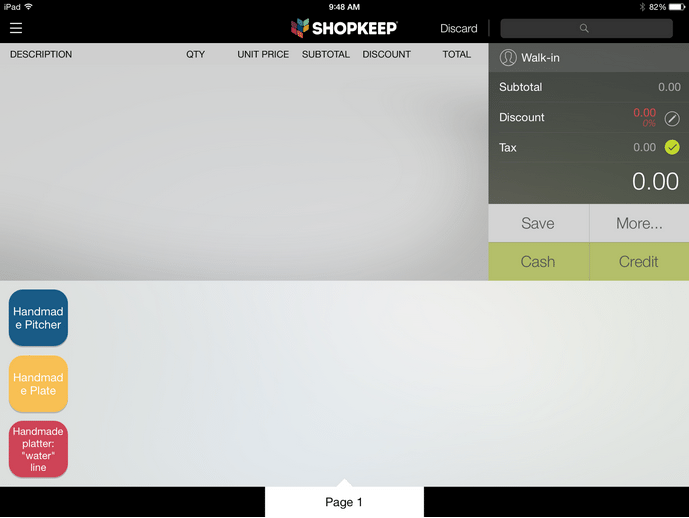 As you can see, the interface is clean and intuitive to use. The product buttons are easy-to-find, and you simply touch one to add it to the order. You can change item quantity, add custom discounts at the top right of the screen, and the total and payment buttons are large and easy-to-read.
Here is an example with several products/items on the check.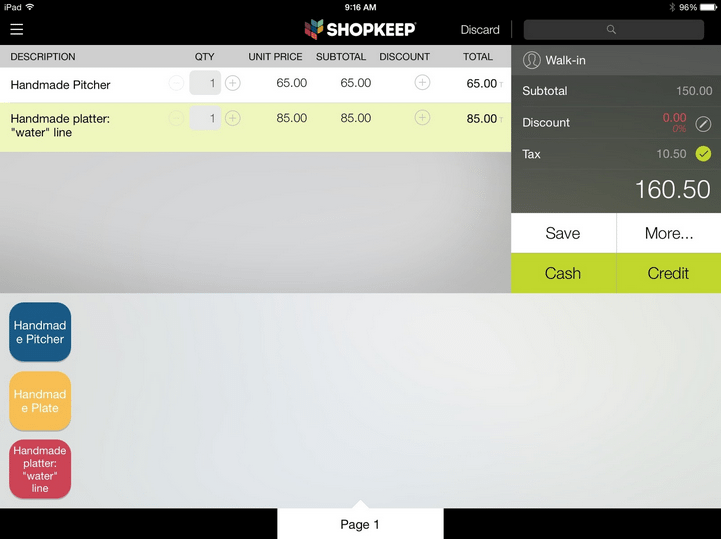 When all is said and done, after figuring out the general working of the system, you and your employees should have no trouble using ShopKeep.
Primary features:
| Features Included | Features Not Included |
| --- | --- |
| Accept Cash, Credit Cards, Checks, etc | Payroll |
| Gift card and discount options | Appointment booking/reservations |
| Inventory management Features | Table layouts |
| In-depth sales and inventory reporting | Limited to 10,000 products |
| Low inventory/reorder stock alerts | Purchase order creation/tracking |
| Stock ordering projections based on previous consumption/sales of products | Age-verification |
| Accept Payments anytime, regardless of wi-fi connectivity (always-on mode) | Accept food stamps/EBT |
| Label creation/printing | Calculate shrinkage/waste |
| Bar code creation/scanning | |
| Employee sign-in/out time tracker | |
| Split Ticket Option | |
| Open check option | |
| Accept tips | |
| Set sales tax | |
| Raw ingredient tracker | |
Primary Integrations:
ShopKeep integrates with a variety of third-party payment processors, Paypal being the biggest one. See a full list of their processor integrations through BridgePay here. You can also integrate with Mailchimp to centralize customer information and conduct email marketing. Through Shogo, ShopKeep integrates with Quickbooks, which is a very important integration for many small business owners.
ShopKeep's main lack of integration is in the area of ecommerce. Although they used to have a deal with Shopify, they now do not have any ecommerce integration option for their users.
| Integrations | Non-Integrations |
| --- | --- |
| Quickbooks (Shogo app) | Ecommerce |
| Paypal | |
| Mailchimp | |
| AppCard Loyalty Program | |
| Variety of Payment Processors | |
Detailed Overview
ShopKeep was created by a small business owner based on his real-life small business experience. The POS platform is easy to setup and use, has a very transparent pricing model that anyone can understand, and is staffed by a 24/7 customer support team that is very highly rated. You and your employees can learn the system in an hour or two without any training. Also, all you really need is an iPad. No hardware needs to be installed and it will not take hours to configure and setup software. You basically download and go.
Another big upside to ShopKeep, is there attention to customer feedback. I read several complaints from various readers regarding a variety of functionality issues, only to see that they had re-commented several months later very satisfied because ShopKeep had addressed their issue. That's proof of a user-focused/friendly business.
What are the downsides of Shopkeep? First, ShopKeep is not connected with any kind of ecommerce solution, which may be a dealbreaker for some. Second, it does not provide the same in-depth analytics as a higher powered system, or allow you to set multiple sales tax rates (tobacco, jewelry, etc).  If you need a high-powered restaurant POS that can manage reservations and table layouts, Shopkeep lacks that functionality. Also, if you are a grocery store that needs space for more than 10,000 inventory items, you may need to look elsewhere. Although Shopkeep can technically support multiple location businesses, it is not really designed to do so. It does not track inventory in-between stores or have other standard multiple location features that a POS like LightSpeed or Live.
What it comes down to, is if you are a small business that just wants a solid, simple, and reliable POS system, you will have a hard time beating ShopKeep.
Features:
1. Inventory Management
Number of Products: Up to 10,000 in system and 270 on register screen.
Shopkeep has some great inventory management features. You can track how much is being sold as well as how much you have left in inventory, set automatic low-inventory and reorder alerts, import products in bulk into your shopkeep system from another system, scan products into your system using a barcode scanner, and even track inventory at a raw-ingredient level (aka, how much espresso I used in a dirty chai tea), and more.
Shopkeep will also recommend shipment order numbers based on past sales/product usage data, which can be handy, especially for seasonal products (will recommend eggnog order numbers based on last years november/december sales/usage figures).
Here is what the inventory screen looks like.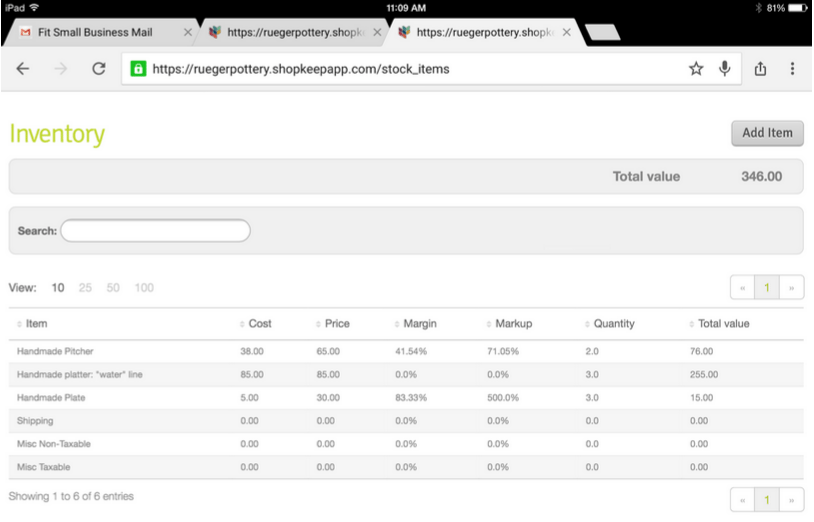 2. Employee Management
Shopkeep's employee management system has all the basics. Employees can sign-in and out on your iPAD. Also, you can create shifts and  import employee hours to CSV file and then into your accounting software for an easier payroll experience. Lastly, Shopkeep will create sales/productivity reports for each sales associate, so you know which are being the most productive.
You can also assign various access permissions to various employees, depending on their seniority and tasks. Employees can only access the cash box if they have manager status or if they complete a transaction that requires the opening of the register(cash, debit, check, etc).
3. Customer Relationship Management (CRM)
Although Shopkeep does not have full-blown CRM features, it does have some basics.  Customer information is automatically collected and archived to a customer database, building an organic contact/customer list for targeted marketing campaigns . Also, you can send customized email receipts, track order history, and send special coupons/offers.
Shopkeep also directly integrates with Mailchimp, so you can use email marketing to increase your interaction and communication with customers.
4. Always On Mode (Accept payments when offline)
Jason Richelson, ShopKeep's founder, was inspired to create Shopkeep when his Wine Store was non-operational for several days because his POS could not function without an internet connection. Needless to say, Jason made sure that was not an issue with Shopkeep.
Shopkeep runs on the cloud. But, when there is no internet connectivity, it stores payments and transactions until it reconnects, at which point it processes the payment. This transition is seamless and hassle-free.
In other words, you can process credit card payments offline, you just assume risk as a business, because the transaction is not authorized (you don't actually get the money) until you re-establish an internet connection. It is possible the credit card could bounce and you could lose whatever the transaction total was. However, if you have lots of local customers that you trust, it can be a great feature to accept payments if your internet connection would go down for some reason.
5. Barcode and Label Creation/Scanning
Shopkeep allows you to create barcodes for products that do not have them and then print a label for those products. Jason was especially sensitive to this, since many wine bottles do not come with labels/barcodes. Of course, you have to have a label printer (starting at $119) and barcode scanner (starting at $359) to do this.
When you scan in products, counts are automatically updated in your inventory, which is nice.
6. Gift Card/Discount Options
If you want to have gift cards and discount options, Shopkeep has you covered. You can set up pre-configured discounts in your back office or add custom discounts right from the checkout screen.
Shopkeep also has their own gift-card program and liability tracking. This is actually pretty cool, because unlike many POS systems that count giftcards as a sale, Shopkeep does not until the card is actually redeemed. Also, it allows you to track the outstanding liability/gift card money associated with your store.
7. Ecommerce/Online Storefront Option
Shopkeep used to be integrated with Shopify, but moved away from that in 2013. As a result, ShopKeep does not have any ecommerce integration, which is perhaps one of its biggest weaknesses.
8. Mobile Payment Options
Shopkeep integrates with PayPal, allowing you to setup and configure your payment system in your back office so that PayPal is your preferred payment method. That way, you can accept Paypal or credit card payments, although you use Shopkeep's card-swiper, not Paypal's.
9. Purchase Order Management
ShopKeep can let you know when stock is low and alert you when you need to re-order inventory. It will also recommend order size based on previous sales/usage statistics. However, it lacks high-powered purchase order management features such as purchase order creation and purchase order tracking.
10. Reporting
Shopkeep has lots of different reporting options. You can generate sales reports, inventory reports, gift card liability reports, tax reports, and more. Also, you can generate employee sales reports, to gauge the productivity of each individual staff member. In other words, there are lots of reporting options available to you through ShopKeep.
One of the most interesting reporting features, is that Shopkeep allows you to enter cost of an item, sales price of an item, and then tells you what your profit margin and markup percentage are, helping you track how profitable each individual item actually is for your store. You can even track ingredients at an individual level, like how much coffee or milk goes into an Espresso.
11. Appointment Booking/Reservation
Shopkeep does not have any appointment booking/reservation features/capability.
12. Payroll
You can track employee hours and export CSV files into your accounting software that contain total hours for an employee during a specific pay-period. However, you cannot actually run payroll off of Shopkeep, a feature which several other POS systems do provide (Revel, AmburApps).
13. Restaurant Tools
Shopkeep has recently added some important restaurant tools, such as split check and most recently an open check feature, which are must haves for a restaurant POS. Also, you can send order receipts to the kitchen printer without closing a check, a new feature included with the open check feature.
So, Shopkeep has most of the restaurant basics covered. However, they lack certain restaurant-dedicated POS features such as reservation/booking functionality and table layout/seating charts.
14. Grocery Store Tools
ShopKeep has the ability to scan in items for sale via a barcode scanner, one of the main grocery store POS features. It also has the ability to integrate with scales, another important consideration.
Shopkeep's main grocery store drawback, is that it can only manage up to 10,000 items in inventory. Medium to larger grocery stores will probably have more inventory than that.
15. Retail Store Tools
Jason Richelson's ownership of his wine business has given him lots of background in retail, which might explain why Shopkeep is so well-suited to this industry. It can create barcodes/labels, scan them into your inventory system while automatically updating inventory counts, and more.
Customer Service
24 hours?
Yes.
US Based or Not?
Yes (New York).
Phone, Live Chat, Email, Self-Help Portal?
ShopKeep provides 24/7 email, chat, and phone support. Their customer service is rated very well and they actually won a Stevie Award for best customer service in 2013. Although there's the occasional negative review, users seem to agree, giving overwhelmingly positive reviews for ShopKeep's support.
Want to Reduce Retail Theft and Better Manage Your Inventory? Click Here to find out how.
Conclusion
All in all, Shopkeep is a solid POS option for your store. It does all the basics you need a POS to do and then some. It does what it does well, and it does it at a transparent and low-cost rate of $69/register/month. With little-to-no training, you can be managing your inventory and accepting payments in no-time.