Insurance isn't the most exciting topic in the world, but it is a necessary topic for small business owners to understand.  While the laws and regulations concerning insurance coverage for small businesses vary according to the type of entity your business operates under and the state in which you conduct business, certain types of insurance are a smart investment.
Before we dive into the details on this topic, we also suggest you check out Quickbooks, our recommended accounting software. Visit Quickbooks to learn more.
The chart below, taken from The Hartford Insurance company website, indicates the frequency of certain common types of small business insurance claims.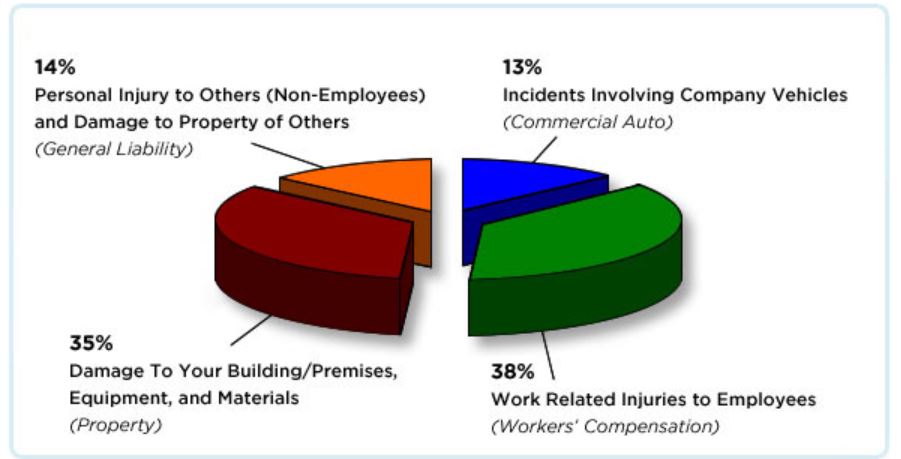 Among the various types of claims, worker's compensation claims occurs the most frequently at 38% of claims the company received, with damage to building, premises and property the next most frequently received claims, at 35%.  Personal injury to other people and property accounted for 14% of claims, followed by vehicular accidents involving company-owned or leased vehicles, at 13%.
The SBA recommends small business owners investigate several general categories of insurance:
General Liability Insurance, which protects against many types of general claims against your business, such as accidents or injuries;
Professional Liability Insurance, required in most states for physicians, dentists and other professions, and a good idea for many types of white-collar professionals providing advice and services. Protects against claims of negligence or professional errors and omissions, depending on how the policy is written.
Product Liability Insurance, which protects companies who manufacture or retail products against claims of injury or loss after using products.
Commercial Property Insurance, which protects your building and property associated with your business.
There is also Home-Based Business Insurance for small business owners working from their homes.
Health insurance is also an important topic, especially in light of the requirements of the Affordable Care Act. Small business owners with fewer than 25 employees face a different set of health insurance requirements than larger companies. Learn more on the SBA's website.
Key Take Aways
Assess your current insurance situation for your small business. Discuss your current coverage with an insurance professional. You may be under-insured or even over-insured. An annual review of your insurance, or at least a review every two years, may help you save money and improve coverage.
Check with your state's Employment Commission for the specific rules affecting Worker's Compensation insurance. These laws may vary according to the state in which your business operates.  Worker's Comp protects your business against employee injury claims.
If you welcome customers to your office or store location, make sure that you have insurance coverage for both property and injury claims. Depending on your business, you may choose higher amounts of insurance coverage. A retail garden center, for example, may opt for higher personal injury coverage due to the nature of their business. Slippery walkways and garden furniture or play sets on display may pose higher accident risks than a shoe store. You may wish to talk to other business owners in your niche, or see if your professional association offers guidance on specific insurance coverage for your industry.
Many small business owners, especially professionals and consultants, wait until they're required by a potential client to carry extensive insurance coverage before shopping for insurance. This is a big mistake and can lead to overpriced policies or policies that don't cover what you think they cover. Shop for insurance when you have the time and opportunity to comparison shop, read policies, and ask plenty of questions.
High premium costs often deter small business owners from carry insurance. You can lower premium costs by choosing higher deductibles, but make sure you're comfortable with the deductible amount. Can you cover it if anything goes wrong?
Don't let your insurance coverage lapse! Set up automated reminders for renewals on important policies. Automatic payment via your credit cards or bank transfer can also be a life saver to keep insurance coverage active.
Click Here to get our FREE Google advertising guide and discover the 6 steps you can use to show up #1 in Google search