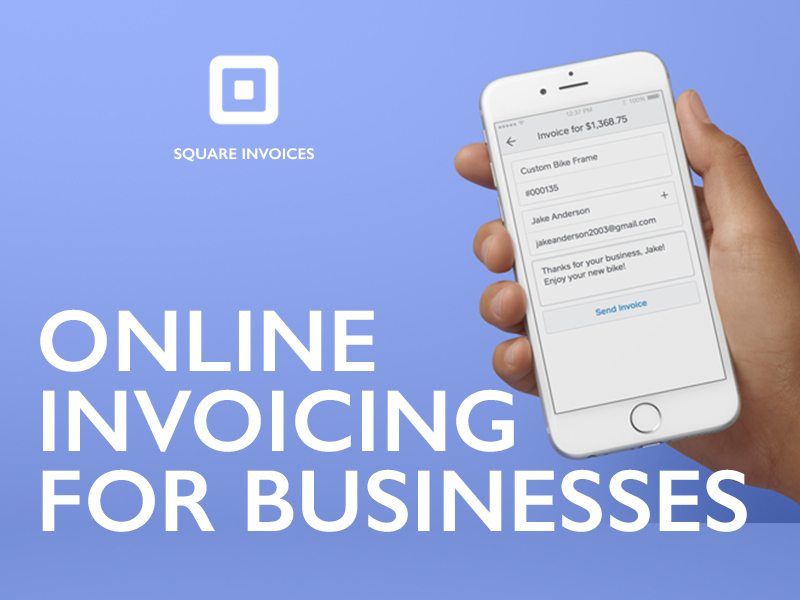 What is it?
A free credit processing and invoicing service.
How Popular is it?
Square holds about 10% of the small business market ($100,000 to $1 million in annual sales), according to Javelin Strategy & Research.
Similar Products?
What does it do well?
Square is a free and easy-to-use invoicing and POS solution. Also, credit card processing fees are on the lower end (2.75% per transaction).
What does it not do well?
You won't find any advanced features, like recurring invoices, auto-billing, or multicurrency support.
Who does it work well for?
Businesses that want a free and simple platform to send invoices. The free credit card swiper is also a nice bonus.
Who

it does not work well for?
Businesses that need multicurrency support (check out PayPal), to manage their projects with time and expense tracking (check out Freshbooks), or who need to auto-bill subscribing customers (check out Chargify).
Time Tracking?
No
Send Invoice via physical mail?
No
Does it support multi currency?
No
Free Version?
Yes
Cost Compared to Competitors?
Low
Cloud or hosted?
Cloud
US Based?
Yes, Company & Customer Service
Square Invoice Pricing
Square is free to use with the full set of features. You just have to pay a fee each time you process a payment (2.75% of the transaction value for invoices and swiped credit cards, 3.5% + 15 cents for manually entered credit cards).
Ease of use
Setup – Easy. Square has a great setup process. You'll be asked to enter your business details right away, including your bank account and routing numbers to receive payment and your shipping address so you can receive the free card reader.The only downside to setup is you need to confirm your identity, which I did not have to do when I signed up for PayPal. This will probably be a quick process (you just need to enter your SSN), unless your home address does not match that on on file with your SSN. Then it can be time consuming:

End User – Moderate. For a free service, Square is loaded with menu pages. You can view dashboards for your sales, items, orders, appointments, employees, customers and more. Fortunately the pages themselves are all pretty straightforward. Creating an invoice, for example, is very easy – the options are all stripped down to the essentials.
Support – Moderate. Square has email, phone support and twitter support. Users spoke highly of the web support channels, but noted lengthy wait times on the phone. This was confirmed with my own experience, although I did find the support team helpful. Square also has a searchable support center with articles and user guides.
Features
| Features it has | Features it does not have |
| --- | --- |
| Save List of Products/Services | Recurring Invoices |
| Payment Processing | Auto-Payment |
| | Time Tracking |
| | Estimates |
| | Send Invoice via Snail Mail |
| | Customize Invoice Formatting |
| | Multi-Currency |
Integrations
| Integrations it has | Integrations it does not have |
| --- | --- |
| Accounting (Quickbooks, Xero, Zoho Books) | Cloud Storage (Google Drive, Dropbox, Box) |
| eCommerce (BigCommerce, Weebly) | Time Tracking (Toggl, Harvest) |
| | CRM (Zoho, Salesforce) |
| | Payment Processing (Stripe, PayPal) |
| | Digital Signature (Right Signature) |
| | POS (Shopify, Vend) |
| | Payroll (ZenPayroll) |
| | Project Management (Basecamp, Asana) |
| | HelpDesk |
| | Zapier |
Detailed Overview:
How To Create Invoices
Invoices are a new feature to Square. They are pretty basic compared to more advanced invoicing platforms like Freshbooks, but you still get all the key tools to send an effective invoice. You can add multiple line items, including a quantity and price and if you want – save these items so you can pull them up later without re-typing everything. You can write a title, include a note for the recipient, specify a due date and send via email or save it as a PDF.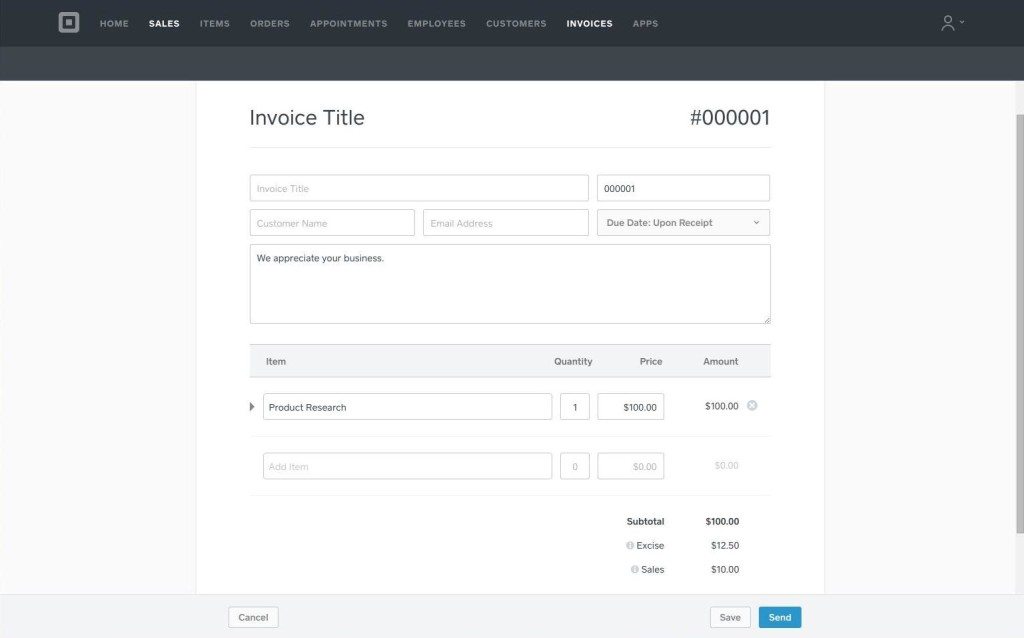 Sales Tax
You can apply sales tax separately to each line item, but rates need to be saved beforehand under the "Items" menu. There you enter all applicable taxes with a name and rate. Select "Enable Tax" if you want them automatically applied to invoices, orders processed with your card reader and online orders within your state.
When creating an invoice you can turn taxes on or off for each line item. Multiple taxes can be applied at once, so you get a lot of flexibility.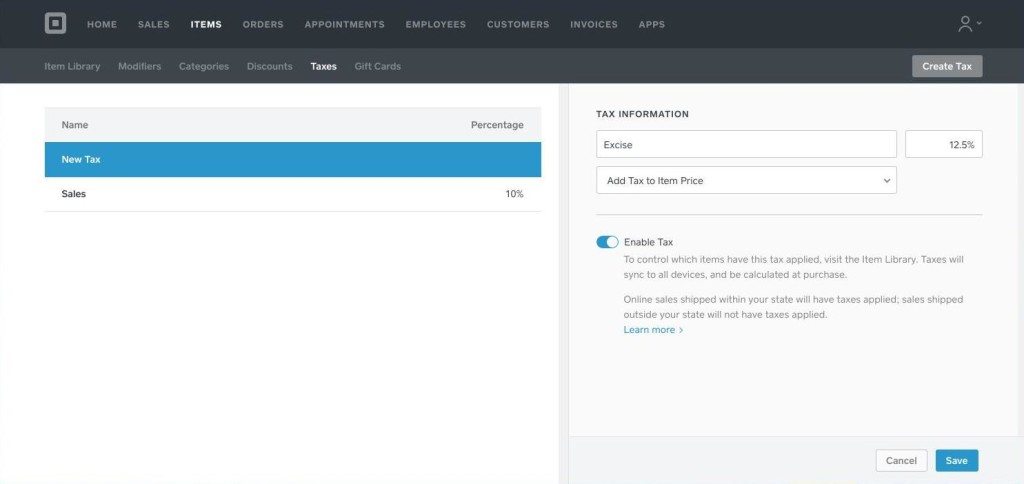 Recurring Invoices/Auto-Payment
Square does not currently offer recurring invoices or auto-billing.
Custom Formatting
Square doesn't give you any options to change the formatting of your invoice. You can upload a logo to display at the top, but that's pretty much it. Fortunately, Square invoices have a pretty clean look to begin with: They are displayed directly in the email body, rather than as an attachment or separate page. Also, Square does not include any ads, whatsoever, which is a problem with PayPal and just about any other free invoicing app.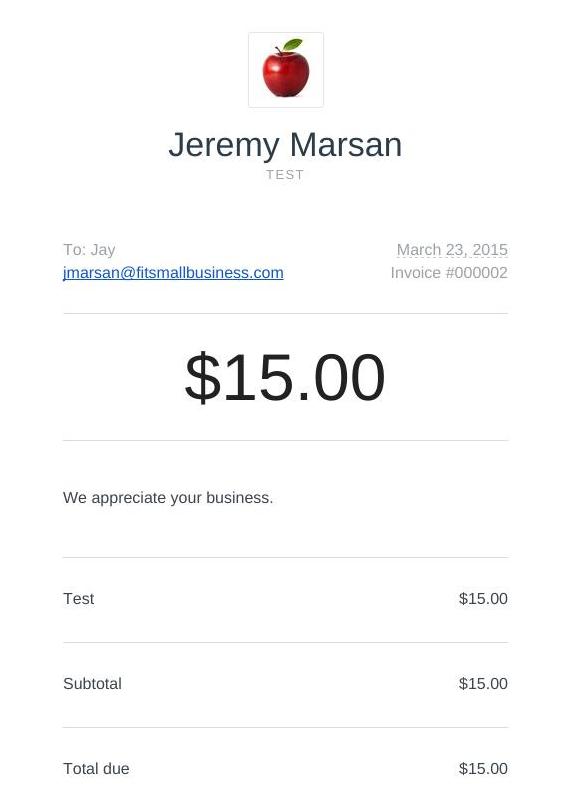 Payment Processing
Square handles payment processing internally. When you send an invoice, there's a link for the customer to pay via credit card. Square keeps 2.75% of the transaction value and deposits the rest in your bank account. This is lower than PayPal's 2.9% + 30 cents.
Payments you receive through the Square card reader are also charged at 2.75%. The only exception is if you enter a card payment manually without the reader. These transactions cost 3.5% + 15 cents.
Estimates
You can't currently send estimates using Square.
Time Tracking
Square does not have any time tracking capabilities.
Accounting
Square doesn't have any native accounting tools. However, you can export your transaction data as a CSV to open it in another program. Or, you can integrate QuickBooks, Xero or Zoho Books to automatically synchronize this data between the two programs.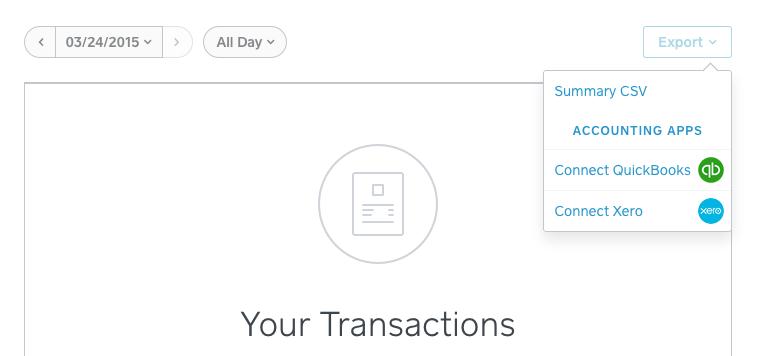 Integrations
Square supports a handful of 3rd party integrations, including online accounting software (Quickbooks, Xero, Zoho Books), Inventory Management (Stitch Labs, Shopseen, myERP), and eCommerce platforms (Bigcommerce, Weebly, ShipStation), which enables you to process purchases made on your eCommerce store. You can check out the full list of integrations here.
Integrations is one of the few areas where PayPal has the advantage. Being one of the oldest and most popular online payment solutions, PayPal has a huge number of integrations, especially through 3rd party services like Zapier. If you need an integration that's not supported through Square, it's worth checking if that integration is available with PayPal.
Reporting
Square lets you generate a handful of reports with a custom time range, including a sales summary, sales by item, sales by category, payment methods overview, taxes overview and more. This gives Square an advantage over PayPal, which does not have any reporting on a free account. (Read more here)
Mobile App
The Square Register App (for iOS and Android) lets you connect your square card reader to your phone and accept credit card payments. Unfortunately you cannot use the app to create or send invoices, but it's loaded with POS/inventory management features: Customers can sign directory on the device and request a receipt via email or text message. You can also track your inventory as you sell products.
Read more about the Android or iOS app here
Customer Service
24 hours?
No, 6am – 6pm PDT, Monday to Friday.
US Based or Not?
Yes
Phone, Email or Live Chat?
Square has email, phone support and twitter support. Users spoke highly of the web support channels, but noted lengthy wait times on the phone. This was confirmed with my own experience, although I did find the support team helpful. Square also has a searchable support center with articles and user guides.
The Bottom Line
Like PayPal, Square is primarily a payment processing service that also lets you send invoices. Square has the advantage of lower fees (2.75% vs. 2.9% + 30 cents for PayPal), as well as some advanced features like reporting and a free credit card swiper for in-person transactions. PayPal, however, has a much larger number of 3rd party integrations. Also, if you need to invoice international clients, you can only do this with PayPal.