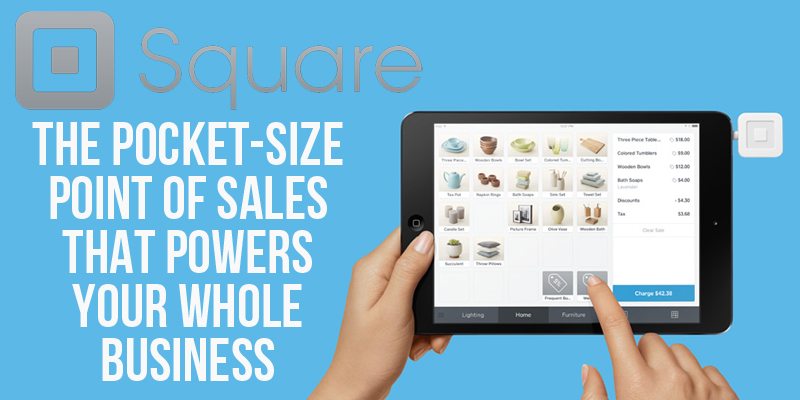 What is it?
A free Point of Sale System (POS)
How popular is it?
Over 3,000,000 users
What does it allows you to do?
Accept payments (cash, credit, check, other) with little-to-no setup time/hassle, basic inventory tracking, accept credit card payments without internet/cellular signal, give full/partial refunds, split checks, and more.
What it does not allow you to do?
In-depth inventory management, manage customers/contacts, track employee hours, create/track purchase orders, keep open checks/tabs.
Who does it work well for?
Small businesses that need a quick and easy way to accept payments in-store, online, and on-the-go, without any monthly fee. (vendors, brick-and-mortar businesses with limited inventory, service businesses, etc)
Who does it not work well for?
Businesses that need more advanced POS features (in-depth reporting, sophisticated inventory management, open checks, etc) (See Shopkeep)
Free Edition/Trial?
Yes. Square Register has no monthly fee. You just pay 2.75% per swiped credit card transaction (See pricing section below for more)
Cost Compared to Competitors?
Average.
Hardware Included:
Free Card Reader.
Type of Solution:
Cloud.
Merchant Account Included:
Yes.
O.S. Platform:
Apple iOS 8, Android 4.0 and above (with location services and headphone jack), Smartphone & Tablet.
Similar products?
PayPal Here, Flint
US Based?
Yes. Company and Customer Service.
Customer Reviews?
Average (See reviews)
How It Works
Square Register is a software that provides payment processing and a merchant account so that you can accept credit cards and other payments on your iPad, Android, or mobile phone in minutes with little-to-no setup. Square provides you with a free credit card swiper, and integrates with a variety of cash boxes, receipt printers, and barcode scanners. You can process payments in-store via your internet connection or on-the-go via your phone's cellular signal. Square also allows you to accept payments while offline (see more below under always-on mode section).
Square has the most features available for a payment processing system without actually being classed as a full-blown POS system (when compared to PayPal Here and Flint), allowing you to do basic inventory tracking, split checks, and more. But, it does not have advanced POS features such as open check capabilities, employee management tools, or customer relationship management options.
Square Pricing
Square's pricing is very straightforward. There are no monthly fees of any kind. You simply pay 2.75% for each swiped transaction or invoice. If you manually key-in card info, it is 3.5% + $.15 per transaction.
Square Register can integrate with a variety of cash drawers, receipt printers, kitchen ticket printers, and barcode scanners, to get a more traditional POS setup. Of course, the credit card reader is included free-of-charge.
A Square Stand, compatible cash drawer, and receipt printer (pictured below) will cost you around $500. Square has a list of supported hardware that can be found here. Factor in another $100-$300 for a barcode scanner.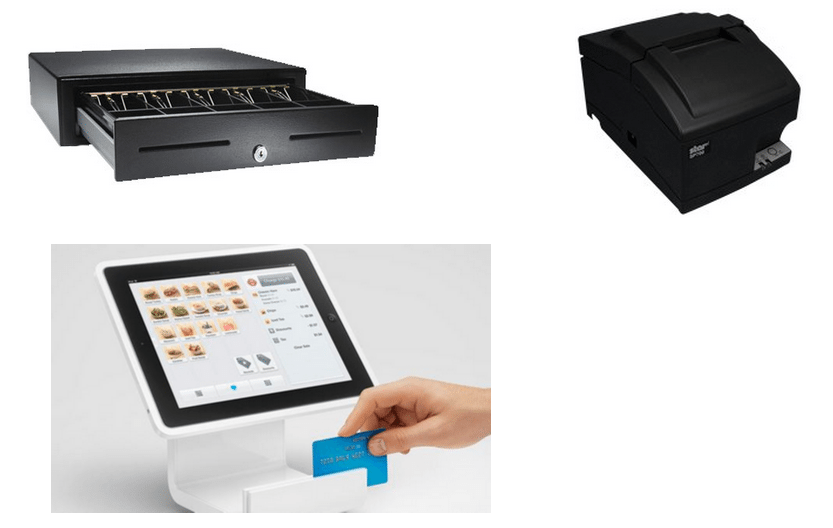 Credit Card Processing Fees
Square is both a POS system and a Merchant Account provider, meaning they provide you with both the equipment to swipe/accept credit cards and the service to process them. Square charges a flat rate of 2.75% per credit card transaction. To see Square's rates compared with competitors' rates, check out our Credit Card Processing Fees article.
Ease of use
Square Register is very easy to use. You can download it right off the Apple App store or Google play in less than 10 minutes. Once downloaded, you can set up your store and be accepting payments in less than an hour.
Software Download/Setup: Easy
Regardless of what device you are using, the download process is essentially the same. You simply sign on to the app store (Apple) or google play (Android), search for Square Register, and then download the app. It's that easy.
Store Setup: Easy
Setting up your Square Store does not take long either. You simply set up a Square account (if you don't already have one), put in business information, connect to your bank account (if you want to receive direct deposits), add items to your catalogue, configure any additional settings from your online dashboard, and you are good to go. For me, it took around 30-40 minutes to set everything up, including tax rates and my item catalogue.
Although you can do a lot of these edits from the register screen, it is just as easy to do it through your business dashboard on Square.com, which looks like this.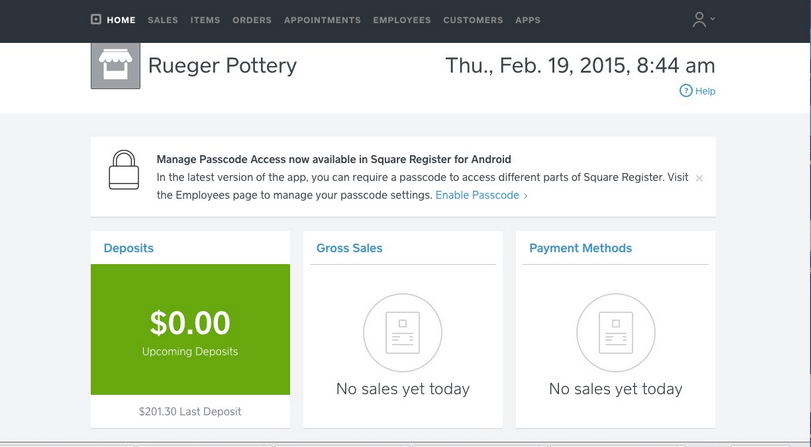 As you can see at the top, you have a number of tabs. These allow you to look at sales reports, add/edit your item catalogue, manage orders, schedule/manage appointments (additional $30/month after 30 day free trial), set employee permissions, view customer info, and access your apps.
Register Use: Easy
Square's register screen is basic, simple, and easy to navigate. Here's a shot of what it looked like for me, once I added some of my pottery pieces.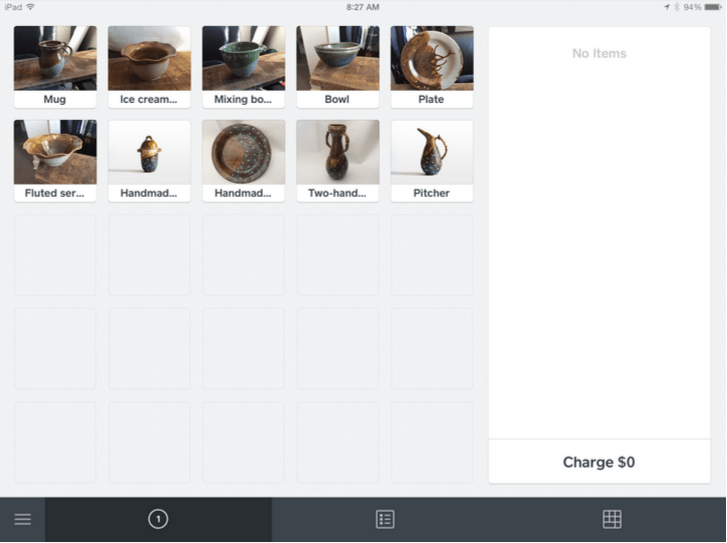 As you can see, the screen is very basic and uncluttered. You have your item catalogue right in front of you on the left hand side of the screen, and your total column on the right. In the bottom right-hand corner you can click on the keypad to key-in prices for an item not in your catalogue/item whose price has changed. The middle tab lets you access your item library by category and item type.
If you have only one price-point set for an item, you simply tap on it to add it to the total. If you have multiple price-points (large, small, etc), then this screen will pop up, where you can pick price-point, adjust quantity, and add any notes you want. You can do the same thing by clicking on any of the items you have already added to the total.
When you check out, a screen will pop up asking you to pick your method of payment, such as the one below.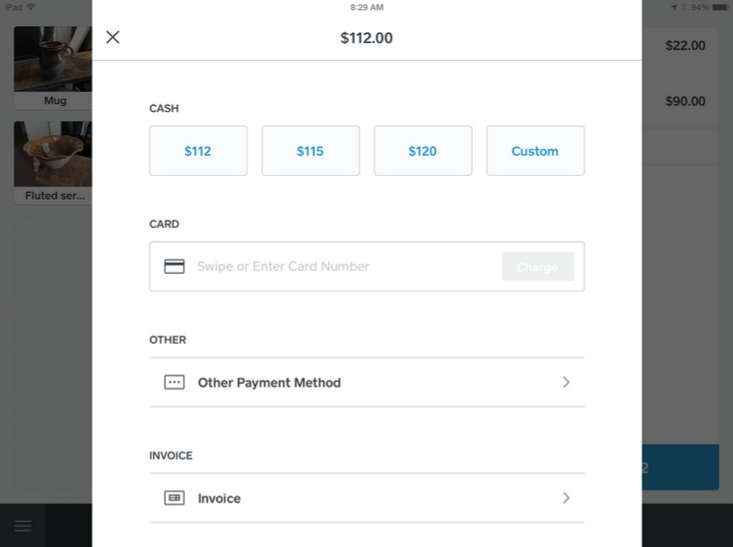 Simply choose your method of payment/swipe a credit card, print a receipt/send a digital receipt, and your sale is completed.
Primary features:
| Features Included | Features Not Included |
| --- | --- |
| Accept Cash, credit cards, checks, gift cards, and more | Open Check |
| Discount Options | In-depth inventory management (ingredient level, store-to-store etc) |
| Set up an item catalogue that can be accessed easily on your register screen | In-Depth Reporting |
| Basic inventory tracking | Payroll |
| Set Employee/User Permission | Appointment booking/reservations (available for additional $30/month) |
| Sales Tax | Table Layouts |
| Accept Tips | Purchase order creation/tracking |
| Split checks (see restaurant tools section below) | |
| Full/Partial Refunds | |
| Accept all payments while offline (credit card included) | |
Primary Integrations:
While not being a full-featured POS system, Square can certainly come close via its integration partners. Out of the zero-monthly fee POS crowd (Paypal Here, Flint), Square certainly has the most integrations.
Of course, Quickbooks Integration is standard for accounting, but Square also partners with Xero and Zoho Books if you want some other options. Square, although providing a basic inventory management system, realizes that your business may need more, which is why they partner with Stitch Labs, Shopseen, and other high-powered inventory management systems. For your shipping needs, you can use Shipstation. For $8.95/month for up to 1000 transactions, you can integrate with TaxJar, who will keep track of your sales tax in all of the various states/counties in which you sell and calculate your sales tax owed.
In other words, Square knows you may need more than just their service, and have provided you with the integrations necessary to meet those needs.
Integrations

Non-Integrations

Quickbooks

Xero (accounting)

Stitch Labs (cross-channel inventory management)

TaxJar (Sales Tax management/filing)

SumAll (business management)

Fresh KDS (kitchen display system)

Shopseen (cross-channel product listing management)

ShipStation (shipping)

Zoho Books (Accounting)

And More (see full list

here

)
Detailed Overview
As far as lightweight POS systems go (Payment processing focused with some additional features), Square is my personal favorite. Although to be fair, it is also the one I have had the most experience with, as I use it for my business, Rueger Pottery. It is very reliable, gets payments in your account next-day, and has more integrations and features than either Paypal Here or Flint, its two biggest lightweight POS competitors.
Not only does Square allow you to accept payments, it also allows you to do it offline, something neither Paypal Here or Flint allow you to do. Also, you can do basic quantity tracking of your inventory and receive low-inventory alerts, another important feature that neither of its competitors offers. Also, you can create and sell your own custom Square giftcards, for just $1.50 per card.
Square does have two main reported downsides (although I have never had problems in these areas myself). First, they have a reputation for freezing accounts, especially if you process an abnormally high number of sales as compared to historical transaction totals for your business. If this happens, your money could be frozen for awhile, until you work through the problem with customer services, which leads me to Square's other problem, its inconsistent customer service. Many have complained that Square's level of  customer service is inadequate for the number of customers they service. However, from several recent reviews/comments I have read, their service has increased dramatically in the last year.
Features:
1. Inventory Management
If you want to manage your inventory via your POS system, Square allows you to do so at a basic level. You can add item quantities for each product and even set low-inventory alerts. However, multi-channel inventory management (online store and in-store, multiple stores, etc) cannot be done. To do that, you'll have to use one of Square's integrations with Stitch Labs, Shopseen, or Intrakr.
2. Employee Management
The only employee management tools that Square provides, are related to user permissions. You can assign a management code via your Square dashboard that only allows users with the code to access certain register functions, such as to change settings or open the cash-drawer without ringing up a sale.
3. Customer Relationship Management (CRM)
Square does not have many CRM tools. You cannot create email lists or anything like that. However, Square does have a cool Feedback feature, where customers can fill out a quick feedback survey right from their email receipt, which helps you know how they felt about their experience with your business.
4. Always On Mode (Accept payments even when offline)
Square allows you to accept all transactions, regardless of whether you are online or not. If a credit card transaction is accepted while offline, then Square encrypts and holds that info until an internet connection is re-established, at which point the transaction is processed.
In general, you don't want to be accepting large credit card transactions while offline, because it is possible that the credit card could be fraudulent and you would be stuck with the bill. But, if you know your customer or are accepting smaller sales, it is a great feature to have.
5. Barcode Creation/Scanning
Square allows you to create barcode numbers for each product and scan them, if you have a compatible barcode scanner (around $100-$300). However, you cannot actually print off barcode stickers to attach to products.
6. Label Creation/Scanning
Square does not support label creation or printing.
7. Gift Card/Discount Options
Square has both discount and gift card options available. You add discounts either via online dashboard or your register library. You can then add them to your register screen as a favorite, which when added to total, takes discount off of total price. For individual items, you can also toggle on the discount when you click on the item to edit
Square also offers giftcards, for the flat rate of $1.50 per card. These cards can be custom tailored to fit your business brand for no extra charge. They are reloadable as well. Same processing fees apply as for credit card transactions.
8. Ecommerce/Online Storefront Option
Square actually has an online storefront, known as Square Marketplace, where you sell online for no charge, other than the 2.75% transaction fee. Of course, the features are pretty barebones (i.e. can't calculate shipping costs). Also, the look of the site is not top-of-the-line. Here's an example.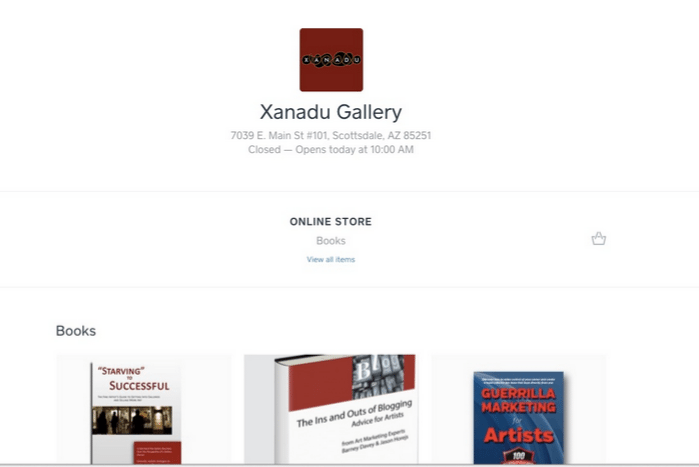 However, Square just recently integrated their marketplace platform with SnapPages, through which you can create a pretty classy site for around $12/month. Here is an example.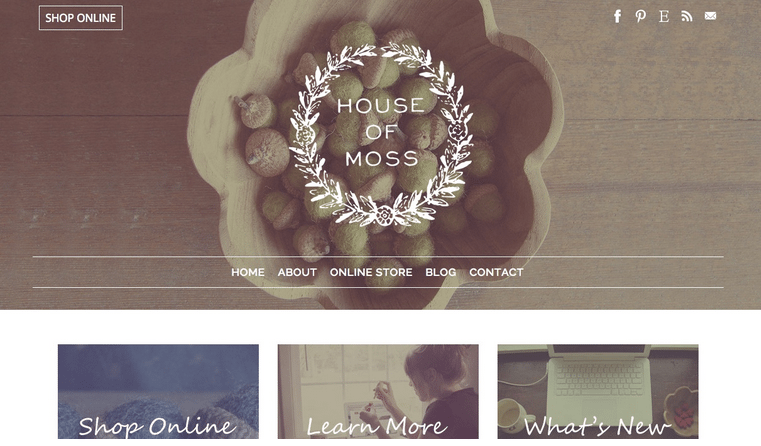 As of right now, Square does not integrate with any other ecommerce sites.
9. Mobile Payment Options
Square is built for mobile payments, allowing you to accept payments on your mobile phone both online and offline using their free Square reader.
10. Purchase Order Management
Square does not offer any purchase order management tools. However, they do integrate with Intrackr, which allows you to create, manage, and track purchase orders.
11. Reporting
Square has some handy reporting features available for its users. You can view reports for total sales by hour,day, month, or year. You can also see sales trends, check and see what payment methods are most popular, see sales by category, or look at which modifiers (green, blue, etc) are selling the best.
Square lacks ingredient/component reporting of any kind and other in-depth reporting options offered by providers such as ShopKeep and Revel.
12. Appointment Booking/Reservation
Square is not setup to accept reservations at this time. However, for an additional $30/month, you can set up Square Appointment Booking. This allows clients to schedule appointments, either through a custom page that you can build or by embedding the service on your existing website. You can access your calendar in your dashboard, sync it to your google calendar, and even configure automatic email reminders for clients. This could be an especially good option for service businesses doing quotes/home visits.
13. Payroll
Square does not offer any payroll management features, although you can handle payroll using Quickbooks, Xero, or Zoho Books, all Square integration partners.
14. Restaurant Tools
Square provides more restaurant tools than any of the other basic POS systems, such as PayPal Here or Flint. You can kind of split checks. I say kind of, because you can pay off an existing check with multiple custom payments, effectively working the same way as a split check. But, from what I could tell, you cannot get different receipts, which could be problematic.
Square can integrate with kitchen receipt printers to print orders. Also, it integrates with Fresh KDS, a Kitchen order display system built specifically to be Square Compatible (only $10/month for 2 android devices), which sets it apart from PayPal Here or Flint.
15. Grocery Store Tools
Although Square does have basic inventory management tools, it is a pretty lightweight option, making it less-than-ideal for most grocery store owners. You cannot search products by category or section, accept food stamps, calculate shrink, or account for item spoilage or damage.
16. Retail Store Tools
Square integrates with barcode scanners and has basic inventory functions, which make it a viable option for retail stores, especially smaller ones. If you have a large inventory, You can also integrate with several inventory management services, like Stitchlabs,Shopseen, or Intrakr, greatly increasing your inventory management capabilities.
Customer Service
24 hours?
No (M-F 6am-6pm PST)
US Based or Not?
Yes.
Phone, Live Chat, Email, Self-Help Portal?
The quality of Square's customer support is hotly debated. Many have complained of bad customer service, specifically related to frozen accounts. However, their customer support has reportedly been much better in the last year or so, so the jury is still out. Square has an in-depth self-help forum/portal available for users. Also, you can get in-touch with them via phone or email M-F 6am-6pm PST.
Want to Reduce Retail Theft and Better Manage Your Inventory? Click Here to find out how.
Conclusion
All in all, Square is a solid option if you are looking for a lightweight POS system. It accepts payments both on and offline, has more integrations that its competitors, and has a solid reputation for working well. You just have to be careful if you are a high-volume sales business, as Square has had a reputation for being account-freeze happy and taking awhile to sort it out via customer support. Other than that, Square is a great choice.