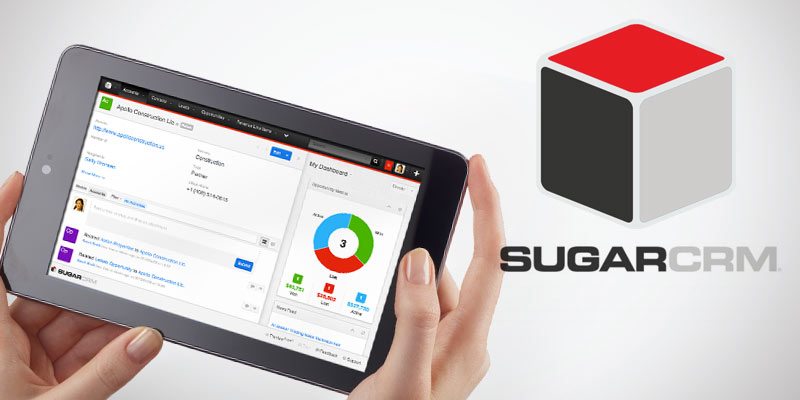 What is it?
A high-level open source CRM.
Want to manage 1000's of leads, save time, and get organized? Click Here to get our FREE CRM guide and find out how.
How popular is it?
SugarCRM has over 1.5 million free and paid users (as of 2014.)
What does it do well?
It gives you an advanced CRM that is completely 100% customizable. Sugar also has guest access portals, which is tough to find in a CRM.
What does it not do well?
This not a simple CRM. The interface can be daunting and the huge level of detail makes it difficult to setup/manage.
Who does it work well for?
Larger businesses with multiple departments or small businesses who need a very particular set up. There's tools for sales, marketing, customer support and project management and add ons for just about anything else.
Who does it not work well for?
Paid editions require a minimum of 10 users. Larger businesses who want a simpler or less expensive setup can find many of the same features in Zoho CRM.
Free Edition?
Yes, the Community Edition. But you need to host it yourself.
Price Compared to Competitors?
Mid-Range
Type of Solution:
Server, Cloud & Mobile
Similar products?
US Based?
Company, Yes
Customer Reviews?
Average (view reviews)
 Click a Button For More Info
Sugar CRM Pricing
The Community Edition, which you have to install on a server and manage yourself, is free. It lacks some features you find in paid editions, such as sales forecasting, workflow automation, invoicing, contracts, territory management, a mobile app and third party integrations. View the full list here.
The paid editions are cloud hosted so you don't need to install anything to use it. Each "tier" adds more advanced features and boosts your storage:
Community Edition
Free

Sugar Professional
$40/user/month

Sugar Enterprise
$65/user/month

Sugar Ultimate
$150/user/month

Download free,
but you must
host it yourself

Limited Features

15 GB storage

60 GB storage

Adds self service
portals - your
customers can login
to manage their
account, submit
customer service
cases & more
(see here.) Also
adds phone support

250 GB storage

Enterprise Features
+ 24/7 customer
support and assigned
technical account manager
Note: The prices above are the annual rates. As far as I could tell, you cannot pay month-to-month but must sign up for a yearly subscription.
You can check out the full comparison chart here.
Ease of use
Setup – Moderate.
SugarCRM is loaded with detail. Between the 12 default modules (or menus) and the high amount of detail you get on each, you'll likely need to slim it down to make Sugar more manageable. Unfortunately, this means opening up the admin "studio" which can be daunting due to its sheer number of options (see below)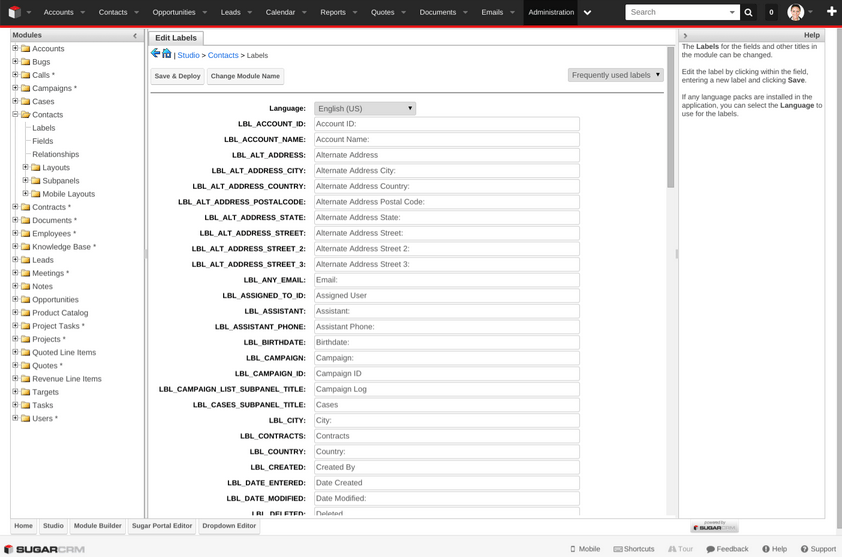 As for getting data into your system, you have two options: You can import from a .CSV file, or you can integrate with Outlook. (see here) Compared to other CRMs, this is somewhat limited.
Administration – Difficult.
Although the system is immense, I found the admin panel to be intuitive. When adding employees, you have the option to add a lot of information, but you're only required to enter the basics (username, last name, email address) and a password which they can go back and change later.
End User – Moderate.
The default layout is not the prettiest, but I liked the fact that it was consistent. Each module has roughly the same layout with buttons and charts similarly placed. Figuring out one made it easy to understand the other. Compared to other CRMs, however, SugarCRM ran a bit slow. This could be frustrating when trying to save records or open new modules.
Help – Moderate.
Web support is available to paid users and phone support to those who are using the Enterprise Edition ($65/user/month) or higher. Users found the support adequate. There's also a large number of resources on the support portal. While I found these documents pretty helpful, it could be difficult to navigate and take a while to find what I was looking for.
Primary features:
| Features It Has | Features It Doesn't Have |
| --- | --- |
| Contact Management | Territory Management |
| Sales Pipeline | Accounting |
| Task Management | Social Media Monitoring |
| Workflow Automation | |
| Basic Reporting | |
| Advanced Reporting | |
| Email Marketing | |
| Calendar | |
| Help Desk | |
| Web Form Integration | |
| Document Library | |
| Invoicing | |
| Project Management | |
Primary Integrations:
| Integrations Supporteds | Integrations Not Supported |
| --- | --- |
| Social Media (Twitter, LinkedIn) | Mailchimp* |
| Google Apps | Evernote* |
| Dropbox | Quickbooks* |
| Zapier | Freshbooks* |
| | Shopify* |
| | Phone/VoIP* |
*All of these integrations are supported through Zapier or other 3rd party providers
Detailed Overview
SugarCRM is for businesses with a very specific vision in mind for their CRM. Everything is customizable – from the layout of the system, data you enter and workflow rules that enable you to automate the system – and while this stuff can get pretty complicated, you can make many customizations without having to code via the admin panel. If you do want to modify the code however, that capability is also available.
The downside is the lengthy setup time and lack of user friendliness. If you only need basic CRM tools, there's many other systems you can choose that will be cheaper and carry much less bulk.
Features:
Contact Management
SugarCRM has an advanced contact management system. Like most CRMs it is based around Accounts – the companies you do business with, and Contacts – the individuals you speak with at those companies. You can link contacts to their corresponding account and vice versa.
What's unique about SugarCRM is the level of detail you get on your contacts and accounts. Clicking them opens a profile (pictured below) with charts of all your correspondence, including calls, meetings and emails with the client, as well as tasks, opportunities and documents related to the client.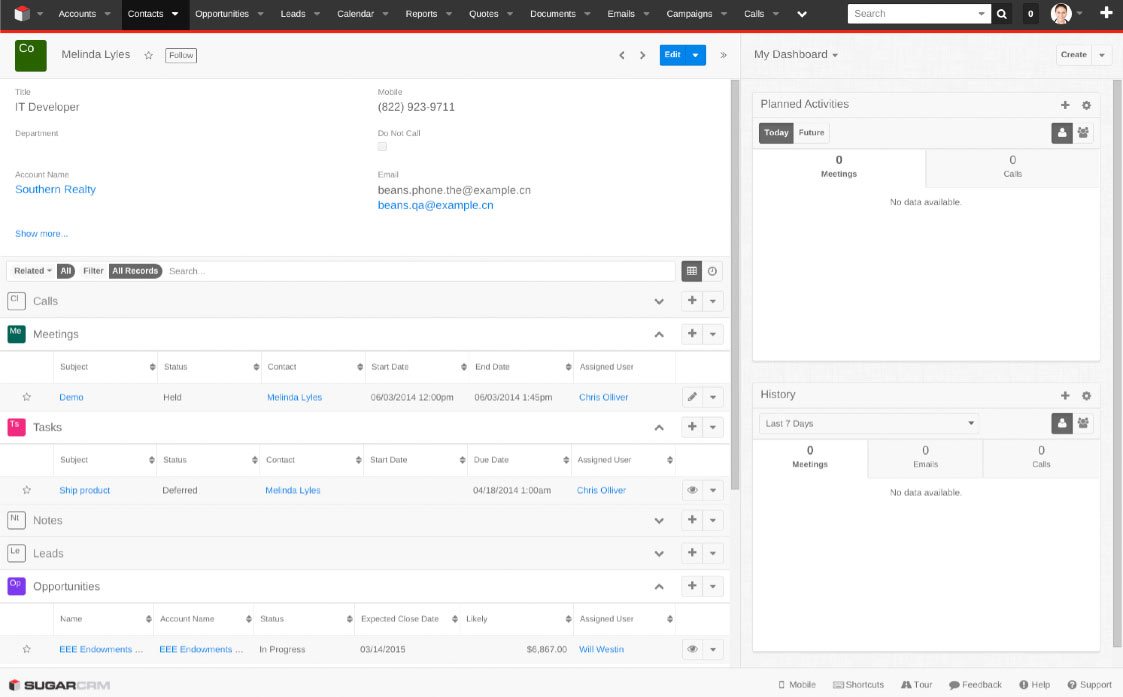 Sales Pipeline
Like most advanced CRMs, Sugar separates leads from opportunities – the former being people who have expressed interest in your products that you haven't touched base with, and the latter being those you're speaking with about a potential sale. When you've begun to move forward with a lead, you can click "convert lead" and change it to a contact and opportunity.
The opportunity menu is where you track the progress of your potential sales. Like contacts and accounts, there's charts of all your calls, emails, tasks, documents etc. related to the opportunity. You can also update the stage of the sale (which you can customize according to the sale process of your business) which automatically updates the probability of winning. Using this information, you can generate a pipeline chart to appear on the dashboards menu.
Check out the video below for a demo on leads, opportunities and pipelines:
Task Management
Tasks can be created on basically any module – i.e. Accounts, Contacts, Opportunities, etc. For example, if you want to give yourself a reminder to call a client, you can create a task right on their contact page. All tasks will show up on the tasks menu, where you can view them as a list and sort/filter them by many different metrics. You can view tasks for just you or everybody in your company. (Read more here)
Reporting
SugarCRM has a huge number of reporting options. You can choose from a number of standard and pre-made reports or create your own. To make your own, you just need to choose which style (Rows & Columns, Summation Report or Matrix Report) and select a module (i.e. Leads, Opportunities, Projects, etc.) Then you pick which metrics you want to graph and generate the report. (Read more here)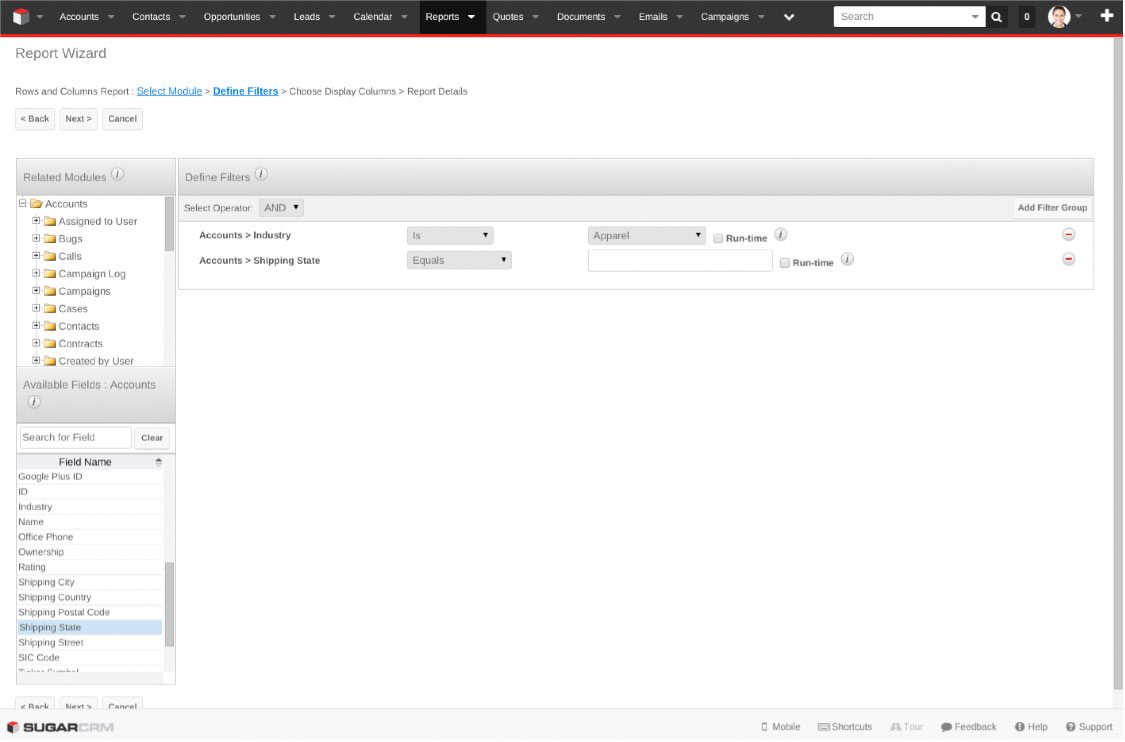 Email Marketing
SugarCRM has some email marketing tools. You can mass send emails to a list of contacts and later view the click-through rate, bounced message rate and other analytics. From what I can tell, you can only send one-off emails (you can't create "drip campaigns," which means sending multiple emails over a period of time.)
Check out the video below for a quick overview of SugarCRM marketing tools:
Territory Management
SugarCRM has basic territory management. Users can be divided into teams and given "ownership" to different sets of records (explained here). If you want more advanced territory management, such as hierarchies, then you'll have to install third party software such as this.
Document Library
You can attach documents to any record (i.e contact, opportunity, lead, etc.) and sort through them all in the document library. You can also link SugarCRM with your Google account to create Google Docs within the CRM. There's version control – you can upload revisions of documents and keep past versions saved. But one downside is you cannot display documents in-browser. You have to download files to open them. (Users did come up with a hack to solve this issue, but it requires some light coding. Read about it here)
Project Management
Though hidden by default, SugarCRM has some modest project management tools. To enable Projects, you have to go to "Admin," then "Display Modules and Subpanels" (explained here.) You can save project templates and generate Gantt charts of the progress. Read more about projects here.
Automation
SugarCRM has workflow automation. When a certain action is triggered in the CRM (like a new record being added or a data field being changed) you can "trigger" a new action to take place, as well as an alert. An example would be to create a new task and send an alert to a salesperson when a new lead enters the system. (read more here)
SugarCRM does not have marketing automation – you cannot automatically send an email to a client when a "trigger" is activated. Nor can you set up drip campaigns, which are automatic emails sent over a period of time. You can, however, integrate with Marketo for these tools.
Calendar
SugarCRM has a basic calendar you can view by year, month, week or day. By default it only shows your own tasks and appointments. But you can click "shared" to view the calendars of other users as well. (read more here)

Invoicing / Accounting
There's no accounting tools, but you can create invoices (as PDFs) under the "Quotes" module. You can create a new quote and link it to an account or contact. You can save a product catalog so it's easy to add them later to your invoices. You can also apply shipping and tax to invoices. (Read more here)
Desktop/Server Based/Mobile/Offline Access
SugarCRM is cloud hosted, so you don't need to install any software on your computer (you can, however, choose to install it on-premise instead) You can access SugarCRM through your web browser or a mobile device. The cloud-based product does not support offline access, however, so you have to be connected to the internet to use it. The exception is the mobile app, which you can set up to work offline.
Mobile
SugarCRM has a feature-stacked mobile app for iOS and Android apps. You can also switch to a "mobile" view of SugarCRM from your browser. You can customize the mobile app just as you can the desktop version, so you can slim it down to only the modules you need on the road. You have access to all modules – including reports, which is rare for a mobile CRM.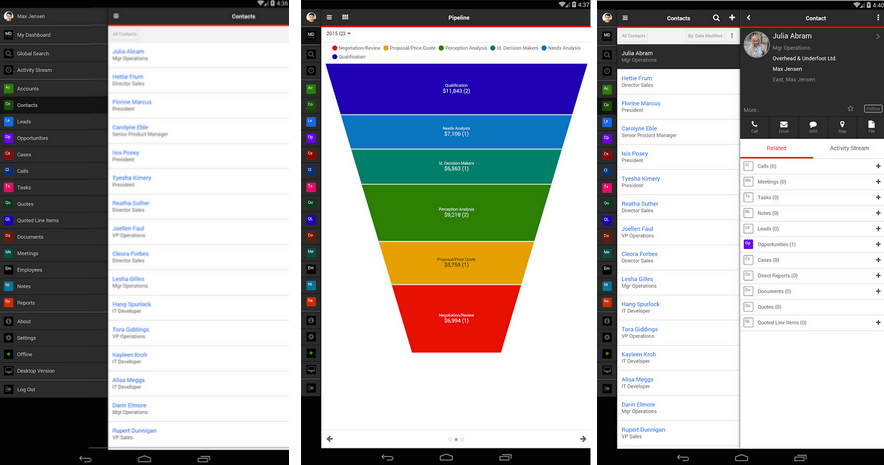 Note, the mobile app will not work with the Community Edition (free on-premise version) of SugarCRM.
Integrations:
SugarCRM has a huge number of 3rd party integrations and extensions, although only a handful are actually developed by SugarCRM so the quality can be unpredictable. Here's a few of the 3rd party app stores you can visit: SugarOutfitters, SugarForge and SugarExchange.
You can also find hundreds of integrations available through Zapier, another 3rd party integration service. Some examples include Quickbooks Online, Xero, ZenDesk, Trello, Asana and Basecamp. Just note that Zapier is a subscription service that may require a monthly fee, depending on how many programs you need to link.
For social media, SugarCRM can integrate with LinkedIn and Twitter to show an activity stream on your dashboard. (explained here)
For email, SugarCRM has a built-in client you can use with your Gmail, Yahoo or Outlook account. You can also install a plugin for Outlook to sync your calendar/contacts and archive emails directly from outlook. (More on email integration here)
Customer Service
24 hours?
No, except in Sugar Ultimate Edition ($150/user/month.) View support hours here.
US Based or Not?
N/A
What's The Method of Delivery?
Email support is available for all paid editions. Their response times are fairly quick (4 hours average, 2 business days max) and users found the support acceptable. Phone support is available only for Enterprise and Ultimate users. For Enterprise accounts ($65/month), it's available 12 hours a day, 5 days a week. For Ultimate users ($150/month) it's available 24/7.
There's also searchable product guides that are very in-depth and a community forum. While I found these resources helpful, they have a huge volume of articles, which means you have to do a lot of searching to find the right information.
The Bottom Line
The type of business that can benefit from SugarCRM is a mid-sized company that has a very specific vision in mind for their CRM and needs a fully customizable system to achieve it. SugarCRM is also one of the few systems to have a self-service portal, so companies who want to give clients a login to view documents, order updates, account information, etc. can set this up.
On the other hand, if you're looking for a basic CRM that's ready to go out of the box, then SugarCRM is definitely not the way to go. Check out Insightly, Nimble or Base CRM instead.
Want to manage 1000's of leads, save time, and get organized? Click Here to get our FREE CRM guide and find out how.