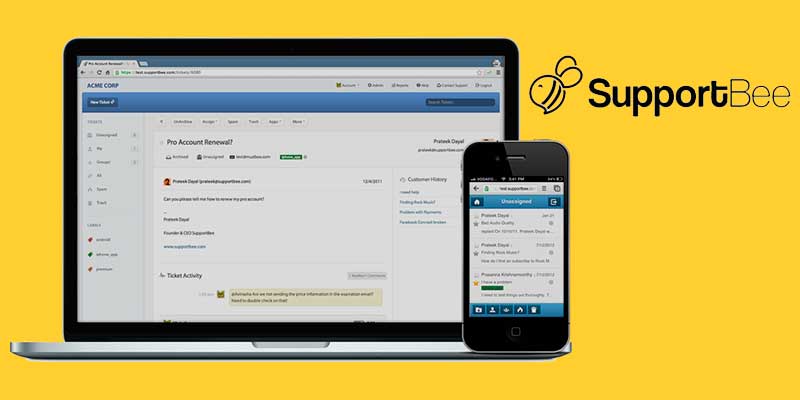 What is it?
An online business help desk tool for handling customer enquiries.
Want to manage 1000's of leads, save time, and get organized? Click Here to get our FREE CRM guide and find out how.
How popular is it?
SupportBee has approximately 400 customers, who are primarily small businesses.
What does it do well?
Gives small businesses a very easy-to-use help desk for basic email ticket management at volume-based prices (no agent-based prices).
What does it not do well?
Offers very little in the way of other features. There's no social media monitoring or multi-channel support.
Who does it work well for?
Small businesses that want a simple, email-like help desk and volume-based pricing.
Who does it not work well for?
Businesses that want an advanced help desk and that service customers through social media or multiple channels.
Free Trial?
14 day free trial.
Cost Compared to Competitors?
Inexpensive (but pricing is based on ticket volume)
Similar products?
None.
Cloud or Hosted?
Cloud (mobile-optimized version is available, but no mobile apps).
US Based?
No. SupportBee is based in Vietnam and India.
User Reviews?
Very good (see reviews)
SupportBee Pricing
Price


Maximum
Monthly Ticket
Volume


Maximum # of
Support
Emails You
Can Connect


Maximum # of
Groups/Depts
You Can
Create


Startup Plan


$290/yr

500

1

1

Small Plan


$690/yr

2,000

3

3

Medium Plan


$1490/yr

5,000

10

10

Large Plan


$2490/yr plus
$69 for every
additional 5,000
tickets up to
50,000 tickets

10,000

20

20
SupportBee pricing has four tiers based on your business' ticket volume. All tiers come with the same features. If your business employs many part-time customer service agents, volume-based pricing is a good alternative to agent-based pricing. Freshdesk's free plan, Zendesk's $1/agent/month plan, and Desk.com's $3/agent/month plan are good choices if you have 3 or fewer agents.
These prices are for annual payment – expect a 20 % bump if you pay month-to-month.
Read more on SupportBee pricing here.
Ease of use
Setup – Easy. My SupportBee help desk showed up right after I created a username and password. I received a sample ticket and instructions on how to set up my support email and add agents. You have to forward support emails from your email client to SupportBee to convert them into tickets (no importing available). I was able to set up forwarding and begin managing tickets in just a few minutes. Other setup steps, like adding agents, were simple.
Administration – Easy.  SupportBee is the easiest to use of all the help desks we reviewed. The interface is very similar to Gmail, so if you're familiar with Gmail, you will love SupportBee. There aren't too many features to learn, and whatever features are included are clearly labeled in the interface, so you can be up and running right away. It only took me one try to use canned responses (called "snippets"), create a workflow (called "filters"), and view reports.
End Users – Easy. Even if your agents have never before used help desk software, they will be able to use SupportBee without training because it works just like email. Customers will appreciate the fact that SupportBee tickets don't contain impersonal ticket #s, and they can reply to the tickets from their email.
Help -Moderate. Although SupportBee doesn't have a support phone number for its customers, all the help you would need is likely available in the online user guides or can be answered via email.
Primary Features
| Features Included | Features Not Included |
| --- | --- |
| Web Form for Receiving Tickets | Built-In Live Chat |
| Canned Responses & Internal Notes | Social Media Monitoring |
| Assignment-Based Workflow Rules | Time-Related and Ticket-Related Workflows |
| Ticket Mgmt Features: Merging and Forwarding Tickets | Self-Help Portal w/ Knowledge Base |
| Standard Reports | Self-Help Portal w/ Community Forums |
| | Ticket Mgmt Features: Cloning, Splitting, and Linking Tickets |
| | Customer and Scheduled Reports |
| | Built-In Time Tracking |
| | Multi-Brand/Multi-Product Support |
| | Embedded Customer Satisfaction Surveys |
Primary Integrations

SupportBee has over 25 integrations with other apps, so you can make your help desk work with other business tools. This is especially useful for a help desk like Support Bee that lacks a lot of functionality on its own.
We discuss CRM integration in more detail below, as this may be especially helpful for sales-oriented businesses.
| Type of Business Tool | Integrations Directly Supported | Integrations Not Directly Supported |
| --- | --- | --- |
| CRM | Insightly, Zoho CRM, Capsule CRM | Salesforce, Nimble |
| Live Chat | None | |
| Phone/Voice | None | |
| Bug Tracking | JIRA, BugHerd, Bugify, Pivotal Tracker | |
| E-Commerce | Magento, Bigcommerce | Shopify |
| Social Media | None | Facebook, Twitter, LinkedIn, YouTube, Pinterest |
| Task Management | Basecamp, Asana, Trello, Teamwork | |
| Email Marketing | None | MailChimp |
| Surveys | None | Survey Monkey |
| Other | Zapier | |
View full list of SupportBee integrations here.
Detailed Overview:
Intro/Product Summary:
SupportBee is a simple, user-friendly help desk software for small businesses. It is perfect for small business owners who may not be very tech savvy but want something more effective than email for managing their customer service platform. That perfectly describes SupportBee: it is like email, but better.
Customers of SupportBee love its volume-based pricing because they don't have to worry about huge bumps in cost when they hire new customer service employees. Freshdesk, Zendesk, and Desk.com limit you to 3 agents on their free/cheapest plans. With SupportBee, you can have several agents handling up to 500 tickets per month for $290/year.
What you gain in ease of use, you lose in functionality. SupportBee is not a good choice if you support customers through multiple channels or social media. SupportBee is for basic email ticket management. For more advanced functionality, you can try a product like Freshdesk, our recommended help desk for small businesses.
Features:
1. Customer Web  Contact Form
You can make it easy for your customers to contact you by putting a "contact us" form on your business' website. By default, like other help desks, SupportBee converts emails from your customers into a ticket that your agents can reply to. SupportBee's web widget tool allows customer to also submit inquiries from your business' website. These inquiries become SupportBee tickets that your agents can reply to.
SupportBee provides instructions on how to create the contact form.
2. Canned Responses & Internal Notes
Canned responses (called "snippets" on SupportBee) let a customer service agent answer FAQs with a single mouse click. On SupportBee, you can create snippets on any topic and easily insert them into individual email tickets (but not multiple tickets at once).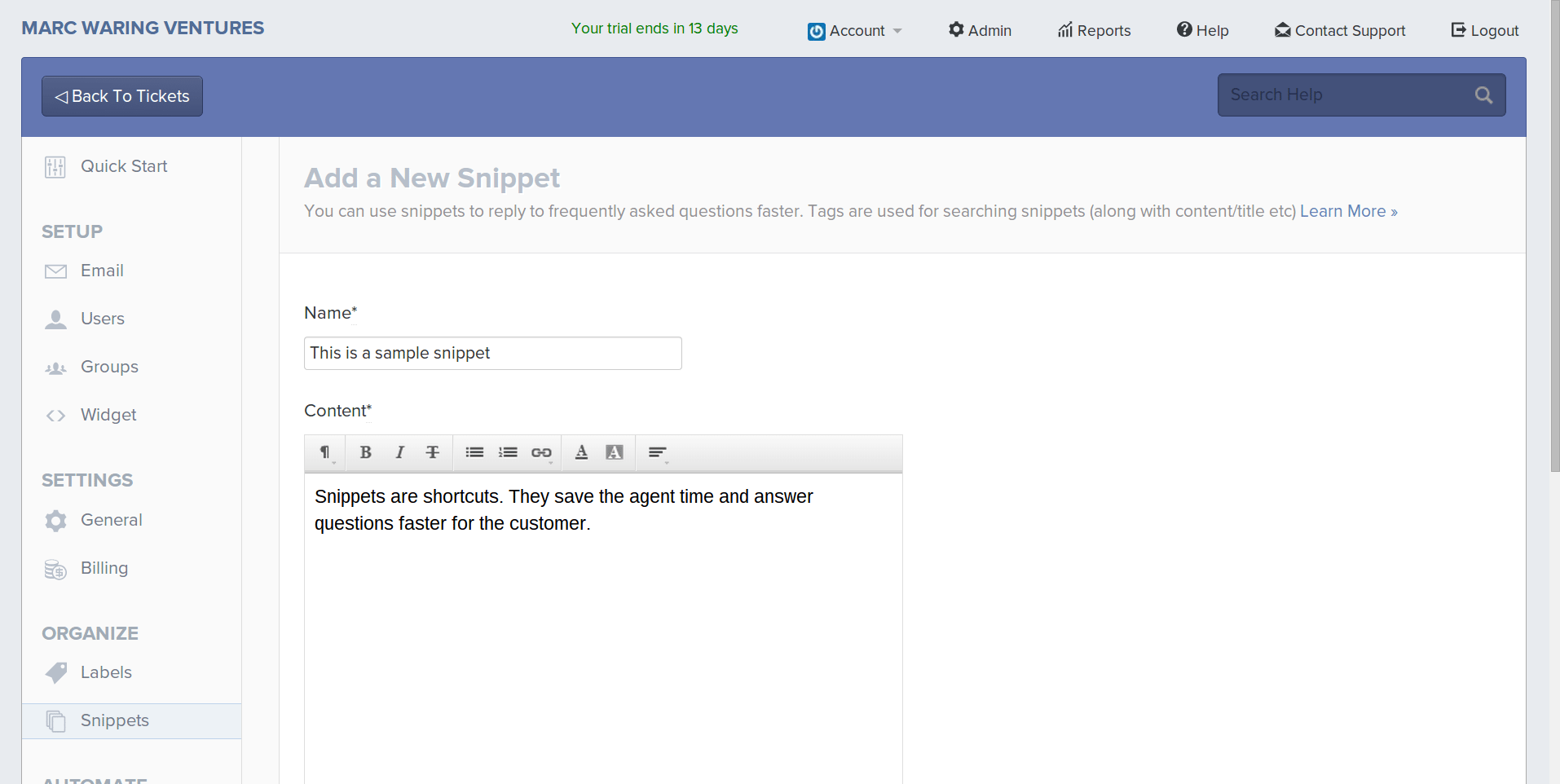 You can also add a private comment, visible only to you and other agents, to a ticket.
Workflow Rules
SupportBee does not have advanced workflows; it has email-like filters. Similar to snippets, these filters can save your agents the time and effort of manual labor by automating ticket actions.
The most advanced help desks come with three types of workflows or automations:
Assignment-related
Time-related
Ticket-related
SupportBee allows only assignment-related filters. You can automatically route tickets to a particular agent or team of employees (e.g. route all emails with the subject line "job" to your HR team or route all tickets from a certain high-priority customer to yourself).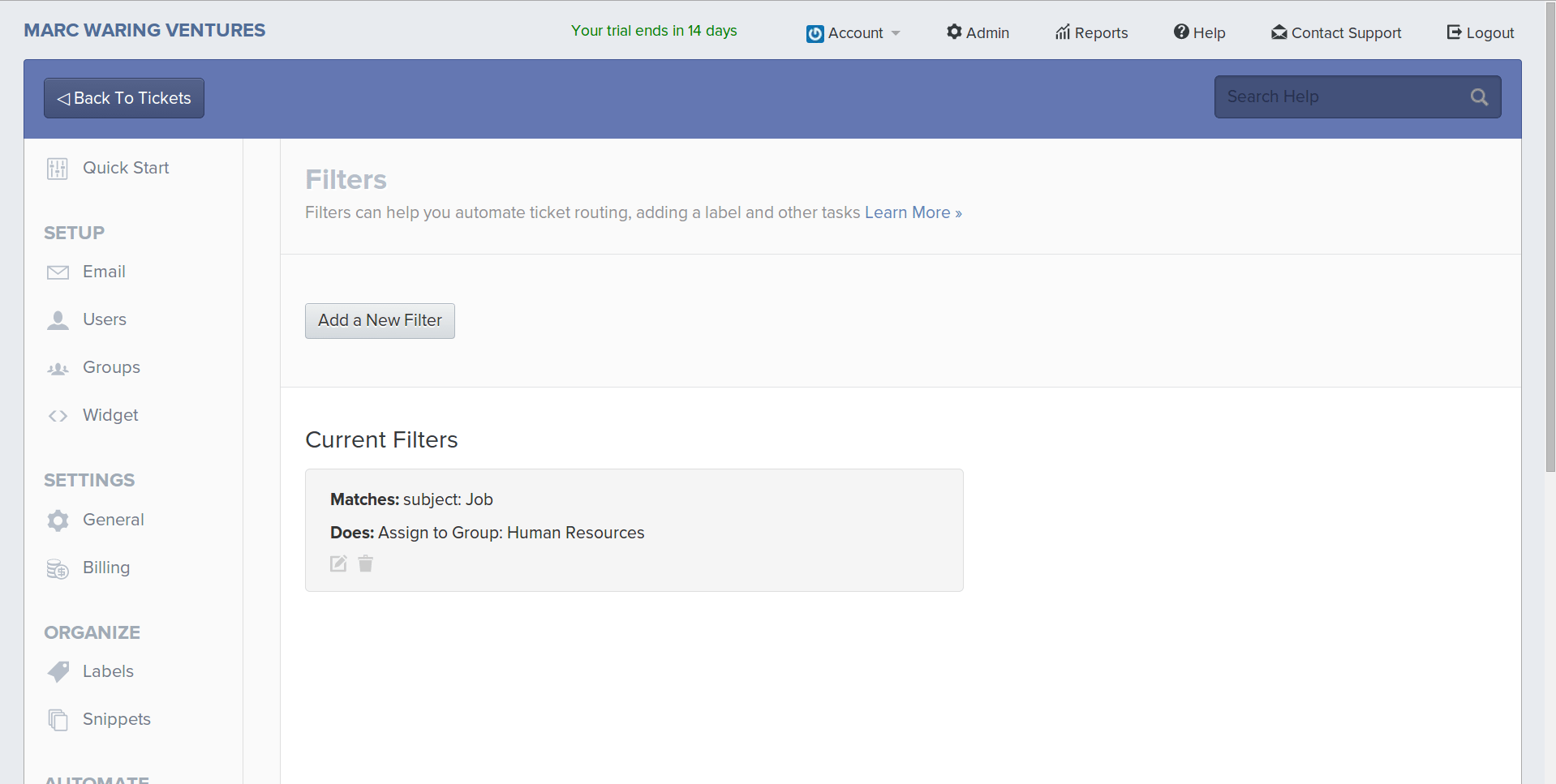 You cannot make more dynamic time and ticket-related rules in SupportBee. For instance, you cannot automatically change a ticket's status if a customer doesn't respond to a ticket for 48 hours. You also cannot trigger actions based on changes to a ticket (e.g. automatically re-open a ticket when a new label is added to it).
For advanced workflow ability, try Freshdesk. When used correctly, workflows can save your business precious time.
4. Self-Help Portal w/ Knowledge Base
SupportBee does not let you create a self-help portal or knowledge base. A knowledge base lets your customers find answers to common questions on your website, without the need to contact you. For this functionality, try Freshdesk, Zendesk, or Desk.com.
5. Self-Service Community Forums
Currently, SupportBee does not let you create community forums. Community forums, where customers can discuss questions or problems with each other, are a great self-service tool. For this option, again try Freshdesk, Zendesk, or Desk.com.
6. Social Media Monitoring
Currently, SupportBee does not allow you to integrate social media channels, so you cannot convert customer inquiries on social media pages into tickets. For good social media monitoring, try Deskero.
7. Live Chat (Built-inIntegration Only Through Third-Party Service)
SupportBee does not have built-in live chat or a direct integration with a live chat provider. If your business handles a lot of customer support through live chat, Kayako help desk may be the best option for you.
You could integrate SupportBee with a live chat service through the third party service Zapier. However, these types of indirect integrations generally don't work as well as built-in capacity and native integrations.
8. Phone Integration
SupportBee currently does not support any phone/VoIP integrations. As mentioned above in the live chat section, you may be able to achieve limited integration with Zapier, but this is not ideal.
For the best phone integrations, take a look at Freshdesk or Kayako. With phone integration, you can make and receive calls through your help desk and bring phone communications under the same umbrella as other types of customer inquiries.
For additional information about phone services for small businesses, see our VoIP buyer's guide.
9. Embedded Surveys and Email Marketing
You cannot embed surveys into SupportBee tickets to gauge customer satisfaction. Some other help desks, like Freshdesk and Zendesk, let you automatically send emails to customers asking them to rate your business' customer service when a ticket's status is changed to closed. A Survey Monkey integration is available through Zapier.
SupportBee also does not directly integrate with MailChimp, a free and paid email marketing software for businesses.
10. Reports, Dashboards, and Time Tracking
All SupportBee plans come with basic reports to give you some insight into your business' customer service platform.
SupportBee shows reports on average first response time, average time to archive (i.e. close) a ticket, number of tickets, number of replies, and number of archived tickets. You can view these stats per agent, per department, or according to the label attached to a ticket.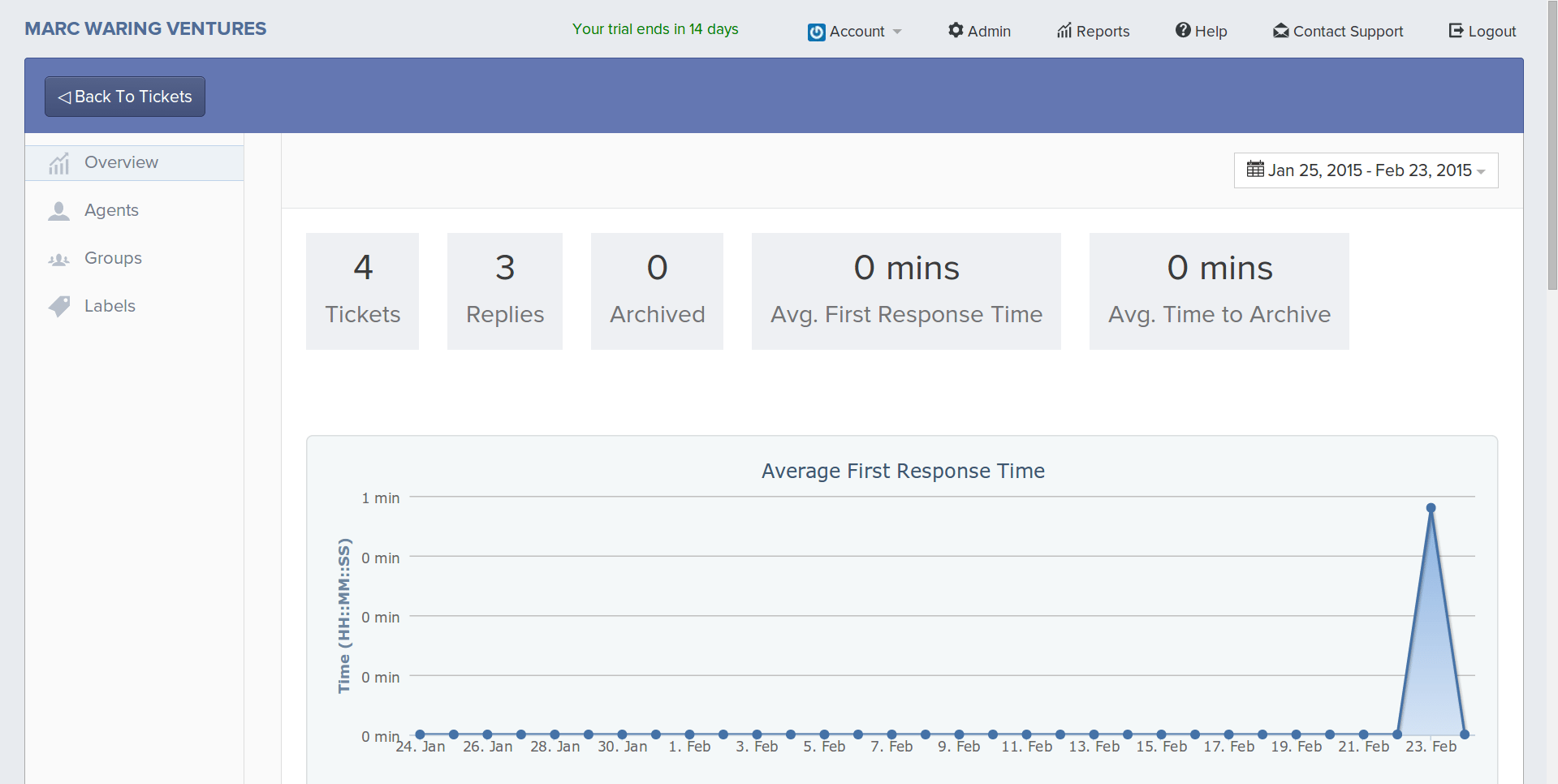 Custom, scheduled reports, and time tracking are not available in SupportBee. For a wide range of reporting options, try Kayako.
11. CRM Integrations
One benefit of using SupportBee is that it can be used as an add on to several CRM systems, including Insightly, our recommended provider for small businesses. If you subscribe to both SupportBee and Insightly, you can sync customer contact information between the two systems. You can also add Insightly tasks from emails sent to your SupportBee help desk.
This saves organizations who need both CRM and help desk software from having to add the same information to two different systems and constantly switch back and forth between two different systems.
Other than Insightly, SupportBee also integrates with Zoho CRM and Capsule CRM.
12. Ticket-Level Features: Duplicating, Splitting, Merging, Linking, and Forwarding Tickets
SupportBee provides a limited degree of functionality for managing email tickets.
Duplicating & Splitting Tickets: SupportBee currently does not support these features. Duplicating or splitting a ticket is helpful when multiple agents or departments are needed to handle a customer's inquiry.

Forwarding Tickets – Sometimes, a customer issue can be easily resolved by a member of your team who is not a help desk agent. SupportBee lets you forward tickets to a non-agent for resolution.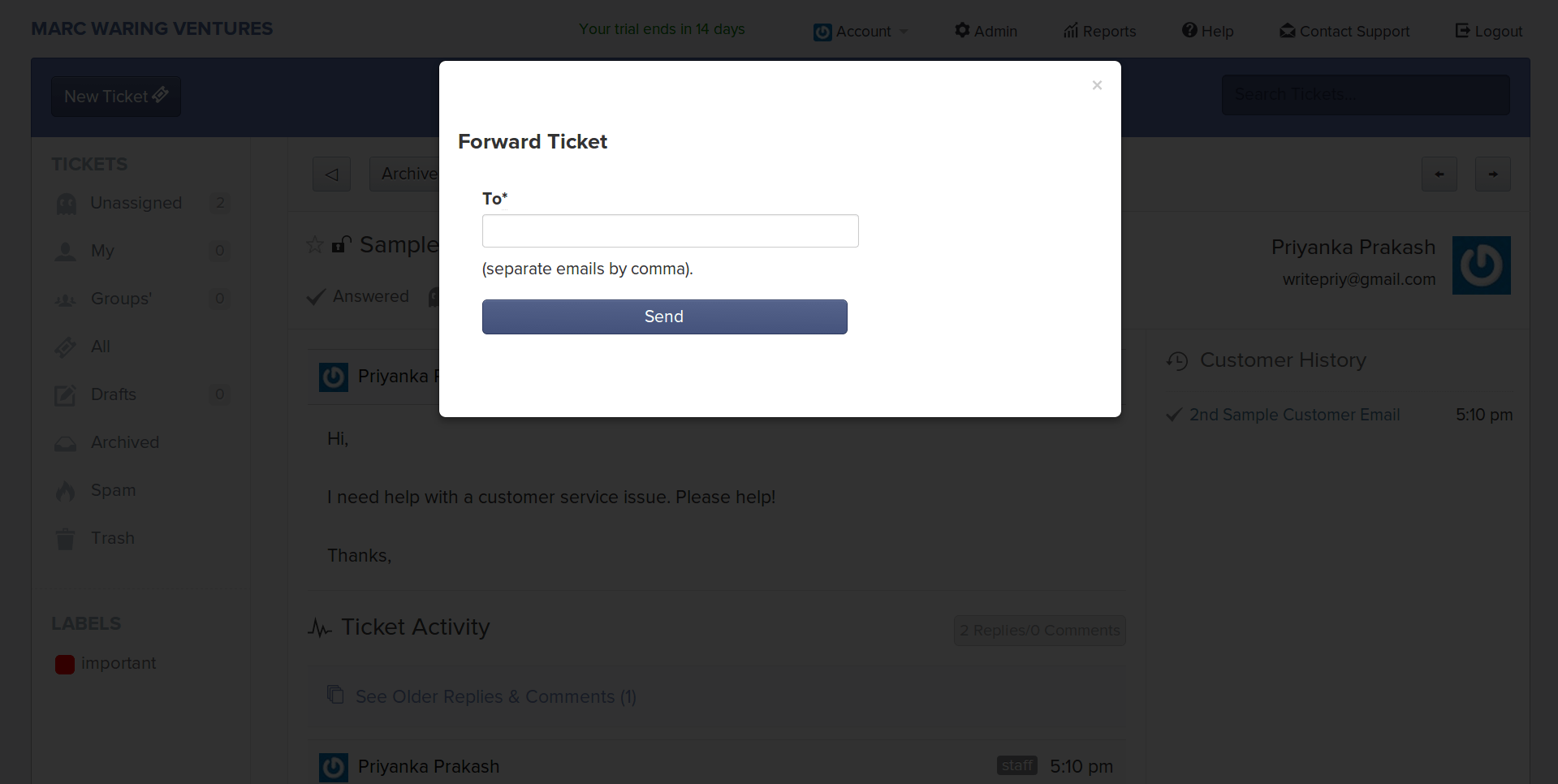 Merging & Linking Tickets: When two tickets raise the same issue, you can merge them in SupportBee. You cannot link related tickets. Merging tickets creates one ticket out of two similar tickets. Linking tickets, available in HappyFox and some other help desks, lets you keep two tickets as separate but indicate that they are related for yourself or other agents.
13. Mobile Help Desk
SupportBee does not have any mobile apps, but there is a mobile-optimized version for your phone's browser. You can manage tickets (reply, assign, label tickets, etc.) from the mobile version, but you can use snippets only on the desktop version.
14. Multi-lingual Support
You can choose from among 11 languages for your web "contact us" form. You currently cannot change the SupportBee agent interface to another language.
15. Multi-Brand/Multi-Product Support
You can only manage one brand in SupportBee's Small plan. The more expensive plans let you link multiple support emails, so you could manage multiple products to a limited extent.
Customer Service
24 hours?
All SupportBee plans include email support and online self-help.
US Based or Not?
Email and self-help only. The level of support is the same across SupportBee plans.
The Bottom Line
SupportBee is like email but better. If all your business needs is email ticket management, you will appreciate SupportBee's simplicity and the ease of use that it offers. SupportBee also has a unique volume-based approach to pricing, which is great for businesses that employ many customer service agents.
The drawback is that SupportBee offers much fewer features than more sophisticated help desks. For more functionality, we recommend Freshdesk for small businesses.
Want to manage 1000's of leads, save time, and get organized? Click Here to get our FREE CRM guide and find out how.
Please leave a review of your experience with SupportBee below: