Looking for inspiration for your trade show display? We've got 25 killer trade show display ideas to help you create a must-see trade show display. Below, you'll find expert advice from professionals with experience in trade show design, followed by examples of stellar trade show exhibits.
Trade Show Display Ideas from the Pros
Dave Waring, FitSmallBusiness
Want people to remember you long after the trade show? Give them a magnet to stick on the fridge so they see you every time they reach for a snack. Share coasters and notepads, anything useful that will catch their attention time and again. Check out PSPrint for great prices on all sorts of personalized items.
---
2. Tag attendees on Facebook in front of your logo.
Brian Rose, Founder, JVZoo.com
I have had great success combining social media with live trade show displays. At a show in Las Vegas, we hired a Showgirl to take pictures with attendees in front of our logo. We then tagged the attendee on the picture and posted to Facebook, making it seen by all of that attendee's Facebook friends. Multiply that times hundreds of pictures and you get tens of thousands of people seeing your logo and the social endorsement of their friends.
---
3. Host a Photobooth
Leeyen Rogers, VP of Marketing, Jotform
We present at trade shows, and my top idea is to host a photobooth! People love taking photos, and a photobooth is a fun way to break the ice and network in a more casual way. The photos are also great for a business' social media presence as it adds a lighthearted, human element.
---
4. Have an Interactive Presentation
Sarah Jacoby, Founder, Studio 9
We go to trade shows for our fitness/dance industry. We have had a ton of success with interactive displays…meaning we allow those visiting the show to participate in a mini 2-5 minute demonstration – displaying the purpose of our classes, the benefits to their body, and the proper physical techniques.
---
Marc Prosser, Co-Founder, Fit Small Business
Did you know you can set up online ads to target people looking up information on a specific trade show or conference? This is a great way to show up in front of people who are actually attending or thinking about attending. If you want to give it a shot, click here for a $100 Bing advertising coupon when you spend $25 and set up your ad on convention-related searches.
---
6. Hand Out Informative and Creative Brochures
Jacqueline Thomas, Fit Small Business
Trade shows are hectic. People are visiting many different booths, and it's likely they won't remember everything about your product or service by the end of the day. By handing out a well designed brochure that lists your top products or services, people will have something to look back at after they have left the event. You can also include a coupon or discount code to further entice people to do business with you.
View our article on the top 25 brochure templates to get ideas on designing an attractive and engaging brochure.
---
7. Be Strategic with your Layout in order to Engage Maximum Attendees
Vern May, Economic Development Officer, Minnedosa & Area Community Development Corporation
Don't put a table between yourself and the customer. It is very easy to become complacent during the lulls at trade shows and find yourself absorbed in checking e-mails etc. behind the table and not engaging people at all. Set your table up in a manner that invites people to come INTO your booth.
---
8. Turn Other Vendors into Customers
Lauren Milligan, Career Advancement Coach, ResuMAYDAY
I present at numerous trade shows throughout the year and have figured out a great way to get other vendors to come to our booth. Right before the show opens (when all the booths have been constructed and are ready to go), I walk the floor and put a card on each table that says, "Here's hoping we all have a great show! How many hands do you think you'll shake today? When you have a free minute, stop by the ResuMAYDAY booth (with my booth number) for a complimentary bottle of hand sanitizer. These are ONLY for us vendors, not for the attendees. Let's leave here with lots of leads, great memories, and good health."
When they come to the booth, I ask them for their business card, and we each chat about our businesses. I have a great closing ratio of trade show attendees AND vendors!
---
9. Stand Out From the Crowd
Lori Cheek, Founder/ CEO, Cheekd
I attended Dublin's Web Summit a few years ago and when I realized that over 800 startups were exhibiting (90% of them were men), I decided to stand out by wearing Angel Wings throughout the conference. I'd even scattered rose petals from the end of the aisle I was in that led up to my booth. Of course, everyone followed them and found me in my gear. When I was checking out of my hotel to head back to NYC, I looked down at Judy Dench on the cover of the Irish Times, and there I was right next to her (me on my laptop with my Angel Wings—inside there was another 1/4 page picture mentioning my business).
---
10. Embrace Technology to Collect Leads and Demonstrate your Products
Josh Axelberd, CEO, Displayit
Having one or more iPads in your booth is a no-brainer. iPads provide the best tool for collecting visitor information so that you can follow up in a timely and effective manner. Plus, you can find plenty of cheap apps to create impressive digital catalogs to show off your company's products.
---
11. Host a Game at your Booth
Nathan Yerian, HubSpot
If you have a fun game in your booth relevant to your industry, while other vendors down the aisle have nothing but brochures, where do you think people will end up? Make sure that your games have an element of fun and attract positive attention.
Don't forget to take advantage of this opportunity to collect information. Have attendees sign up to participate. This will allow you to build a list that can be used after the event.
We recently worked with a client to create a miniature golf hole concept. The obstacles were themed to the specific event and the target market was likely to be a golfer. Hole in one!
---
12. Use Guerilla Marketing Tactics to Promote your Brand
Mandy Movahhed, Handshake
Make sure your company's swag (shirts, hats, buttons, etc.) is cool, and hand it out. Tip cab and shuttle bus drivers, bellhops, and bartenders to wear them. This gives your brand more exposure.
View more guerrilla marketing tips here.
---
13. Hold a Giveaway that Encourages Attendees to Return to your Booth
Tim Decker, Trade Show Entertainer & Speed Painter
Allow guests to register to win a prize, and give them something they must bring back to the booth at a later time to claim their prize. This keeps your brand on the front of their mind for the length of the trade show and gives the brand a second chance at showing off the product. I saw it done with bringing back anything from shirts to glow necklaces. Nothing like a sea of people wearing something you gave out on a mission to return to your booth. Talk about branding.
---
14. Use Food to Attract Visitors
Janice Byer, The Balance
Offer something a little different as a trade show giveaway…FOOD. I displayed at the "Bridges to Better Business" trade show in Brampton and included a basket of Girl Guide cookies on my table. They were a big hit; I wish I had brought more. If you can, package your food in a way that will allow you to have your company contact information on it.
---
15. Have Plenty of Business Cards to Give Out
Maggie Aland, Fit Small Business
Business cards with your logo and contact information are an essential item to bring along with you to trade shows. If you want people to have a way to get a hold of you after the event, it will look very unprofessional if you have to write your information down on a piece of paper. A nice looking business card will give off a way more professional impression.
Make sure you have a business email address to go on your card (ex: yourname@yourcompany.com). If you don't already have one, learn how to get a free business email address here.
Examples of Inventive Trade Show Displays
16. Bring your Product to Life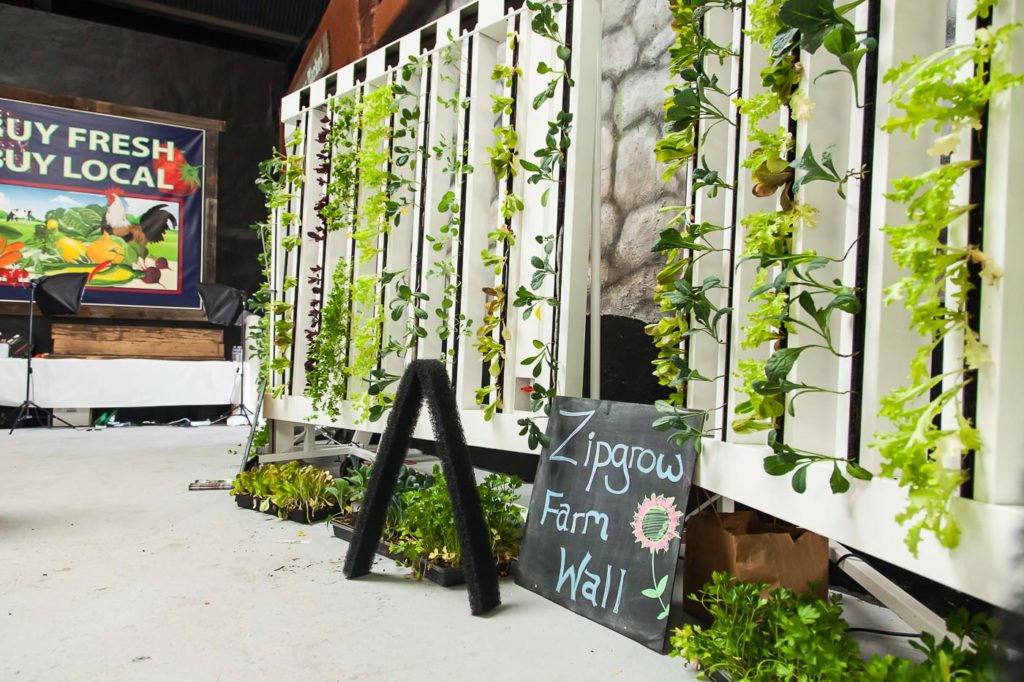 Chris Michael, Director of Growth & Happiness, Bright Agrotech
Bright Agrotech is a startup that offers vertical farming technology, software, and services. By displaying their product as a "farm wall" at trade shows, they are able to catch people's eye and attract large crowds to their booth.
---
17. Take Advantage of Limited Space with Branded Tablecloths and Posters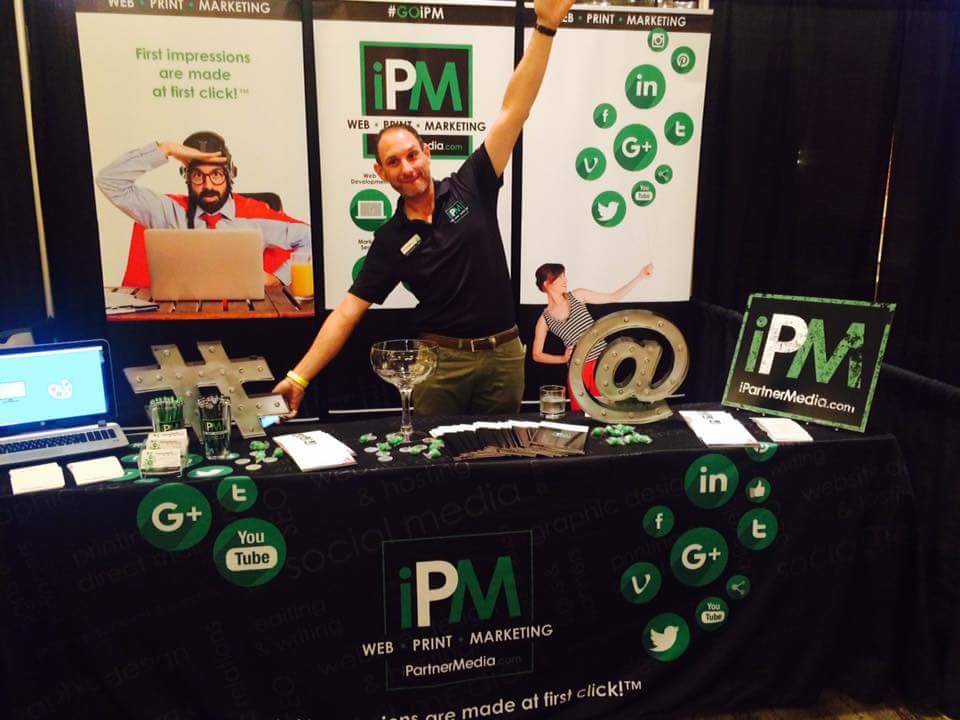 Randy Mitchelson, APR, Vice President, iPartnerMedia, Inc.
At an event where you only have a table to present at, include a branded tablecloth that is convertible from 8′ to 6′. Also, to create an impressive backdrop, use 3 pop-up banners side by side to fill out your backdrop. These pop-ups are lightweight, come with a travel carry case, are easy to transport over your shoulder, and can be set-up in less than two minutes.
---
18. Small Touches Help Create a Cozy Atmosphere
Using string lights is a budget friendly way to help the booth to stand out from the rest. This small addition works wonders with creating a more inviting atmosphere.
---
19. Use a Dark Backdrop to Make your Display Pop
This booth stands out from the rest with its dark background that contrasts nicely with the carpet. The flowers are a smart touch, as they give attendees a nice smell that will welcome them in.
---
20. Add Accent Lighting to Draw Attention to your Merchandise
Lighting is a great way to draw attention to your products, since the eye is naturally drawn to the light. Notice how this company also illuminated its logo to give their brand added pop.
---
21. Get Creative with your Backdrop
By doing something inventive with your product, you will draw people in who want to look at the backdrop more closely. Below is a picture from Curious Sofa, a store for vintage items. She sewed together old book pages for a one-of-a-kind background.
---
22. Display Product in a Unique Way
Instead of folding up clothes, one clothing store got creative by displaying their product in a creative way. If your business is product based, think outside of the box to get people interested in your product.
---
23. Create More Display Space
Don't limit yourself to the standard number of walls at a trade show. If you have a visually appealing product, it's a good idea to add an interior wall so you can show off more of your merchandise.
---
24. Provide Water Bottles as Easy but Thoughtful Giveaways
People are bound to get thirsty from walking around and talking all day. Water bottles are inexpensive, and attendees will appreciate the free gesture. Make sure that you attach a keepsake card or coupon for booth visitors to keep after they've discarded the bottle.
---
25. Set Up a Computer with a Slide Show to Showcase your Products
Though ideally you want to be able to demonstrate your product one on one to attendees, it's probable that there will be a time when all of your staff members are busy. During this time, it's a good idea to have a slideshow or video that showcases your product. This could also get the attention of people who are just walking by and are too shy or tentative to come inside the booth.
---
26. Go Big and Bold with your Imagery to Entice Passerby
Is your product highly visual (think photography, interior design, cosmetics)? Use this to your advantage by posting images on your display wall.
---
27. Provide a Relaxing Place for Visitors to Sit
Whether you anticipate a lot of waiting visitors or you'd like a comfortable place for you both to interact, if you have the space, maximize it.
---
Over to You
Do you have more trade show display ideas to share? Let us know about your ideas in the comments section below.