These days there's hundreds of services offering vanity phone numbers – many charging and arm and a leg for something you may not actually need. To find the best services, we scoured the web and spoke with experts. Below you'll find our recommendations along with a detailed comparison of the best places to buy vanity phone numbers.
Want to find your dream vanity number? Check out this great tool from Grasshopper–it allows you to plug in your desired word and will give you a variety of options to choose from. Once you've found a number you like, you can purchase it directly from them if you so choose.
Best Place to Find TOLL FREE Vanity Phone Numbers: Phone.com
We recommend Phone.com because at $10/month with no setup fees they are the most affordable, plus they offer advanced tools like auto attendant which make your business sound even more professional.
Phone.com

Google Voice

RingBoost

Price

$10 per month

Free

$30 - $400+
per month depending
on phrase and zip code

Cost Per Minute?

100 minutes free,
then 3.9 cents per minute

Free, only pay for

international calls (

see rates

)

100 minutes free,
then 6 cents per minute

Local or Toll Free?

Both available,
but local vanity numbers
have an additional fee

Local Only

Both Available

Rare & High Profile Numbers Available?

No

No

Yes

Can you set up an auto attendant?

Yes

No

No
We Recommend Phone.com As The Best Toll Free Vanity Number Service


At $10/month, Phone.com is the cheapest way to find a toll free vanity number as long as it has not already been registered. Unlike other providers, there's no setup fee. You just need to pay the monthly fee plus 3.9 cents per minute spent on the phone when somebody dials your number. You can get a toll free number with unlimited minutes, however, for only around $44/month.
What's also great about Phone.com is the different ways you can handle calls. You can have them immediately forwarded to another number, routed through an auto attendant (i.e. "press 1 for sales, press 2 for customer service") or you can answer the call directly using an internet-enabled phone. Because Phone.com is a internet phone service (VoIP) provider, you can use them for phone service without any additional monthly fees. You can set up multiple phones with extensions and/or unique numbers. For more information on Phone.com VoIP, check out our in-depth guide to the leading business VoIP providers.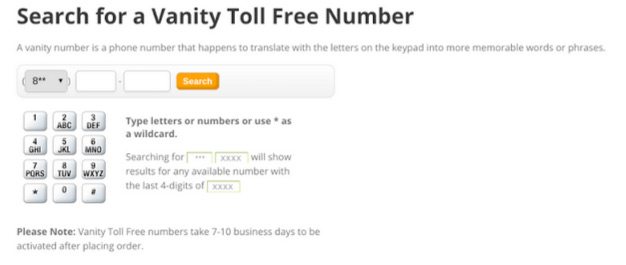 To start searching for vanity numbers, go to Phone.com and create a free account. Once you confirm your email address, you'll be able to use their search tool.
See Our Full Phone.com Review
Why We Recommend Google Voice As The Best Local Vanity Number Service

With Google Voice, it's completely free to set up a local vanity number, as long as that number has not already been registered. Using their keyword search tool, you can scan area codes nationwide, or in a particular city. This makes it very easy to find phone numbers with a specific word or phrase.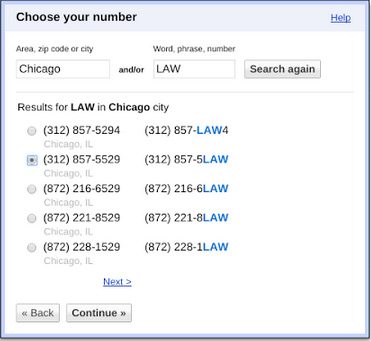 Calling to/from the US and Canada is free. You just have to pay for international calls (see rates). Also, if you want to port your number out of Google Voice to a different service, there's a one-time fee of $3.
Unlike Phone.com, Google Voice is not a business VoIP phone system. You can have your calls forwarded to another number, such as your cell phone or landline, but you cannot set up an auto attendant or provide service to multiple office phones as you could with Phone.com. Fortunately, at only $3 for porting, it's easy to transfer the number if you do want a business phone system at some point.

RingBoost is the place the find rare & high profile phone numbers, like 1-800-LAW-FIRM or 1-800-AC-REPAIR. Being in such high demand, these numbers have long been registered. They're available for you to "rent," however, in particular area codes.
For example, let's say your local area code is 217. You could "rent" the number 1-800-LAW-FIRM for the 217 area so that every time somebody dials 1-800-LAW-FIRM from a 217 number, the call would connect to your business. If somebody dials from a different area code, however, they'll either reach a dead end or get connected to different businesses that "owns" that area code.
Pricing varies a lot on RingBoost, but it's typically around $40 to $100/month per area code. So if you want to own a number for a metropolitan area, it could cost anywhere from $40 to over $1,000/month, depending number of area codes you need and the price of the vanity number.
Vanity Phone Numbers Conclusion
The cheapest way to find a toll free or local vanity number is to find an unregistered number from Phone.com or Google Voice. The options are a bit more limited, but if you're willing to settle for just a 3 to 5 digit phrase, such as XXX-XXX-CARS or XXX-XX-SHOP, there should be some available.
What's more is with Phone.com you can set up full VoIP service for your business, including an auto-attendant with multiple extensions. You could have calls forwarded to cell phones landlines, or you could purchase handsets for you and your employees and use Phone.com for VoIP phone service at no additional monthly charge. To learn more about Phone.com as a business VoIP service, check out our full review of Phone.com VoIP.