What is it?
Venngage is an online infographic, chart-making, and mapping program.
How popular is it?
Venngage has over 1 million free and paid users.
Similar products?
Infogr.am, Plot.ly, Google Sheets (graphing function)
What does it do well?
You can create professional charts & infographics with simple drag and drop tools.
What does it not do well?
Although you get a lot of controls, there are a few missing features: You can't customize the data range on charts, for example, and it's a little difficult to save your own templates.
Who does it work well for?
Those looking to create attractive graphics without the need for professional design experience. We use it at Fit Small Business to create graphics for our articles.
Who does it not work well for?
Those who need a high-powered graphics editor. Venngage will not replace Photoshop or Illustrator.
Free Version?
Yes
Cost Compared to Competitors?
Mid-Range
Cloud or Hosted?
Cloud
US-Based?
Yes (both the company and support are US-based).
  Click a Button For More Info
Price
There are editions of Venngage:
The Free Edition

gives you all the basic tools (i.e. line graphs and pie charts, but no 3D graphs) and lets you save up to 5 graphics at one time. To share your infographic, you can generate a public link through Venngage. It will come branded with a small Venngage logo, however.

The Premium Edition

($19/month) removes branding, gives you access to all templates/charts and lets you save an unlimited number of infographics. Additionally, you can export your graphics as PDFs or PNGs.

The Business Edition

($49/month) adds special tools for branding your charts. You can save a color scheme and logos in a special area called your "branding kit." The Business Edition also adds user permissioning tools.
Ease of Use
Setup – Easy. Although Venngage does not have a guided setup process, their wide selection of templates makes it easy to get started – Just pick one and start filling it in with your own text and data. There's also a "Blank Canvas" option for those who want to start from scratch.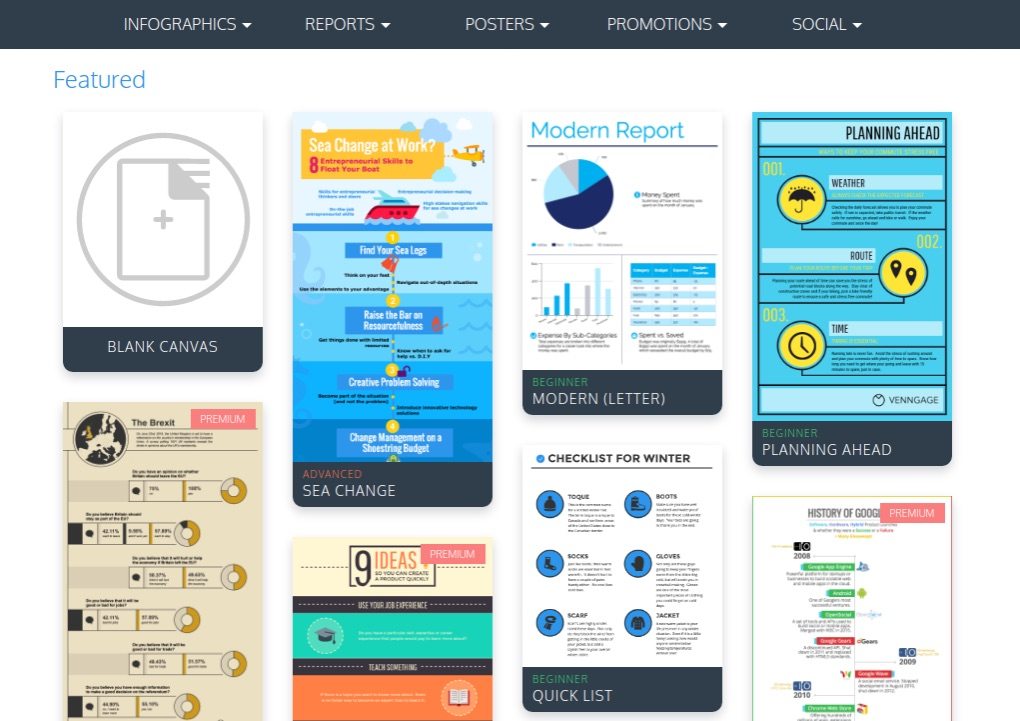 End User – Easy.

I found Venngage's graphing, drawing and editing tools to be very intuitive. During my numerous trials, graphs seemed to come out "pre-edited" with proper axis lengths and data points. Compared to other programs like Excel and Google Sheets, there was very little editing to do. It's as though Venngage already understood how I needed the data displayed.
Support – Easy.

Venngage has email support for free and paid users. While the lack of phone support is a downside, I found the Venngage team to be extremely responsive: During my trial, every email question was responded to within an hour (some as quickly as 5 or 10 minutes).
Features
Features It Has
Features It Does Not Have
Graphing (bar, line, pie, scatterplot, etc.)
Mapping
Pictograms / Shapes
Images
Drag & Drop Editing
Interactive Charts
Save Templates
Venngage Review: Detailed Overview
At Fit Small Business, we use Venngage to add charts, maps, and infographics to our articles. This allows us to convey data, point out trends, and give our readers important information in a visually pleasing, easy-to-understand format. Out of all the graphics-making programs we checked out, Venngage was the best.
How to Create Charts
Compared to all the graphing programs, Venngage had one of the best interfaces for editing charts.
It starts with a small spreadsheet box to input your data. You can enter it manually, copy and paste from Excel or Google Sheets, or import a Google Spreadsheet directly by sharing it publicly and entering the URL.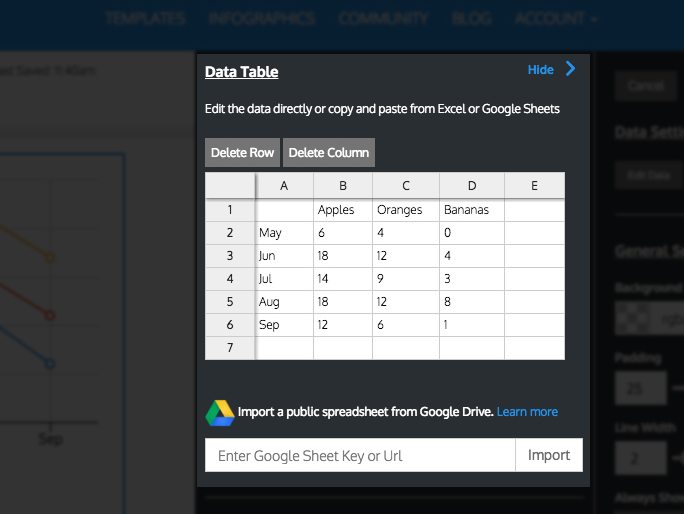 The next step is to make adjustments to your chart using the right-hand column: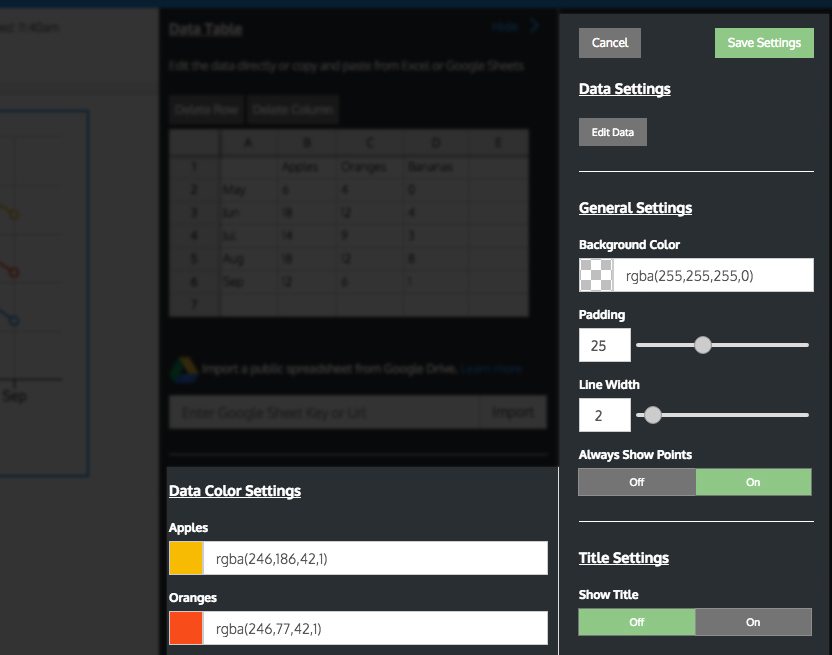 Venngage gives you two very important controls:
You can pick custom colors for everything (using RGB or Hex values)

You can choose from a big list of fonts (for titles, legend, etc.)
As a business, anything you publish should reflect your brand. Color and font choices are subtle-yet-important way to enforce your image. Surprisingly, many other graphics programs fail to give users a wide range of options.
Venngage also gives you a lot of controls over the appearance of your chart. From the same menu, you can turn axis titles on/off, adjust the step increments, add a legend, data labels and more. What I like about this menu is that you get a huge range of customization options without it feeling tedious or overwhelming. The only extra tool I would've liked to see is the ability to adjust the min and max axis values.
How to Create Infographics
When you finish making your chart on Venngage, the options are far from over.  As with a full-on infographic program, you can add text, shapes, images, and even interactive tools like a YouTube video or reader's poll.
This is key for us at Fit Small Business. Often times, our articles are not complete with just a chart. Instead, we seek to explain the data by pointing out a trend. Or, we simply try to make the chart more engaging by adding a background image.
To add these objects, use the left-hand toolbar. Browse or search to find what you need, then drag and drop to position and resize. I especially liked how you could search for images directly from the interface:
Templates
If you aren't looking to start from scratch, Venngage gives you many templates to choose from. This includes traditional infographics, sales/marketing reports, promotional templates (i.e. flyers, email promotions), templates specifically for social media, and more.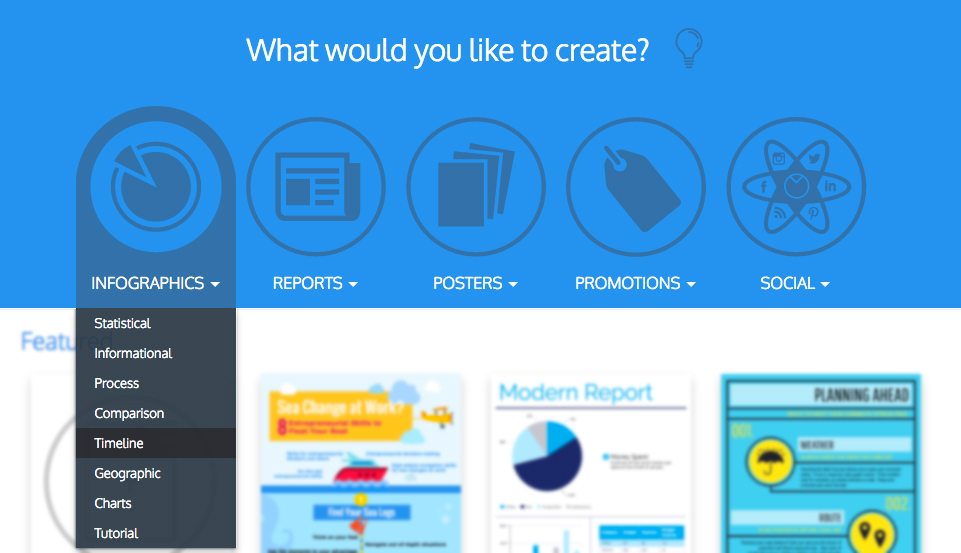 When you select one, editing is as easy as double-clicking to add your own text and adjusting shapes to your liking.
One downside to Venngage is that you cannot create your own templates. At Fit Small Business, all of our charts follow a standard format. We wanted to create template that had our fonts/colors/branding pre-loaded. But alas, this was not an option.

The workaround was to save a template as a standard chart under "My Infographics." Then, any time an employee needs to use it, they can click the chart and save a copy. This effectively works the same as templates, but with two minor downsides: For one, our templates get buried as we create more and more charts. Secondly, we run a small risk that an employee might accidentally edit or delete a template.
Another workaround is to use Venngage "branding kit," offered with business-level accounts. This tool allows you to save logos and colors that reflect your brand, so that users can easily place them into charts.
How to Save Infographics
When you finish your chart or infographic, you can save it two different ways: Download as an image file (PDF or PNG), or publish it online.

For the second option, Venngage will give you code to embed your infographic on a website. The main benefit is that your graphic can have interactive features. Visitors can click points for data values to pop up. See an example here on our article The Best and Worst States To Get an SBA Loan.
Venngage Review: Other Features
Venngage offers a few additional free tools:
Beam is a an "express" version of Venngage. You can use it to create attractive charts and graphs in mere seconds.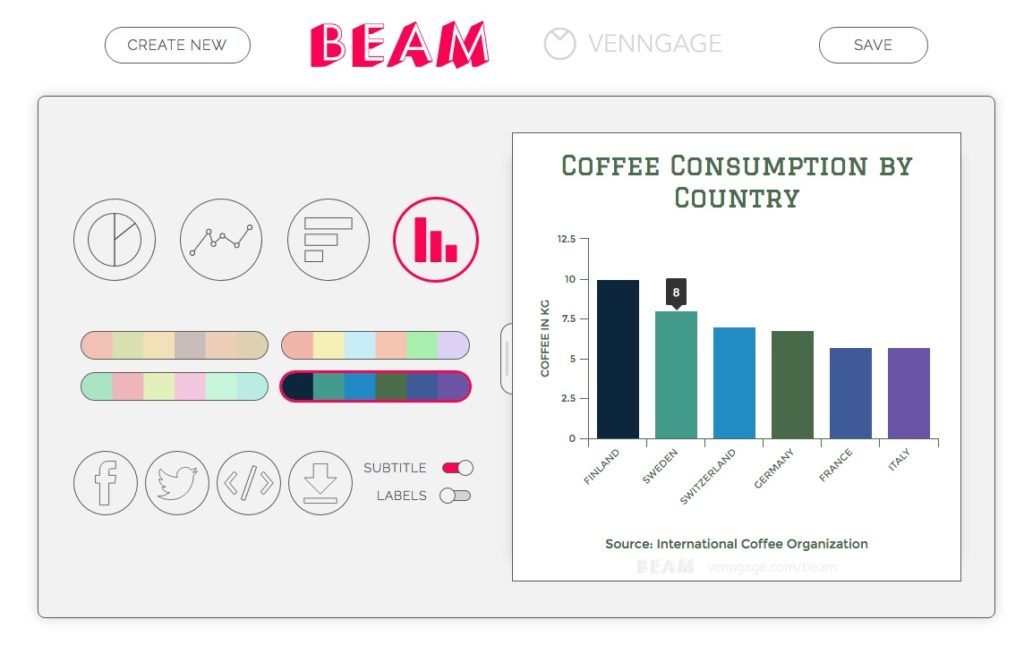 While you'll want to use Venngage proper to get the full set of features & options, Beam is a good alternative if you just want something fast.
Klok.Work is dubbed an infographic "idea generator." You enter a keyword, such as "cars" or "haircuts," and the tool returns a list of infographic ideas. Clicking on one shows you images of infographics you could design in that style.
Customer Service
24 hours? Yes
US Based or Not? Yes
Phone, Email or Live Chat?
Venngage offers email-based support only. While this is a downside, I did find their email support to be very effective. All of my inquiries were responded to within an hour – some as quickly as 5 or 10 minutes.
Venngage also has a searchable support center with about 50 articles.
The Bottom Line
At Fit Small Business, we needed a graphics program that was easy to use, could create a wide range of charts/graphics, and could be customized to match our brand. Though it has a few small downsides, Venngage was by far the best solution.