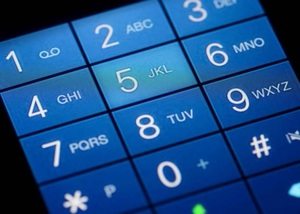 A virtual phone number is a phone number that forwards calls to an existing phone line. It's ideal for small business owners who want to list a phone number but don't want to give out their personal information. If you just need a local phone number, you can find one completely free. You can get a toll free number starting at around $10/month.
Before we dive into the details on this topic, we also suggest you check out Nextiva, our recommendation for the best small business phone service provider. Visit Nextiva to learn more.
Best Place to Find TOLL FREE Virtual Phone Numbers: Phone.com
We recommend Phone.com because they are affordable, reliable and offer advanced tools like auto attendant which make your business sound even more professional.
Best Place to Find LOCAL Virtual Phone Numbers: Google Voice
Free to use with no cost on domestic calls, Google Voice is the best place to find a local virtual number.

Another option would be a dedicated VoIP line with advanced call forwarding. For more information, check out our in-depth guide to the best small business VoIP providers.
Price

$10 per month

Free

$2 to $5 per month

Cost per minute

100 minutes free, then 3.9 cents per minute

Free, only pay for international calls (

see rates

)

6.9 cents per minute (Toll Free Number)

5.9 cents per minute (Local Number)

Local or Toll Free?

Both available, but local vanity numbers have an additional fee

Local Only

Both Available

Vanity Numbers Available?

Yes

Yes

Yes

Can you set up an auto attendant?

Yes

No

No

Mobile App?

Yes, make outgoing calls using your business number, check voicemail and change settings

No

No

Reputation

Good

Good

Poor
---
Why We Recommend Phone.com As The Best Toll-Free Virtual Phone Number Service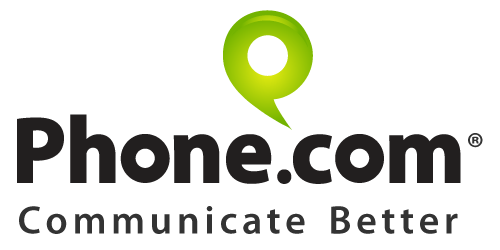 At $10/month + 3.9 cents per minute, Phone.com is an affordable and reliable virtual phone number service. You can choose between 800, 844, 855, 866, 877 and 888 numbers, and even select a vanity number at no additional charge. Phone.com also has an "unlimited" option – for around $44/month, you can set up a virtual toll-free number with unlimited minutes.
What's also great about Phone.com is the different ways you can handle calls. For example, you can set up an auto attendant (i.e. "press 1 for sales, press 2 for customer service") that forwards calls to everybody at your business. Each employee can have a unique extension to be reached directly.
You can have calls forwarded to a cell phone or landline, or you can answer the call directly using an internet-enabled phone. Because Phone.com is a internet phone service (VoIP) provider, you can use them for phone service without any additional monthly fees. You can set up multiple phones with extensions and/or unique numbers. To learn more about Phone.com as a business VoIP service, check out our review.
---
Why We Recommend Google Voice As The Best Local Vanity Number Service

With Google Voice it's completely free to set up a local virtual number. Using their search tool, you can find a phone number in any area code/location in the US. You can even search for keywords to obtain a vanity number at no additional cost.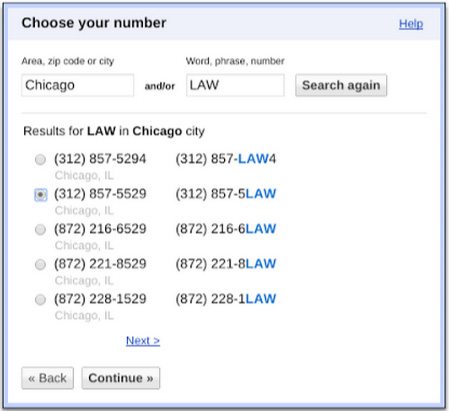 Calling to/from the US and Canada is free. You just have to pay for international calls (see rates). Also, if you want to port your number out of Google Voice to a different service, there's a one-time fee of $3.
Unlike Phone.com, Google Voice is not a business VoIP phone system. You can have your calls forwarded to another number, such as your cell phone or landline, but you cannot set up an auto attendant or provide service to multiple office phones as you could with Phone.com. Fortunately, at only $3 for porting, it's easy to transfer the number if you do want a business phone system at some point.
---
Why We Don't Recommend Kall8

While Kall8 is cheaper than Phone.com, starting at only $2/month +6.9 cents/minute for some toll free numbers, we found a lot of complaints from users about their service. In particular, users complained about being overcharged on their monthly bill. Some noted how, immediately after signing up, they received unsolicited calls with silence on the other end. These calls would rack up their minutes and lead to high monthly charges.
Although we can't confirm the validity of these reviews, nor can we find any proof Kall8 is behind it, these complaints anchor our suspicion that $2/month for a toll free virtual number is too good to be true. Phone.com is only a little more expensive ($10/month, but you get 100 minutes free and it's only 3.9 cents/minute after, compared to 6.9 cents for Kall8) and its worth it for their stronger reputation.
---
Conclusion
If you're looking for a virtual phone number, the easiest and cheapest place to start is Google Voice. There you can obtain a local virtual number completely free. If you want a toll free number, or want to set up a more advanced business phone system with an an auto-attendant, then Phone.com is your best bet. You can set up multiple extensions with calls forwarded to cell phones or landlines. Or you could purchase handsets for you and your employees and use Phone.com for VoIP phone service at no additional monthly charge.
For customer reviews and more information on Phone.com's services, you can check out our full Phone.com reviews page.