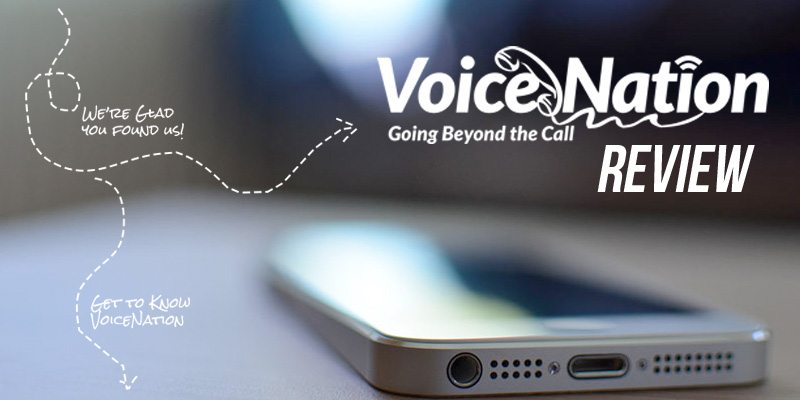 What is it?
A small business answering service
How popular is it?
VoiceNation is a mid-sized business with under 200 employees.
Similar Services?
MAP Communications, AnswerConnect
What does it do well?
It's a scalable service. For a low monthly fee, receptionists can just take messages. For a little more they can transfer calls, fill out web forms, take orders and more.
What does it not do well?
The service is not as personable as Ruby Receptionists or MoneyPenny, which have higher reviews.
Who does it work well for?
Budget-minded businesses that want a reliable 24-hour service.
Who does it not work well for?
Those who want advanced features like appointment scheduling should check out Map Communications.
US based?

Yes
Available 24/7?
Yes
Excluded Industries?
No medical practices
Free Trial?
No
Cost Compared to Competitors?
Mid-Range
What Receptionists Can Do
When you sign up with VoiceNation, your calls will be received by 1 of 50 receptionists at the call center. They can relay basic information, submit order forms, take messages and forward calls to you or your co-workers.
Receptionists can answer basic questions about your business, such as your hours, services offered or basic price quotes. There's no limit to the number of FAQs you want receptionists to answer, however, because there's up to 50 different employees responding to your calls, you'll need to host a list of FAQs on your website (whether publicly or privately).
They can also fill out web forms. So, for example, you could have new clients added to your CRM or customer service cases added to your HelpDesk software. Receptionists can even fill out order forms with customer credit card information. Just note that if you want order forms filled out they typically need to be only 1 page long, and can't be overly complicated.
All of this is included with the base package, although depending on how complicated your instructions are, you may need to pay a higher set up fee. It can cost anywhere from $75 to $150 (one-time payment).
What Receptionists Cannot Do
Voice Nation does not do any scheduling, nor will they make any outbound calls. If a caller wants to schedule an appointment, the receptionist can pass on their preferred time, but the appointment will have to be confirmed manually.
FAQs need to be hosted on your own website. This is so VoiceNation can be assured the information is up to date and accurate. The FAQ list doesn't need to be publically available, but it does need to be accessible without a password.
The same goes for webforms: They must be accessible without a password and typically no longer than 1 page. For order forms that include credit card information, you must supply an HTTPS link. Also, receptionists cannot agree to terms & conditions on the caller's behalf, so you'll need to make sure the caller sends an agreement before the order is finalized.
Price
VoiceNation has 7 different answering service plans that vary based on the number of minutes you need. Each plan gives you a pre-set number of minutes, with additional time costing $0.95/minute. There's also a one-time $75 setup fee.
30 for 30 ($30/month) gives you 30 minutes per month of receptionist talk time without any transfers. This means receptionists will take messages for you, but will not forward any calls.
Quick Start ($50/month) gives you the full receptionist service (message AND transfers) but you don't get any pre-set minutes. You pay a flat $0.95/minute for any call time you use.
The Business Plan ($95/month) gives you the full receptionist service and 50 minutes a month.
After that there's 4 plans that just increase the number of minutes you get per month. The Pro Plan gives you 100 minutes ($130/month), the Platinum Plan 250 minutes ($230/month), The Executive Plan 500 minutes ($400/month) and the Enterprise Plan gives you 1000 minutes a month ($750/month)
Reputation – Neutral
Compared to the other answering services we reviewed, Voice Nation's reputation falls in the middle.
There's mixed reviews from users on Yelp and Kudzu. About half the reviewers praised the service. The other half complained mostly about billing issues, such as one user that reported being unable to cancel a service that was accidentally purchased. Only one user complained about a service-related issue – their calls were getting dropped after being transferred to their cell phone.
There's also mixed reviews from employees on Glassdoor and Indeed. Some receptionists report a positive and enthusiastic atmosphere while others complain about poor training and inconsistent scheduling. Based on these reviews, it sounds like the quality of service can be hit or miss, although I did not come across any major issues
 Features:
| Features it has | Features it does not have |
| --- | --- |
| Text/Email Alerts | Dedicated Receptionist |
| Find Me/Follow Me | *Call Recording |
| Call Logs | Voicemail-To-Text Transcription |
| Mobile App | |
*Can be set up via a 3rd party service
Setup
Setting up Voice Nation happens entirely online. First you submit your business and account details, including the type of plan you want to subscribe to. Once your order is processed, you'll receive an email with a link to create your "script."
This is not a verbatim script, but rather a series of advisements on how certain calls should be handled. You can include certain phrases and actions (i.e. saving contact information for a new client, then stating "a salesperson will be reaching out to you shortly") and include instructions for call forwarding. The setup process takes around 10 or 15 minutes.
Features:
1. Messages & Voicemaill
If a caller wants to leave a message for you, the receptionist will copy it down and send it via text or email – whichever you prefer. Callers will also have the option of leaving a voicemail message and you'll be able to play these messages from the online dashboard or mobile app.
VoiceNation is one of the few 24/7 services to offer voicemail. Calls are always routed to receptionists first (they'll never go directly to voicemail). If you and your co-workers are unable to take the call, however, the receptionist will give them the option of leaving a message or getting forwarded to your voicemail box.
2. Find Me/ Follow Me

You can set up specific call instructions, including "dispatching," in which receptionists will run down a call list until somebody answers. This is typically only used in emergency situations, when somebody at your company has to answer the call.
3. Online Dashboard/Mobile App
From the online user portal, you can track your minutes, view call logs, listen to voicemail messages, send faxes and change your script or call control settings. Because Voice Nation setup all happens online, it's easy to go back and edit your call settings. This could come in handy if your mobile number changes, for example, or you have a new policy for handling customer service issues.
Call logs and text alerts can be exported as CSV spreadsheets, so you can potentially import this data into a CRM or use it to generate reports.
There's also a mobile app for iOS which lets you check minutes, view call history and play voicemail messages. It hasn't been updated in a few years, however.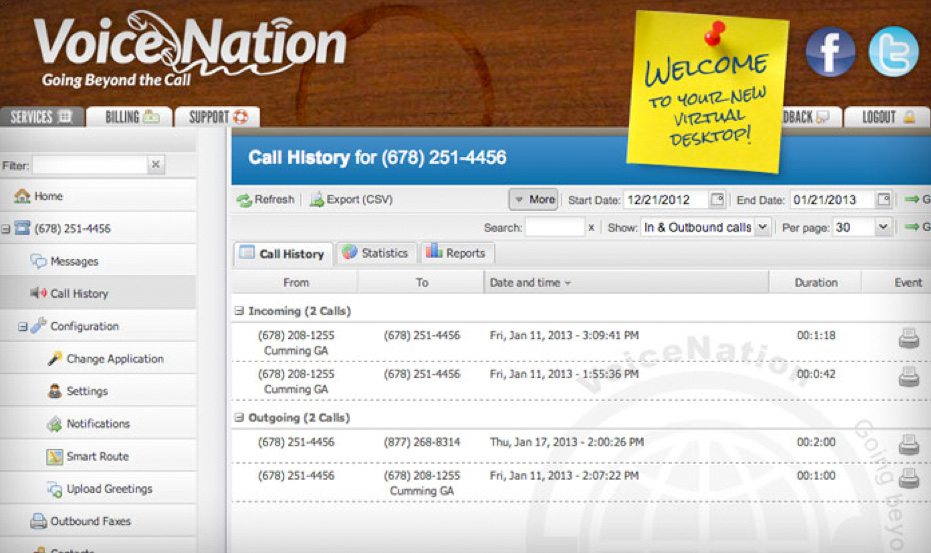 Customer Service
24 hours?
8am to 6pm EST
US Based or Not?
Yes.
Phone, Email & Live Chat?
When you sign up with VoiceNation, you do not get a dedicated account representative. However, you can keep communicating with your sales rep for help with setup, or refer to the support team.
Voice Nation has email, phone and live chat support available during business hours. You need to submit a trouble ticket after hours and on weekends. User reviews of the support team were mixed with some citing lengthy wait times. During my own experience I was connected quickly, although I spoke with the sales team instead of support.
VoiceNation also has a help center with FAQs, user guides and a searchable knowledgebase.
Bottom
VoiceNation is a scalable answering service, perfect for the budget-minded. While they doesn't have the same rockstar reviews as Ruby Receptionists, VoiceNation still a reliable choice. I did not find any complaints from users about the work performed by receptionists.