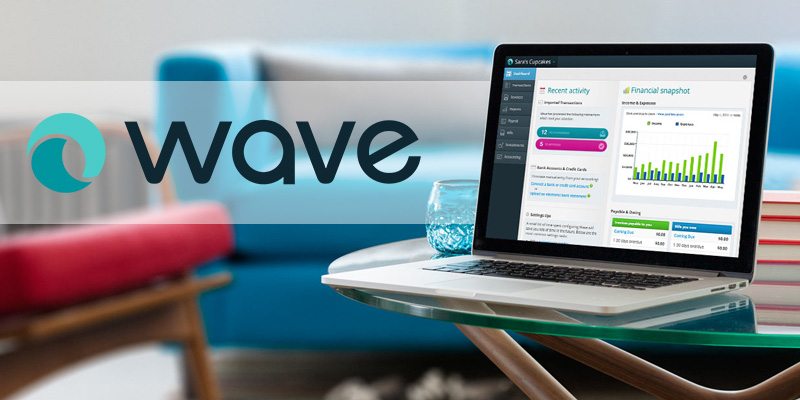 What is it?
Free accounting, invoicing and payroll software for small businesses.
Does Fit Small Business Recommend Wave Accounting?
Wave is a great choice for one or two person companies with simple finances and few employees. For larger companies we recommend either QuickBooks or Xero.  Click here for a 30% discount on Xero.
Are your personal and business checking accounts separated? Special Business Checking Offer From Bank Of America
How popular is it?
Wave has over 2.5 million free and paid users around the world.
What does it do well?
Wave gives small businesses a free and simple platform to manage their books and send invoices.
What does it not do well?
The accounting features are pretty basic with very little automation (i.e. auto-categorization and recurring invoices). There's also only one payment processing option (Stripe) and few other integrations.
Who does it work well for?
Self-employed and startups who want to handle accounting themselves but don't need an advanced system like Quickbooks or Xero.
Xero is currently running 30% off special making it much cheaper than QuickBooks.
Who does it not work well for?
Businesses who want advanced features like automation, customizable reports and integrations with CRM, POS or eCommerce software.
Cash or accrual based accounting?
Both
Does it save Audit Traits (log of user activity)?
No
Free Trial?
Yes
Cost Compared to Competitors?
Low
Similar

products?
Cloud or Hosted?
Cloud
US Based?
No, Wave is based in Canada.
Wave Apps Pricing
You can use a full featured version of Wave completely free. You only have to pay if you want premium customer support or payroll. Wave Apps pricing is broken down below.
Payroll costs $15/month plus $4 per employee. After 10 employees, however, it's only $1 per person.
The Plus Package ($9/month) gives you access to live chat support 9AM – 5PM EST Monday to Friday.
The Advanced Package ($19/month) adds phone support during business hours. You can also get 3 months of phone and live chat support for a one time fee of $49.
Ease of use
Setup – Moderate. The first time you log in Wave drops you right onto the homepage, so there isn't much of a set up process. You can, however, sign up for a weekly webinar to learn the ropes.
User Interface – Moderate. Although Wave is one of the simpler accounting programs, it's not always the easiest to use. For example, if you have any incorrect fields when submitting a form like a invoice or bill, Wave will reject the form without explaining which field was wrong. Minor issues like that made it a little frustrating to use.
Linking bank accounts, however, is easy. You just need to enter your account ID and password (when supported).
Support – Easy. Free users can take advantage of email support and browse or ask questions in the user forum. According to user reviews, email support questions can take a few days to a week for a response. Users spoke highly of the phone support available for paid users (starting at
You can also search Wave University, which is is a collection of guides to get you started, or search FAQs and the user forum.
Features
| Features it has | Features it Does Not have |
| --- | --- |
| 5 Types of Accounts | Categorization/Automation Rules |
| Auto-import Bank Statements | **Payroll |
| Invoicing | Time Tracking |
| *Payment Processing | Inventory Management |
| Multi-Currency | |
*Payment Processing available via Stripe integration
**Payroll software available as an optional add-on
Integrations
| Integrations it has | Integrations it does not have |
| --- | --- |
| Payment Processing (Stripe, Paypal) | Cloud Storage (Google Drive, DropBox) |
| Etsy | Project Management (Basecamp, Asana) |
| Shoeboxed (receipt scanning) | Time Tracking (Toggl, Harvest) |
| | CRM (Zoho, Salesforce) |
| | eCommerce (Shopify, Big Commerce) |
| | Tax Prep Software |
| | Digital Signature |
| | Zapier |
Detailed Overview:
Accounts:
Wave supports the five main types (assets, liabilities, income, expenses and equity). You can create and edit these under the "Accounting" page. There's some default accounts you cannot remove from the system, however, such as "Accounts Payable," "Sales Receivable" or "Owner's Equity."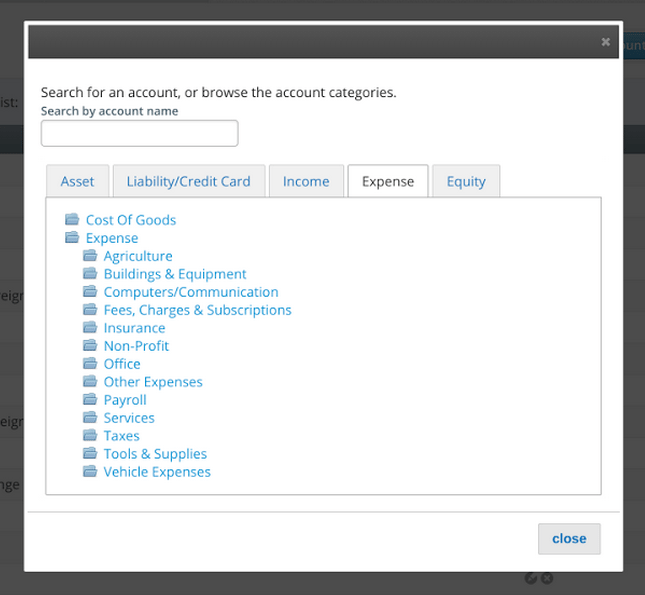 From the same menu you can add journal transactions for any of your accounts. You can also quick-add income and expenses from a separate menu called "Transactions." Overall, Wave has all the basic accounting functionality most small and micro businesses are likely to need. There's just some advanced features you won't find, like the ability to to reverse or set up recurring journal entries, or save them as a draft.
Bank Reconciliation:
You can connect accounts from over 10,000 financial institutions, including Bank of America, Citibank, JP Morgan/Chase and Wells Fargo. Wave will automatically import these statements each day and add them to your transactions. Bank transactions do not go into a separate list, however, as other accounting software will do. This has its benefits and drawbacks.
The benefit is convenience – you can choose not to enter transactions manually and just have them all imported from your bank statements. The downside is you can't reconcile accounts the traditional way, which is to enter transactions manually, then compare them against your bank statement. Wave will automatically match imported transactions with ones you already entered, but since it relies on keywords in the description it's not very reliable.
Wave has a basic auto-categorization method that also relies on the description to categorize imported transactions. Unfortunately, Wave cannot automatically recognize the vendor/customer name. Also, it does not give you the ability to set custom categorization rules, as you can with Xero or Zoho Books.
Invoicing/Billing
You can create invoices and send them to clients directly from Wave. You can also export invoices to a PDF or share a URL for customers to view the invoice. Customers can pay via credit card directly on the invoice. However, unlike the other programs, Wave only offers payment processing via an integration with Stripe. Each transaction has a charge of 2.9% + 30 cents, which is on the higher end when compared to other processors like our recommended provider, Payline Data. 
Invoicing is simple with Wave, yet it has a surprising number of advanced features. You can send estimates, which work the same as invoices without the payment option. You can set up recurring invoices, to repeat after a preset number of days, weeks or months. Bills can also be saved, and look identical to invoices. You can apply taxes to both bills and invoices by adding tax rates separately to each item.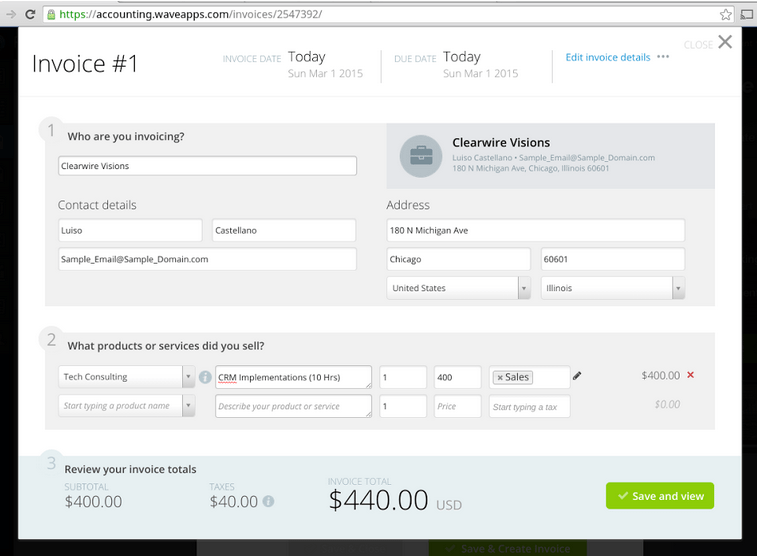 Payment Processing
Payment processing for invoices can be done externally via Stripe. You'll need to set up an account with Stripe, although this can be done fairly quickly and for free. The standard rate, however is 2.9% per transactions, plus 30 cents. Read more about Stripe here.
Customers
Wave is missing a contact book of customers. When you send invoices, you can save the contact details of a client to automatically pull up later, but there's no way to view customers on a list.
Multicurrency
Wave is mostly focused on the US and Canada, although it does have some international transactions. You can link foreign currency bank accounts and log transactions or receive payments. Your reports, however, will display the converted USD value, which may not always be accurate when forecasting.
Integrations
Wave has minimal 3rd party integrations. You can link with Stripe for payment processing. An integration with Etsy lets you automatically import transactions. There's also an integration with receipt scanning service Shoebox, but that's it.
Unlike most accounting programs, Wave does not currently have an API, so there's no way to link Wave with other software, like CRM or project management.
Reporting
Reports in Wave are fairly basic, but likely to suit the needs of a small business. You can generate 11 standard reports (pictured below). You can set a time frame and choose data sources (where relevant) for all the reports. You can view reports from your browser or export them to a PDF, Excel document or CSV. You cannot build reports from scratch, however.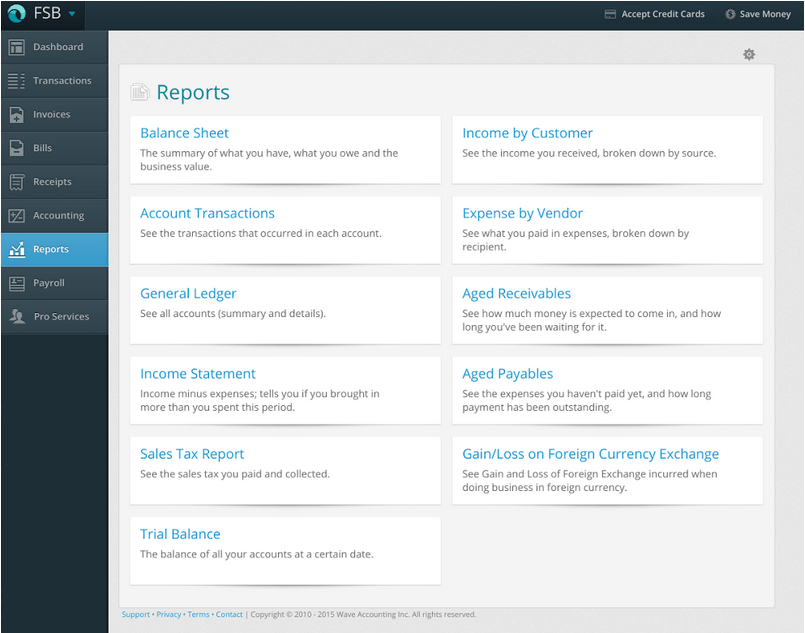 Mobile App
There's two mobile apps: Receipts by Wave available for Android and iOS and Invoices by Wave, which is available for iOS only. As the name implies, Receipts by Wave lets you enter receipts into your system by taking a photo. You can edit and confirm the purchase details before saving them. Besides that, there's no additional features.
Invoices by Wave has a bit more functionality: You can create and send invoices, process payments on the spot and view a summary of your receivables.
Read more about Receipts by Wave for Android or iOS. Also, read more about Invoices by Wave for iOS.
Other Features
Wave has payrolling available as an add-on feature. The price is $15/month plus $4 per employee (after 10 employees, however, it's only $1 per person). You can set up direct deposits and easily print/send W2s and employee income tax forms. Government taxes, however, have to completed manually.
Read more about Wave Payrolling here.
Customer Service
24 hours?
No, support is available from 9AM to 5PM EST Monday to Friday.
US Based or Not?
No, Canada
Phone, Email, Live Chat?
Free users can take advantage of email support and browse or ask questions in the user forum. Live chat is available with the Plus Package ($9/month) and phone support is available with the Advanced Package ($19/month). I don't find any complaints from users about their customer support.
Wave University is a collection of guides to get you started. It covers the basics, like categorizing transactions and receipt scanning. You can also search FAQs and a user fourm.
If you find yourself completely lost with an accounting issue, Wave has a large community of professionals who are experienced with Wave accounting software. You can search for nearby members directly from the main interface. (pictured below) In major cities you'll find many certified professionals to choose from. In small towns, however, it'll be a bit harder to find help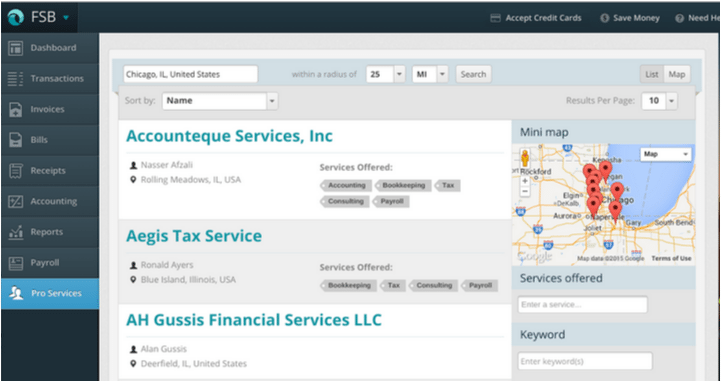 The Bottom Line
The biggest advantage of Wave is that it's completely free to use. While the software is likely to suite the needs of most solo entrepreneurs and micro businesses, it's not quite as easy to use as other lower-end programs like Zoho Books. For example, when I was trying to send an invoice and  filled out a field incorrectly, Wave rejected the form without explaining which field was wrong. I had to guess and check before eventually getting it right. Small issues like this are manageable, but make Wave a little frustrating to use. Also, another drawback is the lack of 3rd party integrations. Wave is not a good solution for businesses who want to integrate their CRM, POS or eCommerce software.
If you just need the basics, however, you can't beat Wave's price tag (or lack thereof). Also, the professional community is a major plus for businesses who need occasional help with their bookkeeping. Using Wave's "Pro Network" you can be assured you'll find an accountant who is familiar with Wave software.