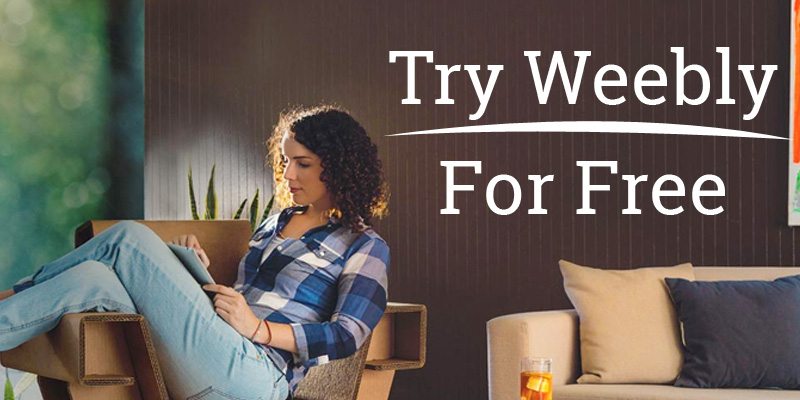 What is it?
Weebly (Website Builder)
How popular is it?
One of the more popular website builders, with well over 20 million websites hosted. They have several hundred employees and are growing.
Want to create a pro business website in less than 60 minutes? Click Here to get our FREE Website Builder guide and find out how.
What does it allows you to do?
Easily Create a professional looking website/functioning ecommerce store without any coding knowledge. You can also completely customize your site with HTML/CSS code if you want.
What it does not allow you to do?
It does not let you run an ecommerce store as effectively as Shopify or Bigcommerce, nor does it have quite as graphically stunning themes as SquareSpace.
Who does it work well for?
Business owners who need an affordable do-it-yourself option for designing a website, especially those who are looking for a stunning and minimalistic themes. They command your attention.
Who does it not work well for?
Business owners who want a high-powered ecommerce solution or business owners who want capability for endless customization/control that will scale with their business.
Free Edition?
Yes
Pricing Compared to Competitors?
Average
Type of Solution:
Cloud
Similar products?
US Based?
Headquarters and customer support in San Francisco and Arizona
Customer Reviews?
Excellent (view reviews)
Weebly Pricing
Weebly pricing includes both free and paid plan options. With Weebly's free plan, you can have a free website with unlimited pages. However, you cannot have a custom domain and Weebly ads appear on your site.
With paid plans, you can connect/purchase a custom domain and access all sorts of additional features, such as HD Video/Audio players, site search options, and increased membership numbers. All in all, the Pro plan is probably the best option, giving you quite a few added features for only several dollars more a month.
Free – unlimited pages, Weebly ads, no custom domain options, no ecommerce
Starter – $8/month, No Weebly ads, custom domain options, customize footer, enhanced reporting, limited ecommerce (up to 10 products and 3% transaction fee)
Pro – $12/month, Starter features + HD video/audio players, site search capability, membership tools (up to 100 user accounts), better ecommerce (up to 25 products and 3% transaction fee)
Business – $25/month, Pro features + SSL site security, checkout on your own domain, unlimited membership and advanced ecommerce (unlimited products, no transaction fee, digital goods, shipping/tax calculator, coupon codes, inventory management)
Check out a full comparison of Weebly's plans, features, and pricing here.
Ease of use
With Weebly's drag-and-drop website builder, it will not take you too long to get the hang of it. It is easy-to-use and updates changes in real-time, allowing you to edit and view simultaneously, which is a super-nice feature. You can drag-and-drop custom forms, surveys, and other handy options using the Weebly interface. Of course, editing text, title headers, and other foundational elements is a given. With around 20-25 minutes of experimenting, you should have a pretty good feel for Weebly's website builder.
Here's the homepage I came up with after 20 minutes or so of experimentation with their website builder.
Primary features:
| Features Included | Features Not Included |
| --- | --- |
| Easy-to-use drag-and-drop website builder | Internally Hosted Business Email (Available Through Google Apps) |
| Mobile Editor/Viewer | |
| Over 100 professionally designed themes | |
| Full HTML/CSS control | |
| SEO friendly | |
| Ecommerce/Online Store Capability | |
| Site Analytics Reporting | |
| Import/Export Your website from other ecommerce stores | |
| Image database with lots of free/paid stock photos | |
| 301 redirects to ensure you keep your google search stats | |
| CSV File exporting (accounting software) | |
Primary Integrations:
| Integrations | Non-Integrations |
| --- | --- |
| Etsy | CRM Systems* |
| Mailchimp | Helpdesk systems* |
| Shopify | |
| All major Social Media | |
| QuickBooks | |
| Google App Suite (including email) | |
| Paypal,Stripe,Authorize.net | |
*Integrate Weebly with Insightly, Zoho, Salesforce, Zendesk and many more using Zapier – a 3rd party integration service.
Detailed Overview
Weebly is our recommended website builder for non-tech savvy small business owners. It is not a hard recommendation to make. Their drag-and-drop builder is easy to use and has an intuitive slide-bar interface that can be learned in under 30 minutes. Also, their themes are pretty good and you have lots of options. Considering that their prices are similar or lower than most competitors, you are going to have a hard time finding a better deal.
Getting a bit more technical, Weebly has a lot of nice additional features as well. They are very SEO friendly, allowing you to customize your site description, meta-keywords, and more for each page on your site. You also have full control over HTML/CSS coding options, which means you can code your own website or hire someone to do it for you. They also have some great ecommerce options. In my opinion, the best available for the price outside of dedicated ecommerce sites such as Shopify or Bigcommerce.
One of Weebly's few negatives, is that if you purchase a custom domain name through Weebly, it is quite expensive, around $38/year. However, you have the option of porting in your own custom domain which you can get for quite a bit cheaper elsewhere.
Features:
1. Number and Quality of Free Themes/Themes in General
Weebly has over 100 professionally designed themes that you can use. Although not quite up to SquareSpace's quality, Weebly's themes are constantly getting better and are beginning to challenge other competitors like Wix.
Here are some of the themes
2. Customizability of themes/design (Drag and drop, html access)  
Weebly's drag-and-drop builder provides you with lots of customization options. Ultimately, you are provided full customization control, because you can access the HTML/CSS code and make any changes you want, if you have the knowhow.
Here's what the drag-and-drop interface looks like. You just grab options from the left side of the screen, drag them onto your live preview page, and it updates your page automatically.
3. Custom Domain Options
Weebly does allow you to buy a custom domain through their site, but it is around $38/year, which is pretty high compared to other providers. However, they do allow you to connect your own custom domain from elsewhere, which you can normally purchase for around $10-$20.
4. SEO Friendly
If SEO friendliness is important to you, Weebly gives you all the tools you need to rank in search engines such as Google. You can customize individual page descriptions, meta tags, and even header and footer code if you want.
5. Ecommerce/online option
If you want to sell products, Weebly has a solid ecommerce platform. I actually am planning to use Weebly for my small business, Rueger Pottery. You can have unlimited products, add coupons, set shipping and tax rates, and connect your store to social media.
6. Mobile Friendly
Weebly's website builder allows you to see and edit your mobile website in real-time. It is a real helpful feature and has great customization ability. My only complaint here, is that your mobile site does not use the same template as your regular site, which means you have to do a fair amount of customization to ensure brand consistency between the two.
Here's what the preview/editing screen looks like on Mobile edition.

7. Reporting
Weebly's reporting capabilities are basic, but helpful. You can view site traffic, keyword usage frequency, and see which pages are performing the best. If you want more advanced capability, you can integrate google analytics.
8. Email Capture/Newsletter Subscription
Weebly recently launched their own Email Marketing service: Weebly Promote.
This is a separate product that integrates closely with their web-builder. You can sign up visitors from your website and create sophisticated email campaigns. One perk is that you can design emails that follow the same theme and navigation as your website.
On the other hand, Weebly Promote is a bit expensive (starting at $8/month) considering you get stronger tools for free from MailChimp, our recommended email marketing provider. Fortunately, you can easily integrate a free MailChimp will Weebly. You just copy a ready made code-form from your email marketing provider, add an HTML/CSS box from Weebly's website builder menu, and then paste the code. That's all there is to it.
9. Business Email
Weebly does not provide internal email hosting for business email. However, they do integrate with Google Apps. So, you can run your business emails through there for around $5/month and still have them connected with Weebly.
10. Appointment Booking
If you are hoping to give your the customers the option of booking appointments or RSVPing to events online, you are in luck. Weebly has both booking and RSVP forms available right on their website builder dashboard. Just drag-and-drop.
11. Marketing Tools
If you are looking to boost your business, Weebly's marketing tools can help. You can connect your page to all of your social media pages, and set it up to share directly to a Facebook page. You can also integrate with mailchimp and other email marketing services.
12. Live chat
Weebly recently launched a live chat tool, Simple Chat. The add-on starts at $8/month, which is very low compared to other live chat programs.
You can add a custom-branded live chat widget to your website (or just to specific pages). You can chat with up to 3 customers at one time from your computer, or even from your smartphone.
13. Invoicing
At this point, Weebly does not have an invoicing option on their site. However, they integrate with Paypal, which allows you to send invoices and collect payment.
14. Blogging
Weebly has a great blogging platform. You can add posts, configure multiple design elements of your blog, post to social media, and more. Weebly also allows you to schedule posts to be published at a future date, so your blog keeps working even when you are busy.
Weebly does allow multiple editors on their website, which means a guest blogger can contribute with the right permissions. Other than SquareSpace, which allows multiple author bios, Weebly has the best built-in blogging options of the website builders I have reviewed.
Integrations:
Weebly has some great integration options, as has already been mentioned above. You can connect with all your social media sites, and put buttons to those sites directly on your Weebly site. Also, you can set up your site to share blog posts and other updates directly to Facebook.
There are a variety of other helpful business integrations with Weebly. For one, you can integrate with MailChimp, making sure your email marketing is covered. Also, you can export files directly into Quickbooks, as well as export CSV files to other accounting programs.
Of course, being integrated with Google App's Suite is critical nowadays. Weebly understands, allowing you to integrate directly with your google business app account.
Customer Service
24 hours?
No.
US Based or Not?
Yes.
What's The Method of Delivery?
Weebly offers live chat, email, and self-help forum support, and are rated very well by their users. They do not offer phone support, which is a downside. Despite the fact that they do not offer phone support, their customer support is still rated highly, earning 4 out of 5 stars from our reviewers.
Summing It All Up
When all is said and done, Weebly is one of the best drag-and-drop website builders out there. Their easy-to-use interface, wealth of features, and low-cost is hard to beat. Creighton,  one of our reviewers from controllersurge.com, concludes, "Weebly is beyond the #1 best website builder out there today! My experience with Weebly has been 5/5 out of the 3 years I've been using it."
Want to create a pro business website in less than 60 minutes? Click Here to get our FREE Website Builder guide and find out how.