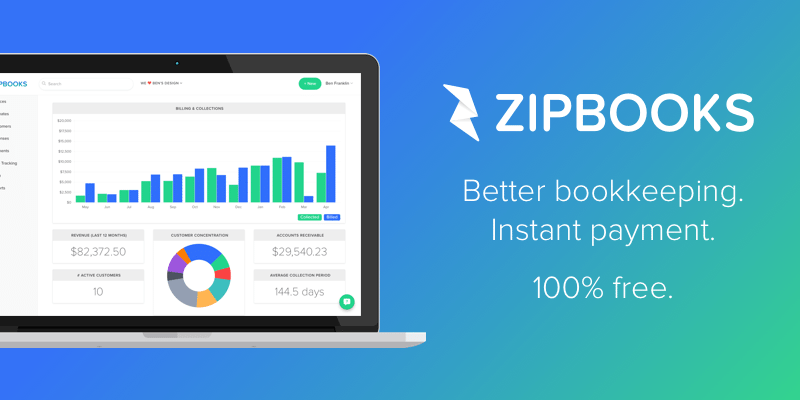 What is it?
Free invoicing & time-tracking software.
How popular is it?
ZipBooks is a newly-emerging company.
Similar Products?
What does it do well?
ZipBooks is easy-to-use invoicing software with some surprisingly advanced features, like auto-billing and invoice financing.
What does it not do well?
It can be cumbersome for managing complicated orders/projects
Who does it work well for?
Freelancers and small businesses who want easy-to-use software for  invoicing as well as time/expense tracking.
Who does it not work well for?
Larger businesses who need to track inventory and/or manage complicated projects.
Time Tracking?
Yes
Send invoice via physical mail?
No
Does it support multicurrency?
Yes
Free Version?
Yes
Cost Compared to Competitors?
Low
Cloud or Hosted?
Cloud
US Based?
Yes
 Click a Button For More Info
ZipBooks Pricing
ZipBooks is completely free to use. The only potential cost is a small payment processing fee (2.9% + 30 cents) if you wish to accept online credit card payments.
Ease of use
Setup – Easy.
The setup process is very simple and straightforward. Upon logging in for the first time, ZipBooks presents you with a short checklist to get your account up and running. Should you have any questions, you can chat/email with support directly on the interface.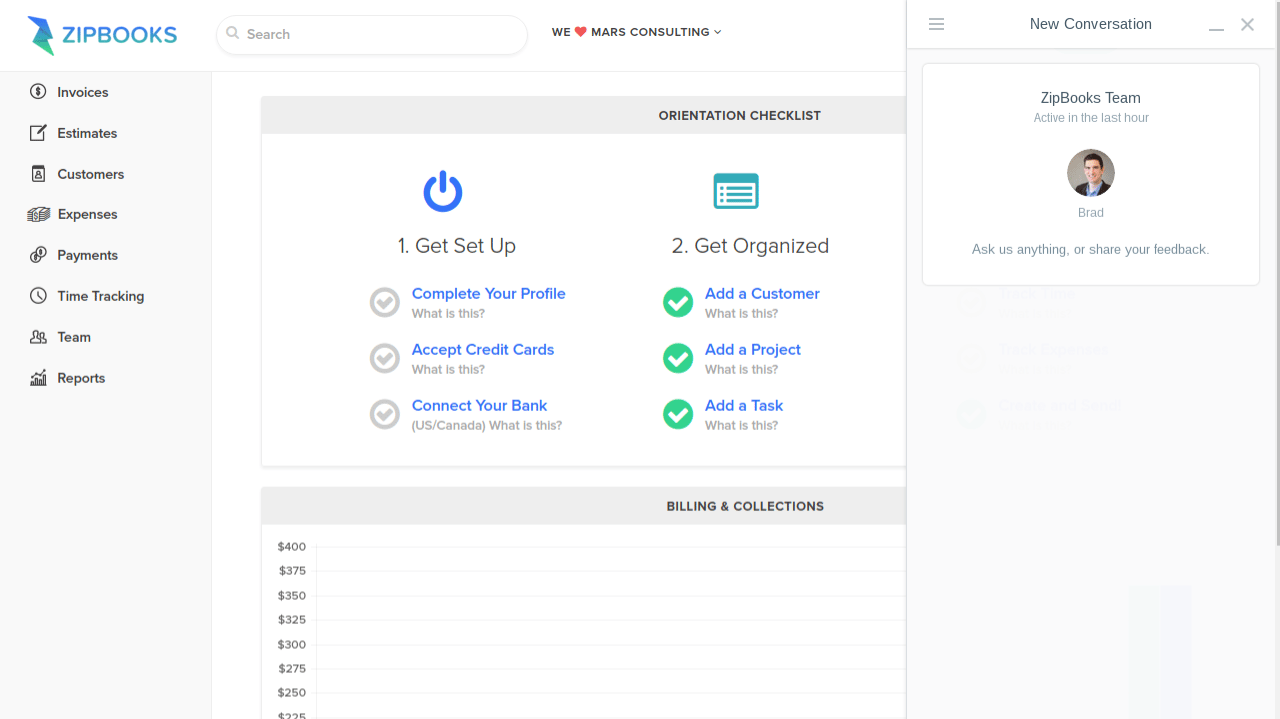 End User – Easy.
ZipBooks has a sharp interface that's very easy to use. I didn't experience any bugs or button-response issues that are characteristic of other free invoicing programs, like Wave. The menu keeps things simple, so it's ideal for small teams who want to operate quickly and efficiently.
Support – Moderate.
ZipBooks has attentive and personalized customer support. The downside is their hours are not consistent: While live chat is offered, your messages might get routed to email during business hours. To their credit, I did receive an email response very quick (within an hour.)
Primary features:
| Features it has | Features it does not have |
| --- | --- |
| Recurring Invoices | Save List of Products/Services |
| Time Tracking | Send Invoice via Snail Mail |
| Estimates | Send Invoice via Snail Mail |
| Payment Processing | |
| Auto-Payment | |
| Multi-Currency | |
Primary Integrations:
| Integrations it has | Integrations it does not have |
| --- | --- |
| Cloud Storage (Google Drive) | Time Tracking (Toggl, Harvest) |
| Payment Processing (Stripe, WePay) | CRM (Zoho, Salesforce) |
| Project Management (Asana) | eCommerce (Shopify, Big Commerce) |
| | Digital Signature (Right Signature) |
| | POS (Shopify, Vend) |
| | Payroll (ZenPayroll) |
| | Accounting (Quickbooks, Xero, Wave) |
| | HelpDesk |
| | Zapier |
Detailed Overview
How To Create Invoices
Invoices are basic, but very straightforward. You can enter tasks and items on the fly, along with the hours/quantity and rate. Below, you can enter notes for the recipient. You can also customize your invoice with a logo at the top.
When you finish, you'll enter a preview screen. Then, click "Finalize" at the top to email your invoice to the client.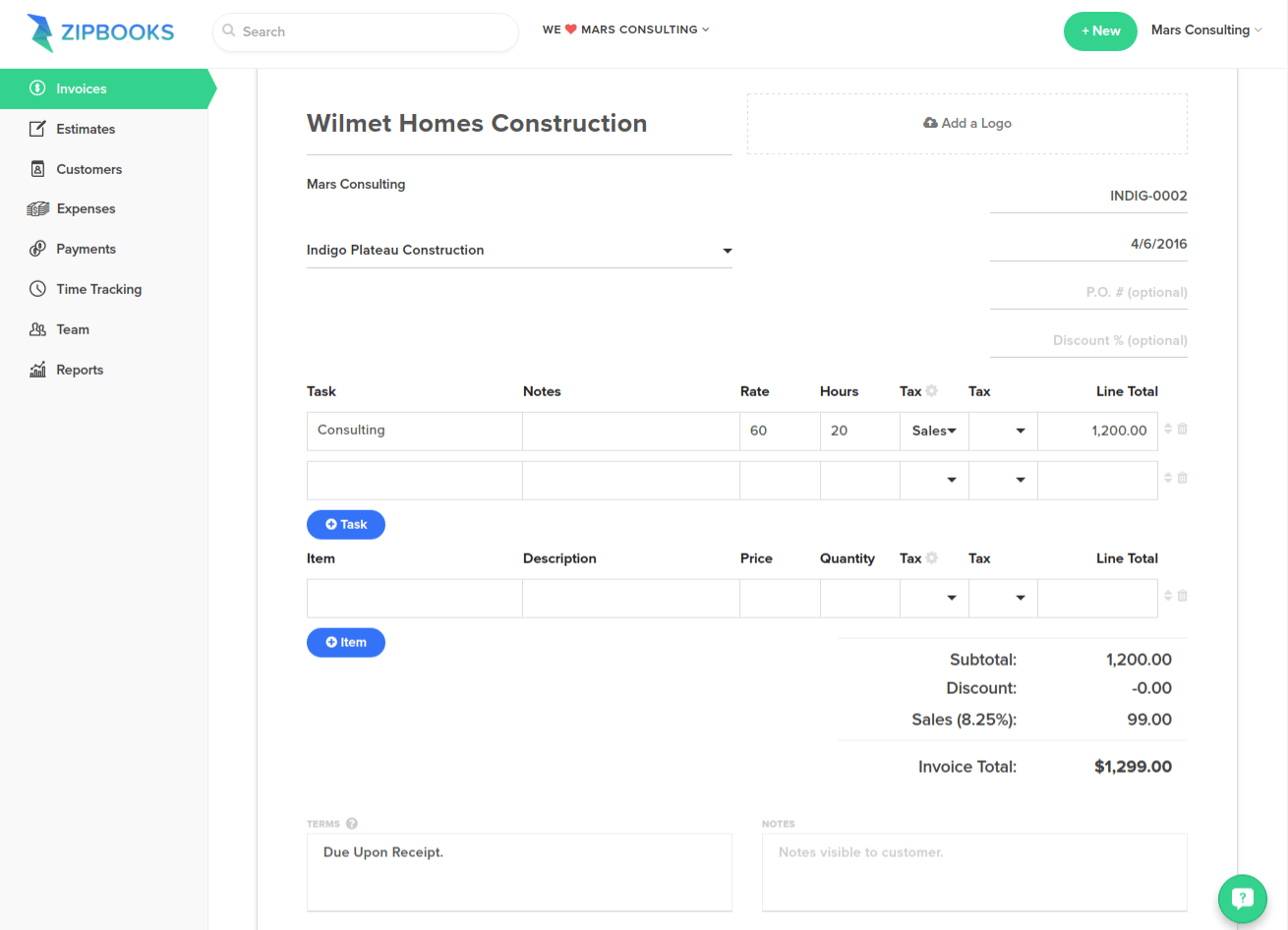 With a simple and pain-free interface, you can send out payable invoices in mere seconds. This is a major plus for those with simple orders. For more complex orders, however, ZipBooks has one key drawback: You can't save a list of items. In other invoicing programs, like Freshbooks, you can add products from a pre-saved list and auto-populate the cost, description and tax rates.
That said, ZipBooks does have time & expense tracking, which we'll explain more further down. If you have unbilled time or expenses for a client, ZipBooks will give you this notification:
Clicking "Add to Invoice" autopopulates the invoice with the unpaid expenses. This can be a huge time saver, though you'll need to get in the habit of using ZipBook's time and expense tracking.
Sales Tax
Managing tax rates is simple and flexible. You can enter tax rates on the fly, or add them from a list of pre-saved rates. You can enter tax rates separately for each line item (up to 2 tax rates), but not to the invoice as a whole. This could potentially get tedious if you have 10+ items on your invoice
From what I could tell, there's no way to automatically import tax rates (such as from program that automatically imports tax rates based on the customer's location.)
Recurring Invoices/Auto-Payment
ZipBooks supports both recurring invoices and auto-billing, which makes it suitable for businesses with subscription-based billing.
From the invoices tab you can select "Recurring Profiles." From there, you can create invoices are automatically sent on a recurring basis (weekly, biweekly, monthly, annually + many more options). There's even an auto-bill feature, which means customers can automatically have their credit card charged each time payment is due.
Read more about recurring invoices here.
Custom Formatting
You can add your logo to invoices, but you can't change the font, colors or formatting. Fortunately, their default design is minimalist and professional-looking. There's also no ads or pop-ups, which a lot of other free invoicing services will place on your bill.
Read more about customizing invoices here.
Payment Processing
ZipBooks has two payment processing partners: Stripe and WePay. Both charge a standard fee of 2.9% of your transaction value + 30 cents. By enabling payment processing, you can include a link for clients to pay via credit card directly on your invoice. This makes paying very simple for your clients and greatly improves your chance of receiving speedy payment.
Estimates
In addition to invoices, ZipBooks lets you create estimates for your clients. Estimates work the same as invoices. The only difference is that, once sent to clients, there's no button for them to pay. Instead, they can click to "accept" the estimate. Doing so will give you an immediate notification, and can even launch a project automatically in ZipBooks.
Time Tracking
Though it took some familiarizing, ZipBook's time tracking tool is sufficient for freelancers and small teams to manage their hours spent on projects. You can add time-entries manually, or launch a timer, which opens in a separate window.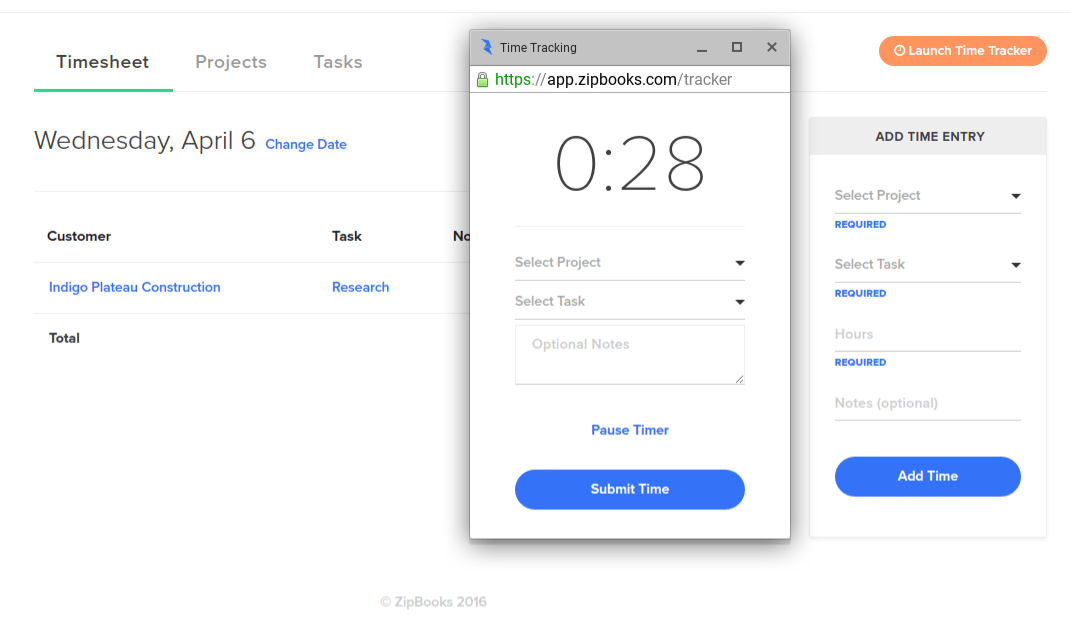 To use the time tracker, you first have to create "projects" on the time tracking tab (you can technically launch the timer on-the-fly, but you can't save entries without linking them to a project).
Working with projects was a little cumbersome. For each client you save in the system, there's a "general" project. Choosing this will link the hours you worked to that client. You can also create separate projects for each client, however, with a specific names. Within each project, you also create "tasks." While this technically allows you to manage more complicated projects, the process was a bit confusing.
Accounting
In addition to tracking time, ZipBooks allows you to track expenses. Under the "Expense" tab, you can note any costs incurred and link them to a client. As with time tracking, these expenses will automatically appear when you go to bill the client.
Between billing and expense tracking, ZipBooks allows you to generate two key accounting reports: An Income Statement (Profit and Loss) and Expense Reports.
Aside from these reports, I did not find any other accounting features. You cannot link your bank account to reconcile transactions, nor can you export data as a spreadsheet
Integrations
ZipBooks supports integrations with Google Apps, Chrome, Slack, Asana and Spiceworks.
With the Chrome extension, you can track time from your toolbar. This allows you to launch the timer without opening ZipBooks. The Chrome extension also connects with Asana, so you can quickly move your projects/tasks from Asana into ZipBooks.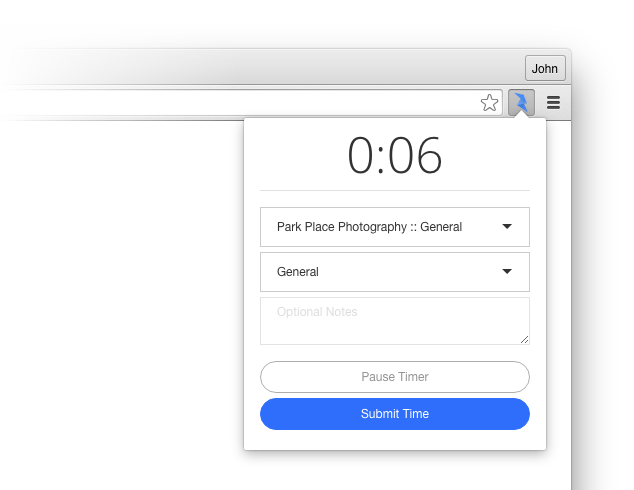 For more on ZipBooks integrations, check out our their website here.
Reporting
As we explained above, ZipBooks offers a pair of accounting reports: Income Statement (Profit and Loss) and Expense Reports. You can set a custom timeframe and, for your Income Statement, select cash or accrual basis.
The homepage to ZipBooks also features a dashboard with reports: You can view a timeline of collections and hours worked, as well as various stats on your revenue.
Mobile App
ZipBooks has an advanced iPhone app, slated for a Spring 2016 release.
The iPhone app has almost all the same functionality as the desktop version: You can create, edit and send invoices. You can add customers, create estimates and even run track time on the go. The iPhone app even adds some new features, like a receipt capturing tool for tracking expenses.
Other Features
One of the key features of ZipBooks is Invoice Financing. If you have slow-paying clients, ZipBooks can advance the full value of the payment as soon as you send the invoice. Then, you pay ZipBooks back (with a 0.5% per week interest) as soon as the client's payment comes through.
To read more about Invoice Financing from ZipBooks, check out their website here. You can also read our Fit Small Business guide What Is Invoice Factoring Is and How It Works.
Customer Service
24 hours?
No, 10am to 8pm EST
US Based or Not?
Yes
Phone, Email or Live Chat?
ZipBooks offers Phone, Email & Live Chat support. While their support is attentive and high-quality, the hours are not always consistent. You can chat with support directly from the main interface. However, during my trial (which took place during regular business hours) my messages were routed to their email. To their credit, I did receive a helpful response within an hour.

As a smaller startup, ZipBooks does not yet have a vast user network or support article library. They do, however, have a handful of helpful guides that walk you through setting up various features.
The Bottom Line
ZipBooks is perfect for those who want a free invoicing program without skimping on features or quality. Because they earn revenue through payment processing and invoicing financing, they can afford to deliver top-notch user experience and attentive customer support.