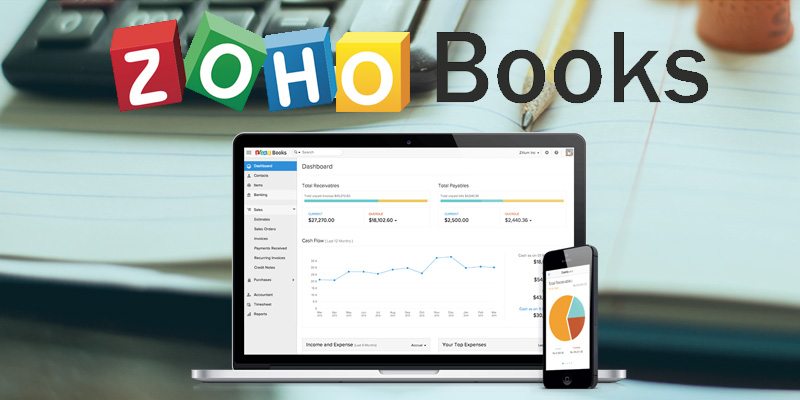 What is it?
Accounting, invoicing and time tracking software for small businesses.
How popular is it?
Zoho does not publish user data for their accounting software specifically, but they have over 13 million users across all their business products.
What does it do well?
It gives you a user friendly accounting and invoicing platform that integrates closely with Zoho CRM.
What does it not do well?
There's no payroll or integrations with eCommerce or POS software (besides Square).
Who does it work well for?
Small businesses who want simple accounting software that's a step up from Wave, or that want Accounting integration with ZohoCRM.
Who does it not work well for?
Businesses who want to integrate their accounting software with payroll, eCommerce or POS.
Cash or accrual based accounting?
Both
Does it save Audit Trails (log of user activity)?
Yes
Free Trial?
Yes
Cost Compared to Competitors?
Mid-Range
Cloud or Hosted?
Cloud (hosted package also available)
Similar products?
US Based?
Company, Yes. Customer Service, No (India).
User Reviews?
Not Rated (see reviews)
Zoho Books Pricing
There's only one edition of Zoho Books. It's $24/month for unlimited users, or $20 if you pay annually.
Ease of use
Setup – Easy. Like Quickbooks, Zoho Books has a guided setup process you can skip if you prefer to dive head in.
User Interface – Easy. Zoho Books may be the easiest accounting software to use. It's much simpler than Xero or Quickbooks, yet, it avoids bugginess of other user-friendly programs like Wave. Zoho has a clean interface that keeps menu options limited and meaningful. Linking bank accounts is easy – you just need to enter your account ID and password (when supported).

Support – Moderate. Zoho has 24/5 phone and email support, although many users have noted negative experiences with the support team. The online help center, is loaded with support materials, included searchable FAQs, user guides, community forums, webinars.

Features
| Features it has | Features it does not have |
| --- | --- |
| 5 Types of Accounts | Payroll |
| Auto-import Bank Statements | |
| Categorization/Automation Rules | |
| Invoicing | |
| Payment Processing | |
| Multi-Currency | |
| Time Tracking | |
| Invenroty Management | |
Integrations
| Integrations it has | Integrations it does not have |
| --- | --- |
| Google Apps | eCommerce |
| Zoho CRM | Project Management |
| Time Tracking (Temponia) | Digital Signature |
| Payment Processing (Stripe, Paypal) | Payroll |
| POS (Square) | Zapier |
Check out the full list of integrations here.
Detailed Overview:
Accounts:
Zoho Books supports the five main types of accounts (assets, liabilities, equity, revenue and expenses). You can view and edit these under "Accountant" and "Chart of Accounts," where you can easily filter by account type.
Journal entries are fairly basic and most comparable to wave. Line items appear as data forms rather than spreadsheet rows as they do with Quickbooks and Xero. This makes it a little difficult to handle a larger number of items. Also, you can't save entries as a draft or attach documents.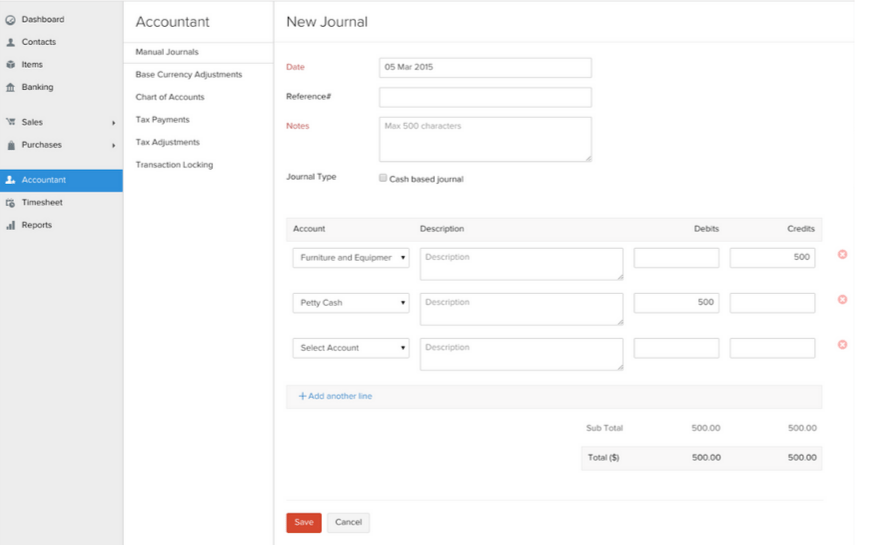 Bank Reconciliation
You can link accounts from all major financial institutions, including Bank of America, Citibank, JP Morgan/Chase, Wells Fargo and many more. Zoho Books will automatically import your bank transactions each day. Just like traditional bank reconciliation, you'll be asked to match or verify each transaction before it gets added to your books.
Zoho will search your existing entries and, based on the transaction value, suggest matches. If no match is found you can search through your transactions by select an amount and date range. You can't search by description.
If you don't enter all your transactions manually and instead want to import them straight from your bank, Zoho Books can auto-categorize these transactions based on preset rules. For example, you can set a rule that any transactions containing the word "OFFICE" in the description will be categorized as "Office Equipment." Or, any transaction above $500,000 is classified as "Payroll." (Read more here)
Of all the accounting software we reviewed, only Zoho Books and Xero have this feature.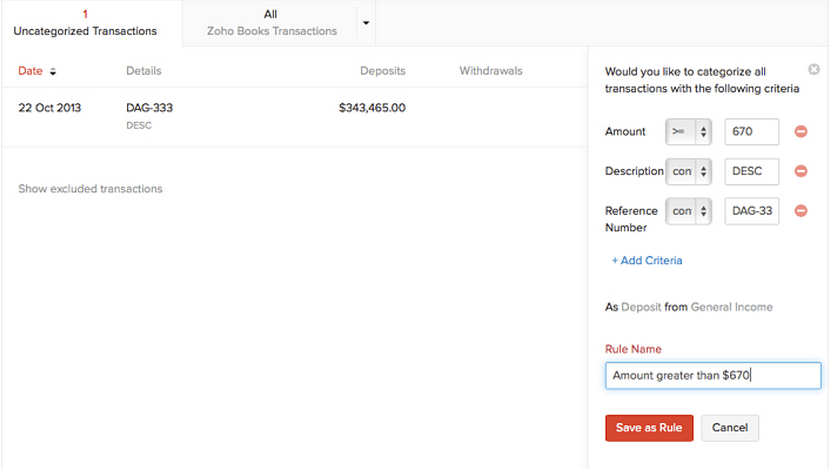 Invoicing/Billing
You can create invoices and email them directly to clients with a link to pay online (see payment processing section below). Invoices are pretty standard. You can add line items on the fly, or pull up saved products/services from your inventory.
You can apply taxes separately to each line item, provided you've saved these taxes under "Settings." Zoho books also supports an integration with Avalara, which automatically updates sales tax in the U.S. Using the customer address, Avalara can determine exactly what to charge for taxes. Note, this requires an Avalara subscription, which starts around $465/year. (Read more here)
Some of the additional features you get are the ability to make invoices recur and send estimates to clients. You can also save your bills, which is a menu similar to invoices, although you can't apply taxes. Zoho also has a lot of customization options for invoices. You can choose from 9 different templates and customize the font, formatting and body text.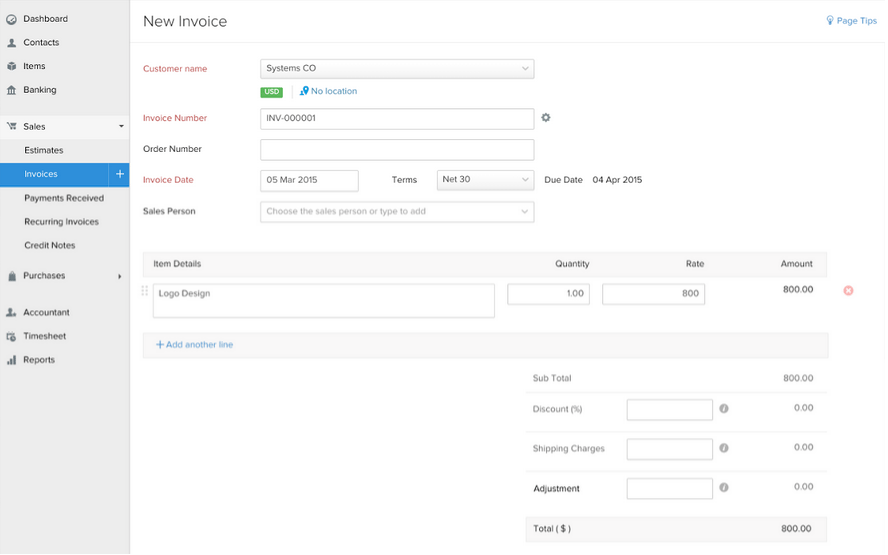 Payment Processing
Zoho Books handles payment processing externally. You can integrate with Stripe, PayPal, Authorize.net, 2Checkout and Braintree. You can choose exactly which payment options to give customers when you send an invoice. So if you know one will have lower fees than another on a particular transaction, you can offer that payment method.
Customers
Zoho Books keeps a list of customers and vendors. Clients you invoice and vendors you pay are automatically added to the list. You can also import contacts from Zoho CRM. Clicking each customer brings up a profile where you can view their contact details, a summary of recent transactions and a list of past transactions.
Multicurrency
Zoho books has basic multicurrency support. You can add foreign bank accounts and send foreign currency invoices. You can run reports with your foreign accounts, but to convert to USD you have to manually enter the exchange rate. Zoho books does not update exchange rates automatically.
Integrations
Zoho books has a handful of 3rd party integrations. The best add ons, however, are other Zoho Apps, such as Zoho CRM. You can sync your contacts between the two programs and even monitor invoices from within the CRM. Zoho Books also has an API for developers who want to route their Zoho Books data to another program.
Reporting
Zoho has 36 standard reports, including profit and loss, cashflow statement, balance sheet, payables/recievables, purchases/expenses, foreign currencies and more. You can't do much in the way of customization. You can adjust the timeframe and a few other factors, but you can't add data fields or build reports from scratch.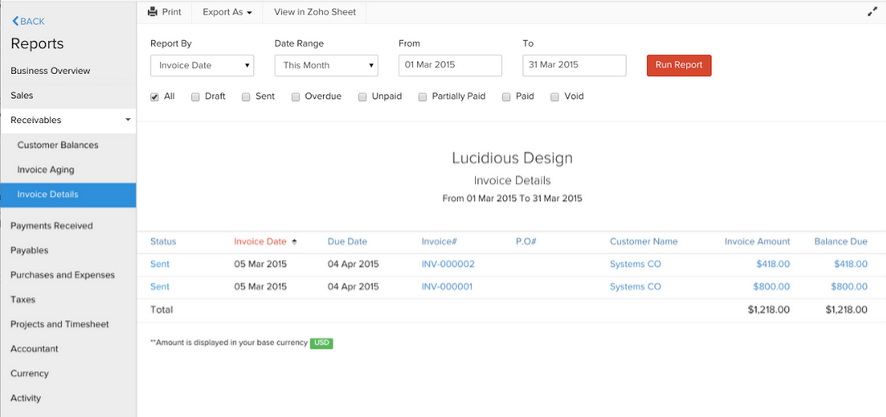 Mobile App
Zoho Books has a solid mobile app for iOS and Android, as well as Windows Phone and Surface. You can create and send invoices/estimates, record expenses, create contacts, view reports and track time. You cannot, however, create accounts or process payments on the spot (like you can with Quickbooks Online).
Read more about the Zoho Books Android and iOS mobile apps.
Other Features
As a bonus feature, Zoho Books has very solid time tracking. Under "Timesheet" you can create a new project. List the client, the billable rate and create a list of tasks. Then, you or another user can "run the clock" as a task is completed. This gives you an accurate measure of hours worked, which you can later show the client on the invoice.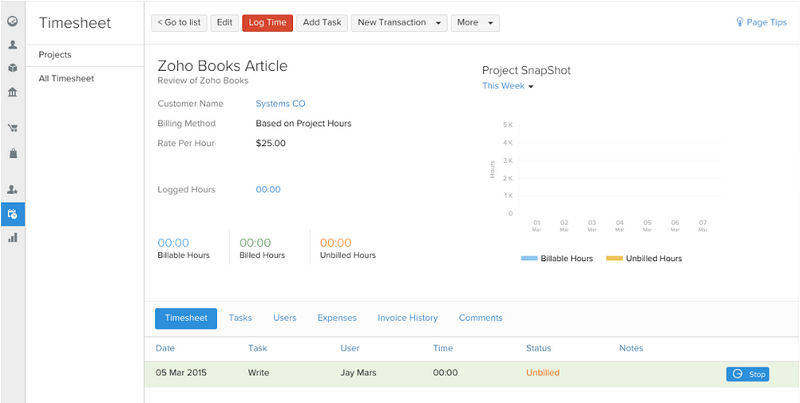 Customer Service
24 hours?
Yes. You can call support 24 hours, Monday to Friday.
US Based or Not?
No
Phone, Email or Live Chat?
Zoho Books has phone and email support that is available 24 hours, Monday to Friday, although many users noted poor experiences with the support team. There's a very comprehensive support page, however, where you can search through help documentation, FAQs, user forums, or register for a weekly webinar session.
The Bottom Line
Although Quickbooks Online and Xero start off cheaper, Zoho is less expensive if you need more than 5 users or need to send more than 5 invoices per month. Zoho is a bit easier to use than the other platforms, especially if you're a Zoho CRM user. If you need payroll, however, or want to integrate your POS system or eCommere store, then Quickbooks Online or Xero is a better choice.