An advanced and customizable CRM system for small and medium-sized businesses.
How popular is it?
Between its 33+ products, Zoho has over 15 million users as of September 2015. They have over 2,500 employees and operate around the world.
What does it do well?
Zoho a highly customizable CRM that's designed to work with many other business programs. It can be programmed to do a lot of things automatically, like assign leads or send followup reminders. It's also much cheaper than Salesforce, which is their main competitor.
What does it not do well?
It's not as intuitive for basic contact and task management. Insightly is better at this.
Who does it work well for?
Larger teams who need a system with automation rules, or that can integrate with other business software.
Who does it not work well for?
Small businesses who don't need advanced features and are just looking for an easy to use contact and task management system Also, Zoho is not compliant with HIPAA so it's not ideal for medical practices who want to store patient information.
Free Edition?
Yes. Free with limited functionality for up to 10 users (store up to 25,000 records)
Price Compared to Competitors?
Low
Type of Solution:
Cloud & Mobile
Similar products?
US Based?
Company, Yes. Customer Service, No (India).
Customer Reviews?
Average (view reviews)
 Click a Button For More Info
Zoho Pricing
You can use a free version of Zoho CRM with limited features and storage for up to 10 users (no mass emails, sales forecasting, custom reports & more). You're also limited to 25,000 records, which is anything you save in the system including contacts, accounts, leads, opportunities, tasks, etc.
The paid versions of Zoho boost your storage as well as the number of mass emails you can send per day and the number of email templates you can save. They also add more advanced features with each subsequent tier.
Free

Standard
$12/user/month

Professional
$20/user/month

Enterprise
$35/user/month

Save up to
25,000 records

Up to 10 users

Save up to
100,000 records

Adds mass emails
(up to 250/day),
sales forecasting,
marketing campaigns
and custom reports

Unlimited records

Standard features
+ lead assignment
automation (for
assigning leads to
users), Outlook
integration

Up to 500
emails/day

Unlimited records

Professional features
+ territory management,
custom modules & more


Up to 1000 emails/day
Note: The prices above reflect the annual rates. If you want to pay month-to-month instead, the cost is about 25% higher.
For this guide, we're going to focus on the Professional Edition ($20/month) since it's the most popular. For a more detailed comparison of the editions, check out Zoho's website.
Ease of use – Moderate.
Setup – Moderate.
Getting data into Zoho is simple and straightforward. You can import data from Google Apps, Outlook or a .csv spreadsheet file (explained here). What's a little more difficult is customizing the system. Menus like "contacts" and "accounts" are a bit cumbersome out-of-the-box with 25-30 data fields (see below). So you'll probably want to slim down under system settings.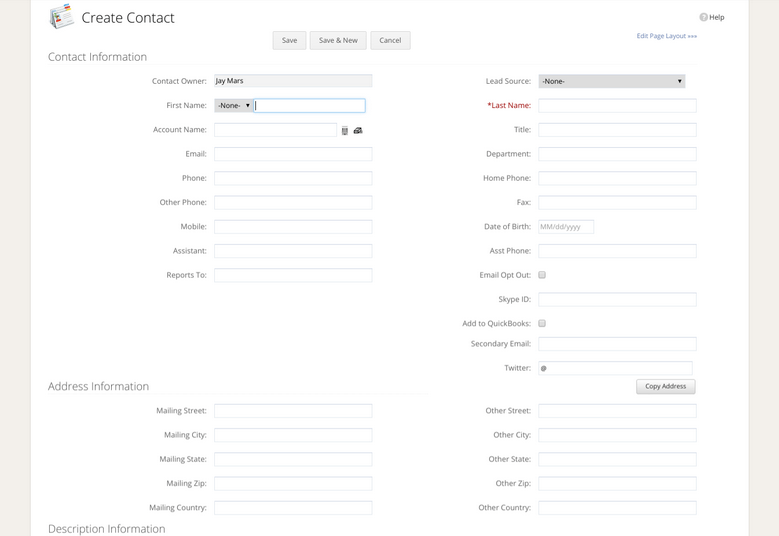 Administration – Moderate.
Adding new users is a simple process. You just need to enter in some basic information (name, email address) and send that user an invite to register via email. Things can get a little more complicated when you set up automation rules & integrations, of course, but I didn't find anything to be particularly difficult.
End User – Moderate.
If set up properly, Zoho CRM can be easy to use. In my experience it ran a lot faster than Salesforce and took fewer clicks to navigate between menus. If you don't slim down the top navigation bar or menu pages, however, it can be a little difficult for the average user.
Help – Moderate.
Zoho has a handful of demo videos to help you get started. They also offer 24-hour customer service Monday through Friday by phone and email. The wide availability of support puts them ahead of many competitors, although the quality of phone support is not quite as high.
Primary features:
| Features It Has | Features It Does Not Have |
| --- | --- |
| Contact Management | Project Management* |
| Sales Pipeline | Territory Management (Enterprise Edition only) |
| Task Management | Accounting* |
| Workflow Automation | HelpDesk* |
| Calendar | |
| Email Marketing | |
| Advanced Reporting | |
| Document Library | |
| Invoicing | |
| Social Media Monitoring | |
| Web Form Integration | |
*Available as an add-on
Check here for a full list of Zoho CRM features.
Primary Integrations:
| Integrations Supported | Integrations Not Supported |
| --- | --- |
| Social Media (Facebook, Twitter) | Dropbox* |
| Google Apps | Quickbooks* |
| Mailchimp | Freshbooks* |
| Evernote | Shopify* |
| Zapier | |
| Phone/VoIP (via gUnify) | |
*Integration supported through Zapier, a third party app that lets you automate workflow between Zoho and other applications.
Check here for a full list of Zoho CRM integrations.
Detailed Overview
Zoho CRM is for small and medium businesses who want an automated system, or just want advanced features like custom reports, inventory management, invoicing or integrations with other business programs. The Zoho company has a huge suite of business software including accounting, project management, recruiting and help desk software – and most of these can link up seamlessly with Zoho CRM.
An "automated" CRM is one that can complete certain actions automatically based on the rules you define for it. For example, you can have it automatically distribute leads to certain employees if the lead is from a certain part of the country, came a from a certain landing page on your website, etc. Other uses of automation can be to automatically assign tasks when a sale reaches a new stage, or to receive follow up reminders when you haven't spoke to clients in a while.
Because of these customization/automation options & advanced features, Zoho can be a little difficult to set up. If you just want basic contact & task management, we recommend trying Insightly instead.
Features:
Contact Management
You can save a list of contacts, which are the individuals you do business with, as well as accounts, which are the companies or organizations they represent. You can link contacts and accounts together – so, for example, by searching company x, you can find all your individual contacts who work for them.
Zoho also has lead management. You can save a list of leads under a separate menu. When a lead becomes qualified, click "convert" and you can create a new contact, account and sales potential from that lead.
Sales Pipeline
The "Forecasts" tab on the menu bar lets you view your sales and pipeline potential by quarter. It's available on any of the paid versions of Zoho CRM. (read more about it here)
Task Management
Under "Activities" you can create tasks or events and link them to contacts, accounts or potentials. Zoho CRM also has workflow automation, so for example, you could set up a rule that whenever a new lead is added to the system, a salesman will be assigned a task of calling the client. (explained more in the video below)
Reporting
Zoho CRM has over 40 standard reports on topics including sales, contacts & accounts, activities (including tasks & events), customer support, marketing and inventory management. You can also customize each report by selecting different data columns, setting a custom time frame and choosing between a tabular report, summary report or matrix report. (more here)
Email Marketing
Zoho CRM has advanced email marketing. You can send mass emails (up to 500/day with a professional account or 250/day with standard) and analyze how many people read or clicked links in the email.
Through an integration with Zoho Campaigns, you can also set up drip campaigns, which are pre-written messages sent to clients over a period of time. What's especially handy is how email campaigns work with your automation rules. For example, you could create a rule that whenever a new lead gets added to your system from a certain landing pages, they're sent an introductory email.
Zoho CRM has a rich text editor for writing emails and saving templates.
Territory Management
Territory management is available in the Enterprise edition only ($35/month). You can delineate sales territories based on geographic location of the account, size of the account, product lines or industry. For each territory, a user can be given no access, read only access or read/write access. Watch the video below for more on managing sales territories:
Document Library
Zoho CRM also has basic document management tools. There's a document library where you can create folders and subfolders. Each file saves a version history, so you can upload new drafts without deleting older versions. Also, you can attach documents to emails straight from your library if you use the in-platform email client. (learn more here)
Project Management
Zoho CRM does not have native project management. However, you can integrate with Zoho Projects, which costs $0 – $80 per month depending on the number of active projects you need at one time.

With the CRM you can still assign tasks to users (or even a series of tasks based on "trigger" rules), but they're not organized as projects. There's no project menu to view progress, nor can you create Gantt charts. You do get these features with Zoho Projects, however.
Automation
Automation in Zoho CRM is one of their premier features. They highly customizable system can automate many different business processes. Here are just a few examples:
Automatically assign leads to different employees based on certain criteria

Alert the manager when a sales opportunity reaches the final stage or surpasses a certain value

Automatically assign tasks when a new record is created (such as, when a new lead is added to the system)

Capture leads or customer service cases from a form on your website

Receive follow up reminders after 2 weeks, 1 month, etc.

Automatically email clients when certain "triggers" are activated (see here)
Automatically assign a task when a sales meeting is cancelled
Read more about automation here on Zoho's website.
Calendar
Zoho CRM includes a calendar that shows your upcoming events and calls. It is for individuals only, however. You can't see events for other users on your team.
Invoicing / Accounting
You can draft invoices straight from Zoho CRM. If you have your inventory saved, you can quickly select the product(s) you're billing for and quantity. You can also associate the invoice with other records, such as emails or documents – or activities, if you want to show your client an hour log. Once complete you can apply a taxes or discounts and save the invoice. I could not find any way to send them directly to clients, however. (more on invoices here)
Zoho CRM does not include accounting tools. However, you can integrate with Zoho books for an additional $24 per month.
Desktop/Server Based/Mobile/Offline Access
Zoho is cloud hosted, so you don't need to install any software on your computer. You can access Zoho through your web browser or a mobile device. It does not support offline access, however, so you have to be connected to the internet to use Zoho. The mobile app, however, does work offline.
Mobile App
Zoho has a very strong mobile app available for iOS or Android. Most of the features of the desktop version are intact, plus, it works offline. You can access Contacts, Accounts, Potentials, Leads, Tasks, Events, Products, Quotes and more. For each of these, you can view, edit, create or delete records. You cannot, however, access Campaigns, Reports, Documents or Invoices.

Some recent features include a mapping tool, which displays your contacts (by address) on a scrollable map, and the ability to call contacts (and subsequently log calls) directly from the app.
The mobile app works offline, which means you can view and edit records even if you don't have a signal – Zoho will synchronize as soon as you get back online. Users, however, noted this could be a challenge if you have over a thousand contacts. In order to work offline, your mobile device needs to download all your records. This can take a long time if you have a lot of data.
For more on how the Zoho mobile app compares to other CRMs, check out our guide to the Best Mobile CRMs.
Integrations:
Zoho integrates with many other business programs, including Mailchimp, Evernote, Outlook, Gmail, Google Docs, Adwords, Zopim and more. It also integrates with other Zoho business apps, including Zoho Docs, Zoho Projects, Zoho Support and more. (Check out the full range of integrations here)
Through Zapier, a 3rd party integration service, Zoho can link with over 450 other programs, including Quickbooks, Xero, Freshdesk, Basecamp, Shopify and many more. Just note that Zapier is a subscription service that may require a monthly fee, depending on how many programs you need to link.
For social media, Zoho links with Twitter and Facebook. From Zoho's menu bar, the "Social" tab lets you view mentions of your business. You can also view your contacts' latest tweets. (see more here)
For email, you can integrate many different clients with Zoho CRM in order to send and receive emails directly from Zoho. Supported clients include Gmail, Yahoo and Microsoft Exchange. If you prefer to use your own email client, Zoho gives you unique forwarding address you can use to link emails to contacts or leads. Learn more about Zoho CRM email integration here.
Customer Service
24 hours?
Yes, Zoho support is available 24 hours, Monday through Friday.
US Based or Not?
Not US Based
Phone, Live Chat or Email?
Zoho has a handful of demo videos to help you get started. They also offer phone and email customer service, although I found frequent complaints about the poor quality of support. Some users noted that customer service reps had poor English or gave vague responses. On the plus side, I found the wait time for Zoho phone support to be fairly short (>5 minutes) compared to competitors.
The Bottom Line
The 2 main advantages of Zoho CRM is their automation and their add-ons. The Zoho company offers many other business applications (Accounting, Project Management, Marketing Campaigns, Help Desk, Recruiting), which can all connect with the CRM. Another advantage to Zoho is the price. It's much less expensive than Salesforce despite the fact that the two have most of the same features. (You can see a comparison here)
Small businesses who just need basic contact, sales and task management may find probably Zoho too difficult. In these cases, we recommend checking out Insightly, read our recommended small business CRM buyers guide. Those who want a more comprehensive system, however, will enjoy all the features, automation and customization options Zoho packs in at a very reasonable price.