Zoho and Salesforce  are two of the biggest names in the CRM world. These high-end systems are very popular among small business looking for an advanced, customizable CRM that can run automation rules and integrate with other programs.
In this article, we'll be placing the two head-to-head, comparing and grading the systems on their price, features, ease of use, integrations, mobile apps and customer support. Read on to see who wins the Zoho vs. Salesforce battle:
Salesforce vs. Zoho Winner: Zoho CRM
We recommend Zoho because they offer more features than Salesforce for 1/4th of the price.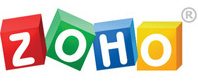 Salesforce vs. Zoho Summary Table:
Ease of Use

Moderate

Difficult

Price for Recommended Package

$35/user
per month
(Enterprise Edition)

$125/user
per month
(Enterprise Edition)

Free Version?

Yes, free for 10
users Free (limited
functionality)

No, but 30
day free trial

Unique Features

Custom Modules

Webform Integration

Basic marketing automation

Website Visitor Tracking

Invoicing

Custom Modules

Webform Integration

150+ standard reports

Integration with Other Systems

All Zoho products
including project management,
Zoho Support,
Zoho Books and email.

Also integrates with
Google Apps,
Mailchimp,
and Quickbooks.

Over 2,700 add ons
and integrations available
through Salesforce
App Exchange,
including Mailchimp,
Quickbooks,
Xero,
DocuSign
and many more.

Support

Phone and email
support available 24 hrs,
Monday to Friday

Web conference demo,
user guides, videos,
webinars, blogs
and forums

Phone and email support
available 8am to 8pm.

Help center with articles,
guides and user-submitted FAQs

Mobility

iOS & Android

View & edit most
CRM features.
Also works offline.

iOS & Android

Mobile app gives you
all the same features
as the desktop version

Learn More
Why we recommend Zoho over Salesforce: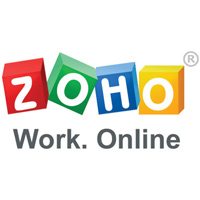 First and foremost, Zoho CRM is much less expensive. At $35/user per month for the Enterprise edition, it's 1/4th the price of Salesforce's Enterprise edition. What's more is Zoho actually offers a lot more features in its base package, including marketing automation, inventory management, invoicing and website visitor tracking. To get these features with Salesforce you need to integrate 3rd party apps, which usually means additional fees.
Lastly, I found Zoho CRM to be more pleasant on the user end. The interface is less cluttered and pages load much faster. That said, both of these are fairly complicated and not for the novice CRM user. For a simple CRM solution, we recommend Insightly.
See our full Zoho Review
When to use Salesforce: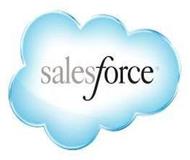 The key advantage of Salesforce is their 2,700 add ons and integrations available through their app exchange. This makes Salesforce highly customizable, as you can pick and choose add ons to sculpt your CRM and integrate it seamlessly with many other business applications.
Zoho boasts their own list of add ons, including seamless integrations with other Zoho products (like Zoho Books and Zoho Support) as well as MailChimp and Evernote. If there's an integration that's a must-have for your business and you can't find it through Zoho, however, then Salesforce is your best bet.
See our full Salesforce Review
Detailed Comparison:
Price
Salesforce: C-
Zoho: A
This is one of the biggest differences between Zoho CRM and Salesforce. Both offer "Enterprise" editions that include roughly the same features. However, while Zoho Enterprise runs you $35/user/month, Salesforce is $125/user/month. Zoho also has a "Professional" edition that takes out a few of the most advanced features (like territory management, custom modules) and runs you only $20/user/month.
So why is Salesforce so much more expensive? One key reason is because Salesforce can integrate with many other business programs, but we'll get more into that later.
Features
Salesforce: B
Zoho: A
Basic CRM (Contacts, Organizations, Opportunities and Tasks)

Yes

Yes

Webform Integration

Yes embed webforms
on your website or
Facebook that convert
to leads, contacts
or cases

Yes, embed webforms
on your website
that convert to leads,
contacts, cases, etc.

Social Media Integration

View mentions of your
business on Twitter
or Facebook

Displays Twitter feed
on contact profiles

Displays Facebook,
Linkedin and
Twitter feeds on
contact profiles

Marketing Tools

Mass Emails
Drip Campaigns
Automated Emails

Mass Emails

Reports

40+ Standard Reports

Custom Reports

150+ Standard Reports

Custom Reports

Inventory Management & Invoicing

Yes

Yes
While Zoho Enterprise and Salesforce Enterprise have many of the same features, Zoho has slightly more. In particular, there's marketing automation and invoicing tools included at no extra cost.
Besides basic CRM tasks, both programs let you build web forms for your website that automatically add contacts or tasks, mass email contacts, create workflow rules (such as automatically assigning tasks when a sale opportunity reaches a new stage) and much more. One of the most impressive features that both Zoho and Salesforce offer is the ability to create custom modules, which are menupages like "Tasks" or "Reports." So, for example, if you're real estate agent, you could create a module called "Homes" where you save and manage your listings. While this takes some technical skill to create, it doesn't require any direct programming.
So how do the two programs differ? Salesforce has the edge with reporting: There's over 150 standard reports, whereas Zoho has only 40. Both programs let you build custom reports from scratch, however, so the number of standard reports doesn't matter too much.
Zoho has the advantage in other areas. For one, there's a lot of email marketing tools. You can use a rich text editor to create email templates and add contacts to drip campaigns, which automatically sends them a string of emails over a period of time. You can apply automation rules to your email marketing, so, for example, when a new lead is added to your system, you can have them automatically sent an introductory email.
Salesforce lets you send mass emails, but for any additional marketing tools you need to purchase their marketing suite Pardot, which costs $1,000 to $3,000/month. Another area Salesforce falls short is invoicing. Zoho lets you create invoices that you can link to contacts, tasks and products in your inventory. Salesforce does not have any invoicing.
Ease of Use
Salesforce: D
Zoho C+
Zoho is a little easier to use than Salesforce, although neither are for the novice CRM user. They're both packed with a lot of features that will take time to set up to your liking.
For example, both programs let you turn "modules" on and off, which are the different pages of your CRM. Whereas a simple CRM like Insightly has just a few modules, Zoho and Salesforce have over 20, including "Cases" for customer service cases, "Campaigns" for email marketing campaigns, "Products" to keep track of your inventory, and more.
Within each module, you can change how data is saved and displayed. Take the "Contact" module in Zoho (pictured below) – by default, there's over 35 data fields to fill out when adding a new contact. This, of course, is probably more than you need and a little daunting to look at. So before you dive into Zoho, you'll probably want to slim this page down, or add custom data fields as per the needs of your business.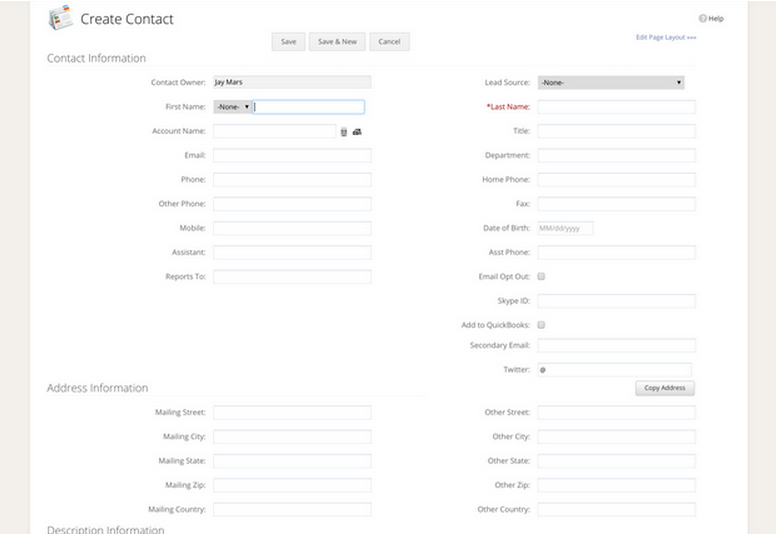 Salesforce, similarly, has a lot of data fields by default. Their modules (pictured below) are also loaded with links, buttons and submenus, which can get confusing. This one of the reasons why I find Salesforce to be more difficult than Zoho. Another reason is that many tasks in Salesforce require extra steps. When you click a module like "Contacts," for example, you reach a summary page before getting to your list of contacts. This extra step can be time consuming, especially if you have a slower internet connection.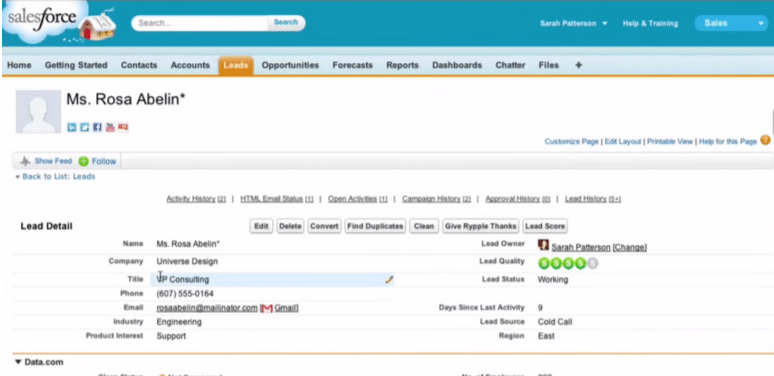 Another example is adding new users to the system. With Salesforce you need to select a Role, User License and Profile to ensure they have the right access privileges. Only then can you create the login. With Zoho you just need a name and email address and you can invite the user to sign themselves up on your account.
Third Party Integrations
Salesforce: A+
Zoho: B
If there's any one way to justify the high price tag of Salesforce, it's for their 3rd party integrations. The Salesforce App Exchange has over 2,700 add ons and integrations with other business software. Whether there's project management, time tracking, accounting, human resource, customer service, marketing or industry-specific software you want to link with your CRM, Salesforce is more likely to support that integration than any other system.
That's not to say Zoho is too far behind. There's over 50 official integrations listed on their website, including MailChimp, Evernote and other Zoho Apps like Zoho Support, Zoho Docs, Zoho Invoice, Zoho Books and more.
Through Zapier, a service that links webapps together, you can integrate Zoho CRM with over 450 other programs, including Quickbooks, Xero, Freshdesk, Basecamp, Shopify and many more. Just note that Zapier is a subscription service that may require a monthly fee, depending on how many programs you need to link.
Mobile App
Salesforce: A
Zoho: B+
Another advantage of Salesforce is their mobile app. Supported on iOS and Android, its one of the few mobile CRMs to have all the same features as the desktop version, including custom modules and addons. Users rate the mobile apps highly, although some have noted it can freeze up if you have a data to load.

The Zoho mobile app is also strong. You can access most of the same features as the desktop version, although it's missing Campaigns, Reports, Documents, Invoices and a few other modules. Some handy features include a map of contacts and the ability to call contacts (and subsequently log calls) directly from the app.

Customer Service
Salesforce: C
Zoho: C
This is an area both companies could use improvement. Both have phone and email support, but users have noted issues finding solutions to more specific issues. Being large companies with a lot of different business products, it can be tough to find a customer service agent with specialized knowledge about your product/edition, at least not without being placed on hold.
Salesforce phone support is US-based and operates from 8am to 8pm EST. Zoho support is based in India where the company was founded and still largely operates. Their support team is available 24 hours, Monday through Friday.
Final Score:
Salesforce: C+
Zoho: B
Salesforce beats Zoho on the mobile app and 3rd party integrations, while Zoho wins on features, ease of use and price. By and large, small businesses will probably prefer Zoho. You get more advanced tools like marketing automation and invoicing for 1/4th the cost of Salesforce.  If you're looking for a very specific integration, however, then Salesforce may be your only option.
If you want to explore more CRM options, you can check out our CRM comparison guide here.