Zurple is for realtors who want to generate more leads online, or do a better job of nurturing the real estate leads they get from Zillow. Their "smart" marketing automation system figures out what properties your leads are interested in based on their browsing activity, then automatically sends them follow up emails.
In this guide we'll explain both of their products:
Their main service, which builds you a website for your customers to search your MLS system directly (known as IDX).

Zurple Conversations, which is specifically for Zillow and Trulia users.
Want more real estate leads? Become a Zillow Premier Agent.
How It Works: 
In a nutshell, here's how Zurple helps generate real estate leads:
Builds you a website your clients can use to search for homes (IDX-enabled)

Drives traffic to your website with Google Ads

Sends targeted emails to leads based on which homes they were looking at

Separates the duds from the serious leads, while still nurturing apprehensive buyers
This is how their main product works. Their other product, Zurple Conversations, cuts out the first two steps and instead imports your leads from Zillow and Trulia. This makes it ideal for realtors who aren't looking to generate more real estate leads, but still would like to nurture their current stream of leads.
Personalized Follow-up Emails
The main idea behind Zurple is to develop your real estate leads with smart marketing automation. Unlike drip campaigns, in which leads are automatically sent a batch of emails in a specific order, Zurple sends personalized, highly-targeted messages to each lead depending on their browsing activity.
Because Zurple builds you a custom website (or imports leads from Zillow/Trulia) they save data on how visitors are browsing: What properties are they looking at? How frequently are they searching? What amenities do they need? The system translates this data into unique emails that are automatically sent to your leads.
For example, if a visitor named Suzi comes to your website and spends a while looking at properties, the system may send her an email that reads, "Hi Suzi, I know you are looking for a home greater than 1500 square feet and prefer 924 5th Street. Would you like to see it in person?"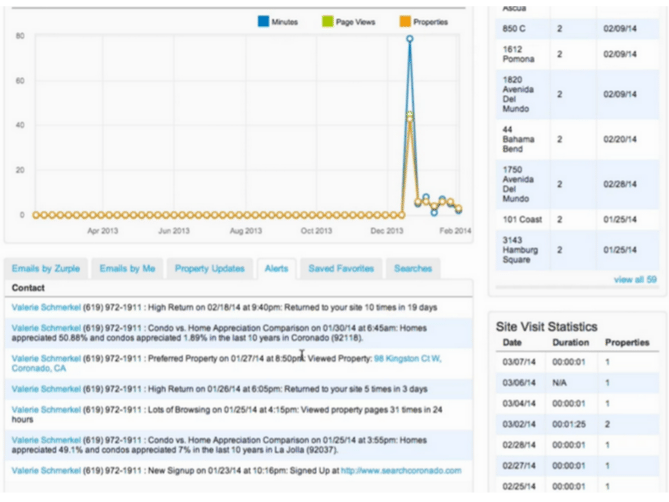 Zurple can be very sly, noticing behavior patterns you may not spot with a naked eye. To use another example, a client who was looking at both condos and homes was sent an email that showed the historical appreciation rates for homes vs. condos in that neighborhood. These unique messages can be much more personal and helpful than a boilerplate email, granted they can also seem a tad nosey.
Non-Customizable Emails
Unlike other real estate marketing automation platforms, Zurple is completely 100% turn-key and automated. As a consequence, you cannot write your own email templates or change how/when messages are sent. This is all determined by their marketing analytics team which continually tests and optimizes messages.
If you prefer to have control over your email marketing, then Zurple probably isn't for you. On the other hand, some realtors might appreciate the fact that you don't need to set it up or manage it yourself.
You can always take over a conversation manually, however. You can receive alerts when leads start showing more interest, so you can jump in with a phone call. Alerts can be setup for when a lead saves a property, returns to the same property multiple times, or just has a jump in browsing activity.
Zurple's Two Products
As we explained above, Zurple has two different products. The first one builds you a website to draw in real estate leads, while the second product applies their marketing automation software to leads from Zillow and Trulia. We'll explore that area after we go over Zurple's main product.
Zurple's Main Product: Custom IDX Website
Price: $329 to $1,499/month + Google Ad Budget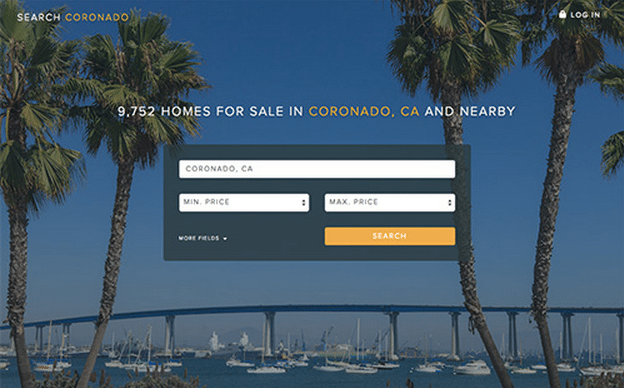 Zurple's main product helps get you leads through one or more custom-built websites. The goal is not to replace your existing website (the Zurple websites are much more basic) but rather to get users searching for properties on your unique Zurple webpage, so the system can track their behavior and start working its magic.
Typically, you'll want to make a Zurple website for each area you work in. Because Zurple drives traffic through pay-per-click Google ads, so the more specific you get, the better your conversion rate. For example, a realtor who sells homes in Coronado, CA, an island off the coast of San Diego, CA, will get much more serious leads from people searching "Homes for sale Coronado" than people searching generic terms like "Homes for sale San Diego" or "Homes for sale California."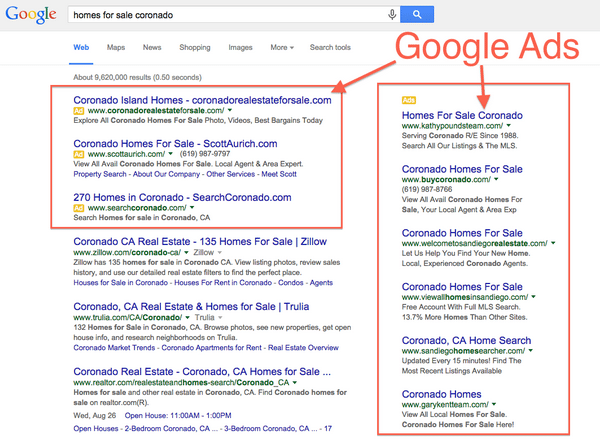 Google advertising is a an optional add-on, although it's the primary way you'll generate traffic to your Zurple page. You set a budget for these ads, which is separate from the fee you pay for the website. Zurple then sets up the ad campaigns and manages them on your behalf. They keep just 10% of your advertising budget to cover the cost of labor – the rest goes directly towards the Google ads.
For more on how to get real estate leads via Google Ads, check out our in-depth guide on Google Ads for Realtors.
Speaking of costs, Zurple's main fee varies depending on a few factors: the number of real estate agents at your business, the number of websites you want to setup (one for each city or neighborhood), the number of leads you want to bring in per month, and the amount of money you want to spend on Google advertising. Here's a rundown of the different plans:
Limited Plan

Standard Plan

Power Plan

Domination Plan

Cost

$329/month

$599/month

$999/month

$1,499/month

Number of
Zurple Websites

1 website

2 website

3 website

5 website

Number of
Agents

Up to 3 agents

Up to 5 agents

Up to 10 agents

Up to 20 agents

Lead Generation

Up to 40
leads/month

Up to 100
leads/month

Up to 200
leads/month

Up to 400
leads/month

Google advertising
budget (optional)

Up to
$250/month
(additional)

Up to
$500/month
(additional)

Up to
$1,000/month
(additional)

Up to
$2,000/month
(additional)
For a solo real estate agent, you can expect to pay around $400-$500/month for Zurple ($329 for the website + $71-$171 for Google ads).
Conversations by Zurple: For Zillow and Trulia Users
Price: $49/month
Zurple's other product is called Conversations. The price is much lower because you're not building a website, nor are you paying for Google ads. Instead, your real estate leads are imported straight from Zillow and/or Trulia and placed into Zurple's smart email marketing system.
How does this help me? As we explained above, Zurple sends highly personalized emails based on a lead's browsing history. For example, if a lead expresses interest in a home, Zurple will ask if they want to schedule a showing (assuming the property is not in pre-foreclosure status.) These emails are sent quickly and automatically – within 5 minutes of the initial inquiry – so you don't have to worry about missing your window of opportunity.
As of now, the system only works with Zillow and Trulia. You cannot add leads from any other sources. You can, however, import your old Zillow leads, even if they're five or more years old. By tracking their behavior and sending smart, personalized emails, you might be surprised how many dormant leads spring to life.
The price is a flat $49/month for an unlimited number of leads. You just have to pay an additional $39/month for each user you want to add beyond yourself.
Customer Satisfaction
So now that you know how Zurple works and how much it costs, the burning question you should have left is how well does it work? Based on customer reviews on Yelp, ActiveRain & various website forums, the answer is pretty darn well, although with a few caveats:
It can take a while (around 6 months) to start seeing results.

Leads typically receive only 1 to 3 messages per month, so it can take a while for them to convert. As one user noted, it takes around 6 months for new & old leads to get active. Incidentally, many of the users who complained about Zurple were with them for less than 6 months.

You don't own your website or URL.

This is important because if you cancel your service you lose the website. If you have another "main" website besides the Zurple page, this is no big deal. However, beware if you invest a lot of time and effort in SEO getting your Zurple page to rank higher, this work will be in vain should you cancel service.
We asked 50 experts for their best real estate marketing idea. Click here to see what they told us!
The Bottom Line: How to Use Zurple to Generate Real Estate Leads
What ultimately makes Zurple unique is their targeted emailing. In particular, the fact that it's A. completely turn-key and automated, requiring no setup or maintenance or your end and B. highly intelligent, sending personalized messages based on a lead's browsing history and home preferences.