1-VoIP is a residential and commercial VoIP systems provider that aims to provide premium VoIP features to small businesses at reasonable rates. We compiled 1-VoIP reviews from around the web to determine what their customers think about the company. We also shared the pricing options available for small business owners.
For an in-depth comparison of three top VoIP providers, check out our VoIP phone system comparison guide.
1-VoIP Customer Reviews
Overall experience: Good
Call Quality: Average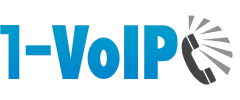 Customer Service: Great
Pricing: Average

Summary of User Reviews
We scoured available reviews online and found that 1-VoIP has generally positive ratings. Here's what we found:
What 1-VoIP does well:
Users who gave 1-VoIP a positive review said that 1-VoIP's customer service is its main advantage. According to them, response times are prompt and customer service representatives are very friendly and helpful.
What 1-VoIP does not do well:
Users with negative reviews were rare, but those who gave 1-VoIP low ratings said that they had problems with their configurations or devices that customer support couldn't solve.
Most Helpful Positive User Review
A user who gave 1-VoIP a 5-star review on the review site, GetVoIP, said they've been with the company for more than 7 years and they've never experienced any major issues with the service. Small errors and problems come up from time to time, but according to him, customer service reps know what they're talking about and they fix the problem quickly.
Most Helpful Negative User Review
A user who gave 1-VoIP a 1-star review on the review site, WhichVoIP, said that for the first three months, they've encountered repeated problems with their adapter, and configuring their system was challenging. They tried several suggestions from customer support, and none of them solved the problem entirely. Sometimes, they were able to make calls, but the quality was terrible. In the end, 1-VoIP declared that the problem was a faulty device and gave the customer a full refund.
Other 1-VoIP User Reviews From Around the Web
Here are a few other resources for finding helpful 1-VoIP customer reviews. We rated the review sites on a scale from poor to excellent based on how trustworthy and useful the reviews seemed.
User Review Website

Average Rating

Number of Reviews

Quality of Reviews

WhichVoIP

4.6 out of 5

210 reviews

Excellent

TopTenReviews

6.73 out of 10

Staff review

Good

GetVoIP

4.6 out of 5

15 reviews

Good

*Average rating as of date article was written: June 8, 2017
1-VoIP Pricing
1-VoIP has three plans for small businesses, ranging in price from $14.97 to $34.97 per extension. All three plans include basic phone functions like Caller ID, call hold, call forwarding, call transfer, redial and more. The plans also include premium features like auto attendant, voicemail and digital queues for free.
| | Metered | Corporate | Professional |
| --- | --- | --- | --- |
| Pricing per month | $14.97 per extension | $24.97 per extension | $34.97 per extension |
| Charge per minute | 2 cents per minute | Unlimited in NA and Canada | Unlimited in NA and Canada |
| Digital Queues | Yes | Yes | Yes |
| Auto Attendant | Yes | Yes | Yes |
| Voicemail | Yes | Yes | Yes |
| Call Recording | Yes | Yes | Yes |
| Free Device | No | No | Yes |
The most basic plan is 1-VoIP's "pay as you go" plan and you pay 2 cents for every outbound minute. The corporate and professional plans are similar to each other, with the main difference between them being that the professional plan comes with a free phone.
Best Pricing Option for Small Business Owners
The metered plan is best for small businesses with little to no outbound call volume. If you need a phone system just so customers can reach you, then this plan is your best bet.
If your business makes a lot of outbound calls, the professional plan may be more expensive, but it may also be a less risky option. Since the device is provided by 1-VoIP, there is less risk for incompatibility issues. 1-VoIP's systems may have problems with certain adaptors and devices, and by securing a device issued by 1-VoIP you can ensure fewer configuration problems.
Compare 1-VoIP Competitors
Not sure if 1-VoIP is the right phone system for your small business? Check out our phone system buyer's guide comparing three top providers.