360training Review: Is It Right for Your Real Estate Education?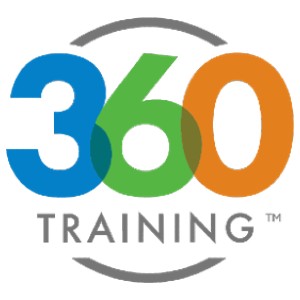 What We Recommend 360training For
360training is best for aspiring agents looking for affordable prelicensing packages with exam prep courses to prepare for the state exam. It also is a great solution for brokerages that want to provide their agents with state-specific training.
Who 360training Is Good For
Agents looking for self-paced training: One advantage of studying at 360training is being able to complete courses on your schedule. Courses are self-paced and can be accessed on any mobile device anywhere—whether you're at home, in your office, or on the go. Because of its flexible classes, 360training is one of the best real estate schools in several states, like Texas and Connecticut.
Students needing budget-friendly courses: 360training offers prelicensing, post-licensing, and CE courses at more affordable pricing compared to other nationally accredited schools. For instance, a 135-hour California (CA) basic prelicensing package costs $100 on 360training, while The CE Shop offers its basic CA prelicensing package at $129. Because of affordable pricing, 360training is one of the best schools in states like Delaware, Washington, and California.
Agencies looking for real estate courses for their agents: 360training uniquely offers employer solutions for real estate firms. This program enables brokerage firms to provide real estate courses to their agents and monitor their education progress. Through this, firms ensure that their agents get the necessary training they need to advance their real estate careers and comply with the state-specific educational requirements to maintain their license.
360training Is Not a Good Fit For
Students looking for class format variety: 360training only offers self-paced online courses, which are text-heavy and require a lot of reading. While some courses may include a variety of content—text, video, and audio, classes lack real-time interaction with a live instructor. If you're looking for course format variety, you can look into Kaplan.
Agents needing livestream classes and direct instructor access: 360training does not conduct livestream or in-classroom courses. The school also doesn't provide customers with direct instructor access unless requested. This may be challenging for prelicensing students who need real-time interaction and immediate guidance from a licensed real estate expert. For aspiring agents who prefer live and real-time interaction with instructors, you can check courses from Colibri Real Estate or in-person classes at local schools.
Students located in states where 360training courses are not available: Unfortunately, 360training only offers a limited selection of courses in 31 states. Students looking for online real estate schools in states like Massachusetts, Illinois, and Maine need to check out other education providers, like The CE Shop or local schools.
360training Overview
PROS

CONS

Budget-friendly pricing
No pass guarantee
Self-paced learning
Lacking in course format variety
Available in 31 states
Limited course selection
Customer support available 7 days a week
No direct instructor access
1-year course access
Short time frame for refunds (72-hour refund policy)
Association of Real Estate License Law Officials (ARELLO) and International Distance Education Certification Center (IDECC)
No in-person classes or a physical school to visit for support
360training Pricing
Real estate courses are available from 360training in tiered packages and individual courses at budget-friendly rates compared to other online education providers. Depending on the location, prices vary based on the topics and the number of education hours included in the course. Because prelicensing education requires the highest amount of education hours, they tend to be the most pricey, starting at $30. Post-licensing and broker licensing programs are also provided in packages and individual courses.
In some states, continuing education is provided in packages containing the complete required hours per state. However, in other locations, only individual CE courses are available. Check out the table below to see the features included in each type of education:
Types of Education Plans

Prelicensing

Post-licensing

Broker Licensing

Continuing Education

Exam Prep

Who Plan Is Best For

Aspiring agents getting a real estate license for the first time

New agents who need to fulfill additional prelicensing requirements

Experienced agents looking to upgrade their licenses to a broker's level

Agents looking to renew their real estate license

Students needing extra study, tools, and preparation time to pass exams

Annual Price Range

(per Course)*

$30 to $559

$84 to $254

$119 to $799

$30 to $79

$5 to $127

Self-paced Learning

✓

✓

✓

✓

✓

Learning Content Management Software

✓

✓

✓

✓

✓

Real Estate Math

✓

✕

✕

✕

✓

Exam Prep Materials

✓

✕

✕

✕

✓

Instructor Support**

✓

✓

✓

✓

✓

Money-back Guarantee

✓

✓

✓

✓

✓

Customer Support

✓

✓

✓

✓

✓
*Price range includes all course packages in all states
**Instructor support is available only upon request
Types of Education Available
Real estate courses at 360training include prelicensing, post-licensing, broker licensing, and continuing education in at least 31 states, though availability varies by location. For students needing extra study tools, the school also provides exam prep courses as part of the premium prelicensing education package or as a standalone course.
Prelicensing
Aspiring agents in 11 states can complete their prelicensing education online from 360training. Prelicensing training is offered in two packages: basic and premium. All packages include the complete state-specific prelicensing coursework and real estate math, which students can take online at their own pace. Students can also purchase real estate math as a separate course. In some states, you can take individual prelicensing courses instead of the education package.
Basic Real Estate Prelicensing Package

Premium Real Estate Prelicensing Package

State-specific prelicensing coursework
Real estate math

State-specific prelicensing coursework
Real estate math
Salesperson exam prep
Client-focused communications course
If you have more budget to spare, you can purchase a premium package, which already includes exam prep. The premium package is ideal for students who want additional study materials to successfully
become licensed agents
. In addition, premium packages contain a communication course, teaching students how to listen to and communicate effectively with clients.
If you're looking for additional education, such as post-licensing, continuing education, exam prep, or broker's licensing, 360training can be an option for you. Page through the below images and descriptions to see if 360training offers the required education in your state.
360training Features
Aside from quality course content, 360training utilizes several features to create an engaging online learning environment and effective education for every student. These features include an easy-to-navigate learning content management software (LCMS), self-paced course format, and 24/7 multichannel customer support.
Here are key features you can find on 360training:
General Features
Learning content management software (LCMS)
Self-paced learning
24/7 customer support
To ensure effective learning, 360training provides state-approved courses with interactive content and additional study tools. As mentioned, courses are self-paced and 100% online, which allows scheduling flexibility, especially for students juggling school and work. While direct instructor access is not immediately available to students, they are given ample customer support before, during, and after taking a course. Customers can get phone support five days a week through a toll-free number. They can also contact the school 24/7 via email for technical and curriculum assistance.
Learning Content Management Software
Easy to navigate
Course tracking
Side navigation menu
Upon logging in on 360training's learning content management software (LCMS), you will be directed to your student dashboard, which shows all the courses you've enrolled in. You can filter the courses you've started or completed for easy access. You can also quickly navigate to your subscriptions, transcripts, certificates, and reports on the left side of the dashboard.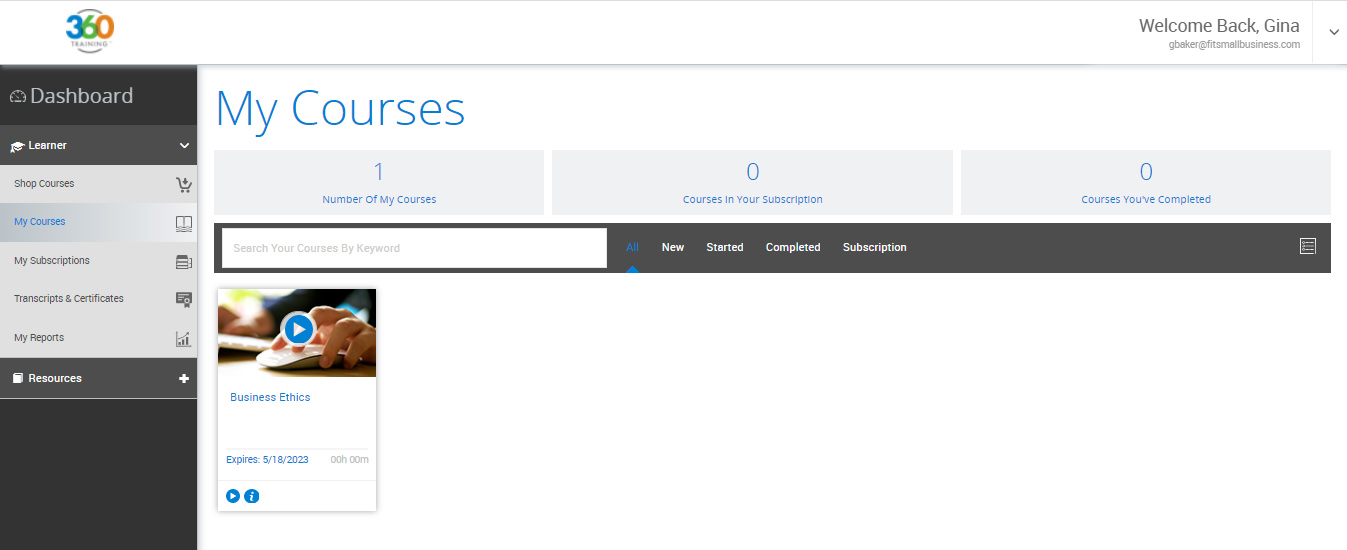 On your course dashboard, there's a side navigation menu of the course outline, course materials, reports, and customer support. Each course is broken down into lessons based on your state requirements. The platform automatically saves your progress as you go, so you can easily resume your learning when you log back in. Students can track their progress by clicking the information icon on the course and see how much content they still need to complete the program.
---
Self-paced Learning
Lessons are presented in slides
End-of-lesson assessments
Correspondence courses contain PDFs with an audio reader
Just like other online real estate schools, courses at 360training are self-paced. Topics are broken down into digestible lessons with state-specific content. These lessons are timed and presented in slides that you can easily navigate back and forth. At the end of each lesson, students will encounter short assessments that they must pass to proceed to the next topic. These assessments are designed to check for an accurate understanding of real estate concepts.
360training also offers correspondence courses in select states, like Texas. With correspondence courses, you are provided with downloadable PDFs (with quizzes) that you can study at your convenience. The PDFs have audio readers that help students engage with the text better and gain more exposure to words, ultimately building their comprehension and vocabulary.
---
Customer Support
24/7 access to customer service
Phone, email, and chat support
Toll-free phone support
360training provides four ways for students to get customer support: email, live chat, phone, and FAQ (frequently asked questions) knowledge base. Whether you're inquiring about a course, experiencing technical issues, or getting your certificate, you can contact the school's customer support from Monday through Friday through live chat or a toll-free number.
For non-immediate concerns, you can reach its customer service via email anytime and get a response within 24 hours. If you need to speak with an instructor, send a request to the customer support staff. The staff will then reach out to an instructor who will contact you. The school also has a knowledge base on its website to help students solve frequently asked questions.
---
Real Estate Math
Included in all prelicensing packages
Self-paced course credited for three hours
Includes an official certificate of completion
All prelicensing packages include real estate math to help students practice for the math portion of the licensing exam. This course teaches students how to calculate proration, commission rates, property values, and other important math concepts they may encounter in the real estate exam. The course is credited for three hours and includes an official certificate of completion.
---
Agent Campus Education Blogs & Career Resources
Free real estate blogs
Free resources covering other industries
State guides and video content
360training's Agent Campus page provides numerous resources that aspiring and experienced real estate professionals can browse for free. These are blog posts covering several topics on how to succeed in real estate, such as marketing tips, homeselling trends, and industry news.
If you're interested in learning other subjects, such as workplace ethics and business skills, the school's webpage publishes a lot of insightful articles that you can access for free. You can also find helpful state guides on the website and video content on its YouTube channel.
---
Real Estate Training for Businesses
Self-paced and flexible learning at discounted rates
Library of state-specific courses for employees
Executive-level reports and system integrations
Uniquely, 360training's Employer Solutions program allows real estate companies to purchase courses in bulk for their employees at discounted rates. By partnering with 360training, brokerage firms can help their employees get effective and consistent training, which they can take on their own schedule.
Aside from real estate education, the school provides multiple workplace training and development programs that can be customized based on the firm's learning objectives and training needs. Employer Solutions also allows flexible integrations, so firms can create an accessible online course library for their agents. Employers can build custom reports, send reminders, request feedback, and track the course progress of their employees, so they achieve efficient risk mitigation and regulatory compliance.
---
Course Access & Refund
12-month course access
Expired courses cannot be extended
72-hour refund policy
360training gives you to access courses for one year after the purchase date, unlike other online education providers that only provide six-month course access. However, the school does not allow students to extend courses. If your course expires, you have to repurchase the program. If you're not satisfied with your education, you can request a refund of the course fees within 72 hours from the purchase date according to the school's terms and conditions.
---
Ease of Use
360training has made it convenient for students to take and complete real estate education online. Signing up for a course is straightforward, and you only need to choose the course package in your specific state. Proceed to checkout and pay for the course via credit card, debit card, or PayPal. Once the course is paid, you can immediately access the content materials on your student dashboard.
360training's website has a user-friendly layout and provides helpful information on how to get a real estate license and the specific education requirements per state. You can also find all the available courses per state on the website. When you choose a course, you will see the exact price and the inclusions in each package, as well as other course information such as FAQs and course expiration.
360training Alternatives
If you can't find the course you're looking for from 360training, here are some alternative online schools that offer high-quality real estate courses in various learning formats with scheduling flexibility:
Best For: New and experienced agents who need course format variety

Best For: Aspiring agents looking to complete the licensing process efficiently at their own pace

Best For: Self-paced online curriculum for all stages of your real estate career

Starting Price: $19.95 to $449*

Starting Price: $10.95 to $888*

Starting Price: $19.95 to $449*

Key Features:

Multiple course formats
Customizable packages
Extensive career support
Available in 26 states

Key Features:

Affordable course pricing
Multiple tiered package options
Career assistance post-licensing
Available in 36 states

Key Features:

Customizable online education
Self-paced formatting
Customer support available 7 days a week
Available in 50 states
*Pricing here is for comparative purposes; exact price range depends on course selection and format
What Users Say in 360training Reviews
The majority of 360training reviews showed that customers were satisfied with the school's easy-to-follow and informative content that they can conveniently access anytime. Furthermore, students love the end-of-section quizzes and knowledge retention tests that helped them prepare for the licensing exam. Agents also recommend the school's "fair" course pricing and friendly staff, who helped them resolve any issues they encountered during their learning.
However, several customers encountered technical issues and glitches, especially with the audio and video content, making it hard for them to complete the course and track their progress. Some also found "spelling and grammatical" errors in their course materials. Additionally, others described the self-paced content as boring and monotonous. If you're looking for course format variety, we recommend checking Kaplan and Colibri Real Estate.
Bottom Line
360training is one of the best online real estate schools because of its affordable pricing and courses that allow scheduling flexibility. Courses are self-paced and can be easily accessed on any mobile device for one year. While there is no direct instructor support, the school utilizes several features and provides ample customer support to ensure students get the best learning experience.