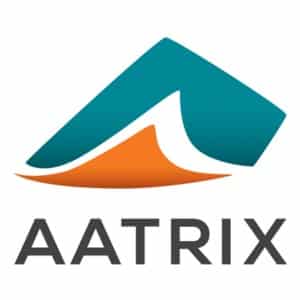 Aatrix is payroll processing software for Macs. It includes a timecard tool for tracking hours worked accurately and monitoring vacation time, sick pay, and holiday pay. Although it's not cloud-based or comparable with modern software, the software is free to use with a paid tax table subscription plan.
What We Recommend Aatrix For
Aatrix is simple to use but does not provide a complete HR solution. It primarily offers tools for configuring payroll; it calculates tax payments, deductions, and payroll payments but doesn't send out paychecks. It also doesn't include HR features like onboarding, recruiting, online document signing, or performance management.
So, Aatrix is best for:
Budget-conscious companies looking for a Mac-compatible payroll solution: Aatrix ranked in our Mac payroll software buyer's guide, primarily, because it's one of the only options we found that offers a free service—you can download its software and prepare your W2 and 1099 forms. And for e-filing and other payroll services, it only costs around $22 per month.
Mom-and-pop businesses with minimal HR needs: This software can configure tax and payroll payments, but it does not process direct deposits for you. If you simply need to know how much to pay in taxes and how much to pay your employees, it may work for you (or if you're willing to work with your bank on sending direct deposits and print paper checks yourself).
When Aatrix Would Not Be a Good Fit
Mid- to large-sized companies needing advanced HR capabilities: Aatrix provides only basic payment processing and time-tracking features. It also does not include recruiting, applicant tracking tools, and document management. Check out our guide to the best HRIS/HRMS software for better options.
Businesses seeking an online payroll solution: The solutions offered by Aatrix are downloadable software solutions for Macs. You cannot access the software through an online interface, and it does not provide mobile apps for managers or employees. Check out our top online payroll service picks for more suitable options.
Companies needing to process direct deposits for 25+ employees: This software can configure payroll, but it does not process payments by direct deposit. It does have a feature to create the files you need to provide your bank, if you opt to have it process the automated payments for; this can get expensive, though, as it usually charges a per-employee rate. For payroll options that usually come with free direct deposit, check out our best payroll software guide.
Aatrix Overview
PROS

CONS

Mac-compatible
No free support
Flat-fee pricing
Does not process checks or card payments
Compatible with QuickBooks software
Not cloud-based
Access to free time tracking software
No training or onboarding features
Aatrix Pricing and Features
Aatrix is pretty affordable and charges an annual fee, regardless of how many employees you have. Its features focus on simple payroll processing, time tracking, and time-off management. Aatrix offers two solutions: Ultimate Payroll and Top Pay. Both are compatible with Mac Users. The only difference is that Top Pay offers the one click QuickBooks posting feature.
| Features/Pricing | Top Pay | Ultimate Payroll |
| --- | --- | --- |
| Pricing | $259.95 per year | $259.95 per year |
| PTO and Time-off Management | ✔ | ✔ |
| Time Tracking | ✔ | ✔ |
| Payroll and Tax Processing | ✔ | ✔ |
| Software Integrations | ✔ | ✔ |
| Easy to Use One-click Quickbooks® Posting Feature | ✔ | N/A |
Payroll Processing
Aatrix's payroll processing tool is called Ultimate Payroll. It supports an unlimited number of employees, which is unique since most services charge per user or employee. It can help you track time worked, time off, and holidays using its timecard software, TimeCard, Payroll Taxes and Forms.
W-2 preparation is included, but it costs extra per employee. To use the software, you have to subscribe to the Tax Table services to gain access. While it does not make payroll payments via direct deposit, it can print checks.
Using Aatrix, you can print and file W-2s and 1099 forms, including state-specific reconciliation forms. It also supplies employee copies of W-2 and 1099 forms, and they can print and mail the forms and post them to your HR website for employee access. If things don't go quite right, Aatrix will even file corrections for you. You can easily export data using a CSV file—this is not an included service, but you can add it for an additional fee.
Paid Customer Support
Aatrix offers customer support, but it's not free. You can choose from its Silver, Gold, Platinum, and Unlimited support plans. However, compared to other HR services, support is rather light. The first plan includes only one hour of phone support and two email questions. The highest-tiered plan includes unlimited phone support and 10 email questions.
Per-paid Mac support plans are also available. For $90, users can receive 30 minutes of telephone support. The highest tier, which costs $225, offers 90 minutes of phone support. If you do not purchase a support plan, you can buy 10 minutes of phone support for $40 and one email query for $15.
Aatrix Ease of Use
Online support and update documentation for Mac users
Paid support plans available
Compatible with QuickBooks and Sage
Supports over 300 reports
Automatically updates tax tables
While Aatrix is simple to use, the interface is dated. Plus, the software is installed using a download rather than being fully hosted online. To save time, it allows users to complete state and federal tax documents and submit them via its eFile processing center.
Aatrix supports integrations through its partners such as Acumatica, Sage, Microsoft Dynamics, and CenterPoint. In total, it includes over 60 partnerships with accounting and payroll software. It reports that integrations can be created in less than 40 hours of development time.
Top Aatrix Alternatives
| | | |
| --- | --- | --- |
| Best for: Small businesses with <100 employees needing payroll and basic HR | Best for: Companies using QuickBooks for accounting | Best for: Growing businesses that need flexible pricing plans |
| Monthly fees from: $19 + $6/per employee | Monthly fees from: $45 + $4/per employee | Monthly fees from: Call for a quote |
Still trying to decide what payroll software is best? Follow our step-by-guide to choosing the right payroll solution.
What Users Think About Aatrix
Although Aatrix Software has been around since 1986, you'll find few reviews for this product online. Additionally, its featured product is eFiling services rather than HR software. It hit our radar because a few years back, it was one of the few HR products designed for Macs.
At the time of publication, Aatrix only has two reviews published—and those reviews are nearly 2 years old.
G2: 4.5 out of 5 based on two reviews. There are not enough published user reviews to create a list of likes and dislikes for Aatrix HR and payroll solutions.
Bottom Line
Aatrix helps businesses calculate their payroll and tax payments and provides the information your bank needs to process direct deposits. If you primarily need help with payroll calculations and tax filing for a few employees, it may work for you. It costs less than $300 per year and is compatible with the Mac operating system. Sign up to try it today.