AccountEdge is a small business accounting software for both Mac and Windows. We compiled AccountEdge reviews from our website and available reviews from around the web to determine what their customers think about the company. We also compared the most popular pricing options for small business owners.
For an in-depth comparison of three top accounting software, read our accounting software buyer's guide.
AccountEdge Customer Reviews
Overall Experience: Great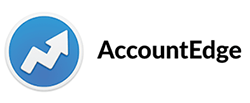 Ease-of-Use: Great
Customer Service/Reliability: Fair
Rates: Fair
Summary of AccountEdge Reviews
We scoured available reviews online and found that AccountEdge has mostly positive ratings. Here's what we found:
What AccountEdge does well:
Users who gave AccountEdge a positive review liked that it was easy to learn how to use the program.
What AccountEdge does not do well:
Users who gave a negative review commented on less than stellar customer service that the user has to pay extra for.
Most Helpful Positive User Review
A positive review from the review site, Software Advice, came from someone who's been using the software for over 15 years, even before it was called AccountEdge. They said the software has such a clean and clear interface. They also think the features are logically organized and easy to find with no confusing menus.
Most Helpful Negative User Review
"Being a customer for 10+ years and they will not allow you to speak to anyone unless you have purchased support. I understand that if you are having a problem on your end, but when the product is malfunctioning, this makes you feel like they do not stand behind their product. When I complained, I got a very rude response. Customer service refused to let me speak to her supervisor. We have only needed to call maybe 2-3 times over the course of using this, so it does not make sense to purchase support for issues that have always been on their end. Really going to have to reconsider continuing with this software due to their policies and service. Easy product to use, but do not expect any type of customer service."
— Denise
Other AccountEdge Reviews From Users Around the Web
Here are a few other resources for finding helpful AccountEdge reviews from customers. We rated the review sites on a scale from poor to excellent based on how trustworthy and useful the reviews seemed.
Review Website

Average Rating

Number of Reviews

Quality of Reviews

Software Advice

4.5 out of 5

18 reviews

Good

G2 Crowd

4.3 out of 5

6 reviews

Good

Merchant Maverick

4 out of 5

Staff review

Good

*Average rating as of date article was written: June 23, 2017
AccountEdge Pricing
AccountEdge offers one-time only payment options that range between $99 to $399 depending on the plan chosen. Upgrades cost between $79 to $249 depending on the plan and the number of users. Note that upgrades are encouraged but not mandatory.
AccountEdge Basic

AccountEdge Pro/Network Edition

Price

$99

$399

Software Upgrade

$79

$159 for single user
$249 for network edition


Additional Users

Not offered

$249/year/user
$999/year for a 5-user pack

Features

Banking, Sales, General Ledger, Credit Card Processing, Customer Management, Full Service Payroll

Banking, Sales, General Ledger, Credit Card Processing, Payroll and Time Billing, Inventory and Purchases, Networkable

Mobile

No

Yes
(iPhone/iPad only)


Third Party Integrations

Shopify, Rerun, Checkout

Customer Support

Free email (24-48 hour response time) and knowledge base.
Premium phone support, office hours, M-F, for $199 a year (free for the first 30 days after software installation.)

The Network Edition is not a separate plan. But a client can upgrade their Pro Plan to a Network Edition if they add more users and want to connect all those users within one network.
Add-ons are available for all plans and cost between $10 to $399. Add-ons are either on a per transaction, month, or year basis, and vary depending on how many users have access. Example add-ons include the Payroll Tax Service and premium Customer Support.
Best Pricing Option for Small Business Owners
AccountEdge is definitely a pricier accounting software compared to many others available on the market. But it's worth noting that they have a lot of legacy clients that have been using the software for over a decade. If it fits your budget and you're willing to spend a little extra for more features (which includes customer support), you can go for AccountEdge Basic.
Small Business Accounting Software Buyer's Guide
Not sure if AccountEdge is the right accounting software for your small business? Check out our accounting software buyer's guide comparing three top providers.