As technical as adding live chat to a website powered by WordPress might sound, it's actually very easy thanks to WordPress plugins. All you need to do is first create an account with your preferred live chat provider. There you will get an access code, which you should copy. Then, navigate to your WordPress dashboard, go to plugins, and find and install your desired live chat plugin. Finally, locate the settings of your live chat plugin and paste your access code.
If you haven't yet chosen which live chat plugin to use, there are a number of quality providers available to consider. These have varying features, pricing, and inclusions, so it's worth taking the time to figure out which is best for your business. We're going to use Freshchat in the steps below as it offers a very generous free plan and low-cost premium plans, which you can learn more about by visiting their website.
However, if you need more help deciding which live chat provider to use, you can learn more about the best WordPress chat plugins.
1. Create an Account With Your Chosen Live Chat Provider
Shortcut: Freshchat > Sign Up For Free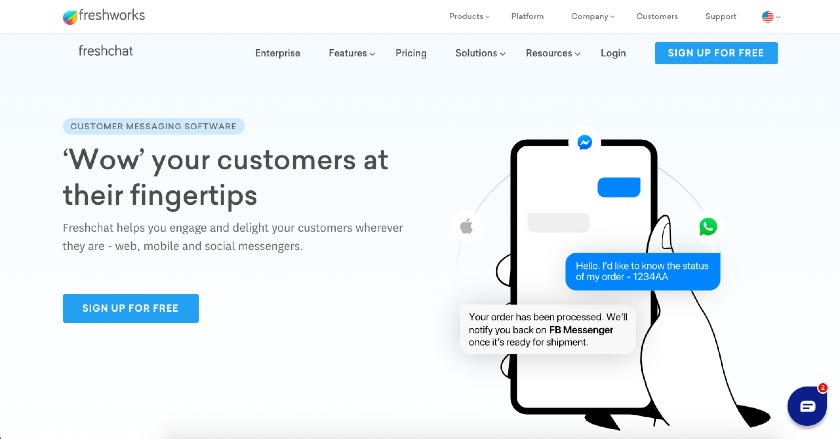 After choosing which live chat provider to use, create an account with that provider. In this case, we're going to navigate to Freshchat and create an account.
2. Copy Your Freshchat Code
Shortcut: Freshchat Dashboard > Settings > Integrations > WordPress > Copy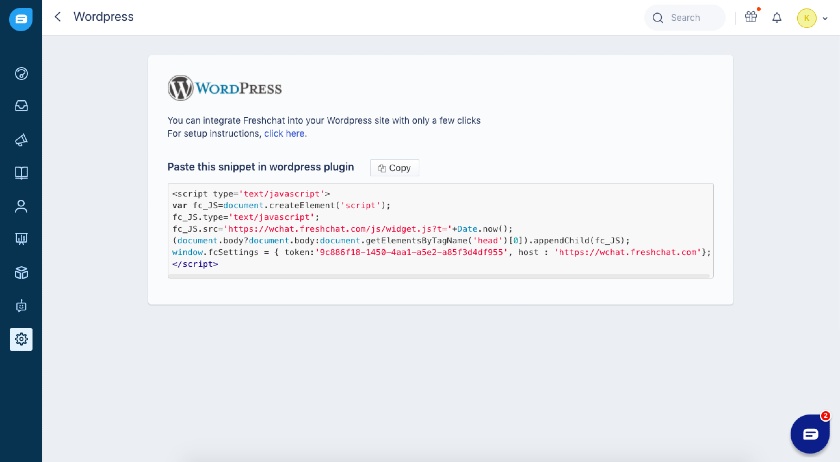 After creating your account, you will be provided with your own unique snippet of code. Find this, from your Freshchat dashboard by navigating to Settings. Then select integrations, and from there, click WordPress. On the following screen you will see your code. Copy this, as you will later paste into WordPress in order to connect your Freshchat account to your WordPress website.
3. Log In to WordPress & Go to Plugins
Shortcut: Login > Plugins > Add New > Search Freshchat > Install > Activate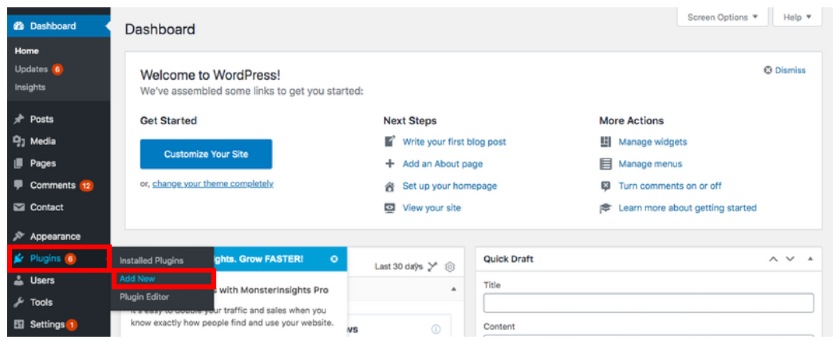 After copying your code from Freshchat, log in to WordPress. From your admin dashboard, navigate to Plugins from the left-hand menu options and click "Add New." Then, use the search bar to search and find Freshchat from the available plugins, click "Install," and then activate.
Having trouble logging in? Learn how to find your WordPress login URL.
4. Paste Your Freshchat Code to WordPress
Shortcut: Freshchat > Settings > Enable > Paste Code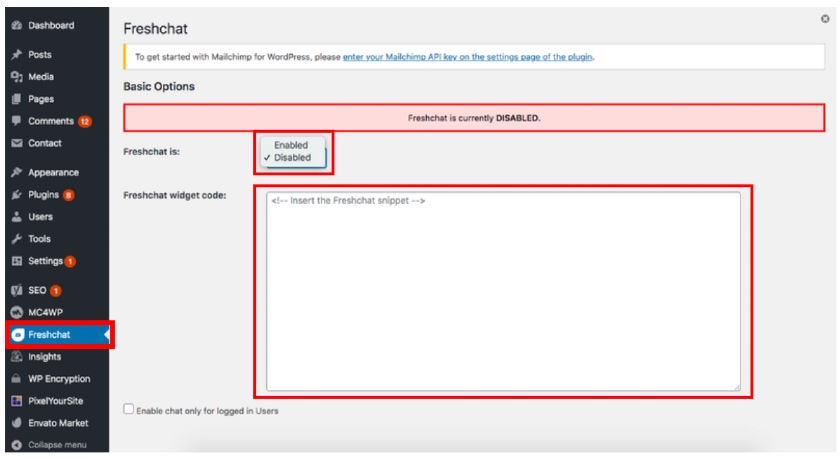 Now that you have installed and activated the Freshchat plugin, you will now have Freshchat as a menu item in your left-hand vertical menu. Navigate to it to open settings and connect your account. First, change the settings from "Disabled" to "Enabled." Then, paste your code into the widget code text box. When finished, scroll to the bottom of the page and click "Save Changes." You will now be able to manage live chats through your Freshchat dashboard.
Bottom Line
Installing your live chat plugin to your small business website is the first step to providing great customer service, retaining happy customers, and generating more sales. After you have installed your live chat plugin, familiarize yourself with your chosen live chat provider and your live chat dashboard. If your staff will be operating live chat, set up additional operator accounts and help your staff use live chat effectively to provide great support.
You Might Also Like…