Google advertising is a great marketing strategy for small business owners. You can show an ad for your business to people who are searching for your type of business at that very moment AND who are looking for businesses in your area. This type of targeting makes most small business owners want to advertise on Google.
Get $150 in Free Google and Bing Advertising
Want free advertising right out of the gate? When you sign up with Bluehost.com, you get a domain name, website, business email, AND $150 in free advertising with Google and Bing. Click here for instruction on claiming your ad credit.
What is Google AdWords?
Google Adwords is an online advertising service that allows businesses to have their ads run on Google's search results page. The ads look almost identical to the normal search results, with the only difference being the small word "Ad" in green. Google ads will show at the top and bottom of a search results page.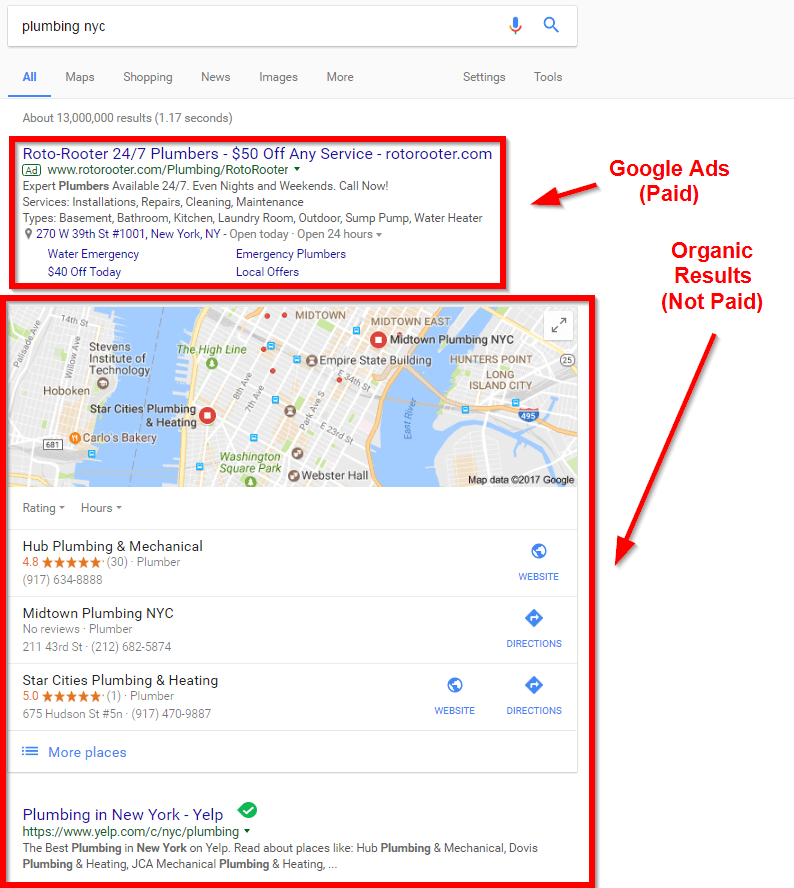 If you are interested in learning more about how to rank highly in the organic search results, read our 7 steps to increasing Google page rank.
How Advertising on Google Works
When a consumer searches for a term or phrase, Google will show the consumer relevant ads based on the keywords used in the search. Websites that want their ads to show on the results page bid on keywords that they believe people will use when looking for their type of business. For example, a plumber located in Atlanta might bid on the keywords "plumbing atlanta," "plumber," or "broken toilet."
Depending on how much you bid compared to other plumbers in the area, your ad may show up on the results page when people search for the terms you bid on. In addition to how much you bid, Google also takes into account the relevance and quality of your ad and website. So even if you have the highest bid, the ad for your plumbing company will probably never show when someone searches "flower store."
We will go into more detail below on how Google determines which ads to show on the results page and how much advertising on Google costs. If you want more help with Google advertising, you should look at Adzooma. They offer an easy and intuitive Google ad builder, a simple performance report dashboard, and insights to help you improve your ads. Click here to check it out.
The Advantages of Advertising on Google
There are three primary benefits to advertising on Google:
1. Searchers Have [Local] Buying Intent
People searching Google are typically in the market for the keywords they are searching for. For example, if someone searches "pizza nyc," it is not too presumptuous to assume they are looking for a pizza spot to eat lunch at later that day. Since you can set the geographical location that you want your ad to show, you can make sure only people in your area are seeing your ad. For example, you can tell Google to only have your ad show to people located in New York.
Compare this to advertising on Facebook. Even though you can show an ad for your restaurant to someone who is a known pizza enthusiast, you can't show it at the moment they are looking for a pizza restaurant. Instead, you are targeting them when they're looking at pictures of their cousin's golfing vacation. This is not as effective.
This is what makes advertising on Google so successful and unlike any other type of advertising. You are specifically targeting people that are in the market for your goods or services at the moment they're seeing your ad. Not only that, you can target only people that are located in your area, which is a huge plus for local businesses.
2. You Only Pay If Someone Clicks On Your Ad
Another enticing factor is that you only pay if your advertisement works. Since Google uses a pay-per-click advertising model, you only pay if someone is searching for the keyword you have bid on AND is interested enough in your ad to click on it.
You can set how much you are willing to pay per click on your ad and set a maximum daily budget. This differs from advertising in your local newspaper, which costs a standard price that is paid whether or not someone even looks at your ad.
Google AdWords has revolutionized the way advertising works by only making you pay when the user has taken an action to view your site. We will go into more detail about how much it costs to advertise later in the article.
3. Advanced Tracking Ability
With the AdWords dashboard you can track how many people see your ad, how many click on your ad, and how many take an action once on your website. That way, if you notice that a lot of people are clicking on your ad, but no one is buying anything once on your site, you know you need to edit either the landing page or the ad itself. By keeping a pulse on how your ad is doing, you can make any necessary adjustments quickly in order to have a successful ad campaign.
The tracking capabilities with advertising on Google is a huge plus for small businesses. Imagine you own a flower store and decide to buy a billboard advertisement. Unless a customer told you, there would be little to no information telling you if anyone came to your store because they saw the billboard. You would be making a big investment without really knowing if it was yielding a positive return.
With Google ads, you can track exactly how many people visited your site because they clicked on your ad. There is little risk since you can stop running an ad at any time if you notice that you are not getting the results you want. We will explore the best ways to track your ads a little later in the article.
How Does Google Determine If Your Ad Will Show on the Results Page?
Google uses a combination of three primary factors to determine when an ad shows on the results page:
Bid – The bid is the price you are willing to pay for a click on your ad. You bid against other websites on keywords that you believe people search for if they are interested in your product. A flower store might bid on the terms "roses" "cheap bouquet" or "wedding flowers."
Quality and relevance of the ad – Your ad needs to be relevant to the search being made in order to show on the search results page. If someone searches "wedding flowers" it wouldn't make sense for Google to show an ad for a nail salon. You want to make sure you have a lot of the same keywords that you are bidding on in the ad itself, so Google can tell your ad is relevant to the search.
Landing page experience – When someone clicks on your ad, the landing page that they are sent to should have similar content as the ad itself and the keywords used in the search. If you own a salon and are advertising manicures, you'll want to link directly to a page that has more information on manicures, instead of to the homepage which includes all of your services.
---
Bonus: What's better than Google Advertising? Getting traffic from Google for free. Get our guide and learn how to rank on the first page!
---
Differences Between Mobile and Desktop Advertising
Mobile and desktop ads on Google are very similar. They both display ads at the top and bottom of the search results page, and you bid on keywords the same way with both. Though some business owners overlook mobile, it is something you definitely want to think about when advertising on Google. More than half of Google's searches are done from mobile devices, and people searching on their phone often have local intent.
The key differences between desktop and mobile advertising are:
There is less space on a mobile device, so you need to make sure your message is straight to the point.
People on their phones are on the go, so you want to tailor your message depending on if it's for desktop or mobile.
Below is an example of two ads for the same company with the first showing on mobile and the second showing on desktop. Notice that the mobile ad incorporates a "click to call" button so that people searching on their mobile devices can easily call for more information.
When setting up your account, you can decide whether you want your ad to show on desktop, mobile, or both. We suggest setting up separate campaigns for desktop and mobile in order to track how your ads perform across different devices. Depending on your type of business, you may want to focus your efforts on one over the other.
"If you're an eCommerce store, you may want to start with desktop traffic, whereas restaurants or physical shops may want to focus on mobile. Desktop in general converts at a higher rate than mobile, however people searching on their phones are more likely to be looking for a physical location to visit at the time of the search."

– Antonella Pisani, CEO & Founder, Official Coupon Code
How Much Does Advertising on Google Cost?
In pay per click advertising, you only pay if someone clicks on your ad. The cost per click of an ad depends on how much you bid on certain keywords. The cost ranges greatly depending on if you are in a market where a lot of other businesses are willing to pay a high price to rank on a certain keyword.
For example, if you are a realtor in a small town you might be able to bid less than $1 per click on a keyword and still have your ad show on Google. However, if you own a medical malpractice law firm in a big city, the cost per click will be much more expensive.
Learn more about the cost to advertise in our guide to Google advertising costs.
You can use Google's keyword planner to see how much the suggested bids are for your ad to show up when someone searches for specific keywords. However, instead of strictly focusing on the cost of advertising, you will also want to think about how much you stand to earn from advertising on Google, and whether this will yield a substantial profit for your business.
Example: the average suggested bid for keywords related to the term "real estate providence" is $1.50 which we can compare to the average bid of $30 for terms related to "medical malpractice attorney providence." A malpractice firm might be thrilled to pay $30 for a click on their ad if 1 out of 10 clicks becomes a new client. Even though they are paying $300 for a new client, they will likely still profit from the ad at the end of the day.
We will go over the keyword planner in more detail later in the article.
How can you save 33.5% on the Adwords cost per click?
The simple answer is to advertise on Bing. In many ways, Bing provides a very similar service to Google Adwords. The only big disadvantage of Bing is that there are fewer clicks available for purchase. As a result, many advertisers focus on Google Adwords and ignore Bing. The lower competition means less fierce bidding, which in turn lowers the cost per click. According to an article by Wordstream, Bing is typically 33.5% cheaper than Adwords for the same term.
Remember, signing up for Bluehost will include $150 in Google AND Bing advertising for free. Click here to get started.
How to Claim $150 in Free Google Advertising
Once you've chosen your hosting plan and domain from Bluehost, you're ready to try your first Google AdWords campaign with $150 in credit. Here's how to get started:
Click on Hosting in the top left of your Bluehost dashboard (NOTE: make sure you are logged into Bluehost)
Click on Google AdWords $100 under Marketing — NOTE: You need to spend $25 in Google AdWords to get the ad credit
Scroll down to the gray box that says Create your first AdWords™ campaign and click on the green generate code button
IMPORTANT: Copy the code and click on the green button that appears labelled visit this special google link
In the next screen, enter an email address you want to use for your Google AdWords account and the URL of the website you want to advertise with Google
You can now create your first AdWords campaign and use your discount code (learn how to set a budget and how to use Google AdWords)
After you create your campaign, you can enter the code received in step 4 in the Introductory offer box under Payment information on the next page
Enter you payment information, check the box next to I agree to the AdWords terms and conditions, and click the blue Finish and create ad button
How to Setup a Google AdWords Account and Start Advertising in 6 Steps
In order to setup your account and begin advertising on Google, all you need is an email address and a website. Follow along with the steps and set up your own account here.
Step 1: Set your budget
The first step is setting your daily budget. A good starting point is $10 per day, but you can increase or decrease this amount once you have a better idea of what you will have to bid per keyword. It's not guaranteed that you will pay this amount every day (especially if no one is clicking your ad), but Google will make sure you won't exceed your budget.
A good way to set your budget is to first figure out what percentage of clicks will convert into sales. WordStream has a nice infographic that shows a 2-5% average conversion rate for small businesses. If 5 out of 100 people that visit your website purchase your product, than you have a 5% conversion rate. You then have to decide how much you are willing to spend for each person to purchase your product. If you sell something that is $1,000 you are probably willing to pay more per click than someone with a $5 product if you both have a 5% conversion rate.
If you'd like to get started for free, give Bing ads a shot as well. They offer a free $100 credit when you spend $25, which is a great way to try out different terms to see what works before you start running paid campaigns on Google.
Step 2: Set your location

Google lets you decide what geographical location you want your ads to show in. This is important for local businesses because you can make sure that your ad only shows when people search for the keyword you are bidding on AND are within a specified distance from your business. This can save you money and increase your conversion rate. You can even target a certain radius from your zip code by hitting "advanced search" and choosing "radius targeting."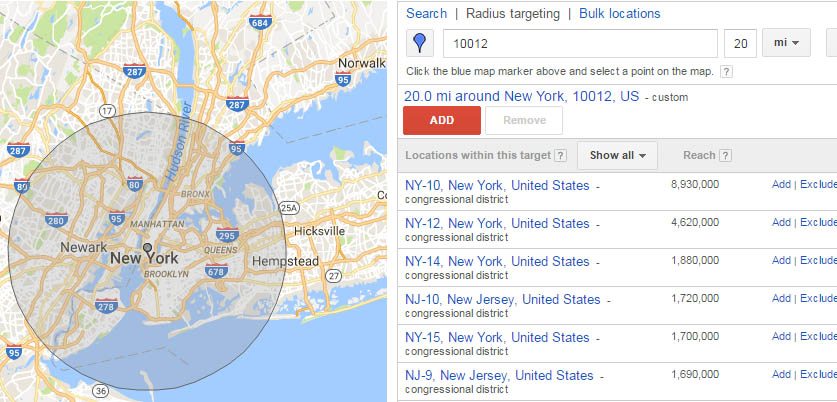 Step 3: Choose a network
Google lets you choose between showing your ads exclusively on Google's search results page (search network), or also including Google content sites (display network). If you choose display network, your ad could show up on other sites, such as YouTube and Gmail. We suggest starting with the search network as this ensures that your ad only shows for people searching for your type of business. The types of products that small business owners provide tend to be more successful with this type of advertising.
Step 4: Choose your keywords
Keywords are the terms or phrases that users enter into Google when they are using the search engine. When setting up your AdWords account, you can choose which keywords you want to trigger your ad. Google will suggest keywords for you to use based on your website and will also let you know how popular a keyword is. For example, when setting up an account for a pizza restaurant in Dallas, a suggested keyword is "dallas restaurants," which gets 18,100 monthly searches.
Google has good suggestions, so you can definitely use those at first. If you are looking to add more keywords after you setup your account, Google has a useful resource in the "Tools" section of your AdWords account called Keyword Planner This will help you get ideas for other terms you could be using. For example, when I typed "pizza dallas" and then clicked "Get Ideas," one of the suggested terms was "pizza delivery in dallas" which is a phrase I had not yet thought of using. Since Google has data on every search, you can see trends and common searches that you may not have realized were popular for your type of business.
Another good strategy is to focus on keywords with more than 2 words, also known as long-tail keywords. These will have less competition since they are more specific.
"If your competition is too high, try finding alternative or more specific keywords. For example, instead of using 'email client' try 'email client for Windows'. This way you're targeting specifically people who are looking for an email client for Windows. These keywords might have a lower search volume, but they represent a niche in the market that your competitors are not utilizing. Your cost per click will be lower and your chances of reaching the right people will be higher."

– Dave Power, Founder, Hiri
Determine the Match Type of Your Keywords
There are 4 different keyword matching options that you can choose from:
Broad match – This is the default match type that your keywords are assigned and will reach the most extensive audience out of the options. This may seem like a positive thing, but since your ad is eligible to show when a search query includes any of your keywords in any order (including synonyms), your ad could be showing on searches that aren't really relevant to your site. Since all keywords don't even have to be in the search query for the ad to show, if your search term is "dallas restaurant" your ad could show for "pizza in dallas".
Broad match modifier – This option gives you a little more control than the broad match on who sees your ad because you can lock certain keywords into place. You just need to add a + in front of the word and that lets Google know that the search needs to include that word in order to trigger your ad. If your restaurant specializes in pizza and no other types of food, you may want to bid on the keyword "+pizza in dallas" so that your ad won't appear when someone searches "dallas restaurant".
Phrase match – This option is next down the line of stricter control. With phrase match, search terms need to be in the same order as your keywords to trigger your ad, but there can be other words before or after the phrase. So if your keyword is "dallas restaurant" your ad won't appear when someone searches "restaurant dallas", but could if someone searches "best dallas restaurant". In order to indicate to Google that you want a phrase match, you will need to put quotation marks around the phrase.
Exact match –  This option works just like it sounds. In order for your ad to show, someone will have to search the exact keywords, in the same order, and with no other words before or after. So if you want to place an exact match on "dallas restaurant" your ad won't show for the search "best dallas restaurant" or "restaurant in dallas." You need to put brackets around the phrase if you would like it to be an exact match (e.g. [dallas restaurant]).
Small business owners should use a combination of these matching types for their keywords.
Take Advantage of Negative Keywords
If you notice that your ad is showing for a search query that is not really relevant to your site, you will want to take advantage of negative keywords. So if a keyword that you're bidding on is "cheeseburger" than you probably don't want people to click on your ad after searching for the popular song "cheeseburger in paradise" if you own a hamburger restaurant. In this case, you would add "paradise" as a negative keyword, and your ad won't show if someone includes that word in their search.
"You want to use negative keywords so your ads don't show for queries which have words you don't like. For example, most small businesses don't want their ads to show up for a phrase that includes the words 'free' or 'cheap' in it."

– Collin J. Slattery, Founder, Taikun, Inc.
Step 5: Set your bid
The bid is the amount you are willing to pay for a click on your ad. You are bidding on keywords against other websites in order for your ad to show on the results page when someone searches for that keyword. If a website has an equally relevant ad to the search being made and is willing to pay more per click, then their ad will show higher than yours or even instead of yours.
Use Google's keyword planner to find out how much you will need to bid. Below is a comparison of suggested relevant keywords and bids for the search "pizza rochester" and "plumbing rochester" in the keyword planner. As you can see, plumbing companies can expect to bid higher than pizza restaurants in the Rochester area.

Step 6: Write your ad
The final step is writing your ad. You will need to write two headlines and a description. You have a limited number of characters, so make sure your ad is concise and straight to the point.
How to Effectively Advertise on Google
Use your keywords in your ad – You need to use the same keywords that you are bidding on are in your ad so that Google will be able to tell that the ad is relevant to the search.
Use local identifiers – If you are a local business, you want to consider using location terms in your search. If someone is searching for "bbq dallas" then your ad with the headline "Best BBQ in Dallas" will be more likely to show in the results and be highly relevant for the person looking for a restaurant in your area.
Clearly state who you are and what you offer – The user should know immediately what your business is and how you can help with what they're looking for. If you own a store that offers many different products, make sure you are matching your ad to the keywords being searched.
Tell the user what makes your business unique – There are tons of results on the first page of a Google search. You need to tell them why they should choose your business. Are you more affordable, dependable, or reliable? Do you have awesome reviews and ratings? Share that information in your ad.
Have a clear call to action – Users are more likely to click on an ad if they are being instructed on next steps. Examples of this are "Call today for a free quote," or "Enter zip to find store closest to you".
Include a promotion – You may want to include an offer such as "20% off shoes today!" or "Free shipping!". It's understandable if you don't want to offer a discount on top of the advertising cost, but even a small offer can be the difference between attracting a new customer to your site, or having them click on the website next to yours.
Enhance your ad with extensions – Extensions show additional information about your business, such as your phone numbers, store rating or address, as links extending from your ad. Including extensions will increase the amount of space you take up on the results page, and they tend to have a high click through rates (both huge benefits). Plus there is no additional cost for including extensions.
A simple step you can take before writing your ads is to search for your type of business and see what type of ads come up. You don't want to copy other businesses ads exactly, but you can get an idea of what works and what is out there.
This ad hits a lot of the things on our checklist. It is packed with keywords, offers $40 off, boasts being open 24/7, highlights what they are best at, and has ad extensions that are tempting to click on. Next, take a look at this ad:
This ad is a little weaker because although it is clear that they are offering plumbing services in NYC, there are not many keywords, and nothing in the ad makes them stand out against the other ads listed.
Google gives you a certain amount of characters to use, and in most cases you want to take advantage of all possible characters. The bigger your ad, the more it will stand out and the more keywords you can use within your ad.
How to Write Effective Mobile Ads
When writing ads targeting mobile devices, you want to think about everything we mentioned above. However, there are a couple of things that you will need to tweak for mobile:
Include click to call and click for directions – Enable these ad extensions so people can quickly contact or locate your business when they are on the go.
Keep it simple – There is less space on mobile and people are looking at a smaller screen, so make sure your message is simple and straight to the point.
Make sure your landing pages are optimized for mobile, or there's a good chance Google won't let your mobile ads rank.
Here's an example of a good mobile ad. The ad extensions are straight to the point, the click to call button allows people to easily contact the firm, plus you can see how far it is from your current location.
Evaluate How Your Google Ads are Performing: Is It Worth it for Your Business?
An important aspect of advertising on Google is tracking how your ad is doing. When you are first starting, you should log into your account about once a week in order to make sure your ad is performing well.
Google will assign a quality score to each of your keywords based on:
Expected click-through rate – How likely someone is to click on your ad after searching for the keyword.
Ad relevance – How closely the keyword is related to your ad.
Landing page experience- How closely the keyword is related to the landing page your ad link to.
You can check the quality score of your keywords by clicking on the keywords tab on your account and adding the "quality score" column.

Google multiplies your quality score times your bid to determine what number your ad will rank. Therefore, if your quality score is 0.9 and your bid for the keyword is $1, you will rank higher than someone with a quality score of 0.4 that bids $2.
Ex: (0.9 x $1) = 0.9 > (0.4 x $2) = 0.8
"A great tool in Google AdWords to help understand how relevant your ads and landing page are to the keywords for which you're bidding is the Quality Score. A good quality score is typically between 7-10"

– David Erickson, VP of Online Marketing, Karwoski & Courage
Quality scores let you know if your ads will rank high, but you can also check statistics on the ad to see how many people are seeing and clicking on your ad:
Impressions – Impressions are counted each time your ad appears on the results page. You will want to take note of the number of impressions your ad gets because a low number of impressions is a red flag. If no one is seeing your ad, there is no chance of you getting business from that ad. If you notice a low number of impressions you'll want to make sure your bid is competitive and that the keywords you chose to bid on match your ad and your landing page.
Click through rate (CTR) – The click through rate on an ad is the number of clicks divided by the number of impressions. This percentage lets you know out of everyone that is seeing your ad, how many people are taking an action to click on it. Good click through rates vary by industry, but if your CTR is less than 1% you should reevaluate the text of your ad. Make sure the ad is enticing and give a compelling reason for someone to click on your ad in order to drive traffic to your website.
Average cost per click (CPC) – CPC is the total amount paid for your ads divided by the total number of clicks. This price lets you know what you are paying for someone to click on your ad. Determining if you have a good CPC depends on the rate at which people on your site typically convert into sales. If 1 out of every 100 people that go to your site becomes a customer, then your conversion rate is 1%. If your average cost per click is $2 then you are paying $200 to get a new customer. This is great news if a conversion means $1,000 in your pocket, but not so much if you will get $20 max from a customer. If you feel your CPC is too high, you'll need to evaluate your landing page and ad to get more conversions.
You shouldn't expect to get a net positive ROI until you've refined your advertisements. That's why starting out with a free $100 Bing credit when you spend $25 can be a good way to experiment on the cheap before running paid campaigns on Google.
Experimentation is Key to Best Results
Just like how you wouldn't settle on the first pizza recipe you come across if you own a pizza restaurant, you also don't want to settle on the first ad that you write.
You should always have at least two ads running at once. You will want to change something in one of the ads and then test which one works best. Be careful to not change too many things at once, because than if an ad starts doing exponentially better, you won't know which change led to the better results.
"An effective Adwords campaigns starts relatively broad. After some time you will learn what works and what doesn't, what keywords are converting, what ad copies are getting the most clicks, what extensions actually make a difference, etc. From there, start optimizing. Bin what sucks, keep what works. You'll never have the strongest performing Adwords campaign until you know how to learn from failing."

– Matthew de Noronha, Digital Marketing Specialist, Eastside Co.
You should also consistently clean your keyword list. Use Google's search term report to see what actual searches are triggering your ad. You can find this report in your account under the keyword tab by hitting the search terms button. If you notice that your ad is showing for keywords that are not relevant to your site, you will want to remove that keyword, add it as a negative keyword, or turn it into an exact match keyword.
For example, imagine you own an eyeglass store, and your ad is showing when someone searches "wine glasses" because one of your keywords is "glasses." You will either want to add "wine" as a negative keyword, or you can make sure Google only matches your ad when someone searches the full phrase "eye glasses."
Having a good set of keywords is key because you only want your ad showing to people that will find your businesses useful. Otherwise, you could be wasting money on unnecessary clicks.
How to Run Multiple Ads at Once
After you get the hang of running your first Google ad, you will want to start running multiple campaigns at once. A campaign is a set of ad groups that all share a budget, location setting and device setting. So if you own a business that has two locations, you will want to have a separate campaign for each. Then you can use targeted keywords depending on which location the campaign is for.
Each campaign is made of different ad groups. Each ad group shares a list of keywords and should have a similar theme. Therefore if you own a home goods store, you could have an ad group that consists of keywords related to dishware, and one that has keywords relating to furniture. Keep in mind that you don't want two ad groups in the same campaign to share too many of the same keywords, because then you might be bidding against yourself to have one of your ads show.
Want an Easy Way to Improve Google Advertising?
Don't forget to check out Adzooma if you want professional help to improve your ad performance. They offer a simple performance report dashboard and insights to help you generate more revenue from you ads. Click here to try Adzooma.
The Bottom Line
When you advertise on Google, it can go a long way towards helping you get new customers, especially since you can target your ad specifically for people in your area.
Once you create your account, constantly test ads so you are using the best performing material, and keep your keyword list clean. This will help you pay the lowest amount possible for your ads. Check out our guide to Google advertising costs to learn more.
Don't forget to sign up for web hosting, a domain, and business email with Bluehost to receive $150 in free Google and Bing Ad credits. Click here to learn more.