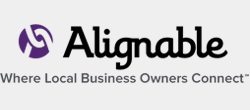 Alignable wants to become the social network for small businesses. While Facebook and Twitter may be the best for business-to-customer relations, Alignable is positioning itself as the social network of choice for business-to-business relationships. Small businesses have lots of reasons to talk to one another, from sharing information on local regulations to planning cross promotional events.
Before we dive into the details on this topic, we also suggest you check out Insightly, our recommended small business CRM. Visit Insightly to learn more.
Founded in 2012, Alignable now has small business members in 7,000 communities with 500,000 connections between members. Not only does Alignable allow members to connect with each other, but they can also recommend the small businesses they'd be willing to refer their customers to. Active members tend to have have 10 or more connections and provide 4 or 5 recommendations.
I had an opportunity to talk with Eric Groves, the co-founder and CEO of Alignable. The following Q & A is reconstructed based on my notes and do not represent his exact words.  
Are small businesses missing out on major opportunities to increase new business by not networking with local business people?
Yes. Let's look at a couple stats. First, an average of 80% of a business' customers will live or work within a 5 mile radius of a business' location. Second, local businesses often have completely different customer bases from each other, even ones that are located within the same neighborhood. The typical small business has an email list of 3,000 to 4,000 names. One study looked at small businesses that were located within 5 miles of each other, examined their email lists, and found that there was on average only a 2% overlap in the names. By partnering with other local businesses, companies have the potential to tap into a completely new customer base.
Why don't small businesses typically do more networking with each other?
Small business owners are constantly barraged by sale pitches. There are always people walking into their shop and trying to sell them something, from a yellowpages ad to office supplies.  One hypothesis is small business owners don't want be perceived as just another sales pitch by their fellow business owner, which sometimes prevents them from walking over and introducing themselves. Networking online gives small business owners a way to break the ice and often leads to in-person meetings which are profitable for both businesses.  
What is the best way to do online networking? What common mistakes do small business owners make?
Hard sales rarely work and often backfire. We had one insurance broker that came onto Alignable that made statements like "I have the lowest rates and you would be crazy to do business anywhere else." His remarks not only didn't work but irritated his fellow small business owners. On other hand, another insurance broker provided education on a topic that impacts many small business owners, "What you need to do to make sure your business is covered if you have your employees drive their personal cars while on the job?" This led to a great discussion on small business insurance.
What types of companies should network with each other for cross promotion?
Businesses in one shopping area have a natural reason to cross promote. As potential customers come into a shopping mall, they may visit multiple shops. Through Alignable, one group of shops created an event called "Third Thursdays," where all the shops work together to hold an event supporting local charity. But, some of Alignable's success stories featured much less obvious connections. For example, one member of Alignable, a professional tennis coach, connected with some local businesses through Alignable which allowed him to put some flyers in their stores. After awhile, he found out his best source of customers was from local nail salons where he had his flyers. Many of the women that went to the salons played tennis in high school or college. They started taking lessons and their kids often followed.
Want to manage 1000's of leads, save time, and get organized? Click Here to get our FREE CRM guide and find out how.