The Amazon affiliate marketing program, called Amazon Associates, is free to join and pays bloggers and website owners a percentage of every sale they refer to Amazon. Getting started is simple, and the earnings can be big. Part-timers can make hundreds of dollars each month easily while some power bloggers make millions annually.
How the Amazon Associates Affiliate Program Works
Amazon affiliate marketing works like other affiliate marketing programs by paying website owners — generally bloggers — commissions on sales that result from marketing Amazon products to their audience. Site owners insert trackable Amazon affiliate links into site content like blog posts and can also insert affiliate ads into site sidebars, headers and footers.
When a site visitor clicks on one of these links or ads, he or she is sent to Amazon. If they complete a purchase there, the site owner — called the "affiliate" — is paid a percentage of the sale. Amazon affiliate commissions range from 1 percent to 10 percent of the item's selling price. These percentages are based on the category the item is listed under on Amazon.
Here's a sampling of the affiliate commissions that Amazon pays per category:
Career blogger Amanda Formaro of AmandasCookin' says "the Amazon affiliate program is a terrific fit for new bloggers, but it's important to understand that Amazon only pays you when your readers make purchases." Formaro emphasizes that Amazon doesn't pay affiliates for simply listing products or ads on their site. "Amazon affiliates don't earn money for sending visitors to Amazon or the number of Amazon ad impressions that appear on an affiliate's website," says Formaro. "It's all about the sale."
Formaro tells budding bloggers that "it can take a while to build up enough traffic to get people clicking your links, and then they still have to buy once they land on Amazon. But don't get discouraged," advises Formaro. "Keep creating and sharing content, and insert Amazon affiliate links for relevant and helpful products into your posts, and the sales will follow."
Who the Amazon Affiliate Program Is Right For
Bloggers are the primary users of the Amazon affiliate program. However, Amazon affiliate links aren't limited to use on blog websites. Book authors, ecommerce sellers and service businesses can bolster income with Amazon affiliate earnings.
Here's a look at the range of online businesses that can benefit from the Amazon affiliate program:
Bloggers: Bloggers can cover every broad and niche topic imaginable and, as long as you can connect products sold on Amazon to the content that you create, you can make money as an Amazon affiliate
Amazon Kindle book authors: Every Amazon Kindle author should have an author website on WordPress to market their books and brand; you can list your own titles via Amazon affiliate links and earn an added 4 percent on top of your ebook royalty when titles sell; plus, you can earn even more by marketing Kindle devices and other items that might interest your reading audience
eCommerce sellers: Ecommerce sellers can earn affiliate income when items are on backorder or discontinued by inserting an affiliate link to a similar item on Amazon; this services your customer and captures income otherwise lost and, if you produce content for your brand, insert affiliate links to complimentary items from Amazon
Online & offline service providers: If your service customers can benefit from products that Amazon sells, you can launch a WordPress business website and publish content that benefits your clients and markets these items
Essentially, any individual, group or business that creates some type of online content and attracts an audience can bolster income with Amazon affiliate earnings.
How to Become an Amazon Affiliate in 6 Steps
Becoming an Amazon affiliate isn't difficult. In fact, all you really need is a website — WordPress is ideal for this — and the ability to create content around something that interests you. These are the two simple building blocks that many Amazon affiliate marketing empires are founded upon.
Getting to that point takes some work but, clearly, the payoff can be very worthwhile. Here's how to become an Amazon affiliate in six easy steps.
1. Launch Your Affiliate Website
If you don't yet have your own blog or website, you'll need to launch one to house the content you create to market Amazon affiliate products. You must have your website in place before you can apply for the Amazon Associates affiliate program, which we detail in step two.
WordPress is, by far, the most popular web platform for affiliate marketers. You can learn how to get your site up and running quickly in our WordPress website launch guide.
Once your website is up and running, your long-term goal is to build it out with content that interests you and attracts an audience. Most successful Amazon affiliate marketers target a niche that interests them like cooking, hiking, aquarium care, antique Corvettes and so on.
Niche topic possibilities are endless, but you want to be sure it's something that you're passionate about because you'll be living and breathing it in order to make your Amazon affiliate marketing effort a success. You can learn more about identifying a niche and building an audience in our blog marketing guide.
One of the perks of the Amazon affiliate program is that you can apply for it as soon as you've launched your site. You don't have to have a large following to get started. So, you just need to set up a website on WordPress or another web platform, have a content plan of some sort in place and apply to become an Amazon affiliate.
2. Sign Up to Become an Amazon Affiliate
The Amazon Associates affiliate program is completely free to join, and it has very low-level entry requirements, so entry-level beginner bloggers and content marketers are welcome. Start the process by visiting the Amazon Associates Account page:
Once you click the "Join Now for Free" button, you'll be taken through the account signup process, outlined below:
To complete the registration process, you'll need to have these three elements ready to go:
Your Standard Amazon Account
You need to have a standard Amazon shopping account to join Amazon Associates. If you have a business entity like a sole proprietorship, LLC or corporation, you can set up a new Amazon account under that entity to keep your affiliate account separate from your personal Amazon shopping account.
An Active Website or Blog
As mentioned in step one, you need to have your website or blog set up and running before you sign up for Amazon Associates. You must provide the URL to your website during registration, so get your WordPress website or other site set up before applying. You can include up to 50 different affiliate sites under one account. Plus, if you develop mobile apps like a mobile deal finder or how-to app, you can include those in your affiliate marketing plan too.
A General Idea of Your Site Content
Your Associates' profile is the place where you tell Amazon what your blog or website is all about, including the type of content you cover and the types of goods you plan to market via affiliate links. Here's an idea of what Amazon wants to know:
After completing your Profile step, Amazon verifies your websites and will send you an approval confirmation within about 12 to 24 hours. Once you receive that, you can start adding affiliate links to your site content.
You're Approved! Sort of …
"Your initial approval is the beginning of Amazon's 180-day probationary period," says Amazon affiliate and owner of Books That Sow Strength, Cherrye Vazquez.

Vazquez advises new bloggers to "be diligent and work on getting at least 20 posts up fast since that time goes by very quickly. However, once you get those three purchases," says Vazquez, "you'll get an email that you're fully approved."
Vazquez adds, "Amazon Associates Is one of the few affiliate programs that allow new bloggers to enter their program without an existing social following. Many others only approve new applicants that have a social following in the thousands."
If you do have a large social following, you can pair your Amazon Associates account with the newer Amazon Influencer program and make the most of social media-focused promotions.
3. Learn How Amazon Affiliate Commissions Work
Once your Amazon affiliate account is approved, you can start adding Amazon affiliate links to your content. But before you jump in head-first, you need to learn the different ways you can earn Amazon affiliate commissions and understand Amazon's category-based affiliate commission structure.
Here's the list of Amazon affiliate commission percentages, per category:
Here's a closer look at the three ways that Amazon pays commissions to its affiliates:
Linked Product Purchases
If your reader clicks on a link to Amazon and purchases the item, you earn a percentage of that sale, per the list above. For example:
Furniture, home decor and lawn & garden: This category pays 8 percent of an item's sale price; if a shopper purchases throw pillows for $40 via a link on your site, you make 8 percent, or $3.20, on that sale
Beauty, musical instruments and headphones: This category pays 6 percent of the items' sale price; if a shopper you sent to Amazon purchases a garden rake for $30, you make 6 percent, which is $2.40 in your pocket
Luxury beauty: Affiliates are paid a whopping 10 percent commission on items in this category; if you market an $60 item from this category, you'll make $6 when a visitor clicks through from your site and makes the purchase
Now, Amazon's categories can be confusing. As you use the program, you'll find that something that you'd consider a "Home" or "Luxury Beauty" item might be categorized at a lower rate. To be sure of the item's commission category, check the categories listed at the top of the item page or search by category as we did here to find this Luxury Beauty item:
Commissions from Other Purchases
Here's the most exciting part of Amazon's affiliate program. You make commissions on any other items your shopper buys too. They don't even have to purchase the original item that sent them from your site to Amazon. This is a great perk.
If your visitor clicks on one of your affiliate links, say for the beauty cream above, but purchases another brand of cream or even a blender or pair of shoes during their visit, you get paid a commission on those items too. In fact, Amazon's affiliate links track the shopper from your site to that of the shopper. If he or she completes a purchase within a 24-hour window, you get the commission — whatever it is he or she buys.
Plus, if the shopper leaves Amazon's site without purchasing, but returns and completes a purchase within 24 hours, you earn commissions on anything the shopper purchases. In fact, if the shopper adds items to his or her Amazon cart within that 24-hour timeframe, but leaves without purchasing, all is not lost. If he or she returns and completes the purchase within 90 days —  without clearing the cart and starting over, that is — you can still earn that commission.
Clearly, these are not factors you can control, but they are nice perks of the Amazon Associates program.
Amazon Bounties
Amazon Bounties are flat-fee payouts that affiliates earn when a visitor signs up for an Amazon service like a Prime membership, Amazon Music or Kindle Unlimited. Most bounties pay around $3 to $5. It's easy to market Bounty programs by adding an Amazon Bounty ad into your store's sidebar or banner:
You can see all of the category-specific percentages and bounties on the Amazon Associates program payouts page.
4. Learn How to Use Amazon Affiliate Links
Amazon affiliates can insert different types of trackable links into content to market Amazon goods and services. Some of the affiliates that we interviewed have one or two favorites as you'll see below, but most use different types of links throughout their site.
Before you start working with any links, you'll want to install the Amazon Associates Site Stripe browser extension. This makes quick work of inserting affiliate links into your content as you'll see below.
Here are the five primary types of links that Amazon affiliate marketers use to monetize site content.
Amazon Affiliate Text Links
Text links are just that: links that you add within the text of your site content like a blog post or product review, such as this Baby Safety Gate Checklist on the SimplySmartLiving blog:
Text links are simple to use, and many successful bloggers recommend them for both startup and established affiliate programs.
Slavik Boyechko, founder of the filmmaking equipment review site GearDads, says, "The easiest way to begin as an Amazon affiliate is simply to write good content and insert in-text links using Site Stripe when it makes natural sense to link to an item. Banners and native ads and advanced comparison tables are something you can do down the road."
James Goodwillie of the blog One To Multi agrees. "I've been an Amazon Associate from day one, and it's the number-one way I monetize my content. I've found that things like big sections of product image links are too much and scare away users," says Goodwillie. "Adding affiliate links for product pictures or any text where I mention the product is the method that works the best for my site."
How to Use Amazon Affiliate Text Links
With the Amazon Site Stripe extension turned on, you can search for and insert Amazon affiliate text links within your website editor using its handy popup "Create Link" button.
First, you select the text to link, and the Amazon Create Link button pops up, like this:

When you click on "Create Link," can select an item from the pop-up list, search for a specific item or link to a search results page on Amazon. You can complete the entire affiliate linking process in just seconds within your site dashboard — as we did in this WordPress post edit screen: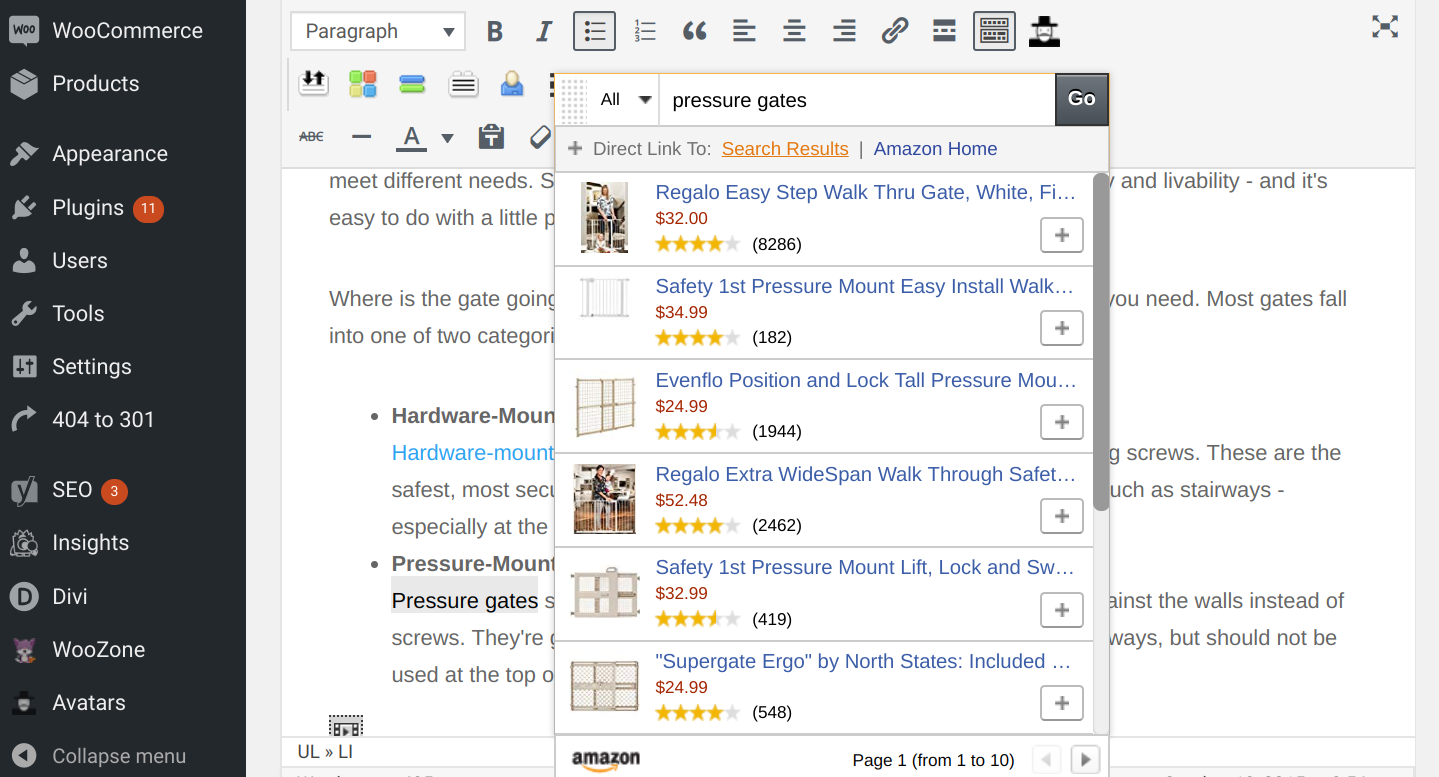 You can also create text links for any Amazon item or page within your Amazon Associates dashboard. Once you select the item or page, Amazon gives you code that you copy and paste into your web content.
Amazon Affiliate Image Links
The same linking process used to create in-text links can also create affiliate links for the images you publish in your web content like product reviews or how-tos. These can be images you take that illustrate your content, shown below or product images copied from Amazon product listings.
You want to be careful with this because the item featured in the image needs to match the item that you're linking to in order to best-serve your reader and to meet Amazon's affiliate image guidelines.
How to Use Amazon Affiliate Links in Images
Like text links, the simplest way to insert Amazon affiliate links into images is using the Site Stripe extension. With that, you can select the image in your site editor, and the Amazon "Create Link" button pops up, like this:

Then, click on "Edit," and the pop-up search window opens. In it, you can search for the exact item you want to link to, and click "Tag Image," to insert the affiliate link, like this:

John Holloway uses Amazon affiliate links exclusively on his Guitar Lessons website. He advises beginning bloggers to "try different things and see what works best. Some best practices to start with are image links, in-text links and even product comparison tables with links," says Holloway. "Just make sure that the linking is natural and not overdone or you run the risk of driving visitors away."
Amazon Featured Product Affiliate Links
Amazon provides many types of ad-style affiliate links with custom coding that automatically updates item pricing, names, review starts and images for you. One of the easiest and most effective options is the Amazon's Featured Product links.
Jeff Rizzo, founder and CEO of the RizKnows affiliate site says, "adding Amazon's product linking graphics in a post is a great way to make the post more visual and ensure that pricing for featured items is up to date."

How to Use Amazon Featured Products Affiliate Links
You can create a featured product affiliate link using your Site Stripe extension bar which appears above the item listing page on Amazon.com. Use Amazon search to find the item that you want to list, click on that page, then click on "Text+Image" in the Site Stripe bar above it.
Amazon shows you how the affiliate link will appear, and you copy the provided code and paste it into your website content.
To create a row of multiple featured products links as we show above, you can insert the link code into a table on your website or copying and pasting the code for several featured product in succession into your post.
Amazon Native Shopping Ad Affiliate Links
Amazon Native Shopping Ads are Amazon Associates' newest affiliate link product and produces a slick-looking ad section that looks great in blog posts and website content as shown below. Rizzo recommends that Amazon affiliates use Native Ads as soon as they're comfortable creating and inserting the code into posts.
"For example," says Rizzo, "rather than having a Google AdSense banner, bloggers can make more money early on with an Amazon Native Shopping ad, which pays whenever someone clicks through and makes a purchase."
You can populate your Native Ad sections three different ways too:
Recommendation ads: Amazon populates these ads automatically based on a scan of the surrounding post content; these ads insert the products that Amazon feels are the best match for the content and reader interests and makes updates automatically too
Search ads: Creates an ad strip of best-selling items for a search phrase and includes an Amazon search box so your site visitors can search Amazon right on your site and see new results in the Native Ad strip
Custom ads: You can create a Native Ad strip that includes products that you specifically want to promote; Amazon updates the pricing automatically and reviews information for you, but you select the specific items that appear in the strip
Of the three Native Ad options, Rizzo recommends that new bloggers try the simple and effective Recommendation Ads. "These scan your post automatically to make certain that the products it recommends are relevant to the reader," says Rizzo.
How to Use Amazon Native Shopping Ad Affiliate Links
Native Ads can be set up in the Site Stripe bar. However, many new affiliates find it easier to do this within the Native Ads section in your Amazon Associates dashboard. There, you can tinker and test all types of ads options to find the best fit for your content.
Banner Ad Affiliate Links
Amazon also gives affiliates a huge selection of automatically updated ad banners that can be inserted anywhere easily. We mentioned the Amazon Bounty programs earlier, and these offer banners that market Amazon memberships like Prime, Kindle and Music programs and much more: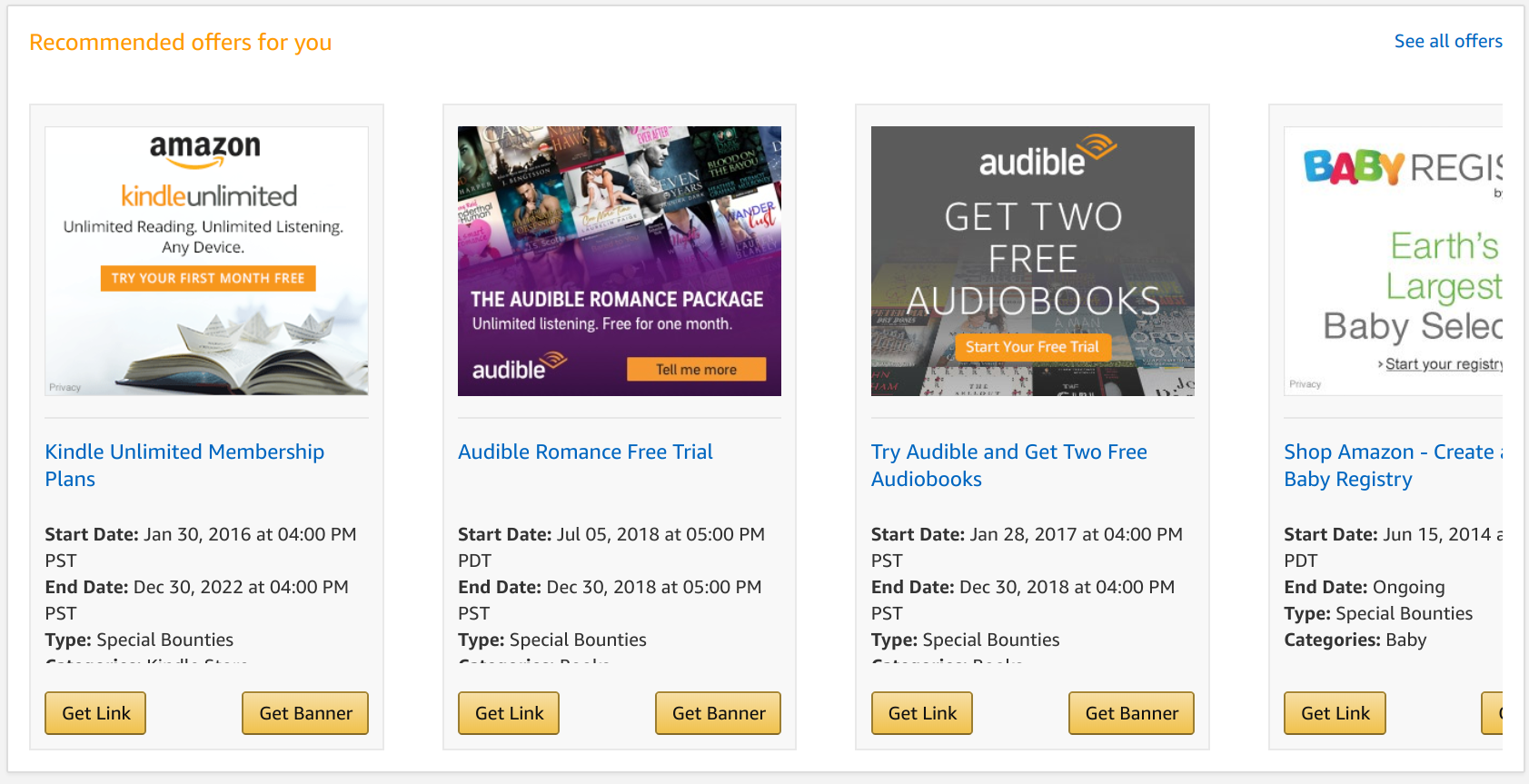 You can also insert all types of Amazon affiliate ad banners and buttons for seasonal and holiday specials, shopping events like back-to-school and many other niche-targeted promotions like crafting, kitchen, tech and plenty more. If you insert a banner for a seasonal event but forget to change it out when the promotion is over, Amazon has you covered. Amazon will update any expired banners automatically with standard promotions, so you aren't left with a blank spot on your site.
You can find many Amazon Banner Ad options in the "Banners" section of your Amazon Associates dashboard. Once there, you can search for targeted and niche market ad programs that promote just about anything you wish:
How to Use Amazon Banner Ad Affiliate Links
Most bloggers insert Amazon Banner Ads into site headers, sidebars, footers, specific landing pages and occasionally post content. Amazon offers many different sizes and layouts, so you can find the right fit for your space — like this Kitchen promotion for Cuisinart products that provides banners in seven different size formats:
Caution: Using WordPress Plug-ins to Create Amazon Links
If you use WordPress to run your affiliate site, you'll eventually hear about Amazon affiliate plug-ins. These are third-party programs that streamline adding Amazon affiliate links to your website, provide advanced display tools and help with overall performance management. This sounds enticing, but many blogging pros warn new bloggers that relying on plug-ins can be risky.
Jon Hayes, the author of the Authority Hacker Amazon affiliate site, says, "When it comes to plug-ins, it's important to remember that Amazon is extremely harsh with their penalties." Since its very easy to lose your Amazon Associates affiliate account for incorrect linking, Hayes recommends that "affiliates should thoroughly check to see whether the plug-in is compliant and approved by Amazon or not."
Hayes says a few plug-ins are closely vetted and offer reliable options for bloggers that need advanced design and linking features. "AAWP is by far the most useful and trusted plug-in we have worked with," says Hayes. "It adds a lot of versatility to our articles and gives us a range of dynamic design options improving the visual design and bolstering the trustworthiness of our reviews."
Part-time travel blogger Shawna Newman, who runs Active Weekender, agrees. "Simple in-text links are still the best for any blogger, but for advanced display needs, the AAWP plug-in integrates with the Amazon Associates API [application programming interface] and makes it easy to display product images and prices in a way that keeps you compliant with Amazon."
Since API connectivity is quite advanced for the beginning blogger, plug-ins should only be explored after your Amazon affiliate site is established and you're familiar with the program. However, most experienced bloggers agree that the options covered above handle most affiliates' linking needs just fine — without a plug-in.
Next, we'll look at the different types of content you can create to house your affiliate links and effectively market Amazon products to your readers.
5. Create Content That Converts Readers to Buyers
To become a successful, money-making affiliate site owner, you must create interesting and compelling content — and lots of it. Content is what attracts an audience and what that content largely depends on the purpose of your blog. Some bloggers focus on product reviews while others are do-it-yourself crafters who publish how-tos, cooks who create recipes or workout pros who publish fitness-centered articles and posts.
Whatever your niche, here are four different types of content that our expert bloggers recommend to attract readers and convert them to Amazon buyers.
Best-of Lists and Product Roundup Posts
Jeff Rizzo says "the easiest posts to incorporate affiliate links are best-of and roundup lists, like the '5 Best Water Bottles for Hiking.' These lists allow bloggers to incorporate numerous product links into a single post and thereby have more opportunities for click-throughs.
Shawna Newman agrees, "the best types of posts are product roundup posts where you can recommend great products, like The Best Hiking Sandals, shown below.
Rizzo adds, "roundup lists can also rank higher in Google search results because they tend to be more specific. In other words, don't do a post entitled 'Best Laptop Computer' because you will be competing with some of the largest websites out there such as CNET, PC Magazine and so on and will have a difficult time getting traffic," says Rizzo. "Instead, think about deeper pieces of content like 'Best Security Camera System for Small Businesses,' which has fewer searches but far less competition."
Connecting tightly post titles and content to your niche topics helps your site rank higher in search results and attracts readers looking for your specific information. That's how you build up a following of readers and shoppers who share your interest.
Product Review Posts
Product review posts take a deeper dive into specific product features that a Best-of list or product roundup. You can even incorporate your own star rating system, shown below, which tends to boosts your search results too.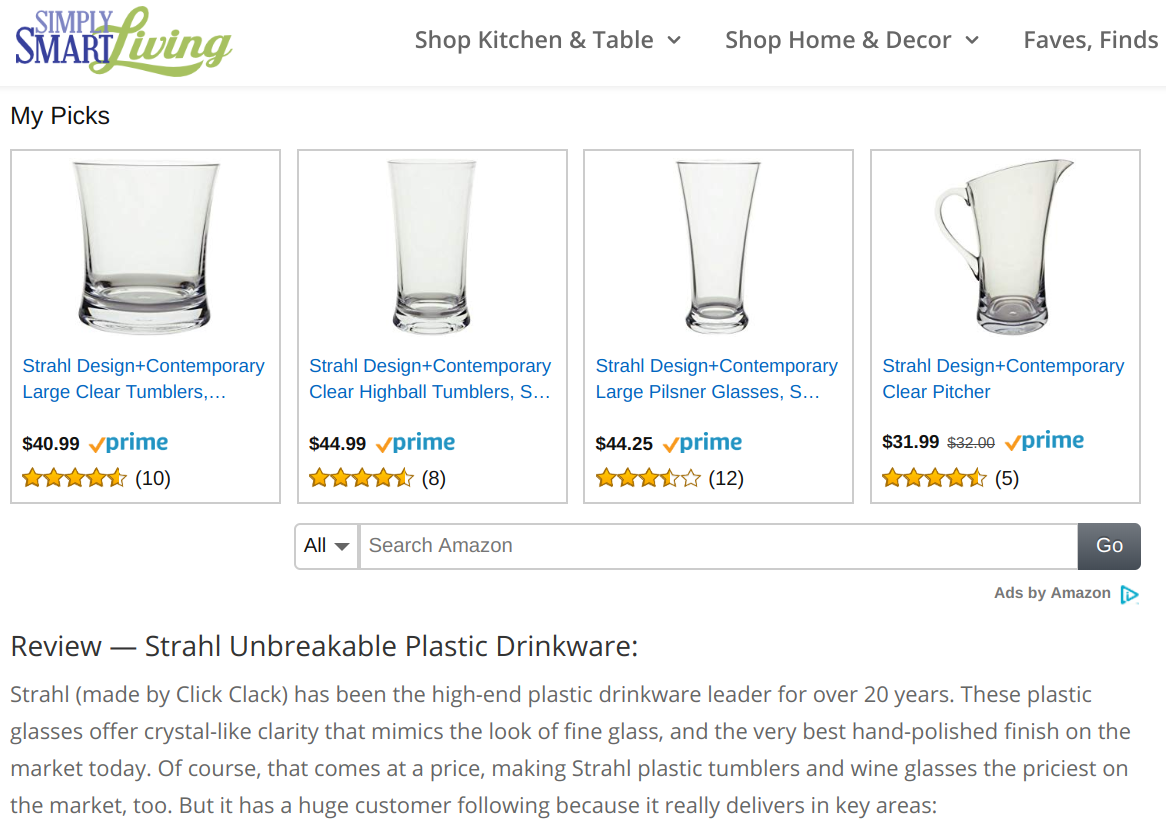 The SimplySmartLiving blog uses a star-rating system to tell readers how reviewed lines meet specific criteria and help boost search rankings.
Hayes advises, "when you're getting started, I would highly recommend sticking to review articles, particularly roundup reviews. These are a great way ease yourself into the content creation process. During the research process, you will get a deep understanding of your audience and the types of problems they're trying to resolve by visiting your site."
Product Comparison Posts with Tables
Thomas O'Rourke, who runs the affiliate marketing website Decking Hero, finds that product comparison posts that include tables help convert readers into Amazon buyers.
"Placing a product comparison table toward the head of your post or webpage increases your click-through rates to Amazon tenfold," says O'Rourke. "Plus, tables offer a convenient method for your readers to compare product specifications." O'Rourke also recommends adding affiliate links to any images in your tables or on post pages.

How-tos, DIYs & Recipe Posts
Bloggers who focus on creative topics like crafting, DIY, home decorating and cooking have an endless supply of "How-to" instructional content. "This," says crafting and cooking blogger Amanda Formaro, "is great for converting readers to buyers."
"One of the most effective ways to use Amazon Associates is to include affiliate links in a list of supplies or tools that are needed for the recipe, craft, garden project — whatever you may be writing about," says Formaro.
Here's a look at how Formaro incorporates Amazon affiliate links as product recommendations within a recipe post:
Formaro also publishes other types of content that appeal to the shopping side of her how-to audience. "You can also do product reviews or write gift guides on creative content websites, and these can be very effective — even more so than just linking to supplies within a how-to post," says Formaro. "Keep in mind that people are most likely not in the shopping mindset when they arrive at your blog to get a recipe or how-to instructions. But, if they come to a gift guide or product review, the mindset is definitely shopping-oriented."
Next, we'll look at how to measure and gauge the success of your Amazon affiliate marketing efforts.
6. Review Analytics & Refine Your Plan
After you have some content published and Amazon Associates affiliate links in place, you'll want to review how well those posts are converting and your links are performing. This is a pretty in-depth science. However, as a beginner, you can start to explore and tweak performance using two analytics tools:
Amazon Associates Account Reports
Your Amazon Affiliate dashboard provides an overview and in-depth reporting where you can review and track the performance of link clicks rates, conversion rates and the income generated from your affiliate links.
Here's a look at a typical Amazon Associates account overview, which you can access in the "Reports" section of your dashboard. From here, you can drill into date, link and site-specific details.
As your usage of Amazon Associates grows, Amazon's new Content Insights reports use this data to recommend content ideas and related products that fit your readers' interests. This program is in beta testing now but is in the process of rolling out to all Amazon Associates accounts.
For overall site performance tracking, including the number of visits, the most popular pages and how visitors interact with your website, you need to use Google Analytics. There is a learning curve to Google Analytics, but it's well worth the time investment. Even with a basic understanding of Google Analytics, you can learn a lot about how your visitors interact with your site and which pages attract more readers than others.
For example, here's a look at the Google Analytics report of the most popular pages on an affiliate site over a seven-day period:
Clearly, knowing which pages are the most popular on your site is important to your affiliate monetization strategy. This data helps you target your affiliate efforts to the pages that already attract the most readers. Once those pages are well-monetized, you can look into improving the search results, reader interaction and monetization of less popular pages.
Understanding reports and analytics, especially Google Analytics data, can take some time, but there is help available. Fiverr is home to budget-friendly freelancers that can help you set up, track and understand Google Analytics reports so you can start using this data from day one. In fact, Fiverr's pros can help you build your affiliate WordPress site, populate it with the content your readers want and even help you effectively monetize it with Amazon affiliate links.
The Bottom Line
There are many ways to monetize an affiliate marketing blog or website. However, the pros agree that the Amazon Associates affiliate marketing program is hands-down the best way for most beginning bloggers to start earning affiliate income.
As soon as you've launched your website, you can apply for the Amazon affiliate program. Provisional acceptance is almost guaranteed and that gives you 6 months to build content, attract an audience and convert just three readers into buyers.
Long-term success depends on doing two things well: building content that delivers value to readers and using that content to market affiliate products to convert those readers into buyers. There are many different types of content and affiliate link combinations you can try, and Amazon Associates reports and Google Analytics both help you measure success and fine-tune your efforts.
Do you monetize your website with Amazon affiliate links? Are you exclusive on Amazon or do you also use other affiliate marketing programs? We'd love to hear what works for you in the comments below.