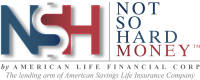 American Life Financial Corp.
American Life Financial Corp. has been in business since 1954 and funded over $1 billion in total loans. Rates start at 6.99% and they'll lend up to 65% LTV. They have an "NR" BBB Rating with 3 positive reviews. They were rated 5 stars based on 3 Google Reviews.
Lender Information
American Life Financial Corp: Rates & Terms
Types of Properties
Commercial
Industrial
Multifamily
Office Buildings
Investment Residential Properties
Mixed used properties
Land (25% LTV)
Loan Amount
$250,000 to $8 million
LTV
65%
ARV
N/A
Interest Rates
Start at 6.99%
Lender Fees
Origination fee: start at 2 points
With Pre-payment penalty
Loan Terms
5, 10, or 15 year balloon with 15 to 30 year amortization or 2 year interest only
Minimum Qualifications / Documentation
Asset-based lending, not credit driven
Exit strategy
Time to Funding
One to two weeks
Other Financing Available
Hard Money Loans
*Exceptions may be granted. Lender information is updated often, however exact lender terms may have changed.
States Currently Lending In
Arizona, Colorado, Nevada, New Mexico, Texas, Utah
Work For American Life Financial Corp.? Claim This Page.