Appointy is an appointment scheduling software that allows you to accept appointments online, send automated emails/sms reminders, integrate with social media and Google Calendar, and more. We compiled user reviews from around the web to determine what Appointy customers think about the company. We also compared the most common pricing options for small business owners.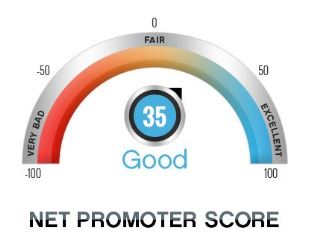 Appointy Customer Reviews
Net Promoter Score (NPS) = 35 
NPS is calculated by asking users how likely they are to recommend Appointy to a friend on a scale of 1-10. The percentage of detractors (users who rated 1-6) is subtracted from promoters (users who rated 9 or 10). Appointy has a positive NPS of 35, which is considered a good score.

Summary of User Reviews
We conducted a survey of Appointy users and found they have a good Net Promoter Score of 35.
What Appointy does well:
According to the positive reviews online, Appointy has improved the response rate of the users' clients due to the ease of scheduling appointments. Reviewers also like that the customer service team responds quickly to requests.
What Appointy does not do well:
There are only a few negative reviews of Appointy. Of the handful, users said that their appointments were not synced with their Google Calendar. There are also some clients who received bad links that led to appointment cancellations or rebookings. Lastly, although the customer service representatives are helpful, most new users cannot understand the features and need to call support for help.
Most Helpful Positive User Review
According to one positive review on GetApp, the client is in the midst of setting up their counselling business. They started out testing bookings using Appointy and have since been satisfied with both the ease of use and customer support they received. According to the user, Appointy's support helped his team set up the system so that it would be compatible with their company's needs.
Most Helpful Negative User Review
According to one negative review on Gsuite Marketplace, the client chose Appointy for their Google Calendar integration. He complained that many of his appointments in Google were duplicated because of it. He thinks that there is a bug in the program that does not recognize copies of the same appointment.
See All User Reviews
Other Appointy User Reviews From Around the Web
Here are a few other resources for finding helpful Appointy customer reviews. We rated the review sites on a scale from poor to excellent based on how trustworthy and useful the reviews seemed.
User Review Website

Average Rating

Number of Reviews

Quality of Reviews
on Website

GetApp

4.68 out of 5

211 reviews

Good

G2 Crowd

4.6 out of 5

6 reviews

Good

GSuite Marketplace

3.5 out of 5

10 reviews

Fair

*Average ratings as of August 15th, 2017
Appointy Pricing
Appointy has four plans — Free, Pro, Business, and Enterprise. The Pro plan costs $19.99 per month when billed annually. The Enterprise plan is priced at $59.99 per month when billed annually. The main difference between the plans are the additional features for each upgrade such as customization, email marketing, separate staff logins, and more.
| | Free | Pro | Business | Enterprise |
| --- | --- | --- | --- | --- |
| Price (Monthly) | $0 | $29.99/month | $49.99/month | No Monthly Offer |
| Price(Annually) | $0 | $19.99/month | $39.99/month | $59.99/month |
| Website Integration | ✔ | ✔ | ✔ | ✔ |
| Customization | ✕ | ✔ | ✔ | ✔ |
| Analytics | ✕ | ✔ | ✔ | ✔ |
| Email Marketing | ✕ | ✔ | ✔ | ✔ |
| Separate Staff Login | ✕ | ✕ | ✔ | ✔ |
| Advanced Analytics | ✕ | ✕ | ✔ | ✔ |
| Multiple Location Support | ✕ | ✕ | ✕ | ✔ |
Compare Appointy Competitors
Not sure if Appointy is the right appointment scheduling software for you? Take a look at our appointment setting software buyer's guide.