Apptivo is one of our recommendations for the best territory management CRM software for small businesses. When we evaluated this provider, it scored high in pricing, general features, niche features, customer service, and expert scores. However, it got a lower score in ease of use because of its steep learning curve and the technical skill required to set up and use it.
What We Like
Excellent customer support
Highly customizable and modular system
Has specialized solutions for industries, such as hospitality and real estate
What's Missing
Free plan is limited to one user
No mobile app on the free version
Overall interface looks outdated
System customizations require technical expertise
When to Use Apptivo:
When to Use an Alternative:
Free CRM for multiple users: Consider using HubSpot CRM or Bitrix24 if you want a free CRM with unlimited user allocation.
Robust third-party integrations: Subscribe to Salesforce or HubSpot CRM if you need more extensive CRM integrations.
All-one-CRM with marketing system for real estate: Check out our guide to the best real estate CRMs with robust options for marketing content and social media management.
Apptivo is a customer relationship management (CRM) system that provides business owners with a rich set of tools for managing customers and streamlining sales processes. It also offers industry-specific CRM solutions to businesses engaged in travel and hospitality, real estate, retail, and manufacturing sectors. It is best for businesses that want a free or affordable feature-rich CRM system with territory management capabilities.
Apptivo Deciding Factors
Supported Business Types

Solo entrepreneurs, small to midsize sales teams, and large to enterprise-level organizations

Standout Features

Sales automation
Email marketing
Billing and invoicing
Intelligence and reports
Mobile app

Pricing Plans

Offers a free plan for 1 user
$8 to $20 per user, per month (annual billing)

Contract Duration

Monthly and annual plans are available

Key Integrations

Google Workspace
Microsoft Office 365
Dropbox
RingCentral
QuickBooks

Customer Support

Starter (Free) Plan: Knowledge base, tutorial videos, webinars, and 24/7 email support
Lite, Premium, and Ultimate Plans: Added 24/5 phone support, 24/7 live chat support, and training support
Enterprise Plan: Added service level agreements (SLA), dedicated account manager, dedicated instance, dedicated customization, and white labeling
Not exactly sure what to look for? Check our step-by-step guide to choosing a CRM to keep your selection process organized. It comes with a free downloadable template for choosing the right CRM provider for your business.
Apptivo Alternatives
If this platform doesn't meet your business needs, below are some highly rated Apptivo competitors to consider:
Best For

Users who need a free CRM with excellent email marketing automation tools

Companies needing visual representations of their sales pipelines

Businesses that want affordable CRM with excellent analytics tools

Starting Price*

Free (unlimited users) or

$45 per month (minimum of 2 users)

$14.90 per user, per month

Free (3 users) or $14 per user, per month
*Based on annual billing; monthly pricing is also available at slightly higher rates
For this Apptivo CRM review, the platform earned a perfect score of 5 out of 5. It offers a free plan with one user allocation. It also has four paid plans that start at $10 per user, per month, when billed monthly or $8 per user, monthly, when billed annually. Its paid plans include essential CRM features such as deal and opportunity management, multiple sales pipelines, workflows, and standard reporting.
Get started for free or sign up for its 30-day free trial to see how this CRM system works before you commit to its paid plan.
Starter

Lite

Premium

Ultimate

Enterprise

Best For

Solo entrepreneurs who need basic contact and lead management tools

Small to medium businesses that need reliable reporting tools

Medium-sized businesses that require robust email marketing features

Larger companies that need to manage robust workflows

Enterprise-level businesses that need excellent analytics tools

Annual Pricing

($/User/Month)

$0

$8

$12

$20

Contact provider for a customized quote

Monthly Pricing

($/User/Month)

$0

$10

$15

$25

Contact provider for a customized quote

Users

1

Unlimited

Unlimited

Unlimited

Unlimited

Number of Apps

8

18

46

57

65

Mass Emails

✕

✕

1,000 per user, monthly

3,000 per user, monthly

5,000 per user, monthly

File Storage

500MB per user

1GB per user

3GB per user

10GB per user

15GB per user

Custom Reports

✕

5

25

50

100

Lead, Contact & Deal Management

✓

✓

✓

✓

✓

Marketing Automation & Email Scheduling

✕

✕

✓

✓

✓
Apptivo Pricing Add-on (Email Campaigns)
Monthly: Starts at $25 per month for 2,500 emails per day
Yearly: Starts at $250 per year for 2,500 emails per day
Pay-as-you-go: Starts at $10 (one-time fee) for 5,000 emails
For more information on Apptivo plans, select a plan from the drop-down menu below:
The Starter plan is Apptivo's free plan that offers fundamental CRM features, including lead and contact management, tasks, data backup and export, and standard reports. It offers an in-app storage allocation of 500MB per user. Aside from the CRM, you can also access other apps such as Supply Chain Management and Human Resources Management System (HRMS).
---
The Lite plan offers everything under the Starter plan plus other functionalities, including deal and opportunity management, multiple sales pipelines, and 25 workflows. It offers email marketing tools, such as an email template builder, as well as open and click-tracking tools. Its reporting and analytics features include a performance dashboard and win and loss analysis. Its in-app storage is 1GB per user.
When you upgrade to this tier, you can access additional apps, such as Financials (for estimates) and Product Management. You can also build your own knowledge base using its Answers app.
---
---
On top of the features covered in the Premium plan, the Ultimate plan offers additional features, including email sequencing, a notification builder, short message service (SMS) feature, and configure, price, and quote (CPQ). It has 150 workflows, 3,000 emails per month, and 10GB per user in-app storage allocation. In addition, you get access to its App Builder, which allows you to build and publish your own apps, like ticket tracking or collaboration systems.
---
The Enterprise plan is Apptivo's customized plan for enterprise-level companies. It includes the same features as the Ultimate plan, and the differences are mostly in the allocation limit of its features. These include 300 workflows, 5,000 emails, and 15GB storage allocation per user. Additions to this plan include having a dedicated account manager and a white labeling feature.
---
Apptivo Add-ons
All users subscribed to paid plans have the option to purchase 60-minute training sessions on how to use some of its features for $125. These include contact management, opportunity management, campaigns, and configure, price, and quote (CPQ).
Apptivo Features
In this Apptivo review, we gave the program a score of 4.63 out of 5 for its general features. The CRM software allows you to manage your contacts, customers, leads, opportunities, contracts, work orders, and sales territories. You can also use it to manage the information of your competitors and use it as a reference for lost deals. In addition, you can automatically create cases from customer emails, establish service level agreements (SLAs), and manage tickets.
Check out this platform's general features below:
Opportunity management
Competitor management
Contracts
Work orders
Cases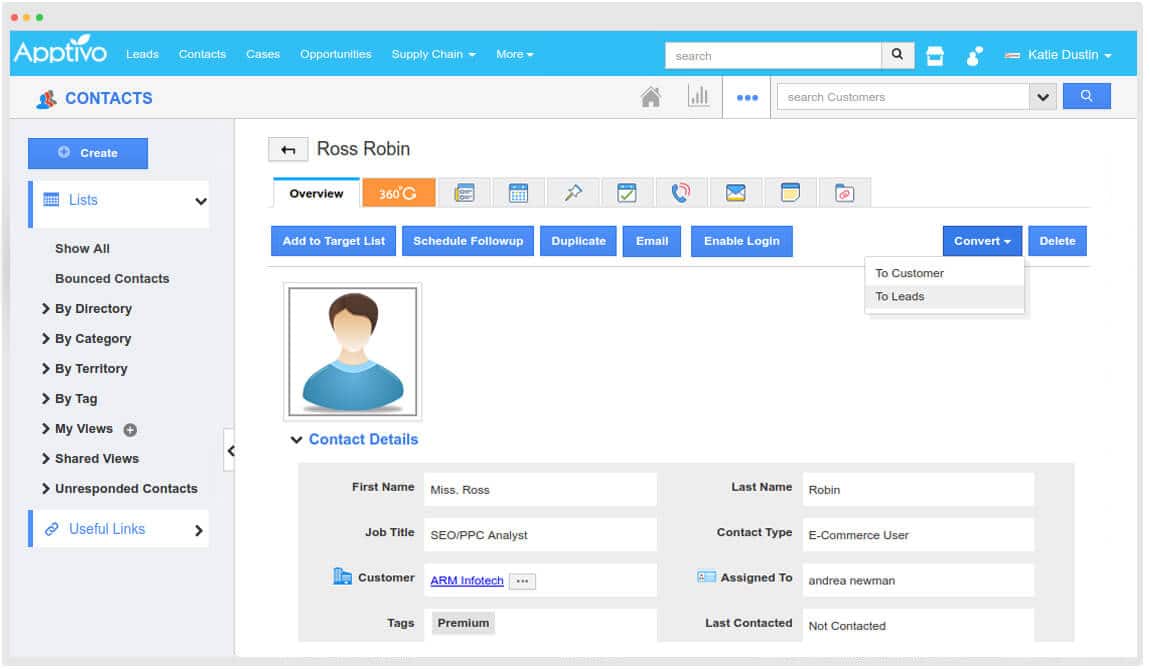 ---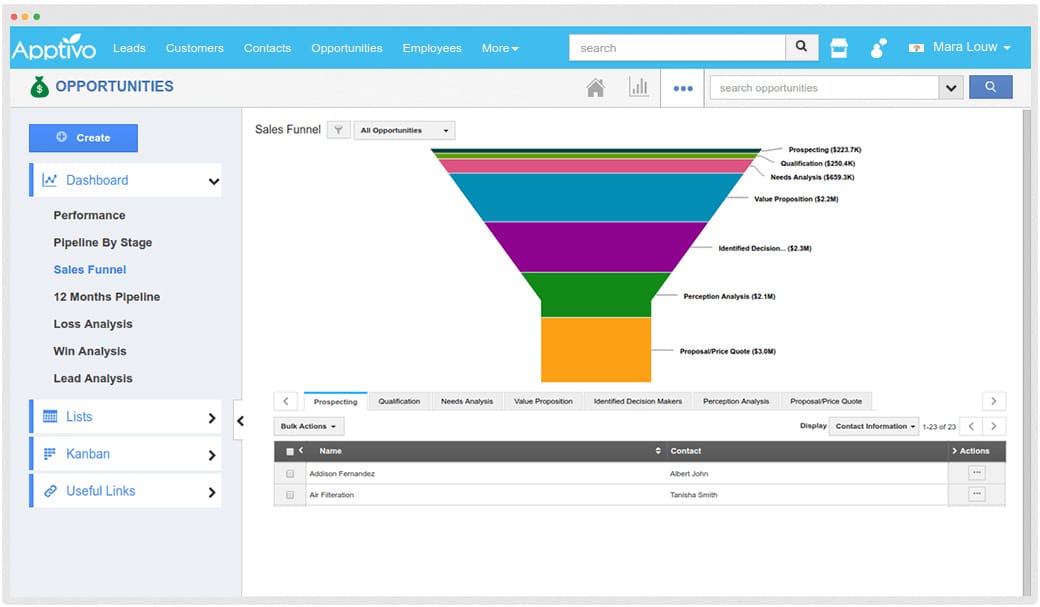 ---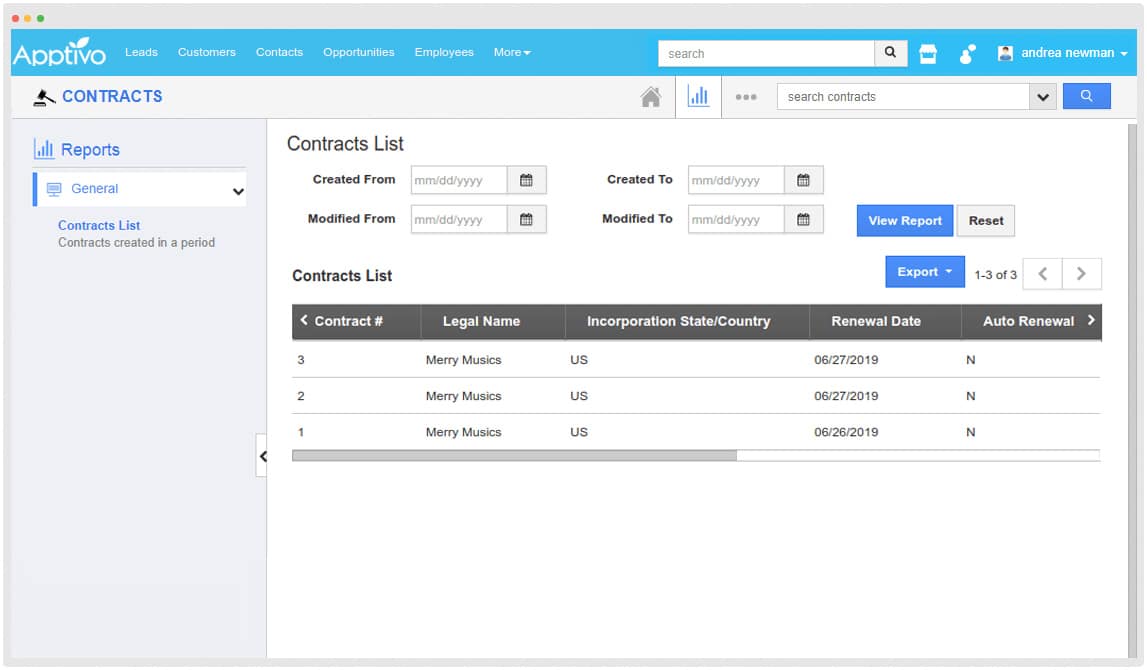 ---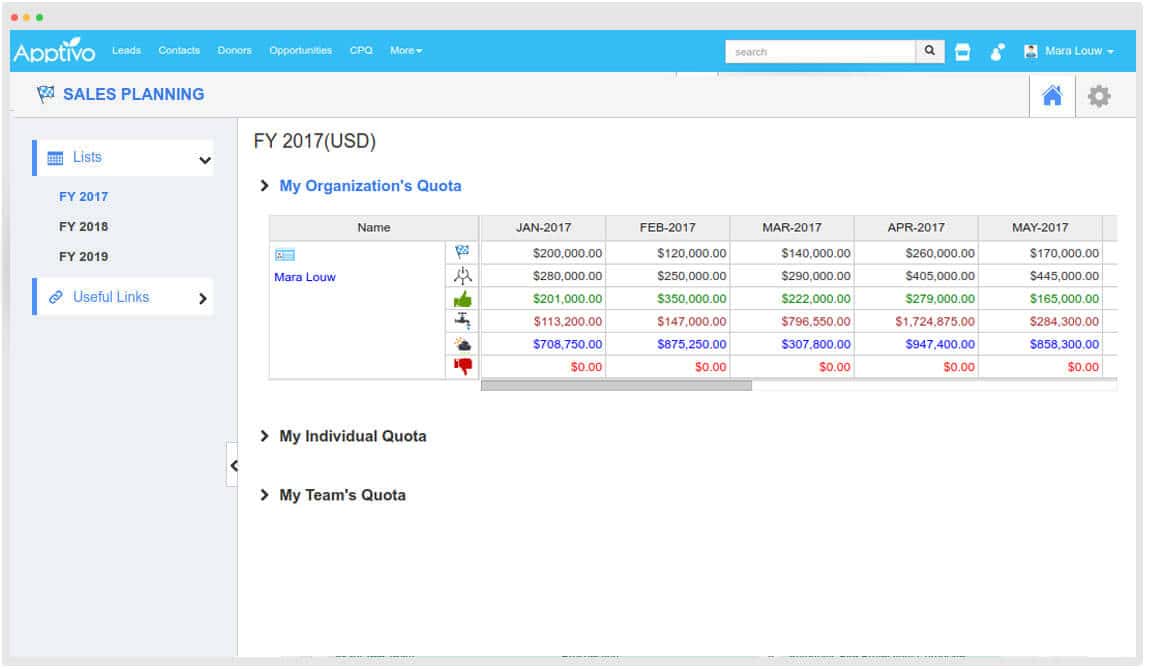 ---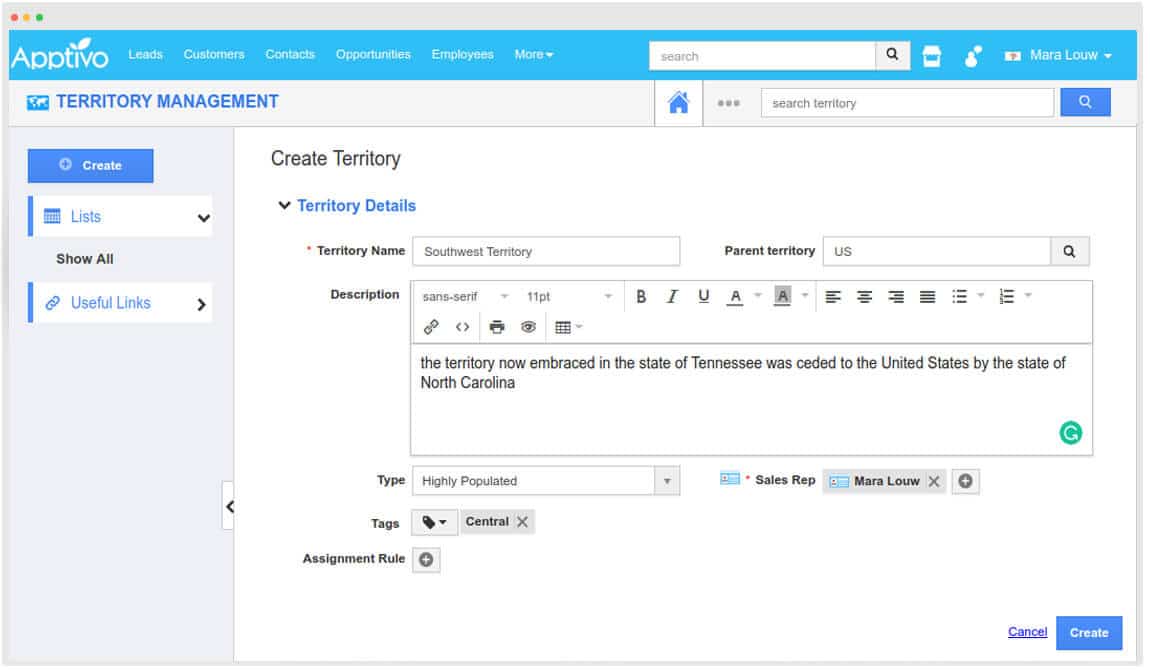 ---
This CRM platform got a perfect score for its specialized features. Apptivo offers industry-specific solutions, including features for travel and hospitality, real estate, retail, manufacturing, nonprofits, and energy sectors. For these industries, Apptivo has customized templates for work orders, contracts, and territory management. Its native third-party software integrations let you sync your accounts with other software, including project management, office tools, and accounting.
Apptivo's other standout features include project management, billing and invoicing, supply chain management, marketing, product management, and HRMS.
Apptivo's project management tool has various functions, such as task management, timesheet tracking, and project tracking. Its task management feature lets you use Gantt charts for timeline tracking or traditional task listing in a table, while its timesheet tracking feature includes a work log of tasks and records of billable tasks. It also has a project tracking feature that lets you manage unlimited projects and access a timesheet-to-invoice conversion tool.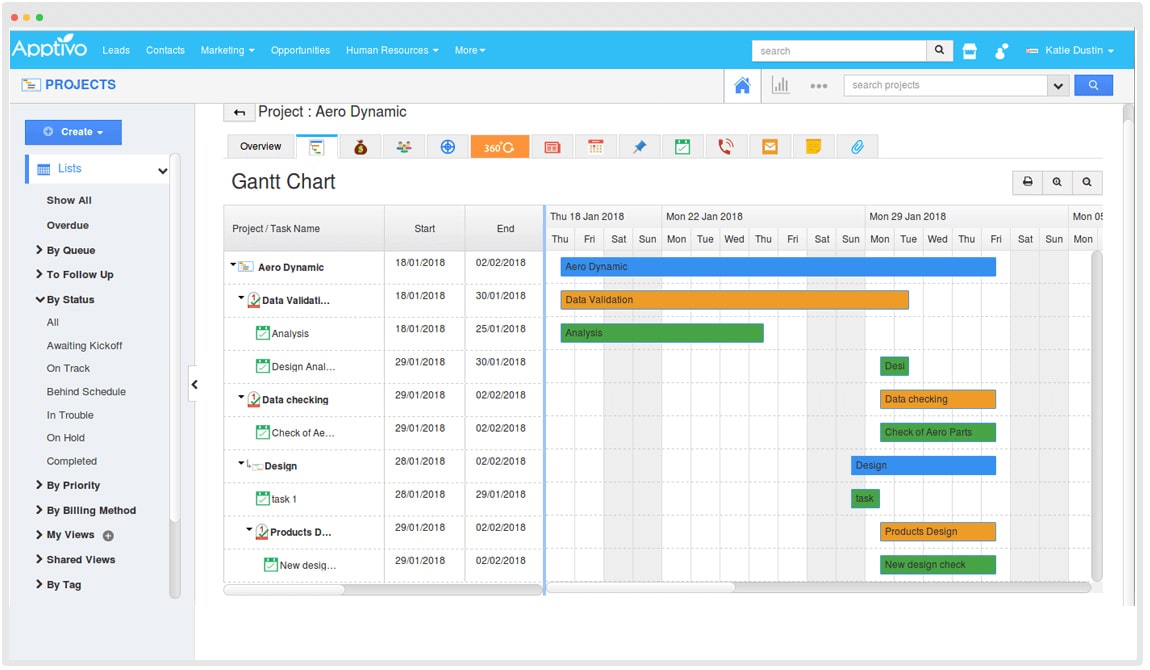 ---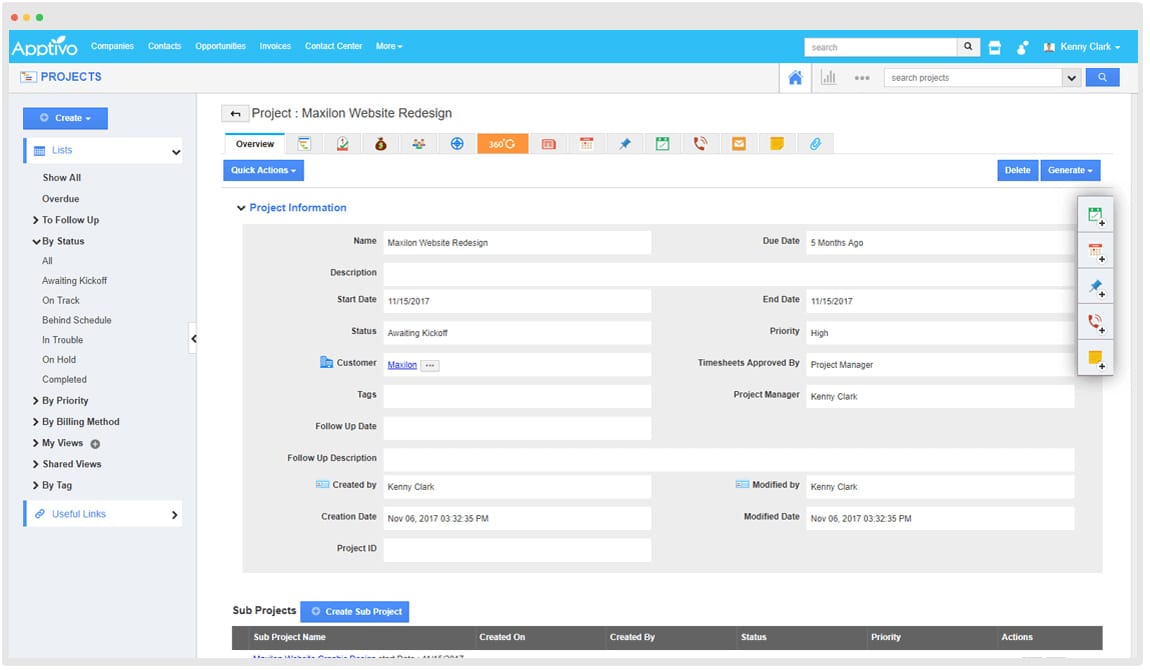 ---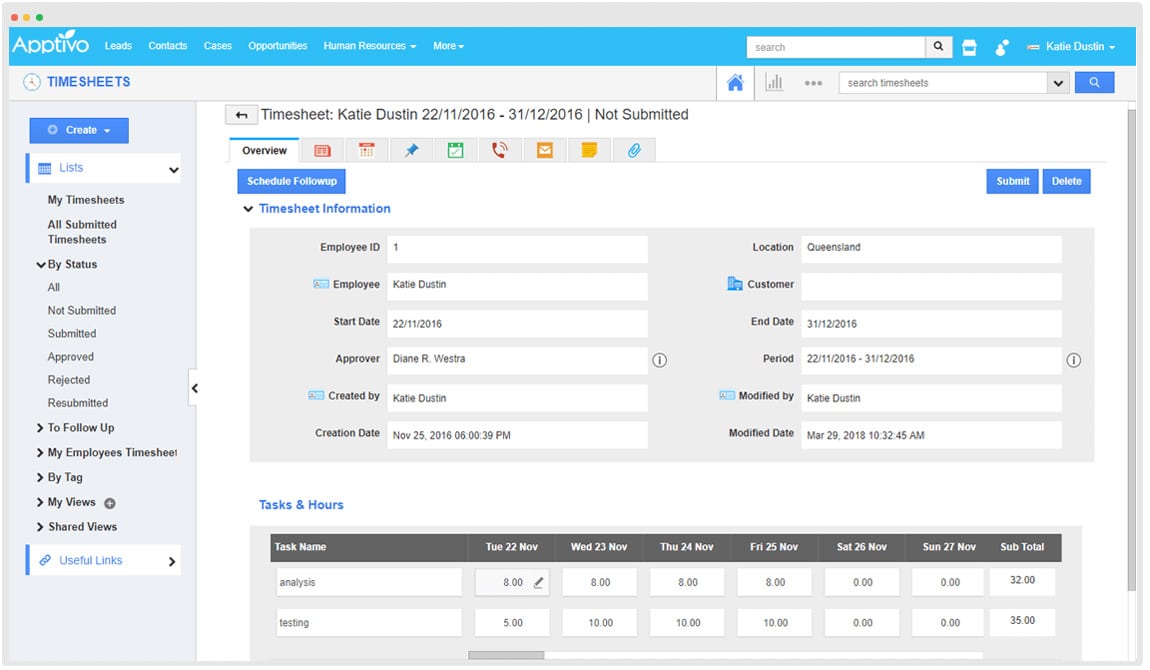 ---
---
This platform allows you to manage your finances through its online billing system. You can create expense reports, invoices, accounting ledgers, estimates, credit notes, and sales receipts. It also has tools for managing your business licenses, insurances, kit orders (combined estimates, purchase orders, and invoices), properties, and customer payments.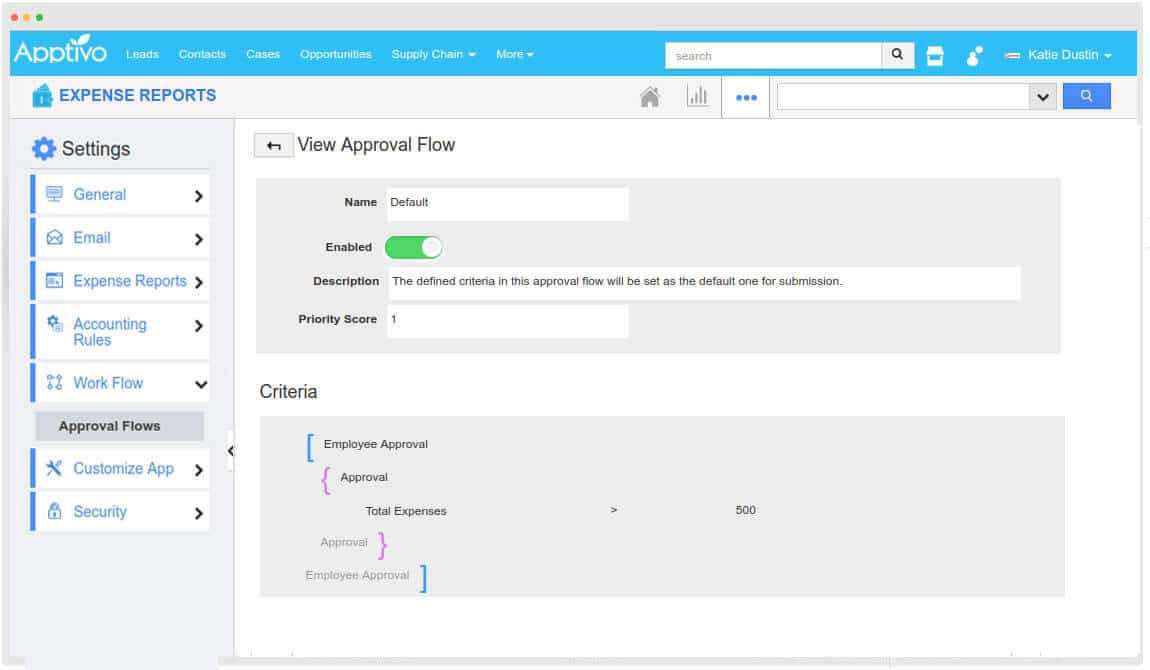 ---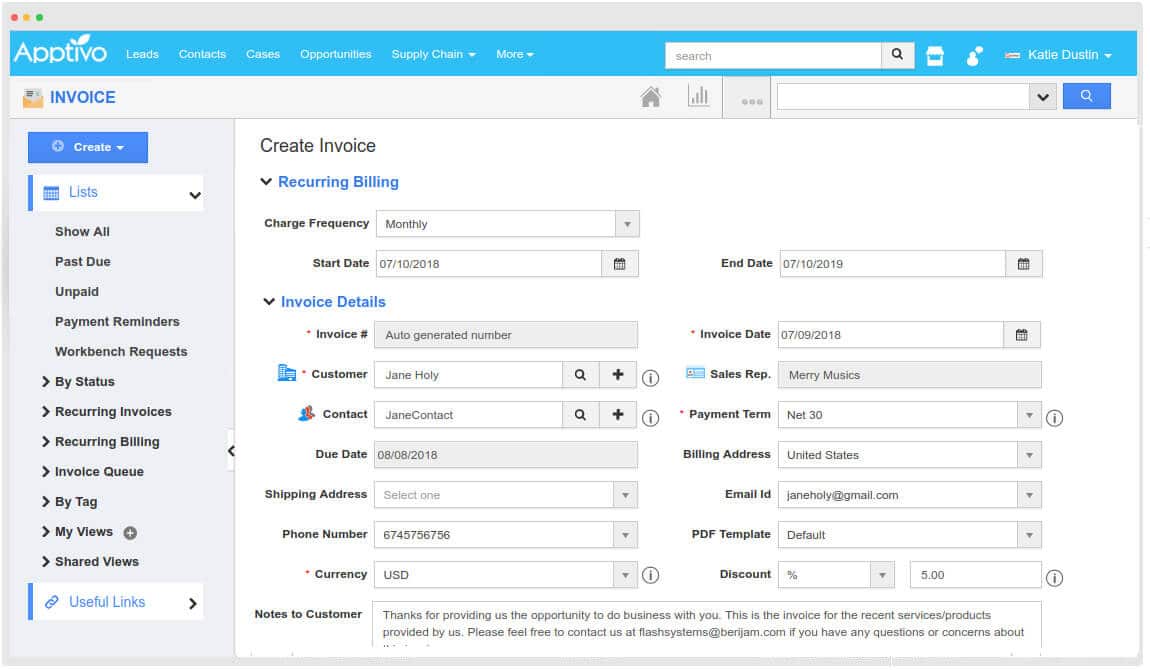 ---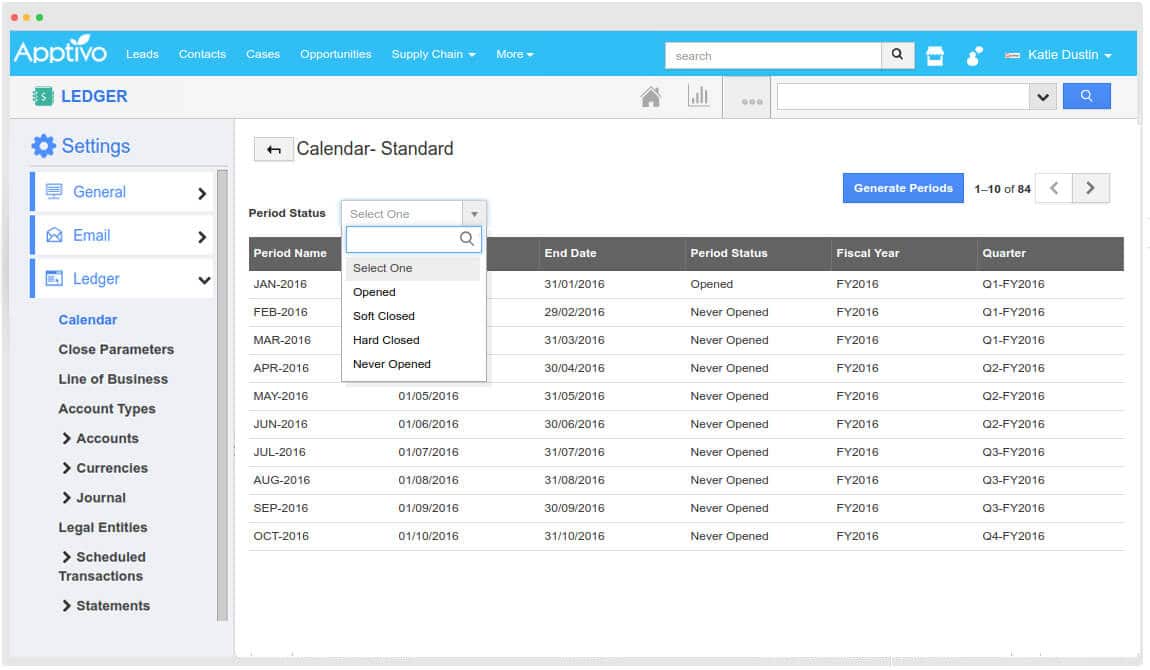 ---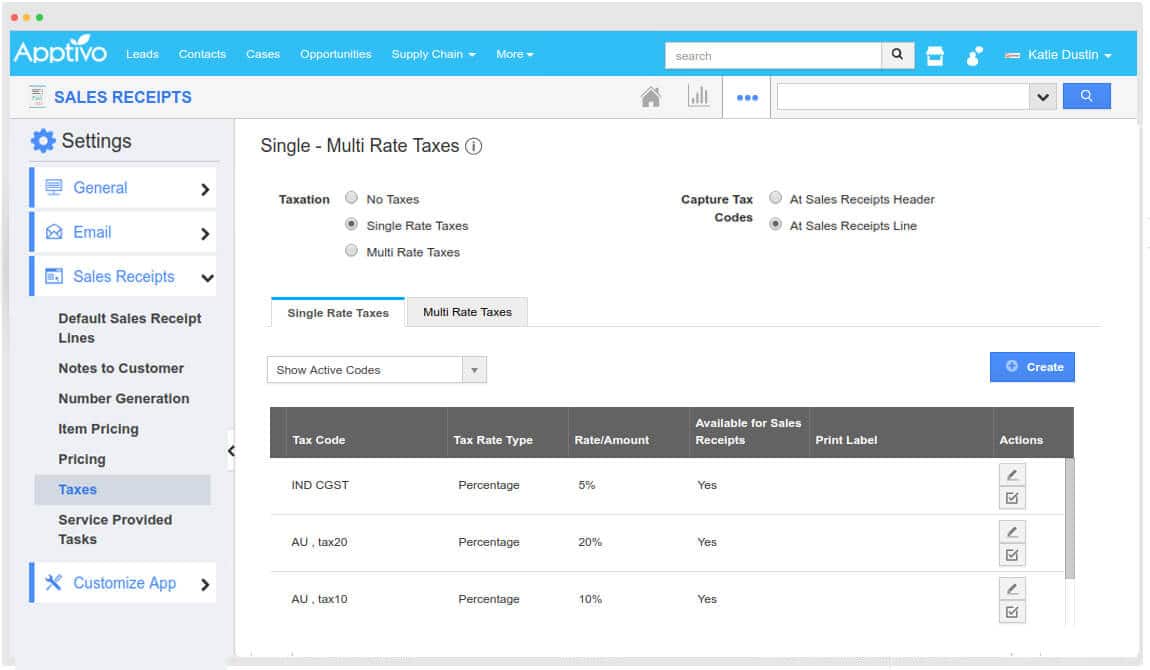 ---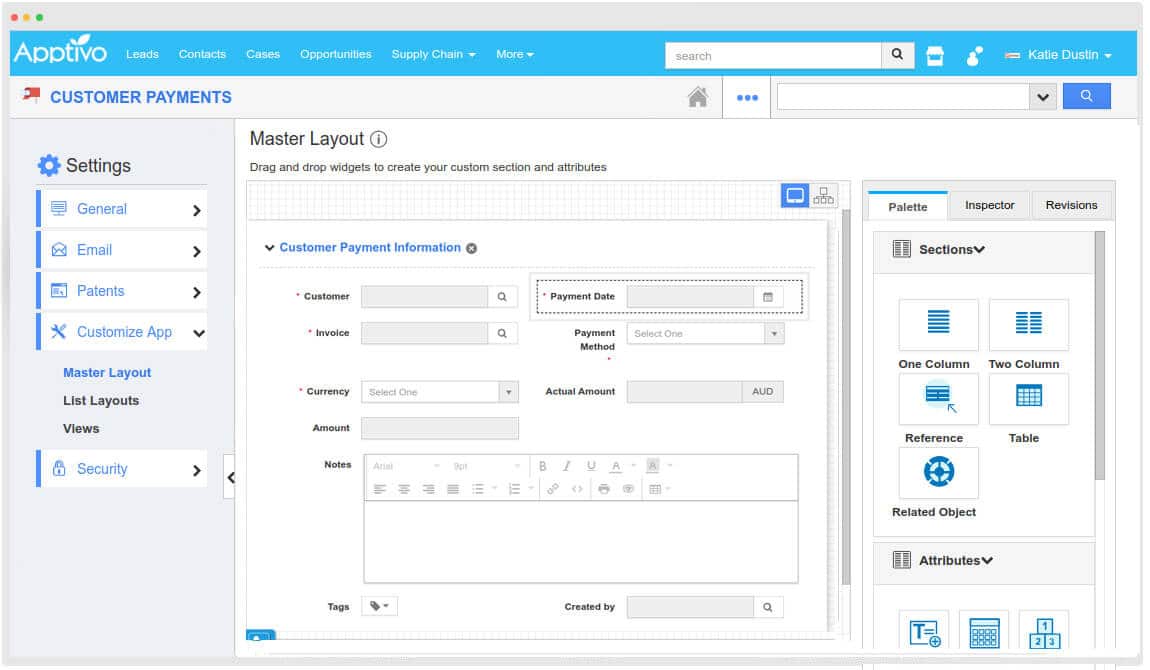 ---
---
This app allows you to automate your inventory flow and track the movement of your products until they are delivered to your customers. You can organize and track your distributor information and activities, purchase requisitions, shipments, inventories, and purchase orders. It also has tools for creating receipts, documenting sales returns, tracking supplier activities, and processing orders.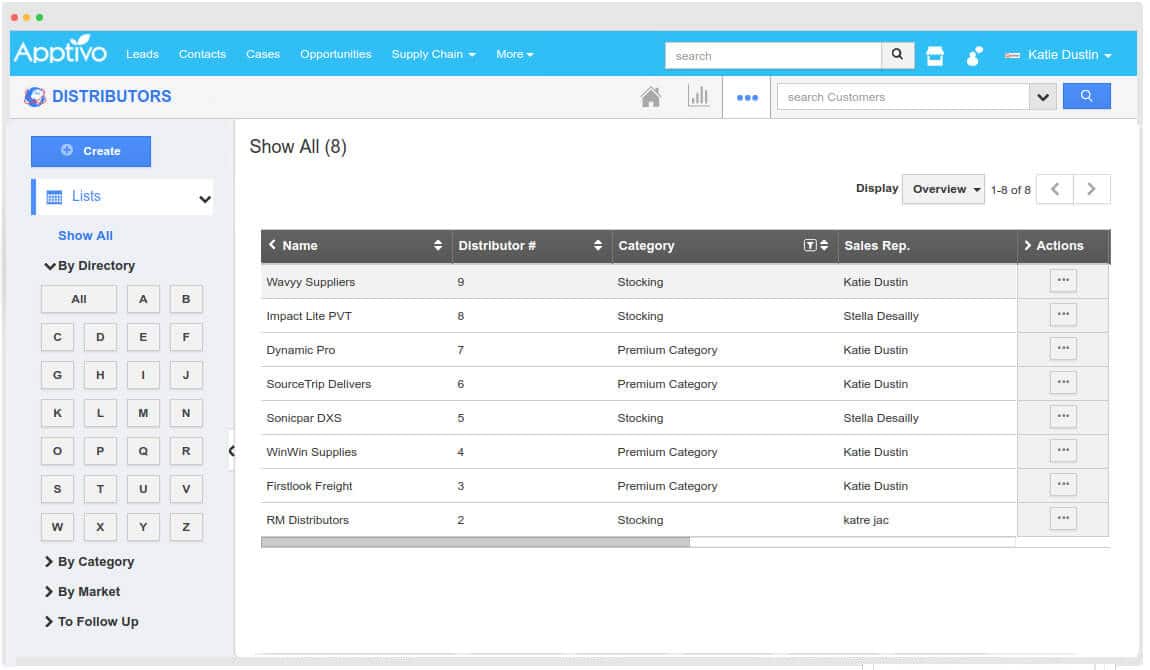 ---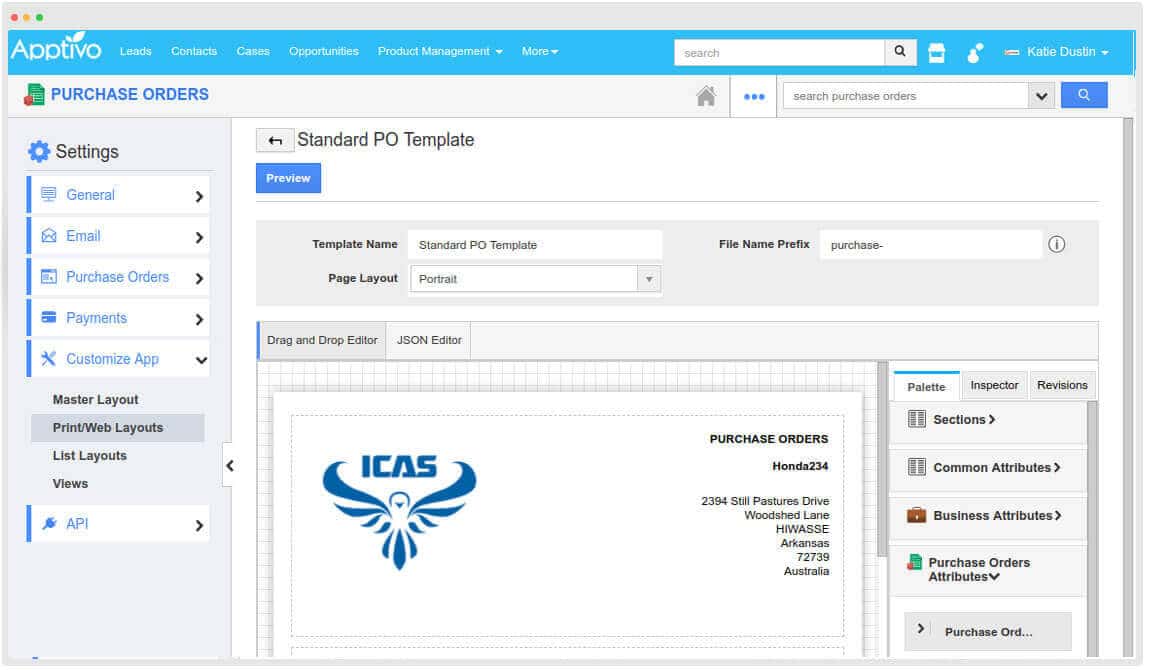 ---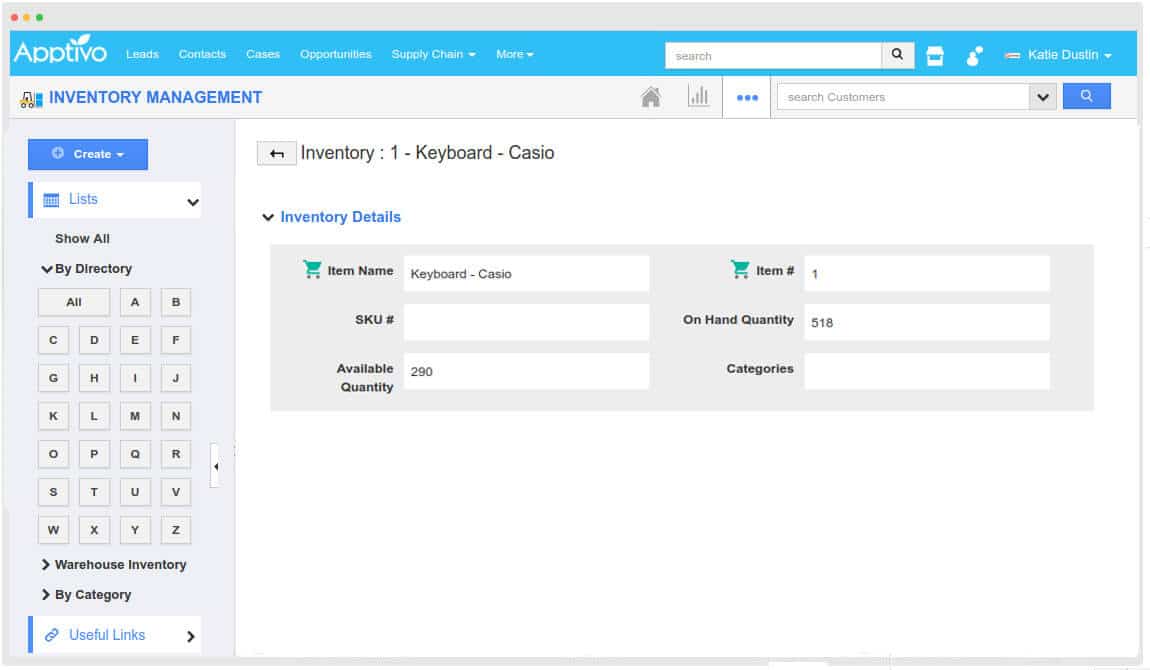 ---
---
Apptivo's email marketing feature lets you run email campaigns within the platform. It provides tools like an email template builder or ready-made email templates that you can choose from. It also has extensive email performance reporting, with open and click rate reports, bounced emails, and the number of recipients who engaged with your emails.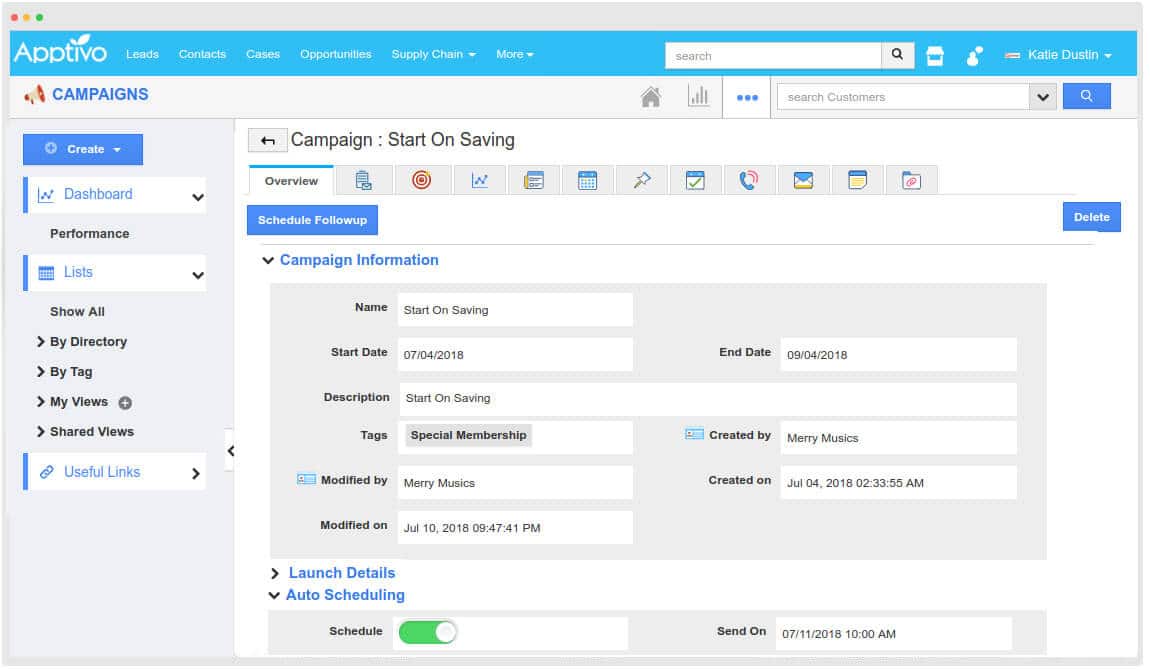 ---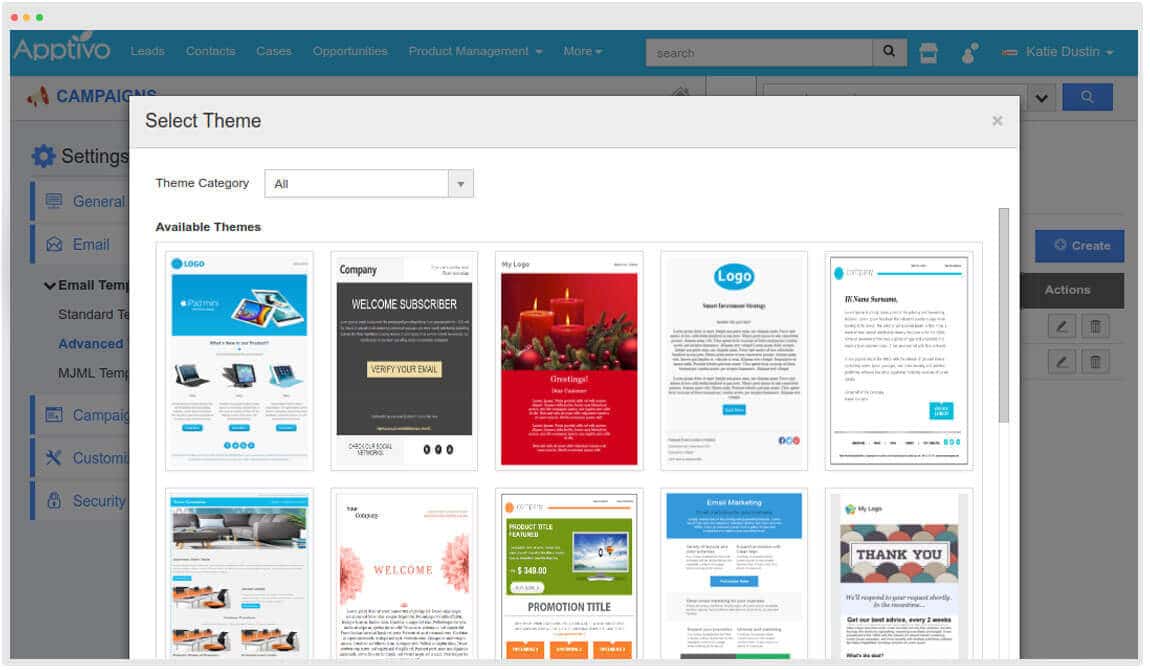 ---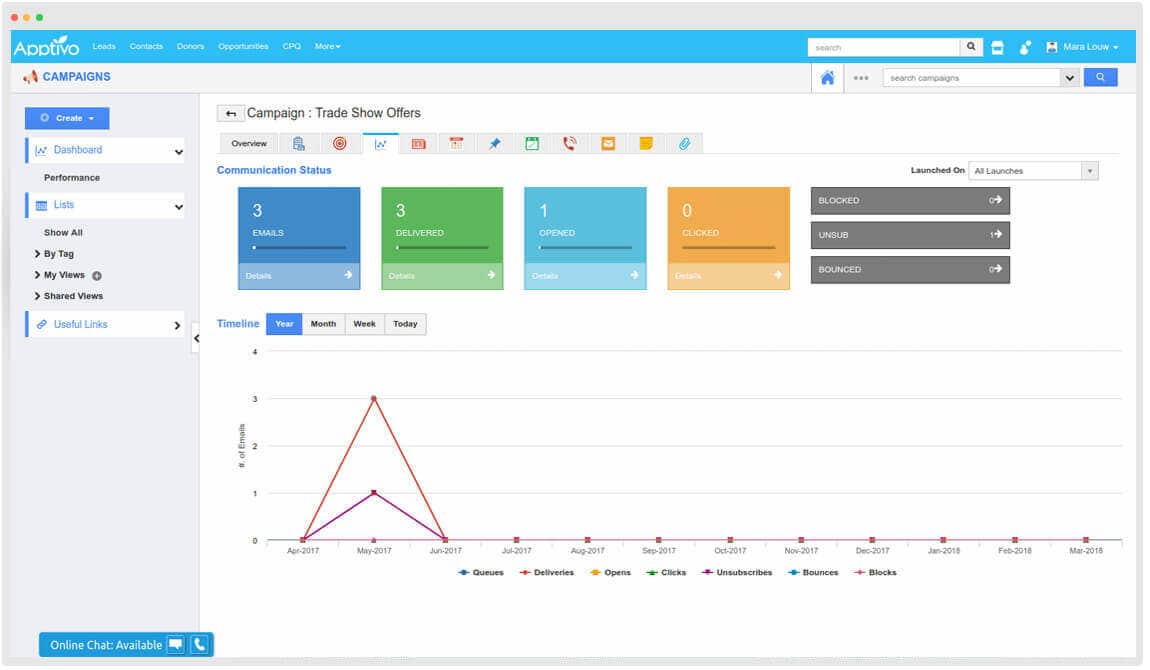 ---
---
Apptivo's territory management feature lets sales managers create territory segments for customers and contacts based on their workplace, categorized by county, state, and city. It helps businesses track their overall sales and determine which territories bring in the most and least revenue.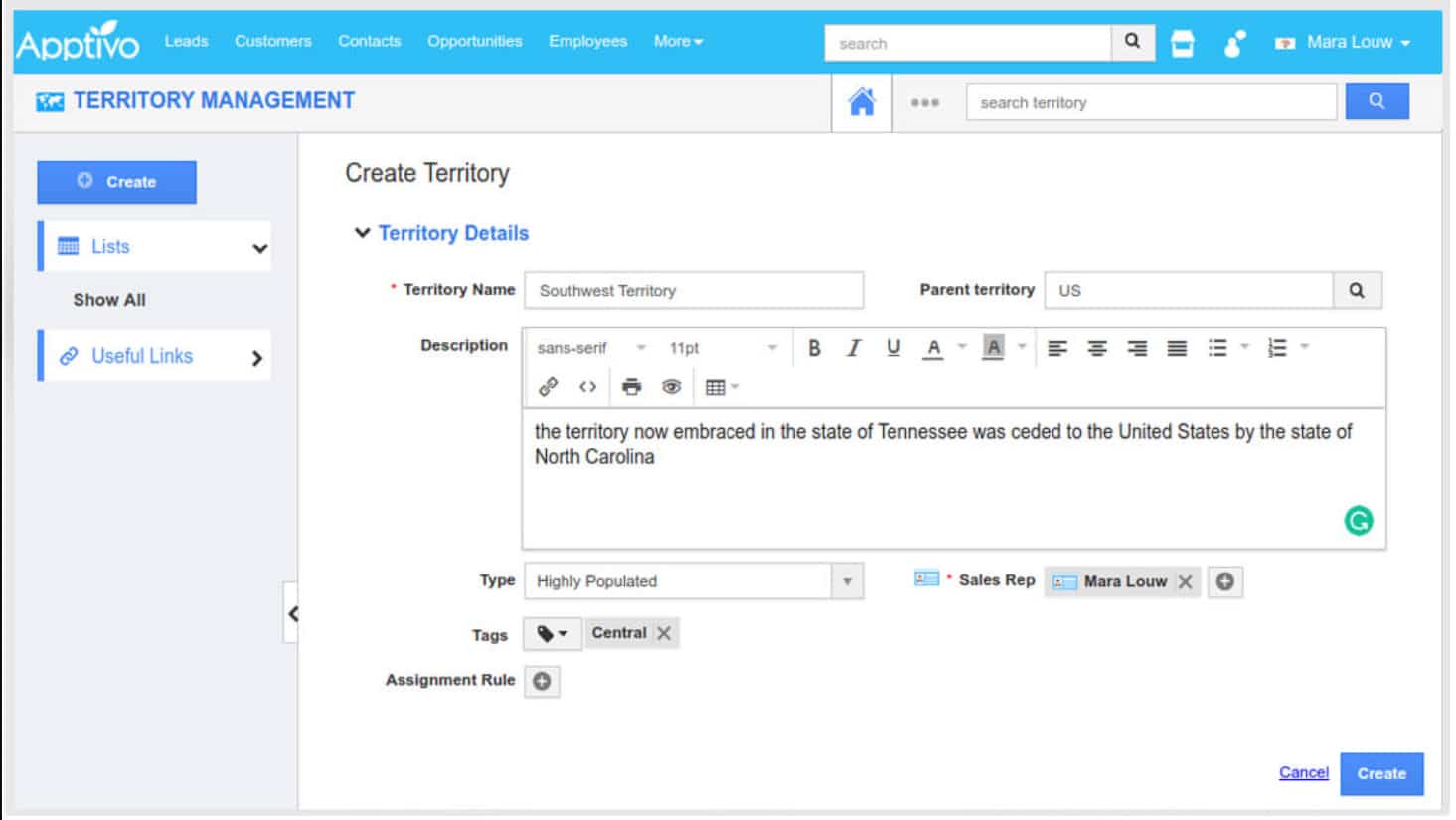 ---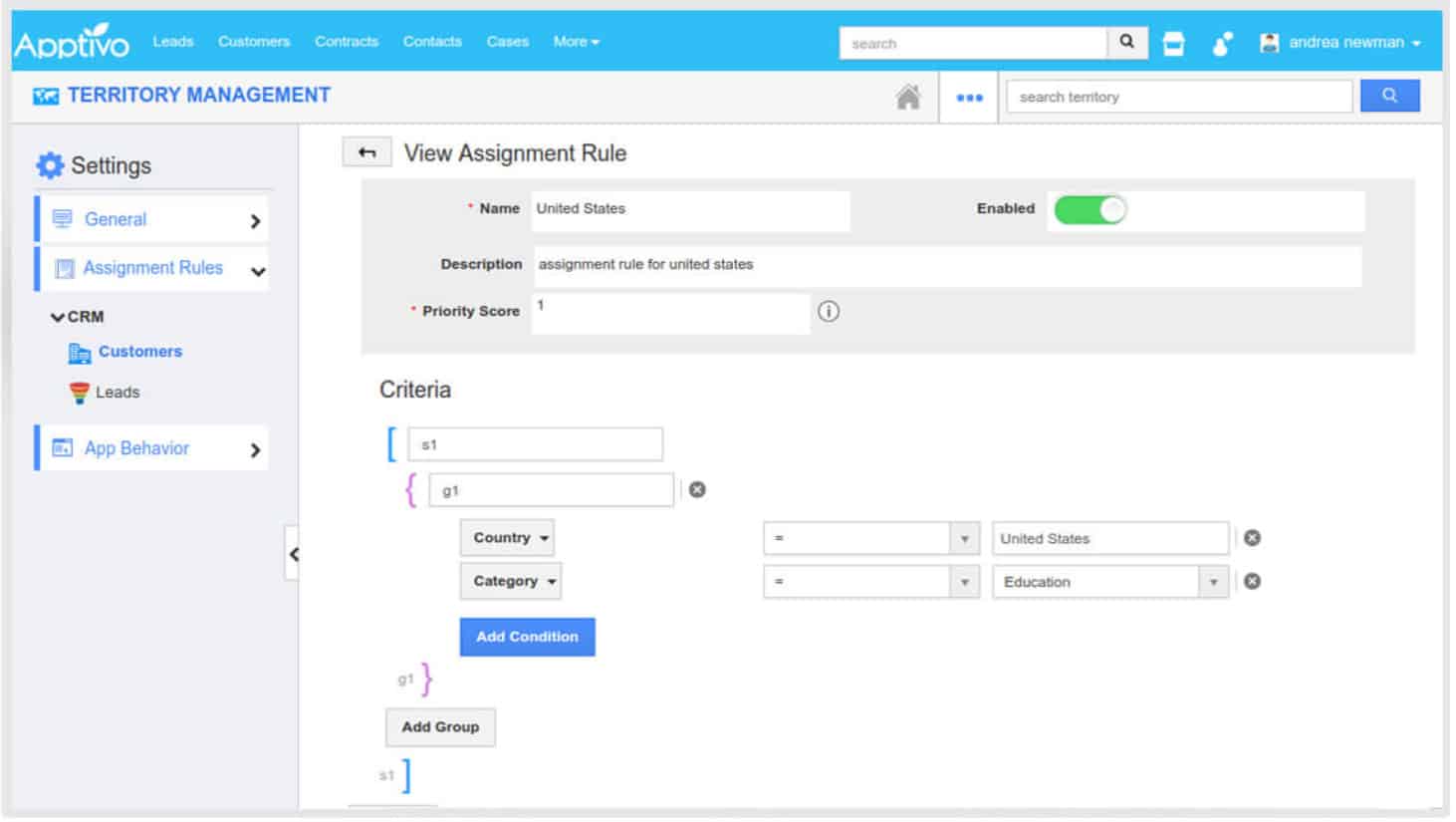 ---
---
Some of the most popular integrations include:
Google Workspace
Microsoft 360
Dropbox
RingCentral
Slack
PayPal
Stripe
Fuze
QuickBooks
Xero
Facebook Ads
---
Apptivo provides varying levels of customer support, depending on the support channel and plan chosen. Support is available through email (24/7) for all plans, while live chat (24/7), phone (24/5), and training support are only available in the paid plans. Users can refer to the knowledge base resources and FAQs for common questions about the app. Supplemental resources include webinars, video tutorials, and case studies on their website.
Below are the available customer support offerings for each plan:
| Support | Starter | Lite | Premium | Ultimate | Enterprise |
| --- | --- | --- | --- | --- | --- |
| Knowledge Base, Tutorial Videos & Webinars | ✓ | ✓ | ✓ | ✓ | ✓ |
| Email Support | 24/7 | 24/7 | 24/7 | 24/7 | Customized according to SLA |
| Phone Support | ✕ | 24/5 | 24/5 | 24/5 | Customized according to SLA |
| Live Chat Support | ✕ | 24/7 | 24/7 | 24/7 | Customized according to SLA |
| Training Support | ✕ | ✓ | ✓ | ✓ | Customized according to SLA |
| Dedicated Account Manager & White Labeling | ✕ | ✕ | ✕ | ✓ | ✓ |
Apptivo Customer Support Add-ons
Quick Start Setup: Starts at $125 per 60-minute session
Training Packages: Remote training ranges from $125 to $625 (one to five hours) and on-site Training ranges from $850 to $3,000 (half-day to two days)
Professional Implementation: Contact provider for a customized quote
Data migration: Contact provider for a customized quote
Apptivo scored 2 out of 5 in ease of use because of the technical skill required to set it up and operate the system. While its interface is intuitive, it also looks quite dated. It takes some time to find some important functions, such as the reporting and analytics dashboards. You can create custom fields and personalize your CRM according to your business needs. However, its deep level of customization also means that beginners would have a hard time adjusting to it.
The majority of Apptivo CRM reviews we read online are positive. Many users noted that the system is confusing for first-time users, but it gets easier once they become familiar with it. Most of them chose this provider because of its modular and customizable system, as well as its affordable price point. They appreciate that it is an all-in-one CRM with features for managing their customers, contacts, orders, projects, candidates, and opportunities.
Other Apptivo reviews mentioned areas that it needs to improve upon. These include the occasional spottiness of its email integration feature as well as the need for technical support when making customizations in the system. However, they also praised the company's support team for their fast and reliable service.
At the time of this publication, we noted the following Apptivo CRM reviews posted on popular user review sites:
G2: 4.3 out of 5 based on 125 reviews
Capterra: 4.4 out of 5 based on 659 reviews
Gartner: 4.2 out of 5 based on 55 reviews
App Store: 3.5 out of 5 based on 42 reviews
Methodology: How We Evaluated Apptivo
To evaluate this program against other CRM software, we test each system ourselves. We examined crucial areas, such as pricing, core CRM features, quality of customer support, and ease of use. We also looked at recent CRM ratings about this platform from credible review sites.
Click through the tabs below for our Apptivo evaluation criteria:
10% of Overall Score
Cost is typically an essential criterion for any business, so it was one of our considerations when evaluating the cost-effectiveness of this provider. We usually give a high score to providers that offer a starter plan that costs $30 or less. We also check the availability of a free starter plan, scalable pricing options, and options to pay monthly or annually.
10% of Overall Score
We looked at overall features we feel are necessary for any CRM system, such as integration options, reporting, and analytics tools. We also considered the availability of a mobile app—which is crucial for sales reps who are always on the go.
30% of Overall Score
We also looked at the niche and targeted features of the software to see the value a user can get by subscribing. For this CRM system, we checked if they offer specialized features such as lead scoring, email and SMS marketing, workflow automation, and appointment booking.
20% of Overall Score
We evaluated this provider's platform usability and the level of technical experience needed to use the system. This was analyzed in terms of the expertise required to set up an account, the learning curve to use its features, and the ease of integrating with other third-party applications.
20% of Overall Score
Support is a critical part of running any CRM tool, especially for small businesses that don't have in-house technical support. We analyzed the types and availability of support offered by these providers through live chat, email, and phone.
10% of Overall Score
We looked through existing and best CRM reviews on credible sites to measure the level of satisfaction current users have and any problems they typically encounter. We also added our thoughts and expert opinion on essential features, value for money, and popularity.
*Percentages of overall score
Bottom Line
Based on our Apptivo CRM review, this platform offers industry-specific features and lets you manage your customers and streamline your sales processes. Its free version is suitable for solo entrepreneurs who need reliable lead and deal management tools. However, if you're scaling your business and need advanced CRM tools, such as sales and marketing automation, we recommend considering Apptivo's paid versions.
Get started for free or sign up for Apptivo's free trial for 30 days before committing to a paid subscription.