Aprima is a cloud-based electronic health record (EHR), practice management, population health, and revenue cycle management solution for medical practitioners. It provides a wide range of EHR functionalities including appointment management, billing management, e-prescribing, charting, E/M coding, lab integration, a patient portal, and more. We compiled user reviews from around the web and determined that Aprima has a mix of positive and negative ratings. We also cover the pricing options for small business owners.
Aprima Customer Reviews
Overall Experience: Average
Ease of Use: Average
Customer Service: Average
Pricing: Average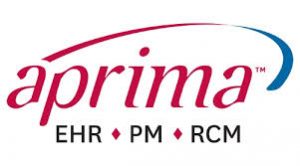 Summary of User Reviews
What Aprima does well:
Users who recommended Aprima like that it is accessible almost anywhere because of its cloud technology. Customers also like that there are a lot of features integrated such as the lab and billing functionalities.
What Aprima does not do well:
Users who gave Aprima critical feedback said that it is not the most user-friendly software in the market. Some of them also reported that the system is sometimes slow to respond and that customer service quality is inconsistent.
Most Helpful Positive User Review
A user who gave Aprima a positive review on Capterra said that the software provides efficiency and accuracy for his specialty clinic. He mentioned that modules are easy to activate and integrate into the workflow. He also likes that the system is able to send electronic prescriptions and lab orders.
Most Helpful Negative User Review
A user who gave Aprima a negative review on Capterra reported that the software runs slowly. He mentioned that learning how to use the patient portal and how to create templates for the physical exam require a steep learning curve. He also said that he constantly encounters glitches when charting.
Other Aprima User Reviews From Around the Web
Here are a few resources for finding helpful Aprima customer reviews. We rated the review sites on a scale from poor to excellent based on how trustworthy and useful the reviews seemed.
| User Review Website | Average Rating | Number of Reviews | Quality of Reviews |
| --- | --- | --- | --- |
| Capterra | 3 out of 5 stars | 37 | Good |
| TrustRadius | 7.6 out of 10 stars | 3 | Good |
| TopTenReviews | 9.45 out of 10 stars | Staff Review | Good |
*Average rating as of date article was written: November 16, 2017.
Aprima Pricing
Aprima's pricing information is not published on their website and is only available upon request. According to a third party website, price starts at $1,500. The software features appointment scheduling, billing management, e-prescribing, patient health analytics, charting, E/M coding, lab integration, handwriting and voice recognition, a patient portal, and more.
Compare Aprima Competitors
Not sure if Aprima is the right health record management software for you? Check out our reviews of top EMR software.