How many business emails do you send per week? According to WiseStamp, the average business user sends around 190 emails per month. The average email is opened 5 times. Using some simple math,  the average business user has their emails viewed 950 times per month. The question, is can these 950 views be used to get more engagement with your business than they currently do?
Wisestamp is a company which automates the process of creating and applying email signatures. Their data shows that a good email signature can encourage recipients to follow the sender on social media, read the sender's most recent blog post or even buy products. On average, the email signatures created by Wisestamp get clicked on 1.5 million times per month.
My interest in Wisestamp did not originate from wanting my signature to be clicked on more often. I wanted to have a more professional looking email and did not want to have to spend time adding a signature. I created and am now using the following signature from Wisestamp: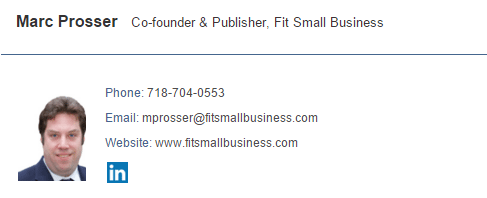 ---
Click Here to get our FREE Google advertising guide and discover the 6 steps you can use to show up #1 in Google search
This email signature was created in about 15 minutes using Wisestamp's free product. The signature can be seen on desktops using Gmail, Outlook and Apple products. Unfortunately, on Mobile devices, only iPhone users can see it.
As you can see, in addition to the title and contact information, there is a profile photo, a button which goes to my Linkedin Profile, a link to the most recent post on Fit Small Business (which is dynamically pulled), a legal disclaimer, and a call to action, "follow me on Twitter". At the very end, there is a plug for Wisestamp which can be removed by buying the paid edition for $4 per month. Wisestamp also has a business edition which enables centrally-managed, company-wide signatures for $2 per user.
Visit WiseStamp to set up your email signature today. If you still need to set up a business email address, check out our guide on Setting Up a Free Business Email.
I recently had a chance to interview Ariel Finkelstein, the Chairman of WiseStamp. This wasn't the first time that Ariel and I had connected. He was the founder and CEO of Kampyle, a great tool that a former company of mine used to connect user feedback to various website changes. The Q and A below is reconstructed based on my notes and is not a verbatim transcript.
Should you use a photo on your digital signature?
Yes, you definitely should add a profile photo to your digital signature. Our research shows that digital signatures with a photo get an astounding 32% more replies than those without a photo. Email recipients have a very strong positive reaction to seeing the face of the person sending the email. While having a logo at the bottom of the email is preferable to not having an image, the result, as measured by number of replies, is not nearly as high as a profile photo.
What social networks do you suggest including on your signature?
In my view, it is better to have less information on your email signature than more. In terms of social networks, I would only include the social networks in which you actively participate. We have found adding income and call to actions on email signatures to be a very effective way of increasing followers. However, why ask someone to follow you in a place where you are not often present?
Can you discuss using dynamic content on signatures?
Over half of the 470,000 Wistamps users have dynamic content include on their signatures. Dynamic content can range from pulling titles from a person's Medium, Tumblr, or WordPress blogs to showing media information like Facebook Status updates and current tweets. There is also an ecommerce aspect to dynamic content.  Users can show the latest items that they have listed for sale on eBay and Etsy.
One of the creative commercial uses of dynamic content was from a real estate agent He used an Instagram account to show the latest houses and homes that were available for sale in his area.
What is biggest growing trend you are seeing with email signatures?
Appointment scheduling has since large growth in usage in the last two years. Many people add a button which links to an online scheduling application on their signature. We find that having this button increases appointment scheduling by 15%.
Click Here to get our FREE Google advertising guide and discover the 6 steps you can use to show up #1 in Google search
Ariel Finkelstein – Active Chairman of WiseStamp
Ariel is an expert and industry leader in the area of SaaS, who works with great founding teams to build strong digital companies, and achieve fast growth with powerful products. He's a highly involved and active chairman or board member in every company he joins, and is hands-on in all aspects: product, sales, marketing, HR and go-to-market execution.