Double Degree in Accountancy and Financial Management
Bachelor of Science Degree, Holy Angel University, Philippines
Retail Software, Accounting & Bookkeeping, Background Screening, Business Management
Content writer with more than six years of experience
HR and background screening professional for over four years
Anna is a retail expert writer for Fit Small Business, contributing to our POS and payments sections. She has evaluated dozens of software for small business owners. Her experience in business and finance led her to work for a US risk mitigation company in its regional Singapore office. She holds a degree in accountancy with a minor in financial management.
As an avid foodie, Anna is known as the keeper of family recipes and can often be found organizing family events, or indulging in trivia.
I love Square POS because it makes starting a business easier and is an excellent choice for owners who are just starting up and working on a limited budget.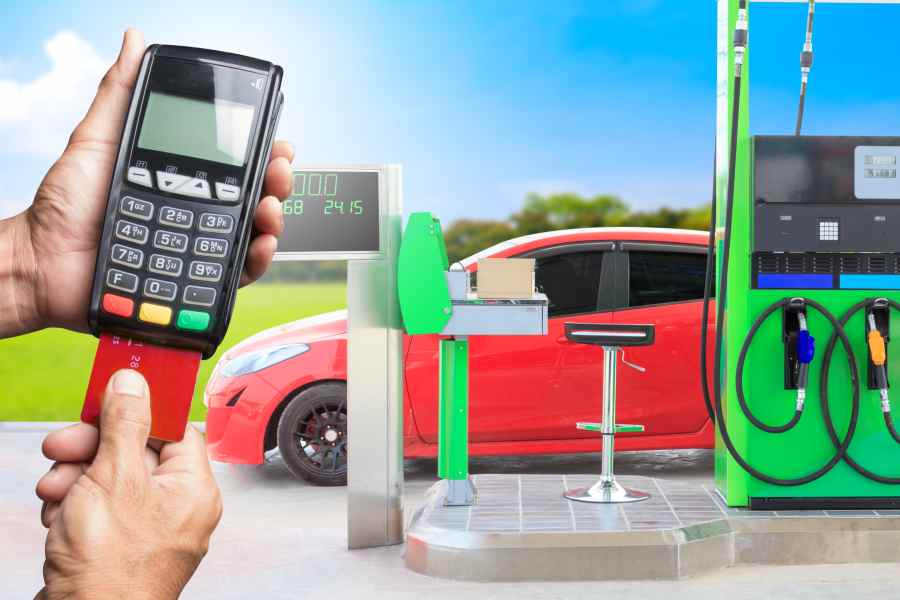 September 15, 2021
4 Best Gas Station POS Systems
Gas station owners have unique needs for their point-of-sale (POS) systems. Gas station POS systems should be able to handle fuel pumps, retail and food items in-store, kitchen- or fresh-made items, and even car washes. Plus, a gas station POS needs to have basic POS functions such as reliable payment processing and reporting tools. Based on those criteria, the best gas station POS systems are: : Best overall gas station POS system : Best for travel stops and multiple locations : Best for large, high-volume gas stations needing in-depth fuel management : Best for businesses that need strong inventory and reporting capabilities Best Gas Station POS Systems Compared How We Evaluated Gas Station POS Systems The best gas station POS systems should let you handle all your business needs from a single register without having to integrate several POS software programs. We found many POS systems that worked for convenience stores, so our first criterion was the built-in ability to sync with fuel pumps for control and monitoring. Next, we looked for special features needed for tobacco, alcohol, and lottery ticket sales, plus the ability to handle food sales from the register. Finally, we made sure to only include POS systems that offer fuel, lottery sales, and grocery sales management tools. Age verification is also a requirement in order to sell alcohol and tobacco. Based on our evaluation, we found  the best overall, scoring a 4.71 out of 5 in our grading system. It's a highly popular POS system for other uses and offers excellent features for convenience stores and gas stations. Click through the tabs below for our full evaluation criteria. NCR: Best Overall POS Software for Gas Stations makes highly rated POS software and hardware for retail and restaurants and has put those features into a system that works great for gas stations. NCR has two products for gas stations and convenience stores—NCR Storepoint and NCR RPOS. Storepoint covers your commercial fuel operations such as fuel management, pump POS integration, wet stock management, inventory, reporting, employee management, food service, and retail (for truck stops that sell more products than your typical c-store). RPOS integrates your convenience store operations with the rest of your gas station touchpoints. It allows you to accept food orders at the pump, offer mobile ordering and payments, promote engagement-enabled loyalty programs, provide delivery service, verify age for restricted products, and ensure cash flow security. Based on our evaluation, NCR earned a 4.71 out of 5. It scored very well for feature set and ease of use, as would be expected from a company that has served businesses from banks to restaurants. Users praise the intuitive interface and variety of payment options. Meanwhile, points were taken away mainly for its undisclosed pricing as this makes the POS system's affordability difficult to gauge. Note that you will need NCR's proprietary hardware, which can add to the price, but users say it's good value for the money. That said, you can contact NCR's sales department for a software demo and quick quote. NCR Pricing NCR for gas stations and convenience stores requires custom pricing depending on the hardware and features you need. NCR also provides an end-to-end payment processing solution, which may be included in the price. You will also need to purchase NCR's integrated hardware for POS terminals and pump POS. And while all-in-one subscriptions are likely available (for example, another NCR POS solution, NCR Silver, bundles software and hardware in its payment plan), expect to be tied to long-term contracts. NCR Standout Features POS features: NCR lets you manage gas prices, allows your cashiers to manage pumps from their stations, and even handles car wash stations. You can set up self-service kiosks for restaurants or a coffee bar. POS configuration manager: This back-office feature allows you to remotely manage fuel items and prices and customize pump prompts, menu defaults, and receipt texts for multiple gas station sites. NCR site management: A back-office module allows you to manage your retail items catalog for updates in pricing, coupons, and promotions, plus offers optional add-on tools for inventory and vendor portals. It also includes 60 real-time reports on sales and pricing changes. Payment options: Accepts credit, debit, loyalty, and fleet cards. Outdoor pumps can handle EMV, mobile, and contactless payments. Forecourt consumer engagement: NCR's pump POS systems have highly customizable video functions that you can use for promoting products, loyalty programs, sales, or other items. Mobile checkout: NCR is staying at the forefront of technology, with mobile checkout for customers. In this time of COVID-19, where people are trying to limit public interactions, this could give you an edge. Real-time sales reports: Monitor your sales with NCR's 60 preconfigured reports providing real-time visibility into price overrides, fuel price changes, voids, and other suspicious activity Mobile management: Access your gas and c-store real-time insights from any mobile device. What NCR Is Missing NCR's inventory reporting lacks some customization and tax programming features, which Petrosoft does better. And while user feedback mentions that NCR's POS system is worth the money you spend, it can do well with some level of price transparency for small businesses such as information on software subscription and add-on fees (which competitors like LS Retail provides). Additionally, live help or phone support may not be available 24/7 for clients. Verifone: Best for Travel Stops & Multiple Locations If you own a travel stop with gas pumps, souvenirs, and food to order or have multiple gas stations, then is worth considering. Its versatile system manages not only fueling and retail but also self-serve kiosks. It also handles age-dependent sales like tobacco, and you can even sell lottery tickets at the pump. Verifone lists a number of integration partners for loyalty management, fleet cards, tank level monitoring, and electric fuel signage. Scoring 4.6 out of 5, Verifone is a close second to NCR for gas stations. We particularly liked how the system offers a car wash management feature and a variety of integrated third-party payment providers. Verifone scored better than NCR for its 24/7 customer service; however, it lagged behind in terms of marketing features—which depend highly on third-party integrations and received a lower evaluation score from our experts. And while loyalty and marketing did not carry much weight in this evaluation, it should be noted these features are lacking compared to NCR. Verifone Pricing Like most forecourt or c-store POS systems, Verifone will customize to your needs, including self-service kiosks and controllers in addition to countertop POS systems. The pricing is similarly customized. Contact Verifone for more information. Verifone Standout Features Verifone site controllers: Supports up to 64 fueling positions of a single dispenser type and can integrate up to 36 workstations. Forecourt POS: Aside from fuel, sells lottery tickets at the pump. It also tracks cash fueling and cash handling when sales are completed by a full-service attendant. Kitchen management system: Food-service and self-service kiosks come with a built-in kitchen management system so orders are directly sent to the kitchen. Payment options: Accepts mobile payments, RFID payments and credit, debit, loyalty, and fleet cards. It also has a coupon scanning feature at the pump. Car wash management: This allows your customers to pay for their car wash service through a POS terminal if they are paying with a card or through a pay point device if they are paying in cash. Money order selling: Verifone integrates with Western Union and MoneyGram Delta, which allows it to sell money orders from the c-store POS terminal. What Verifone Is Missing Verifone is a full-featured system, but there's little online information about specifics. The most common complaints online were of touch screens not working and slow customer support. However, it's the lack of mention of marketing features that can be a huge pain point for small businesses looking to build a customer base. If this is you, be sure to discuss your needs in detail with a sales rep or consider NCR instead. LS Retail: Best for Busy Gas Stations With Multiple Pumps is the best gas station POS system for fuel management. It offers three gas station POS systems, LS Central, LS One, and LS First, plus business intelligence, payment processing, and other programs for different business sizes. The system makes it easy for cashiers to manage pumps from approval to shutdowns and calculate wet inventory levels so that you know what fuel to reorder and when. The backend is powered by Microsoft Dynamics 365 for customer resource management and inventory. LS Retail scored a 4.48 out of 5. The system offers nearly all the features you could use in a gas station or convenience store, including a built-in tank gauge tracking system, which Verifone does not have. While it also doesn't disclose any pricing information, it gives you an idea of subscription options. However, LS Retail lost points as it does not specify its business hours, and there seems to be no mention of payment processing options, which means you might need to pay extra for your payment processing service. LS Retail Pricing You'll need to contact LS Retail about pricing, but its website shows that the system offers three plans. LS One is a stand-alone POS with back office features, while LS Central is an all-in-one POS and ERP software solution and LS First is for large-scale gas station and c-store businesses. LS Retail also has a payment software solution called LS Pay that you can easily link to your LS Retail account to manage payment types, provide security, and track multichannel transactions. You'll need a separate merchant account, so shop for the best rates among its list of partner payment service providers. LS Retail Standout Features Central pump control: Cashiers have complete control of the pumps. They can authorize, pause, stop, and lock/unlock pumps. You can log drive-aways and refund money if a customer doesn't use their full prepay. Wet inventory control: Includes an automatic reading of tank gauge information and deliveries. You can manually add data that is not automated, such as tank dip readings or delivery notes. Automatic stock replenishment: The system can automatically replenish wet stock based on sales history and stock levels. Microsoft-based solution: LS Retail is a hybrid POS that can run on Microsoft Dynamics ERP if you want a system that's fully deployed on-premises or as Software as a Service (SaaS) with Microsoft Dynamics 365 for finance and operations. Real-time performance monitoring: Get a real-time overview of your inventory and merchandising system. Analyze sales distribution according to POS, total income, number of customers, number of items, or average purchase amount at any given time. Loyalty management: LS Retail allows you to set up in-store, online, and mobile loyalty schemes and offers in a click of a button. What LS Retail Is Missing LS Retail's website does not specify hardware information, so you'll need to make sure to ask about your options when talking to the sales team. If you sell lottery tickets, be sure to ask how LS Retail handles those transactions as well. For those working on a budget or low sales transaction volume, LS Retail might not be the right fit. For instance, a merchant account with LS Pay means you have to pay for set up and monthly fees, and your transaction rate will depend on your business size and transaction volume. You might be better off with a POS system offering more options like Verifone. Petrosoft SmartPOS: Best for Inventory & Reports is an all-in-one hardware and software solution built for convenience stores. It also coordinates with your pumps. When combined with CStore Office, you get a powerful backend with over 200 customizable reports for optimizing your sales and inventory, including a mobile app so you can access your business data at any time. It also offers various integrations for forecourt, self-service, food service, order management, and analytics solutions. Petrosoft also installed processes to manage employee performance. It provides flexible training options for your staff, as well as built-in safeguards, including an electronic journal that tracks suspicious activities such as no sales, refunds, voids, and cancellations. You can also customize your POS screen to display shortcuts, search bars, and pending order management to avoid unnecessary delay in processing transactions. In our evaluation, Petrosoft scored a 4.43 out of 5. Like the other POS developers on our list, Petrosoft has decades of experience in the field and has developed a product to meet the needs of most gas station owners. But it stands out most for its customizable and detailed reporting features. However, Petrosoft lost points on ease of use when compared to other providers. It requires multiple integrations like CStore Office, which would mean more effort for users to set up their system. Petrosoft SmartPOS Pricing Petrosoft's SmartPOS software is sold bundled with hardware and has two versions—Apexa G and Apexa Prime. The solution comes with a touch-screen POS terminal, software, customer display, printer, cash drawer, barcode scanner and EMV pin pad. You will need CStore Office software for back-office management. Additional software, such as QwickServe for food and order management and Scan Data for barcode scanners, and peripherals can also be purchased from . SmartPOS Apexa G: $2,349 SmartPOS Apexa Prime: $2,399 Self-Service Terminal: $1,199 CStore Office: $249/month QwickServe: from $99 Scan Data: from $15 You can also negotiate with Petrosoft to arrange for a free trial. Petrosoft SmartPOS Standout Features Consent mode for pumps: Signals the cashier when a customer makes an authorization request. POS screen customization: Cashiers can customize their screen with their favorite or most used buttons for quicker checkouts. POS system safeguards: If you limit the amount of cash in your registers as a theft deterrent, the system can signal you when it's time to do a safe drop. Lottery management safeguards: SmartPOS includes early theft detection for instant lottery sales. Price book manager: Allows you to add, update, and push price changes to your POS system. Electronic journal: Comes with event tagging and bookmarking that helps highlight suspicious transactions. Staff training options: Available for on-terminal, online, and in-person training. What Petrosoft Is Missing Petrosoft relies heavily on integrations like CStore Office to create a complete system to manage your business. This requires additional costs that can drive up your expenses. You will also need to ask Petrosoft sales for more information about the pump management feature. Lastly, Petrosoft doesn't have an in-house payment processing solution, so if this is a dealbreaker to you, we suggest checking out Verifone, which provides a variety of payment processing options. Bottom Line A POS system that addresses the needs of a gas station, from pumps to hot snacks, can improve the efficiency of your checkout and help customer satisfaction. It also makes it easier on cashiers and managers handling varied sales and inventory, plus keeping up with regulations like legal age limits. We found NCR to be the best overall for gas stations. Visit NCR for a quote and get started.
Discover more resources
for your business
Double Degree in Accountancy and Financial Management
Bachelor of Science Degree, Holy Angel University, Philippines
I love Square POS because it makes starting a business easier and is an excellent choice for owners who are just starting up and working on a limited budget.