MAN degree, Nursing Management, University of the Visayas
Registered Nurse (Philippines)
BSN degree, San Pedro College
CRM
Sales Management
Customer Service
Technology
Business
Health
10+ years in writing & research
3+ years in editing
2+ years in insurance sales
1+ years territory sales manager
Bianca Caballero is a subject matter expert at Fit Small Business who covers Sales and Customer service topics. Prior to working at FSB, she was in field sales and territory management. When she launched her career as a writer, she worked with companies from the US, Australia, and China. She gained expertise in writing and editing news, health, technology, and business articles. At present, she uses her decade-long writing experience to provide FSB readers with the best answers to their questions.


Bianca spends her spare time bonding with her family, reading books, tinkering with her guitar, or listening to music.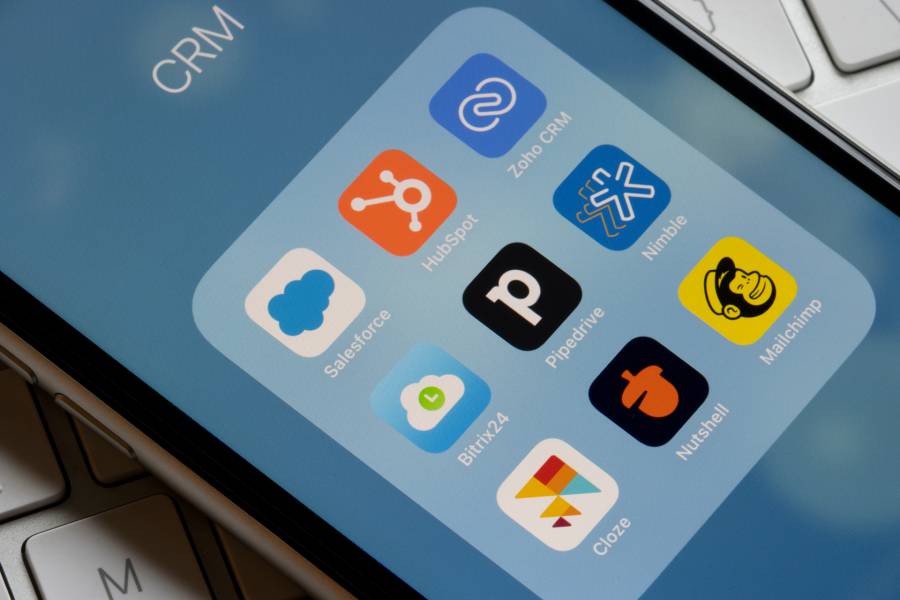 November 4, 2022
6 Best Bitrix24 Alternatives for Small Business in 2023
Bitrix24 is a feature-packed customer relationship management (CRM) system, offering tools for contact and lead management, sales analytics, marketing automation, social media integrations, and a landing page builder. While it provides comprehensive functionalities, it also has a complex dashboard and outdated interface. To find the best Bitrix24 alternatives, we analyzed dozens of top providers and considered critical attributes small businesses need. The top options for alternatives to Bitrix24 and their best use cases are: : Best overall Bitrix24 alternative for teams wanting free CRM with built-in email marketing tools : Great for users looking for a CRM that offers a robust in-app caller and 360-degree customer views : Recommended for businesses wanting a more intuitive Bitrix24 competitor and has robust analytics tools : Ideal for users who need simple and straightforward sales pipeline management : Recommended for users who want advanced lead management tools : Best for organizations needing a Bitrix24 alternative with social media management tools Best Bitrix24 Alternatives Compared See fullscreen table × *Based on annual billing; monthly pricing is available at slightly higher rates, except for Salesforce Essentials. Bitrix24 also offers quarterly pricing. **Premier success plan costs 30% of the subscription price and adds 24/7 phone support, developer support, training sessions, and coaching. ***For Professional and Enterprise plans of CMS (content management system) Hub and Operations Hub only HubSpot CRM: Best Overall Bitrix24 Alternative With Excellent Email Marketing Tools offers email marketing tools, including in-app email, external email integration, and bulk email sending. However, all these are only available in its paid plans. , in contrast, offers useful email marketing features for free, including shared inboxes, mailing list and contact segmentation, team email, and email tracking. On top of these capabilities, it also boasts an intuitive and easy-to-use interface. All these combined make it the top option among the rest of the alternatives to Bitrix24. While HubSpot CRM offers a free version, its plan upgrades can be expensive. Customer support for its free plan is also limited to self-help resources and community support. Businesses that want more affordable paid plans should consider either or . Those who prefer access to technical support, even with a free version, should consider or Zoho CRM. HubSpot CRM Pricing at a Glance* Free: Supports an unlimited number of users Starter Sales Plan: $45 per month for two users Professional Sales Plan: $450 per month for five users Enterprise Sales Plan: $1,200 per month for 10 users *Based on annual billing; monthly subscriptions are also available at higher rates. HubSpot CRM Free Email Marketing Tools HubSpot CRM enables you to customize your email marketing outreach with access to its extensive library of customizable email templates. Other email marketing features include email reply tracking, email health reporting, bulk message sending, and follow-up form emails. It also offers an A/B testing and analytics function, helping you evaluate which types of emails convert and engage your customers most effectively. Read our HubSpot CRM review to discover the features and benefits it offers small businesses. You can also see how it compares with other CRMs in our comparison reviews of HubSpot vs Salesforce and HubSpot vs Insightly. Freshsales: Best Bitrix24 Competitor With Built-in Caller offers basic lead management features that let you add unlimited leads in all plans. In contrast, provides more comprehensive lead management tools. These include website activity tracking, communication logs, deal stages and statuses, and communication touchpoints with the company. You can also monitor tasks and appointments related to each lead or contact. Bitrix24 also offers an in-app phone with call routing and transfer, recording and transcription, as well as call interception features. Alternatively, Freshsales offers an in-app phone with even more advanced functionalities, such as agent conference calling (inviting other agents to join the call), the ability to purchase toll-free numbers, call masking, external number routing, and real-time queue visibility. One of the disadvantages of Freshsales is that its free plan lacks essential features such as sales forecasting, email tracking, and third-party integrations. Teams that want free, feature-rich CRM systems can consider alternatives to Bitrix24, such as or . Freshsales Monthly Pricing (per User) at a Glance* Free Plan: Supports unlimited users Growth: $15 Pro: $39 Enterprise: $69 Free trial: 21 days Freshdesk Contact Center Pricing** Free Plan: Supports unlimited users (no free minutes; includes local and toll-free numbers plus call metrics) Growth: $15 per agent, per month plus pay per minute (includes 2,000 incoming minutes per month plus number porting and call queues) Pro: $39 per agent, per month plus pay per minute (includes 3,000 incoming minutes per month plus Power Dialer and interactive voice response) Enterprise: Per agent, per month plus pay per minute (includes 5,000 incoming minutes per month plus voice bot and service level monitoring) Free trial: 21 days *Based on annual billing; monthly subscriptions are also available at slightly higher rates. **Check this page to see incoming and outgoing call rates. Freshsales Built-in Cloud Telephony Freshsales has an excellent in-app phone system that lets you efficiently handle calls, voicemails, and messages straight from your laptop or smartphone. It enables you to monitor phone usage to understand your team members' ability to convert deals by reviewing analytics data associated with their calls. You also have the option to purchase virtual phone numbers in 90-plus countries for sales reps in varying locations. You can access more advanced call center features by signing up for (free or starting at $15 per agent, per month), which is part of Freshworks' ecosystem of apps. It integrates seamlessly with Freshsales and offers expanded call center functionalities, such as international phone numbers, call blocking, and voice bots. Check out our Freshsales review to explore other features that this platform offers. You can also see head-to-head comparisons of this platform with other similar CRMs in our articles Freshsales vs Salesforce and Pipedrive vs Freshsales. Zoho CRM: Best Intuitive Alternative to Bitrix24 With Sophisticated Analytics Tools provides essential sales analytics tools that include consumer behavior analysis and deal closing reports, which may be enough for some businesses. However, offers more sophisticated analytics tools in a highly intuitive, simple interface. Its analytics tools include identifying high-quality leads that can potentially bring in more revenue, measuring ad spend return on investment (ROI), tracking lead conversion across sales reps, and conducting campaign revenue analysis. However, Zoho CRM's free plan has an allocation for only three users. Those who want a free CRM with unlimited user allocation should consider . In addition, Zoho CRM's 24/7 customer support is only available upon purchase of an add-on support plan. Businesses that prefer always-on technical support regardless of their plan subscription with no additional charges should consider . Zoho CRM Monthly Pricing (per User) at a Glance* Free plan: Up to three users Standard: $14 Professional: $23 Enterprise: $40 Ultimate: $52 Free trial: 15 days *Based on annual billing; monthly subscriptions are also available at slightly higher rates. Zoho CRM Analytics Tools Zoho CRM's interface is simple and beginner-friendly. Its advanced analytics tools let you accurately visualize sales figures and access real-time reports. These include sales trends, marketing campaigns, and team performance. It also allows you to evaluate your sales reps, including the status of their outreach and the amount of revenue they bring in. Check out our Zoho CRM review to learn if it's the right fit for your small business. You can also find out how it fares opposite other CRMs in our Zoho vs Salesforce and Pipedrive vs Zoho CRM reviews. Pipedrive: Best Bitrix24 Alternative for Simple & Easy-to-Use Sales Pipeline Management provides visual representations of sales pipelines customizable based on your business process. However, its interface can be hard to navigate, especially for novice users. , on the other hand, offers the same pipeline management tools in a sleeker format. It lets you visualize your sales process, create sales forecasts, and move deals along stages with unlimited, customizable pipelines in a user-friendly dashboard. Pipedrive doesn't have a free plan, but the affordable paid plans offer limited in-app calling access. Its calling features include caller ID linked to deal activities, automatic call logging, and web-to-mobile calls. Teams that don't have a budget for a paid plan can consider other Bitrix24 competitors like , , or . Meanwhile, those who want an in-app caller, even for lower-tier plans, should consider . Pipedrive Monthly Pricing (per User) at a Glance* Essential: $14.90 Advanced: $24.90 Professional: $49.90 Enterprise: $99 Free trial: 14 days Add-ons Monthly Pricing Lead Booster: $32 per month Web Visitor Analytics: $41 per month Smart Docs: $32.50 per month *Based on annual billing; monthly subscriptions are also available except for the Enterprise plan. Pipedrive Simple Pipeline Visualizations Pipedrive's pipeline management tools provide a highly visual interface that prompts sales agents to take actions, such as converting a deal or initiating a follow-up call. It is simple for users to update lead information by entering new deals and contacts on desktop or mobile. They can easily drag and drop deals between stages and connect their email and third-party apps to create a single lead data location. Check out our Pipedrive review to learn more about this CRM and the features it offers small businesses. To see how it compares with other CRMs, take a look at our HubSpot vs Pipedrive and Pipedrive vs Zoho CRM reviews. Salesforce Essentials: Best Alternative to Bitrix24 With Advanced Lead Management Tools provides users with basic lead management tools, including lead status monitoring and unlimited lead creation. Its lead sales intelligence reporting is only available in its higher-priced plans. Meanwhile, provides more sophisticated lead management tools at a lower cost, including lead assignment and routing, lead duplicate blocking, and web-to-lead capture. Salesforce Essentials doesn't have a free plan and has a complex dashboard better suited for experienced users. Businesses that don't have a budget for a paid plan can consider Bitrix24 competitors or . Meanwhile, those who want a beginner-friendly interface should consider or . Salesforce Essentials Monthly Pricing (per User) at a Glance* Annual billing: $25 Monthly billing: $35 Add-on Premier Customer Success Plan: 30% of the subscription amount *Based on annual billing; monthly pricing is also available at slightly higher rates. Salesforce Lead Management Tools Salesforce Essentials offers various ways to efficiently manage and monitor the status of leads. It enables you to track, filter, and qualify prospective customers, as well as route hot leads to the most appropriate sales reps to increase the probability to convert. The platform allows you to generate leads with the data from your company's website visitors. Its duplicate blocking feature lets you prevent redundant lead inputs, making data more reliable and relevant. Read our full Salesforce Essentials review to explore features included in this CRM well-suited for small businesses. You can also see how this provider stacks against another CRM by heading to our HubSpot vs Salesforce review. Agile CRM: Best Alternative to Bitrix24 With Social Media Management Tools social media function is limited to integrating social media networks and messengers, such as Telegram, Facebook, WhatsApp, and Instagram. takes this further by providing advanced social media features. These include social listening to monitor mentions of your brand across various social channels, tracking contacts' social activities, and interacting with leads through Facebook and Twitter. Agile CRM's free plan has a 10-user cap, and its customer support is limited to 24/5 email and phone support during standard business hours. Teams needing a free plan with unlimited user allocation should consider , while those who require 24/7 customer support should look at . Agile CRM Monthly Pricing (per User) at a Glance* Free plan: Up to 10 users Starter: $9.99 Regular: $39.99 Enterprise: $64 *Based on annual billing; monthly subscriptions are also available at slightly higher rates. Agile CRM Social Media Management Agile CRM's social media management suite enables you to perform key social media activities straight from your CRM dashboard. These tasks include posting company updates to social media channels, monitoring your brand mentions, keeping your followers informed by answering questions, resolving issues, and capturing leads. It also helps maximize return on investment (ROI) on your marketing automation campaigns by tracking the social behavior of leads and customers. Ready to learn if this software if right for your team? Explore the platform's robust feature set by reading our comprehensive Agile CRM review. How We Evaluated the Best Bitrix24 Competitors The best CRM alternative to should have comprehensive sales, marketing, and project management software tools. Ideally, it should also include specialized features, such as social media management and an in-app caller. It must also have a range of affordable pricing plans or a free version. In addition, we evaluated its ease of use, the quality and depth of customer service, and online reviews from users. We found is the best overall Bitrix24 alternative with an overall score of 4.69 out of 5. Its intuitive interface makes it easy for beginners to learn and use. It offers a free plan that supports an unlimited number of users. This comes with essential CRM features like contact management and customizable pipelines, plus a built-in caller and free marketing tools. Its paid plans start at $45 per month for two users, and additional users cost $23 each, per month, billed annually. The tabs below offer more insight into our evaluation process for selecting the best Bitrix24 alternative: You May Also Like… Do you want to leverage your CRM system's case management features to boost customer satisfaction? Follow our step-by-step guide on how to use a CRM for customer service. Need a CRM with engagement tracking and social listening capabilities? Read our guide on the top social media CRM platforms. Looking for industry-specific CRM solutions? Check out this article to learn how to find a specialized CRM for your industry.
Discover more resources
for your business
MAN degree, Nursing Management, University of the Visayas
Registered Nurse (Philippines)
BSN degree, San Pedro College